Streaming
How to create an account or sign up for Spotify (Free or Premium)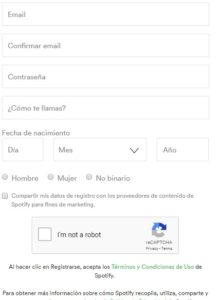 Music streaming services have come to displace other ways of listening to music over the internet. At the time, P2P services were the most used to obtain music illegally, overriding copyright, with the risks that all this implied. However, those times are long gone, since today everything is defined by other types of platforms such as Spotify, the undisputed leader in streaming music today.
Spotify is a service of Swedish origin that provides music, podcasts and even videos through its mobile application for Android and iOS, in addition to its program for Windows, MacOS and Linux computers; Additionally, Spotify has launched a web version of its service so that it can be accessed from any browser. To access these services, you must create an account on Spotify for free, and if you want to access more benefits you can purchase a premium subscription at a low cost.
Create a Spotify account from the browser
The procedure to create a Spotify account from your computer is quite simple, you will only need a computer with internet access to be able to create a Spotify account, as well as an email account or a Facebook account, failing that.
Enter the official website of Spotify,https://www.spotify.com/. If you don't want to write the address, you can also go to www.google.com and type in the search engine "Spotify". It will show you a long list of results, but you must click on the first option that corresponds to the official website.
Next, press the " Register " link located at the top of the page, or go tohttps://www.spotify.com/signup/.
Create your account using your Facebook account or, using your email and filling in your personal information.

Create account with Facebook : Click on the button Register with Facebook. This will open a pop-up window asking for permission to use the data and connect. It is a reliable process on the part of Facebook and Spotify. Once you have authorized, it will take you to a form where you must fill in your data so that the account is created. In this case the account is done for free.

After creating the account through Facebook, do not forget to assign an email and password so that you can recover your account in the future. Check out our tutorial on how to change your password on Spotify.
Create account with an email : The other option that Spotify gives users is to use an email. In this case, you just have to fill in the form located on the button corresponding to the registration through Facebook. The first thing you should write is your email and it must be real, since it is required to be verified when the registration is complete. Also, in the second text field you must confirm your email.

Other information such as a password, your full name, date of birth, among others, will be requested when creating the account via email. Once the form is completed, you just have to complete the captcha and press the Register button

which is at the end of the form in green. It's all you have to do on the page. Subsequently,

you will receive a verification email

that you must complete and your account will already be created.

Now you can enjoy Spotify services from any platform.
You can follow these steps both from the browser on your computer or on your mobile device, after creating the account you can access it from any platform on which Spotify is available.
Create a Spotify account from Android or iOS
We can safely say that the favorite means of users to listen to their favorite songs is the smartphone. Spotify has official applications for both Android and iOS; Through them you can access the entire catalog from the comfort of your mobile device and even download music if you have a premium subscription.
Download the application corresponding to your device : The first thing you should do is go to Google Play or App Store to search and download the application corresponding to Spotify. You can also download the app for free with the following shortcuts: