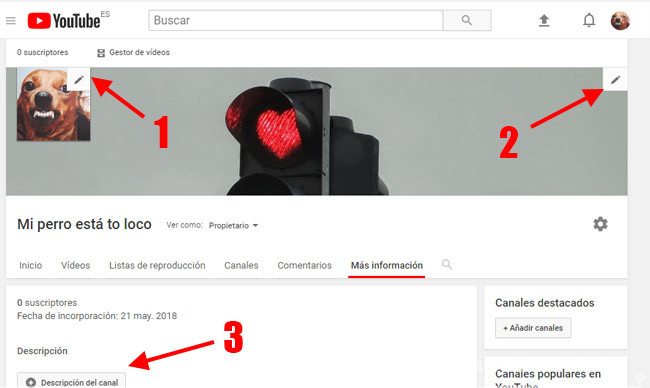 Learning how to create a YouTube channel can mean sharing good times, entertaining yourself, developing your artistic side and potentially generating a not inconsiderable income. This video platform was created in 2005 and its growth has led it to be available in more than 80 languages ​​and used by millions of people.
In fact, 6 out of 10 people prefer to watch videos through this platform than to watch television, this is presented as an entrepreneurial opportunity that is quite open and accessible for those who want to make their way into the world of the popular " youtubers ".
Every venture has a beginning, considering that regardless of the success or failure that you can take as a youtuber, you have to create a YouTube channel to try it, the reason why we invite you to continue reading this post, since here you will find the information necessary to achieve it.
How to create a new channel on Youtube
Creating a YouTube channel is very easy and fast, the main thing we must have is a Google email account, this because said company bought the YouTube platform in 2006. To start creating oneGoogle account enter here.
First we will log in to our Gmail email, and then through Chrome, enter the YouTube web portal.
Later you will notice that in the upper right part of the screen is your profile photo, there you will click to open a menu of options.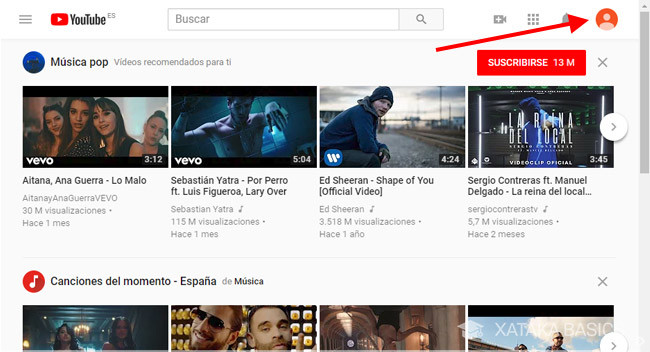 Among these options we will click on the option "My channel", which although it is there does not yet exist and in effect we must configure it to be able to use it.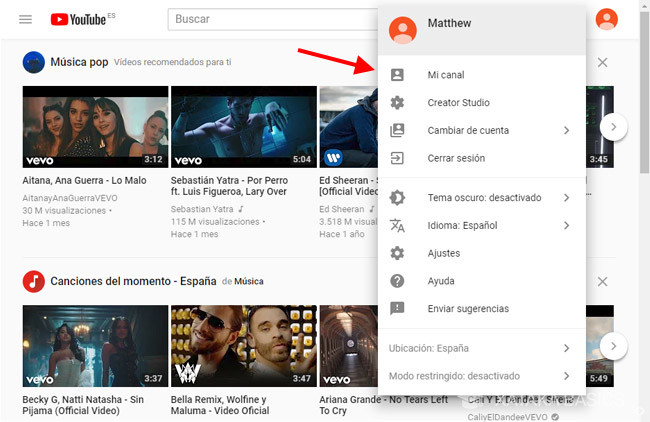 We will have opened a window called " Use Youtube As ", here you will see that the form will have automatically been filled with the data of your Gmail account, this does not mean that you cannot manually change your username on the platform, being able to use up to one nickname that you like and to proceed with it you will only have to click on the option "Use a company name or another name".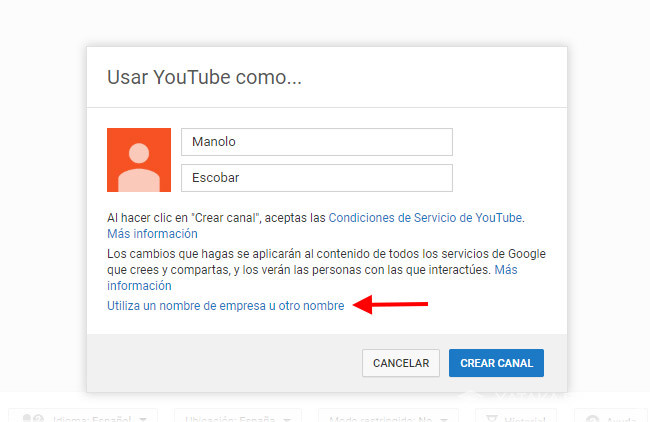 You will see that the platform gave you access to a window called " Brand accounts" that will allow you to customize your channel with the name you prefer and we click on the " Create channel " option .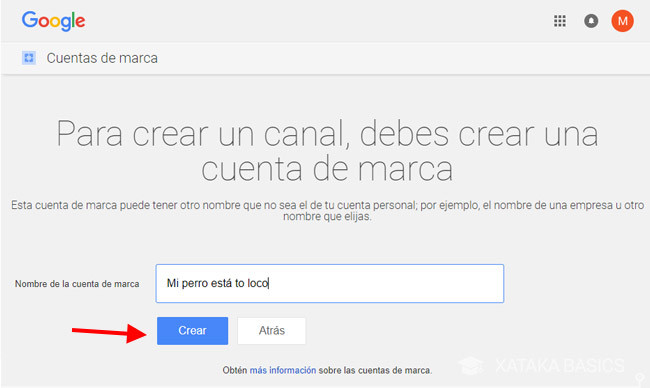 At this point you can congratulate yourself because you have already opened your own YouTube channel and now you can start publishing the content you prefer.
But before doing it … why not give it that magic touch and personalize your profile? … Well then we will tell you how you can do it.
Customize profile on YouTube
Editing the information on your YouTube profile is something that gives identity and personality to our channel, whether we do it to make it look pretty or with the intention of improving the marketing of our brand.
Next we will tell you how you can give that personal touch to your YouTube channel.
Add profile picture
This will be the first thing we must do, the profile photo is in the upper left corner of the screen, but to change it you must click on them to display the menu where you must choose the option " Your channel ".
You can actually do it in 2 ways, which we show you in the following image:

If you click on the photo, the following pop-up window will appear:

In the EDIT page of your account on Google will open.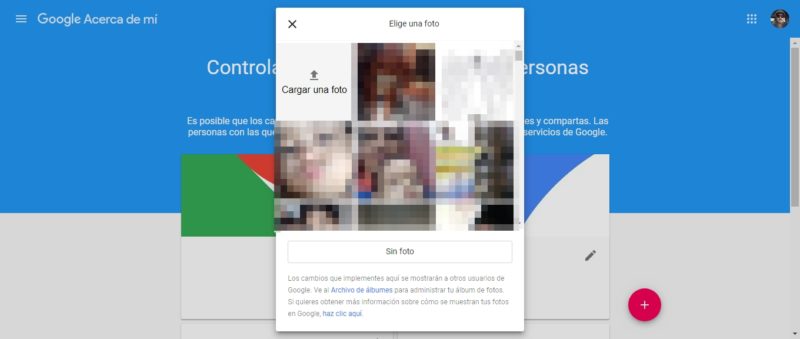 Now you will give Upload a photo to upload an image to your liking from the computer. This change may not be reflected immediately.
The other way is that instead of clicking on your photo on the YouTube channel, you choose the CUSTOMIZE CHANNEL option . Doing so will display the following page:

Option 1 of the pencil will open a new tab where you will go to your Google account where you will follow the procedure indicated above. Option 2 (the pencil in the upper right corner) is to place and configure your cover image for your channel, which we will see next.
Set cover image on YouTube channel
This is an option perhaps a little more open for tastes, being able to decide between leaving it blank, putting a default image from YouTube or a photo of our property. To modify the cover photo you will only have to put the mouse in the small pencil that is in the upper right part of your profile to choose the cover of your preference, or in the blue button of Add channel design.

The following screen will appear for you to upload a design or photo that you have created especially for your YouTube cover from your PC. We recommend you take into account the dimensions recommended by YouTube.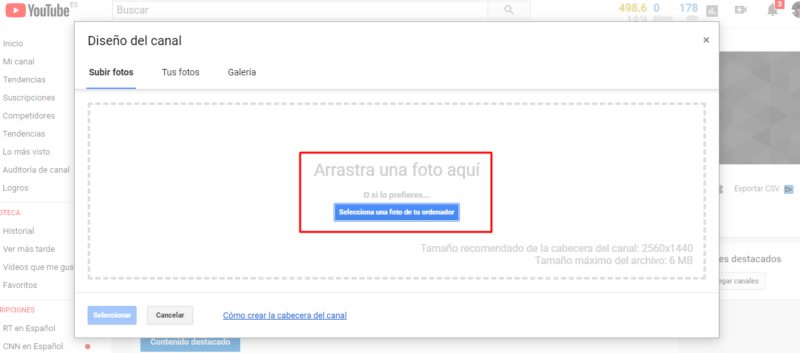 Channel description
You will get this option in the "More information " section of your profile, here you must click where it says " Channel description ", and you should take into account that this should be a kind of small guide to what people will be able to get on your Youtube channel.
The following image shows the respective places where you can click to customize each of the data on your YouTube channel.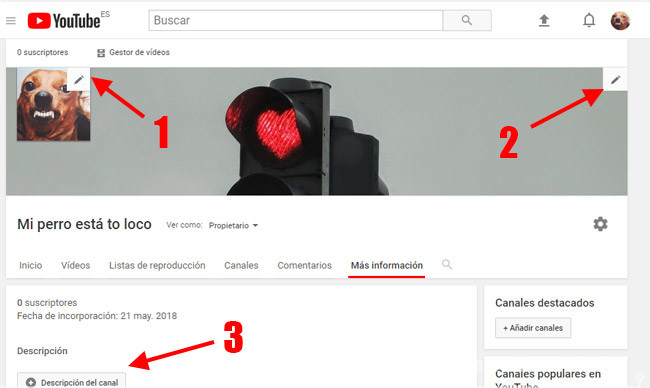 In the description of the channel you must put what it is so that people are clear about your theme. You should also take the opportunity to place keywords that people search on Google and YouTube to help your videos be found by more users.
So far we finish with this basic guide. Creating your YouTube channel is very simple and we hope to see you soon as a great YouTuber.