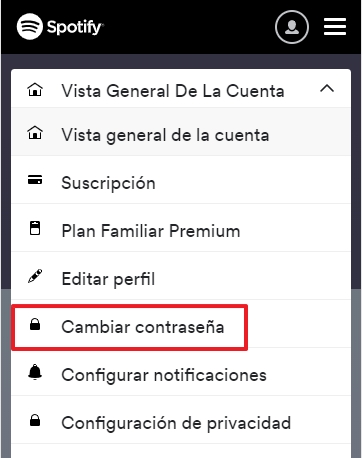 Spotify is currently the most used music streaming service in the world, even above alternatives such as Apple Music or the new YouTube Music. It has a library with millions of songs from around the world, of all genres and for all tastes, as well as personalized lists that will help you discover the best songs of each genre or for each activity you do on a daily basis.
When you have a Spotify account, you need a password to access it; it must be secure enough to prevent access by unwanted persons and protect account information. The password change on Spotify is a simple procedure that can be performed in a matter of minutes; it is advisable to do it periodically to keep the account secure. Here at InfoCuentas we will show you step by step how to do it.
Change Spotify password from the browser
There are no limits on modifying your Spotify account details, regardless of whether it is a premium or a free account. All of this can be done quite simply. You can make this change from the web browser of your computer with Windows, mac OS or Linux operating system.
Login to https://www.spotify.com/account/change-password/, the page to change your Spotify password and log in if you have not done so already, by entering your current access data or by logging in with your Facebook account. An alternative way is by accessing www.spotify.com and logging in and then accessing Profile > Account > Change password.

In the password change form, enter your current password and in the two boxes below enter the new password chosen twice. Make sure the new password is secure (we'll give you tips at the end of this article) and that it is at least 8 characters long.

Press the " Set new password " button.
When you have completed all this process, Spotify will send you an email in which the password change will be confirmed . Once the process is finished, you will be able to use your new password to access your account from any platform on which Spotify is available; the old password will be invalid unless you repeat the process assigning the old password.
Change Spotify password without remembering current password
There may be a situation where you need to change your Spotify password but you don't remember what the current password is; Remembering the current password is a requirement for changing your account password, however, you can also change your password without entering your current password by following the password reset steps through your email.
Login to https://www.spotify.com/password-reset/ or go to www.spotify.com, then click on " Login " and press the link " Forgot your password? ".
Enter the email address of your Spotify account; alternatively you can enter your username.
Hit the " Submit " button .

Check your email for an email from Spotify with the subject "Reset password." Follow the green link that says "Reset Password." Don't see it in your inbox? You can check your Spam folder or repeat the procedure in a few minutes to request another recovery email.

When you follow the link in the email sent by Spotify, you will be prompted to assign a new password for your account, this time without entering the current password that you don't remember. Enter it twice, check " I'm not a robot " and then hit the " Submit " button .

Clever! You have successfully changed your Spotify password.
If you no longer have access to your email or do not remember it, not even your username, what remains is contact Spotify support or try to log in with your Facebook account.
Change Spotify password if linked with Facebook
When creating a new Spotify account, you can choose the option to do it only through Facebook; For this, a password will not be required and you will be able to log in simply using your Facebook data. However, something you should keep in mind is that when you register through Facebook, Spotify takes your email from Facebook and adds it to your account automatically, so the account recovery or password change process can be done by entering your Facebook mail in the previous step.
If, on the other hand, you do not remember the access data to your Facebook account linked to Spotify, you can follow our steps to recover your Facebook account or change the Facebook password and consequently regain access to your Spotify account.
Change password on Android or iOS
The application for mobile devices is very practical to use, however, it is understood that it is not possible to change the password directly in the mobile application. So if you want to do it, the required procedure must be done from the web browser of your mobile device.
Open your mobile browser and enter the official pagehttps://www.spotify.com/. Enter your access data to log into your account.
In the drop-down menu with the first option "Account overview", select " Change password ".

Enter new password : the first thing that must be entered in this new form is the current password, in the next field the new password must be entered and to continue, confirm the new password.
Click on the button Set new password.
Clever! Your password has been changed. With this step you will have completed everything on the configuration page and you will be able to use the new password.
Then, in your email inbox you will have the opportunity to confirm the password change. It is only a verification step that the Spotify system does with all users.
Tips for choosing a strong Spotify password
In the "black market" of the Internet, many stolen Spotify accounts are offered that were obtained because of the low security of the passwords that were assigned in them, as well as some vulnerability in which the user-owner of the account- has fallen. To avoid bad times, follow these tips when choosing a new password for your Spotify account:
Spotify asks for a password that contains at least 8 characters, we recommend that you choose a password that is as long as possible!
Use a combination of numbers, letters, and symbols to assign a password.
Do not use personal data in your password; Taking advantage of the fact that it is a musical service, a good idea is to use the name of the best album of your favorite band -to name an example- since it is a fact that other people can hardly guess, always in combination with numbers and symbols!
Use a password manager like LastPass.
Do not use the same password for different services, much less the same password as your email or your Facebook account.
If you can't think of a strong password, you can use a strong password generator like www.password.es.
If you have a Spotify Premium account and your payment details are linked to it, all the more reason you should take its security seriously and change your password regularly. Don't forget to change your password from time to time and follow our advice!