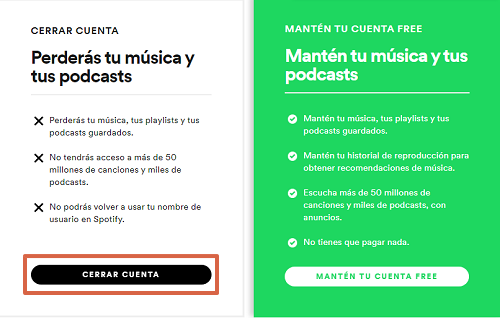 The Spotify Premium service is one of the options available to start listening to music without ads and with playback of songs or playlists, even when you do not have Internet access. This membership costs $ 9.99 ( $ 10) and, as the terms and conditions of the platform say, you can cancel it at any time. This is one of the advantages that Spotify offers apart from using the service with a free 1-month trial.
In case you can no longer use the membership, either for financial or work reasons, the ideal thing would be to cancel Spotify Premium before another month of collection begins . In fact, you can test the service during the free trial and if you like the Spotify Free version more , you can cancel the plan without any inconvenience. Spotify will indicate the exact date on which you will stop being Premium and you will go to the free account of the platform.
Step by Step
According to Terms of the Spotify Premium Promotional Offer, if the subscription is not canceled before the trial period, the customer automatically becomes a user of the Premium account benefits. Therefore, you will be automatically charged the price according to the plan you have previously chosen, and during that month, you will be able to use any advantage linked to the service.
Now, if you cancel your chosen subscription, you will lose all Spotify Premium services and the account will automatically become free, once the promotional period is over. Having clarified these points, if you still want to know how to cancel Spotify Premium, see the steps that will be explained below:
Enter Spotify desktop or Google Chrome, go to your username and click on " Account."
Choose " Available Plans ".
Swipe down and search for Spotify Free. When you locate it, click on the " Cancel Premium " option .
It will ask if you are sure to unsubscribe. Press " Yes, cancel ".
After completing these steps, you will see the exact cancellation date and a survey to determine why you have canceled the Premium account. This survey is totally optional. You can fill it out and submit it or you can skip it and go back to Spotify to keep playing more music. Depending on what date you canceled your subscription, the service may take a few days until your next billing date.
Regain Premium account
In case you regret having canceled the Premium account on Spotify, there is no problem. On the same platform you will frequently find " Renew Premium " buttons in case you decide to resume the service. If you want to buy these benefits again, take a look at these steps:
Go to Spotify, click on your username and press " Account."
It will redirect you to an external page. Click on " Become Premium ".
Choose the payment method and start your Premium subscription again.
Delete your account
If you do not have time to play music on Spotify or you feel that you are not getting more out of the application, you can delete your account from the platform permanently. You must take into account that by performing this action you will lose all your playlists and songs that you have saved in the account. Also, you will choose another username since you will not be able to use the one you had previously. If you have made the decision and want to delete your Spotify account, follow these steps:
You can access Spotify from Google Chrome or the desktop version. Locate your username and select " Account."
When redirected to another page, scroll down and click on " About ".
Go to " Customer Service and Support " and click on " Contact Form ".
Click on " Account ".
Choose " I want to close my account."
Choose " Close account ".
In case you regret it, you can click on " Keep your account Free ". This way you will keep your Spotify account. Now, if at the same time you decide to open another account on the platform, remember to choose another username and search again for all the songs, playlists and podcasts of your choice.
If you want to delete the account from your phone, it is a similar process but change the steps at the beginning. In that case, you just have to follow this path: "Settings> Support> About> Customer Service and Support> Contact Form> Login> Account> I want to close my account> Close account".
Spotify Premium is a membership for those who constantly turn to the platform in search of songs and podcasts of interest. Without a doubt, its most outstanding advantage is being able to listen to your playlists without having to be connected to the Internet. However, if you are a user on a tight budget, who listens to music infrequently and is not bothered by advertisements within applications, Spotify Free is an excellent and comprehensive option that you can continue to evaluate.