Streaming
How to activate Adobe Flash to watch or watch HBO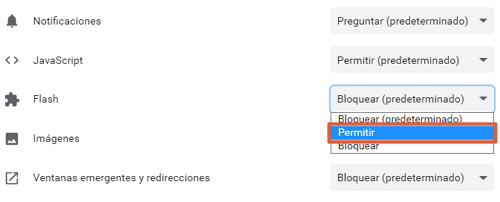 Users often encounter problems watching series and movies on HBO, as this website uses Adobe Flash Player. That is why in this text you will find a guide on how to activate this add-on to watch HBO without any inconvenience. Also, you will see some additional recommendations and learn about common problems that may be related.
Currently, Flash Player is considered to be a plug-in that increases the vulnerability of the computer or network where it is used. Therefore, it is recommended to only enable permissions for trusted sites such as HBO. However, this tutorial is useful for activating the plugin on any page, and even from practically any of the most popular web browsers.
Procedure to follow
If you want to activate Flash on HBO to watch your series and movies on the Laptop or PC, the steps to be followed are shown below:
Open your preferred browser and go to the HBO online page (https://www.hbolatam.com/us )
Go to the address bar where you can see an icon in the form of a padlock, select it.
Click on the option that says " Website Configuration ".
Once the previous step has been carried out, a new tab will open where you will have to look for the section indicated with the word " Flash ".
The plugin will be blocked by default, click on this option to see the other available alternatives. Once the drop-down menu is open, select " Allow ".
After completing the previous steps, simply go back to the tab where the content you wanted to view was located and reload the page.
These are all the steps you must take to enable Adobe Flash Player on HBO. Although the procedure has been carried out in Chrome, with browsers such as Microsoft Edge and Opera they work in a similar way, with the exception that the name of the options may vary slightly.
Other method
The technique to enable Flash on HBO mentioned above is the most common, however there is another way to activate it. When you try to view Flash content, you may see an icon in the shape of a puzzle or Lego piece. By clicking on this symbol, you will see the request to run Adobe Flash.
In this case you will only have to accept the permissions to enable the plugin on the website. By doing this, you will simply have to reload the page to be able to verify that the problem has been solved and enjoy the content.
Problems that may arise
Several years ago, Adobe announced that the Flash Player plug-in would be disabled and support will end this year, so it is expected to be disabled. Some browsers may remove this option in their next updates.
Considering this, if you find problems viewing Flash content or activating the option, it is possible that it has already been disabled in the browser you are using and you can solve it using another. Currently Flash is still available in Google Chrome, Microsoft Edge, Mozilla Firefox and Opera, to mention the best known.
Additional Recommendations
Although the most common errors for viewing multimedia content on HBO Online are directly related to Adobe Flash Player, it is possible that it fails for other reasons. One of the most important to check is the Internet connection, as it must be of good quality for smooth playback of your favorite series and movies.
As you have noticed, activating Adobe Flash to watch HBO is very simple. It only consists of a few steps. Remember to keep in mind the recommendations and possible frequent problems, as these will help you take the correct actions in the face of future problems.