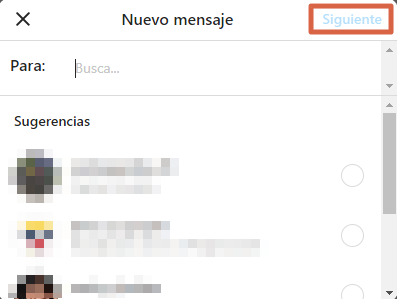 How many times have you read or heard the term "DM" in any social network or web content, without having any idea what it means. Well, this makes mention of private messaging or direct messages within the platform (Direct Message, for its letters in English). It is basically an internal service within Instagram, Facebook, twitter, etc. that allows users to communicate with each other.
Its use is quite simple since, like other platforms, Instagram allows the sending of private messages from its web, mobile version and even through its independent app. It is worth mentioning that the latter is available in the Play Store. However, it is not compatible with devices whose Android version is 6.0 or lower. However, they will always have the two main alternatives.
What is it
DM on Instagram or any other social network, means "Direct Message" or, what is the same, Direct Message in Spanish. As its name indicates, it refers to the platform's private messaging, through which users can exchange all kinds of content, including videos, publications seen or made by them, profiles of other accounts, etc.
It is normally used for private conversations or, in the case of companies, to resolve doubts and concerns present in their followers based on their products, services or a publication of interest to them.
How to send DM
The steps to send a direct message on Instagram are very simple. You can useDirect from Instagram, which is a platform independent application that allows you to share content with your friends more quickly. In the same way, you have the option to do it from the official version of the app, in case your device is incompatible with the mentioned application.
First of all, the first thing you should do is download the app (in case you don't have it), then you will have to log into your account. Once this is done, follow these directions :
Click on the airplane icon located in the upper right corner.
You will be directed to a window where Instagram will show you the list of recent conversations.
In case none appears, you can click on the pencil icon located in the upper right corner to start a new one.
Enter the username of the person you want to write a DM to or search your friends list.
Click on it and click " Chat ".
A private conversation window will open automatically, where you can share all the information you want.
Note : Another quick way to send DM to any Instagram account you want is to click on the little plane icon located at the bottom of the publication, along with the other available options.

From the web version
The steps to send direct messages from the web version of Instagram are very similar to those of the app. This will allow you to connect from a PC and keep in touch with your friends list, even if you don't have a network on your cell phone. The first step will be to accesswww.instagram.com and log in with your user account or using your Facebook profile.
Then you will have to follow these steps:
Click on the airplane icon located in the top menu.
Select any of the recent conversations. In case none appears or you want to start a new one, click on the pencil icon or "Send Message".
Enter the username of the other person and click " Next."
A new conversation window will open where you can share all kinds of content.
Who can you send DM to
Within Instagram, like other social networks, you have the option of sending private messages to different accounts :
People you follow.
People who follow you.
People or accounts you don't follow.
However, the shipping conditions between one and the other vary. For example, those accounts that you do not follow or do not follow you will receive your DM as long as they accept the corresponding request (something similar to Facebook Messenger). Otherwise, your message will remain as "Un
ead" in your sent list.
With this clear, you can apply direct message sending on Instagram whenever you need or want. For example, you have the option of asking your followers to DM or MD if they want to know more about your services or products.