Social media
What are they and how to make ID cards on Instagram?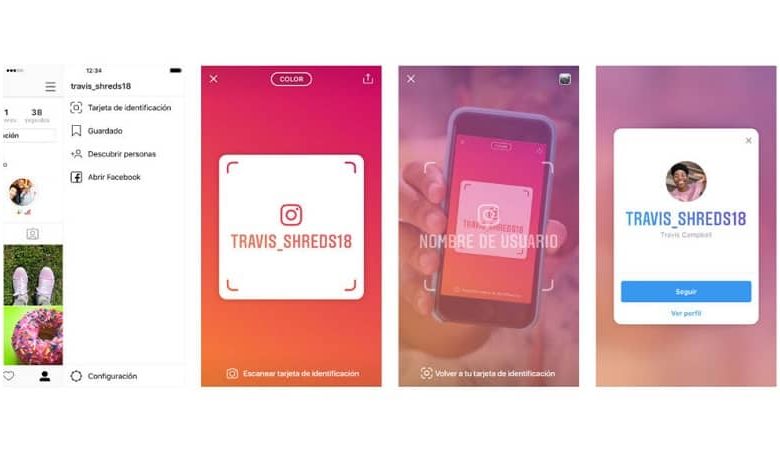 If you are a fan of the social network Instagram, you have surely heard about ID cards. This is a feature that is becoming very popular within this social network.
But you really know what ID cards are and what you need to do to create one. This post will explain what they are and how to make ID cards on Instagram? And at the same time, how to make strategic use of the links , so that you do not miss the opportunity to create a card and share it with everyone.
What are Instagram ID cards?
Instagram ID cards, also known as Nametag; is a method created by Instagram to facilitate the process of adding users to an account. So, we can say that the Instagram identification cards are a personal code or a business card of our profile; which other users of this social network can digitize.
The main purpose of ID cards is to scan a user's card and start tracking them. When you use this method you will no longer have the need to search for a person's username among a list of multiple similar results. You will not even have to ask him to spell his name because it is very difficult to write, you just need to take a photo.
Although this method does not include a QR code, we can say that the process is very similar, because you need to take a photo with your mobile device of the business card to start following a user.
This card contains your username, but you can customize the background to reflect your personality and be more original. You can also share this card in other applications such as Facebook, Telegram or WhatsApp in order to add more followers to your account. And more if your profile is responsible for promoting a brand or product. And of course, with Instagram you have the advantage of knowing who has stopped following you in a few steps, and this will help you reinvent yourself, to attract more followers.
How to make an ID card on Instagram?
You can make an identification card from the Instagram mobile application or from the web version. Although in this latest version the card will be very simple and you must download and print it to be able to use it.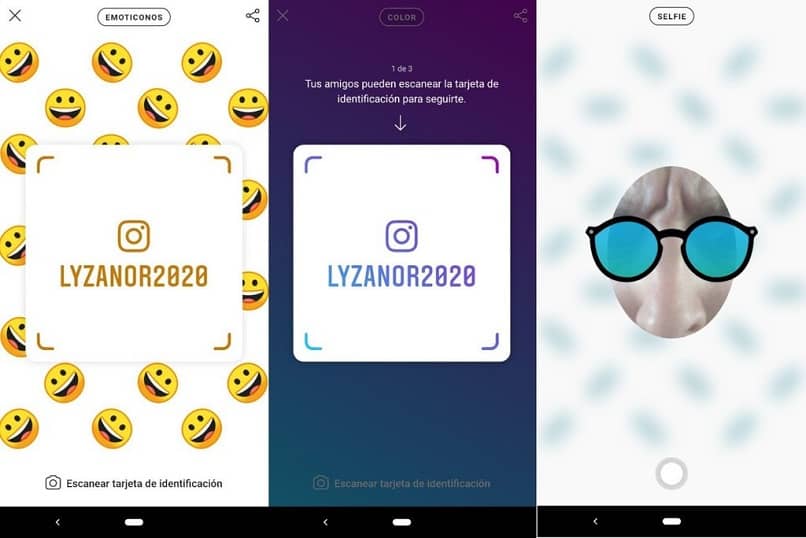 You can also create a Landing Pages using Canva in just a few steps. In this way you will allow your followers to enter your online business, even encourage them to buy. In this post we will show you how to create a card from the app.
Open your Instagram app.
Once inside the application, press the icon of a human figure that is located in the lower right corner.
Inside your profile panel, click on the three horizontal stripes in the upper right corner.
When a menu is displayed, select "Identification card".
Immediately your username will appear on the screen, which you can customize with a color, emoticon or selfie ; To select the one you want, you must click on the phrase at the top of the screen.
If you choose an emoticon design you can change the emojis according to your preference; To do this, slide your finger from the bottom of the screen up you will see a list with a series of emojis, select the one that best suits your personality to be the background of your card.
If you choose a color, click on the screen to see all the background options that you have available.
If you select Selfie, press on the screen to edit your photos with masks, mustaches, lenses, among others.
Ready that simple you create an identification card its design you can change it whenever you want.
You can share your card in other applications you just have to press the share button located in the upper right corner of the card. Every time you need to scan your ID card, you must follow the previous steps from 1 to 4; When your card appears, you only need the other user to take the photo.
To scan the card of some users you must go to the section where your card is located and click on "Scan identification card" ; The camera will immediately open to perform the scan, once the process is finished, Instagram will give you the option to follow said user, it is necessary to be connected to the internet to carry out this process.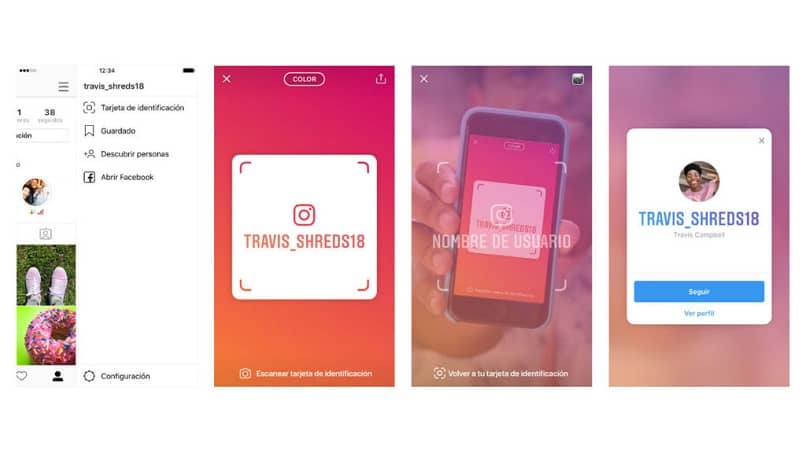 If you are going to create a profile on Instagram for business or personal, go ahead and create an original identification card. This will allow your friends, acquaintances and family to quickly add you to their Instagram profiles without any complications.