Social media
What are the best video editors and programms for youtubers? List 2021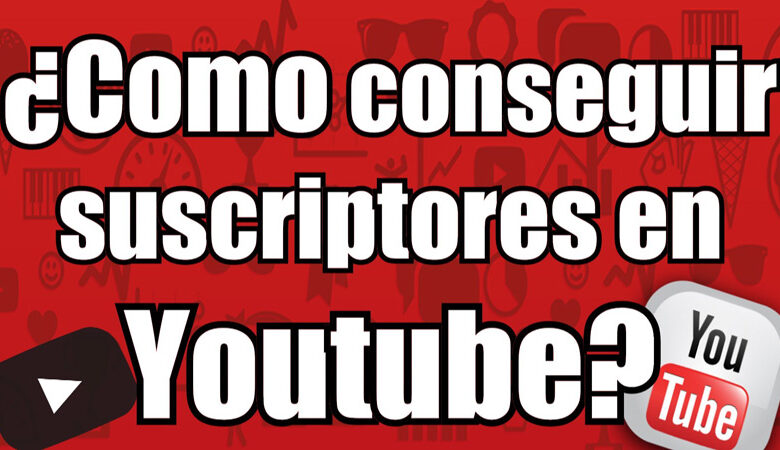 Being youtuber has become one of the main ambitions of many young people today . The idea of ​​living making videos of things that you are passionate about is very seductive, which is why more and more people are motivating and investing to become influencers within the most important video content platform in the world.
At first, most people saw uploading videos to YouTube as a simple hobby, but over the years it became an extremely lucrative business. A channel with a large volume of subscribers can generate more than a million dollars a year, as is the case with channels such as Badabun, TicTacDraw or Genial, to name just a few that are Spanish-speaking.
For a normal person, without a great marketing machinery behind him, being a youtuber can generate monthly income of more than four figures by creating between 10 and 15 videos a month . If you are interested in this lifestyle, in this guide you will know the most important aspects to consider and the best video editing programs to upload to your YouTube channel like a professional, so that you have things clear enough before begin.
Do you want to be a successful youtuber? Points to consider before uploading your first video to YouTube
No matter how much passion you have, being a youtuber requires some planning since the platform has its rules . You can have an excellent video but if it does not meet the established guidelines, it will not last more than a couple of hours online, being blocked by YouTube and can even directly affect the entire channel . In addition, there are also other important aspects that you must consider so that your video can be positioned (Yes, there is also SEO on YouTube) and be viewed by thousands or millions of people .

Copyright
The copyright is the subject that you have to be more careful before you upload a video to YouTube as this platform is very jealous in this regard and will not hesitate to marginalize all your channel if you notice that continually violate these rules. Each content that is uploaded to this social network has a type of license that allows its use with some limitations. There are two types of content from which other licenses are derived.
Copyleft : it is content without copyright that you can use as you want without any limitation on the platform.
Copyright : this is copyrighted content that can be used with different limitations. This type of content can be limited to different licenses that will allow you to use its content with total freedom, use it as long as you mention the author or simply not use it.
This applies to all audiovisual content; music, videos and images, so you must make sure that the elements of your videos do not infringe these rights or your channel will be affected sooner or later.
Type of videos
Another thing that you must take into account is the type of videos that you are going to make for the channel. Do you want to appear on the screen or only images with voice? Are they informative videos, tutorials or Vlogs? This may seem minor, but it is good to be clear about it to plan the content that you are going to make in the future.
Video format
When you finish editing your video, you must choose the format in which it will be exported . You must be very careful in your choice since the platform does not accept all the formats currently available. For this reason, it is recommended to use videos in MP4, AVI or WMA, which are usually less heavy and easier and faster to upload to YouTube.
Regardless of the format you choose for your video, you must ensure that the resolution is 16: 9, as well as being rendered in 720p or 1080p. Although most users generally view the content in 320p or 480p, it is good that the original file is in HD as it will give it more relevance for the platform.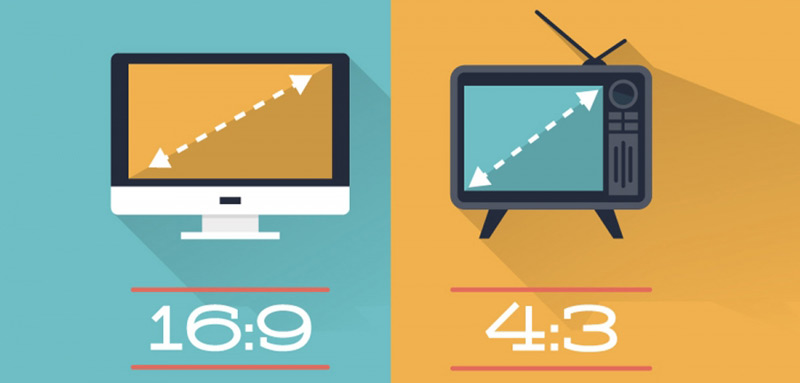 Optimize each element when uploading your video
As I told you before, SEO on YouTube is a reality . When uploading content you must write a title, a description, choose a thumbnail and tags . Each of them must be optimized so that your video is well positioned in the searches corresponding to its topic. The title must be striking and very specific, with the main keyword at the beginning of it and some branding at the end, even adding emoticons makes them more visual
The description should serve its purpose perfectly and explain as clearly as possible what the video is about, while the thumbnails should be complements of the title to attract the attention of the user and encourage them to click to watch it.
Remember that after all YouTube is also a search engine, so it is important to optimize these elements to position yourself in the first places . Did you know that the first 3 results take more than 80% of the clicks? This will give your videos more reach and will make your channel grow much faster than most.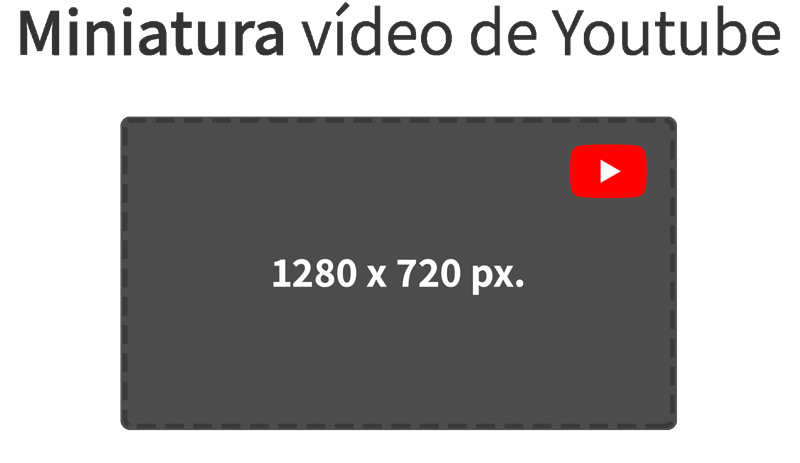 But of course, this may not be possible with your first content, you must first be relevant to YouTube, which means having a channel with more than 10 videos published in the last two months and with a volume of subscribers greater than 2000, this it is not always exact but it serves as a reference to keep in mind.
How does monetization work on YouTube?
It is good that you know how the monetization of videos for advertising works, that is, how to generate income with your channel . The first thing you should know is that you do not earn money for each view, just as a blog does not earn money just for receiving visits. The platform pays for the visualizations of the multimedia ads or the clicks received from your videos in the text ads .
For monetization to count, the user needs to watch at least 30% of the sponsored video . The amount of money you receive depends essentially on two factors; how much the advertiser is paying for the ad and the country where the monetization is coming from. The best-paying views are those from English-speaking nations, which can be up to € 6, and those from Latin America, which rarely exceed € 2.5, are the lowest.
You will understand then that generating advertising earnings is like a lottery. On average, a Spanish channel can generate between € 0.2 and € 3 per 1000 views . So to have a profile that generates enough that you can live off it, you will need to generate at least two million views per month. Which takes its due time.
In addition, to activate this monetization you must be in the YouTube partner program, which requires generating 4,000 hours of reproduction and earning 1,000 subscribers in the last 12 months . Not forgetting that for a video to start generating advertising revenue it must first reach 10,000 views, after that the monetization begins to count.
You can not only make money with advertising
Advertising is not the only way to monetize your channel . There are essentially three other ways to do it; with Premium content, with affiliate and referral marketing, and with influencer marketing .
Influencer marketing is similar to making money from advertising. Basically what you do is contact an agency or brand and offer to promote their products within your videos . A good brand can pay from € 100 to thousands of them depending on the relevance of the influencer.
You can also do affiliate or referral marketing on your channel in the same way that you do on your blog. This is a very profitable business since the conversion commissions are usually well paid, so if you have an audience with thousands of subscribers interested in what you sell, you can generate several thousand euros per month without generating millions of visits.
Finally, there is the creation of Premium content . This is a new model that YouTube is implementing so that its partners can generate exclusive content that can only be seen by users who are subscribed to this type of content. This is by far the most profitable method since the subscriptions are monthly and have a value of 12 $ USD / 10 € EUR, of which 60% (7.2 $ USD / 6 € EUR) corresponds to the content creator.
However, this modality is not yet available worldwide, only creators in the United States have this privilege at the moment, but there is no doubt that in the future it will expand to Europe and Latin America.
List of the best video editing programs for YouTube
One of the essential skills that a YouTube must have is knowing how to edit videos . You don't have to be a true magician, but you can style and shape your content. Fortunately, there are several interesting editors with which you can create high-level videos that will appeal to your audience.
Top 5 video editors list:
Filmora Wondershare
One of the best programs to learn to edit. It has an extremely intuitive interface that is easy to handle for any user . But do not be fooled, this does not mean that it is a weak program. With dedication and imagination you can produce very good quality videos.
Filmora lets you add text and other elements to the video, apply effects to add dynamism, divide the screen into several sections, apply transitions, speed up or slow down playback, add music in the background, and even remove noise from the audio. It is not surprising that it is one of the most used programs by youtubers in Spain and Latin America .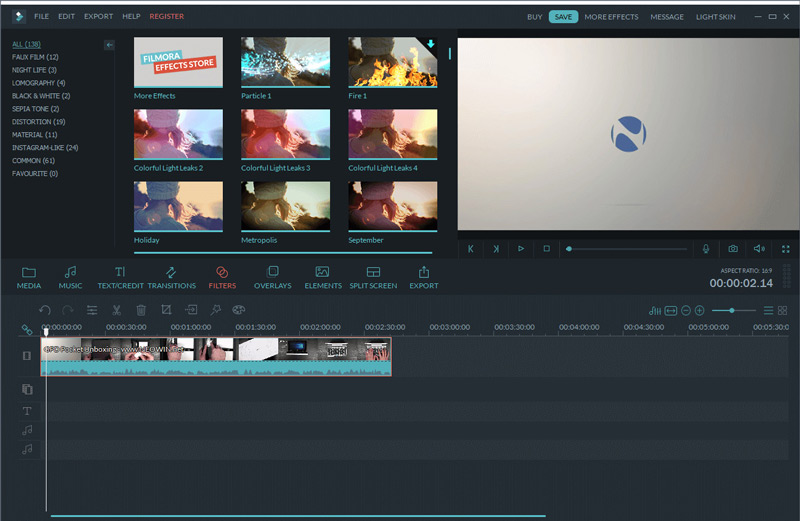 Adobe Premiere Pro
This is an extremely powerful professional editing program , possibly the best on the market today. Despite that, its interface is quite intuitive and can be handled, to a certain extent, by someone with little knowledge of audiovisual editing.
With this platform you can do virtually what you want with your videos. The variety of tools it offers allows you to produce authentic audiovisual gems in a short time and render in Ultra HD or 4K quality . If you combine it with other programs such as Adobe After Effects, you can apply all kinds of special effects that will make your content truly unique.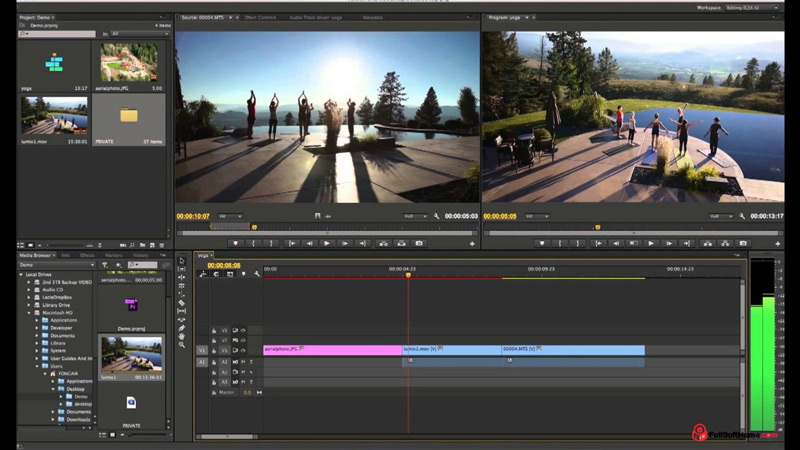 Windows Movie Maker
Windows Paint for video. It is a full-fledged amateur level program, but it will help you learn various editing concepts that will allow you to advance faster when learning in other tools. Its advantage is mainly speed. Being so limited, you can create a video in a few minutes after joining the parts, applying some transitions and adding text.
In Movie Maker you won't be able to apply effects to your videos, but you can improve the framing, polish the audio and add other elements. If we take into account that it can render content in good quality and multiple formats, this is a very interesting program.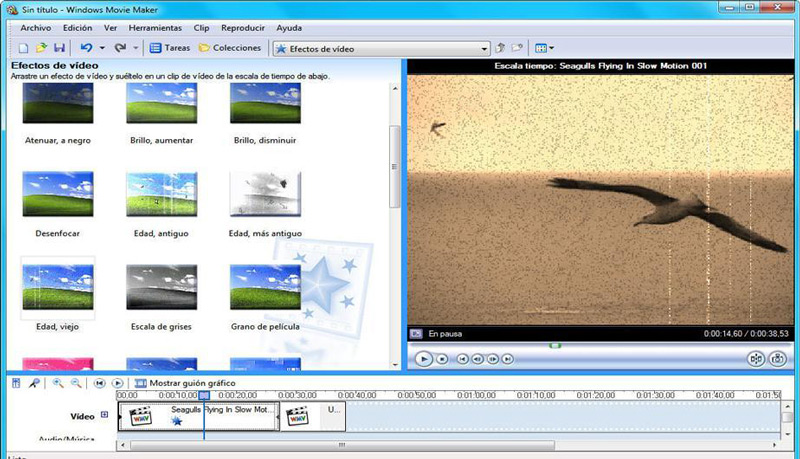 Vegas Pro
This is the latest version of the legendary Sony Vegas, an audiovisual editing program that was extremely popular between 2005 and 2010, until it was superseded by Premier Pro. This is a tool that will allow you to create professional-level videos, with a wide variety of functions that become the direct competition of Adobe.
You can basically do everything; apply text, filters, effects, images, improve audio, music in the background, speed up or slow down the playback speed and much more. Its interface is also easy to use, which allows novice producers to handle it without much trouble, but undoubtedly to squeeze its full potential it is necessary to have advanced editing knowledge .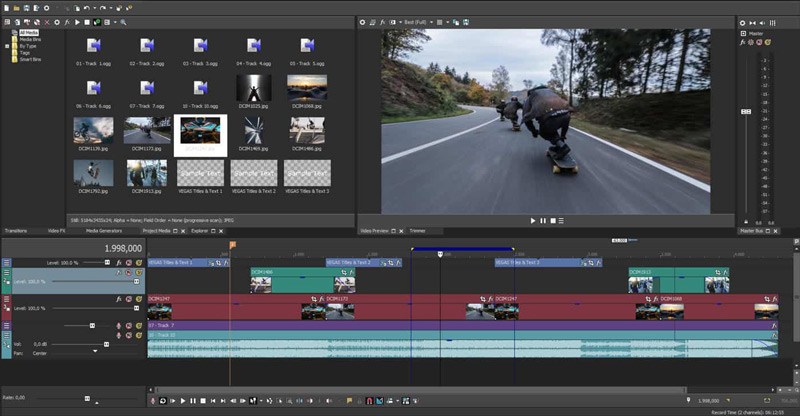 Pinnacle studio
With an attractive and easy-to-use interface, Pinnacle Studio has an option to directly upload the edited videos to Facebook, YouTube, Vimeo and other visual content display platforms. It is one of the programs that could be used with great ease and satisfaction making sure that the beginner level of video editing is fully understood by those who want to become professionals.
A really good option for those users who already have a certain level of audiovisual editing, since this software allows any feature you can imagine and with a large number of demos to use in the assembly of your videos, such as transitions or audios, where You will place each track in its complete timeline. Yes, you will need a powerful computer to be able to get the most out of this tool.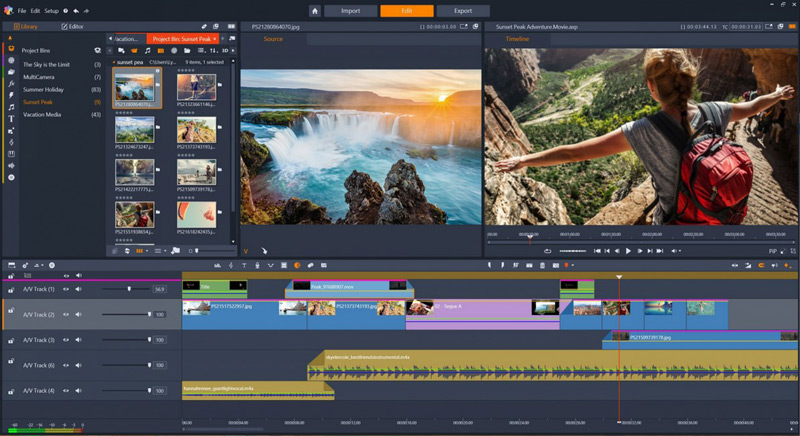 Tips to gain subscribers quickly on YouTube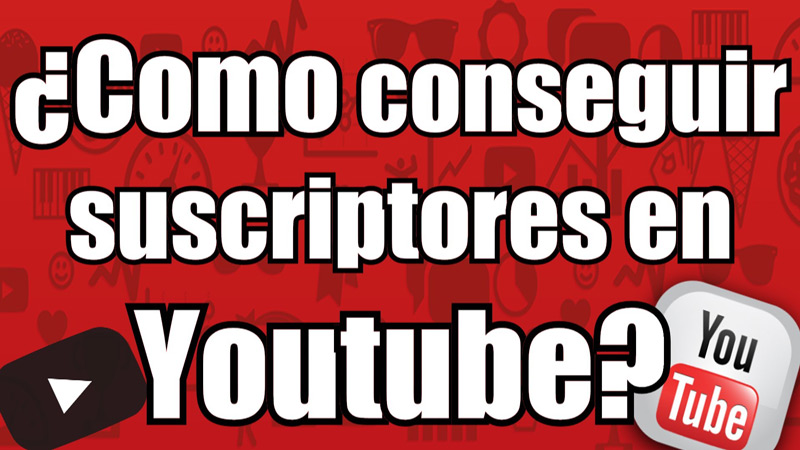 Ok, we already have our videos edited, mounted and uploaded to our channel, but … how do I get loyal subscribers to generate more views and increase the visibility of my channel? . Subscribers are an essential element for a channel to be successful. However, many find it difficult to get those first 1000 and 4000 hours of viewing that allow access to the partner program to monetize the channel, but the reality is that it is not as difficult as it seems.
Variable reward system
The variable reward system (SRV) consists of offering an incentive to a person after taking a certain action . It is a widely used strategy in video games and it generates a lot of addiction, so you can take advantage of it a little to gain subscribers quickly.
Announce that you will say hello in the next video or send a downloadable file to 10 of the users who subscribe and comment. This type of stimulus will generate new subscribers in each video and your consent will grow in a short time.
Organize and create contests
Contests are possibly the best strategy to get subscribers even though they represent an obvious investment. You can raffle basically any prize; from clothing, gadgets, cell phones, computers and even money. The impact of the event will essentially depend on the prize in question, but the increase in subscribers is guaranteed.
Make the call to action in the middle of the video
Many youtubers use to make the call to action so that people subscribe at the beginning or end of the video, which is not always very effective. It is best to do it in the middle of it, when they have already been able to see the content you offer and decide if they really would like to continue consuming it or not.
By following these three simple tips, you will get those first 1,000 subscribers to start monetizing your channel . But this does not only apply to new channels, whether you have 10,000 or 100,000 subscribers, these tips will always be effective for you to continue growing.