Social media
Telegram development options what arey, how to activate them and make the most of it to enunance your messaging application?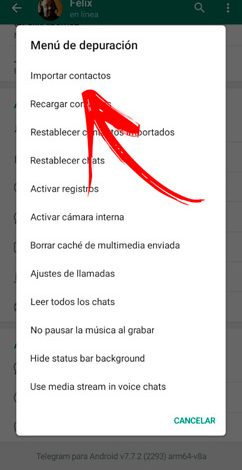 To activate the Telegram development options and get the most out of the messaging application on your Android device, you must continue reading to the end.
We will show you what this development tool that Telegram Messenger offers for free to any user is about. We will also explain to you what are the actions that you can execute from that menu. 
But this is not all you will see. In order for you to become a true expert, we will tell you the step by step you must do to configure the development options quickly and without errors.
What are the Telegram development options and what are they for in the application?
Telegram development options or developer tools are advanced features that remain hidden in the application. With this set of options it is possible to resolve some internal errors that occur on an Android device, save steps in the use of messaging and perform tasks that are not available within the common settings menu.
On the other hand, you will be able to change the use of the camera and improve the call protocol, among other things. It is important to clarify that this menu of development options is only available for the Android app and not for the rest of the Telegram platforms .
What are the actions that we can execute from the Telegram Messenger development options?
So that you can get the most out of Telegram, we will show you below the different actions that you can execute from the development options of the platform.
Go for it:
Import contacts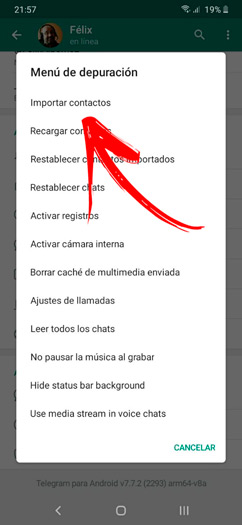 This function will allow you to add the contacts you have on your device to the Telegram account automatically. You must bear in mind that by performing this action you will not know any changes or a new screen, except when you enter your contact list.
Reload contacts
You will be able to use this tool when you have added new phone numbers to your mobile contact book. In order not to do it manually, you can use this function to synchronize the new contacts that you have just uploaded.
Reset imported contacts
This option is available to solve synchronization problems between the phonebook of mobile phone numbers and Telegram contacts. It is not widely used because it does not offer any interface and there are no visible changes every time it is put into practice.
Reset chats
It is another tool designed to synchronize internal chat issues within the platform. If you press on it, nothing will happen, since it is an exclusive Telegram development function, so you should not worry that it will not delete any private conversation or group chats.
Read all chats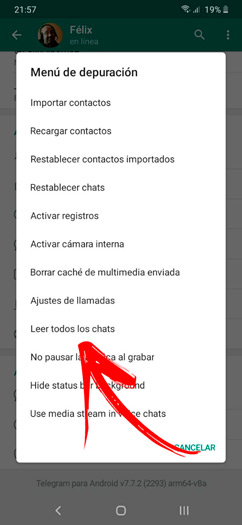 With this tool you can save time and many steps within the platform. Thanks to this Telegram development function, you will be able to mark as read all the chats that you received from your contacts or from members of groups to which you belong. That is, both private conversations and group messages will appear to you as read.
Don't pause music when recording
When you use this useful Telegram development option, you will be able to record a voice memo without pausing the music. In this way, the application will not pass the microphone when you activate voice messages, so the song you are listening to at that moment will not stop playing.
Activate records
This function allows adding a new tool to the Settings menu, with which it is possible to export a report in TXT format on the activities and uses that you give to your account in Telegram. Thanks to this option you will be able to share statistical data with any compatible application.
Disable internal camera
For better image results you can use this function. In this way, Telegram will be prevented from using its own camera every time you want to send a photo. Therefore, when you activate this function, you will use the camera of the mobile device (and not the Telegram camera app), which improves the performance in terms of pixels and sharpness.
Clear Cache of Media Sent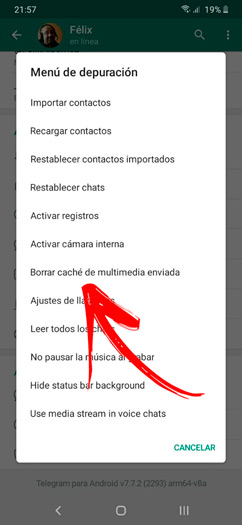 When you send videos from your mobile, Telegram stores these files in the cloud, so they don't take up space on your device. But this does not mean that small files are not stored to synchronize multimedia files from the cloud. For this reason, if you need to save space and make the mobile RAM work better, you will be able to use this development option. Thanks to this tool you can delete all those files that are stored in the cache .
Call settings
With this development function that Telegram offers you will get a new window with much wider options. That is, you can force a TCP connection and ConnetionService to modify the call protocol within the application, thus improving the adaptation of Telegram to the needs of the user.
Learn step by step how to activate the Telegram Messenger development options from your Android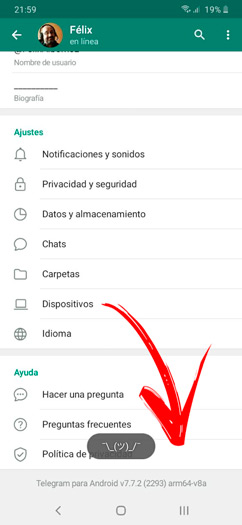 Once you know all the Telegram Messenger development options that you can perform from your Android device, we will show you below how you can enable these tools to take full advantage of the messaging platform. You must bear in mind that this function is only available for the Telegram mobile app for Android, so if you want to do these steps from iOS or from the computer application or Telegram Web, you will not be able to do it.
The step by step that you will have to do is :
Enter the application and go to the upper left corner of the screen. Click on the icon with the three horizontal lines.
When a new menu is displayed you will have to click on the Settings tool, which is represented by a cogwheel.
After this you will have to scroll the screen to the end. When you manage to find the version of the Telegram application, stop.
In this step you must be careful because the secret of the entire process is generated at this stage. What you are going to have to do now is press and hold the last of the screen, right in the platform version. This will bring up the shruggie emoticon.
Once you see the drawing ¯ \ _ (ツ) _ / ¯ you will have to press again on the Telegram version. In this way , a new window will open with all the development options that we mentioned in the previous point.
Do not forget that this function is disabled automatically, so you will have to repeat these steps if you want to re-enter the development menu.
If you have any questions, leave them in the comments, we will answer you as soon as possible, and it will surely be of great help to more members of the community. Thanks!