Social media
Slack channels what are they and how to create, customize and manage them correctly?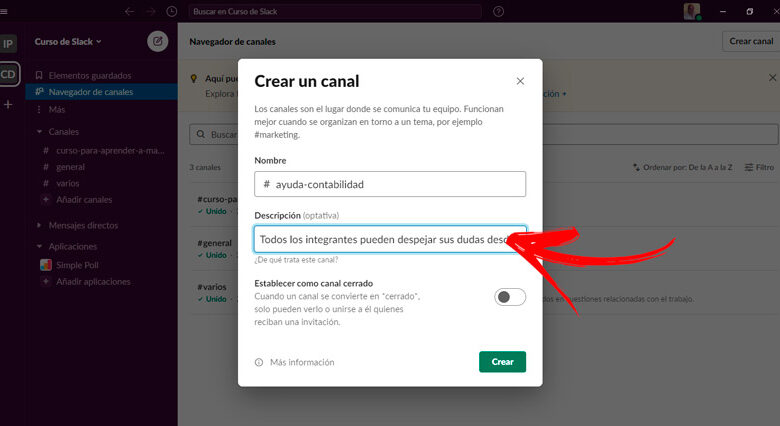 Those channels Slack can customize and manage the right way if you continue reading until the end . We will show you what these tools are and how you should create a channel without dying trying .
But this is not all that you will read in this post, we will also talk about the benefits you will get when you use channels by working with your team on the Slack platform .
Finally, we will show you the process you must go through to create channels and manage them successfully in a workspace . Do not miss any detail if you want to progress in your endeavor.
What are Slack channels and what are they for in a workspace?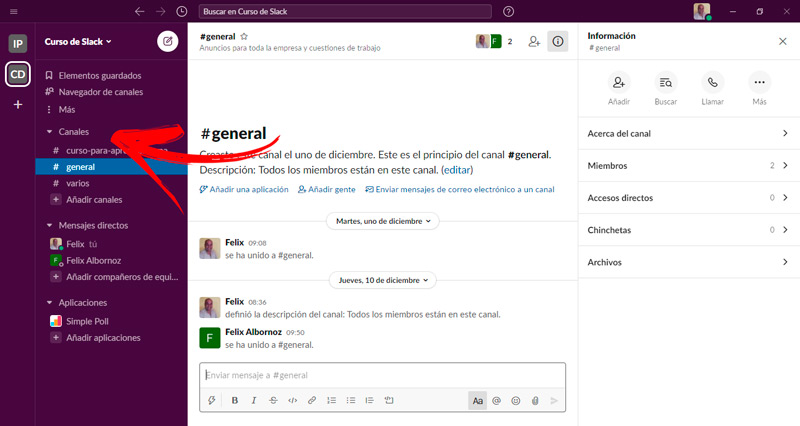 Channels in Slack are the different sections that the workspace is divided into. It is made up of members who can be administrators or owners of said space and by guests. In this way it is possible to share files, messages and any type of tool among all members.
That is, every time a person writes to a channel, all the participants of that channel can read the message sent by the sender . Within Slack there are 2 channels that are added to the workgroup by default. One, called #general, cannot be deleted and cannot be shared with other organizations. While the other, called #varios, can be eliminated and replaced by other channels.
In addition to this, the channels can be: 
Open, in which any user belonging to the same workspace can join and access different content that has been published before.
Closed, the opposite of the previous channel. This type of section limits access and only members invited by administrators and owners can participate. It has different tools that allow you to convert an open channel into a closed one.
Shared, these types of channels were designed so that different companies can access the same channel. In this way, a positive synergy is generated between the organizations because they handle useful information for both. To access this benefit it is necessary to contract a paid subscription.
Belonging to different workspaces, channels can not only be within one workspace but also in several. This generates great versatility within the company, since it is possible to amalgamate different areas so that they learn about topics of common interest.
What are the benefits of using channels when teaming with Slack?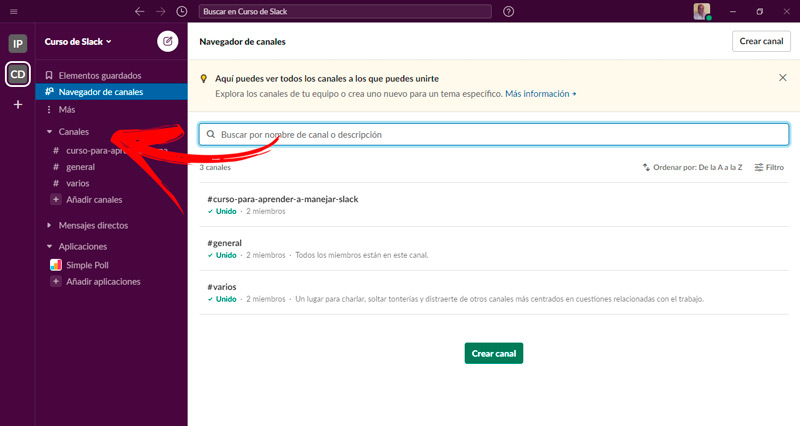 A Slack workspace is divided into Direct Messages and Channels . Within this last group in which you can share different topics and have a public conversation, there are benefits that are obtained when an organization uses these types of tools.
We will show you below the main advantages of using channels in Slack: 
By having different variants of channels (open, closed, etc.), the company has a very useful function to organize its important and not so important issues. In this way, you can divide the company's employees according to their hierarchy or work area and assign a channel for each need. With this there is a division of information that will be managed successfully.
It is possible to create as many channels as necessary. Being convenient to generate a channel for each project or topic of interest. Once the objective has been met, it is advisable to delete or archive it to optimize the organization in communication.
Slack allows channel sharing with multiple workspaces, which improves individual productivity because a person who belongs to different groups will need to focus on only one channel and not several.
By sharing channels with external organizations, it is feasible to create a regressive or progressive integration and generate alliances with suppliers or customers. In this way, Slack becomes a key factor in business success.
Although there is a free version in which you can save (in one or several channels) up to 10,000 messages, in paid subscriptions this limit disappears. By this we mean that if you don't want to spend money, you can consider incorporating this efficient communication system into your SME in just a few steps.
Within channels you can use external tools that are added to Slack to improve communication. This improves the efficiency of the company without giving up any benefits in terms of speed, storage capacity or user interaction.
The channels, in addition to the name, contain a description. This legend helps members understand what the section is about and what kind of information should be shared in that group.
Learn step-by-step how to create and manage channels in a Slack workspace
Next, we will show you the step by step you must do to create a channel in Slack and manage it effectively in a workspace .
Check out:
Create channels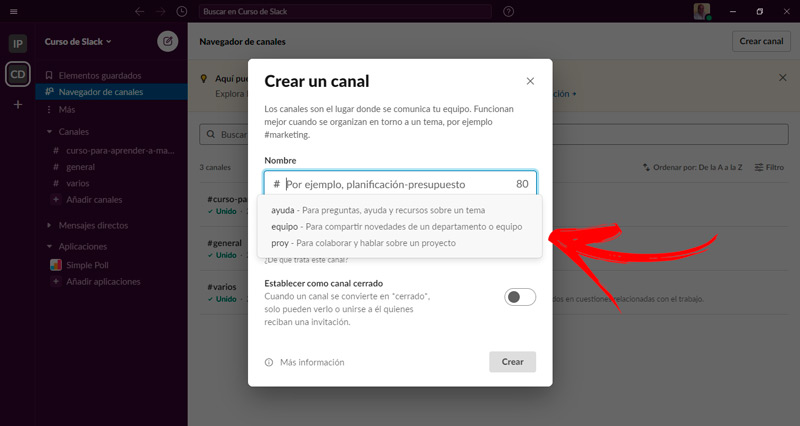 When you want to create a channel, open or closed, you must enter Slack with your computer and follow the steps shown below:
Open the workspace in which you want to add the channel. You can do this by going to the left side of your screen and selecting the name of the group, represented by two initials.
Select the Create a channel option .
Next, you will have to choose a channel name and write it in the field designated for this purpose. You must bear in mind that this name cannot exceed 80 characters and must be written in lowercase, without leaving spaces or including periods.
In this step you can add a prefix that will help the members to better understand what the topic is about. The default prefixes for the platform are #help, #team, and #proy . Also, you should keep in mind that here, channel, group, me and all are words that you will not be able to use within the name, since they are reserved by Slack.
Once you have finished with the previous steps, you can add a description to improve communication management and better establish the topics that will be covered in the channel.
If you want to create a private channel, you will have to enable the Set as private channel box .
Click on Create and add the users who will participate in the channel. If you prefer, you can click Skip for now to invite people to participate later.
When you want to create a channel from your mobile you should do this guide:
Access the workspace where you will add a new section.
In the lower left corner of the screen select the Start option .
Next, click on the + sign , which is located next to the Channels button .
At the bottom right , choose Add, represented by a + with a circle . If you do it from an iPhone you will have to go to the upper right part of the screen and select the Create tool .
Press the toggle option if you want the channel to be private.
Enter the name of the channel and add the description.
Invite members to join the channel and click Create .
Manage channels
The first thing you will have to do when creating channels is to start with the most general aspects. That is, the sections that you include in your workspace should begin with those topics in which most of your company's collaborators can participate . After a while, you must create a specific channel for each topic, or important projects, this will cause the invitation to participants to be less.
You will have to continue creating channels as you progress through the hierarchical levels. You will do this until you handle the important information with the people in charge within a specific channel. A good tip that you should keep in mind is to consider the organization chart of your company so that you take into account the map of hierarchical levels . You will be able to have both channels and hierarchy levels exist in your company.
Once you know the structure of the channels that you must include in your workspace, you will have to use specific names for each one. For example, at general levels you will have to use # global-notices, while in the more specific sections you will be able to have #accounting . You should not forget to include a description of the purpose for which you have created the channel, this will help you when it comes to improving communication organization.
Use prefixes
Prefixes will help you keep your channel list in order, which you can do alphabetically or by task. In this way, continuing with the previous examples, you can use help in the accounting department, so it would be # help-accounting . Pay attention! after typing the prefix you have to include a hyphen . This is because you cannot leave blank spaces in the channel names.
Share the channels and their guidelines
What you will have to do now is choose users and invite them to participate in the channels you just created . For this reason, it is important that you add a note to each description.
To perform this task you will have to do the following steps: 
Open the channel in which you want to share and go to the message body.
Then click on the lightning bolt icon .
A window will appear in which you must choose the option Create a note .
Write the note that you will accompany on the channel . This will be saved automatically.
Archive a channel
Once you have finished a project or know that you will not use it frequently for a long time, it is recommended that you archive the channel so that it does not affect the view in the left sidebar.
You will do this as follows: 
When you have found the channel you will have to press the Details icon .
Then you must click on More and then on More options .
Then click Archive this channel .
Finally, confirm your decision by clicking Yes, archive the channel .
Delete a channel you don't use
If for some reason you no longer need a channel because you have fulfilled the objective that was set when you created it or you have directly created another in its replacement in which the themes are better included, it is convenient that you delete the channel .
Perform this operation: 
Choose the channel.
Tap Details, represented by a circled i icon .
Click the More option .
Select the More Options tool .
Click Delete this channel .
Finally, check the Yes, delete this channel permanently box and select the Delete channel button .
Create user groups
If you have contracted a paid version of Slack, you will be able to create user groups and choose a custom configuration for each of your co-workers. You can also share specific channels with external companies to produce backward or forward business model integration .