Social media
Privacy on tiktok how to configure the platform to make it more secure and private for us?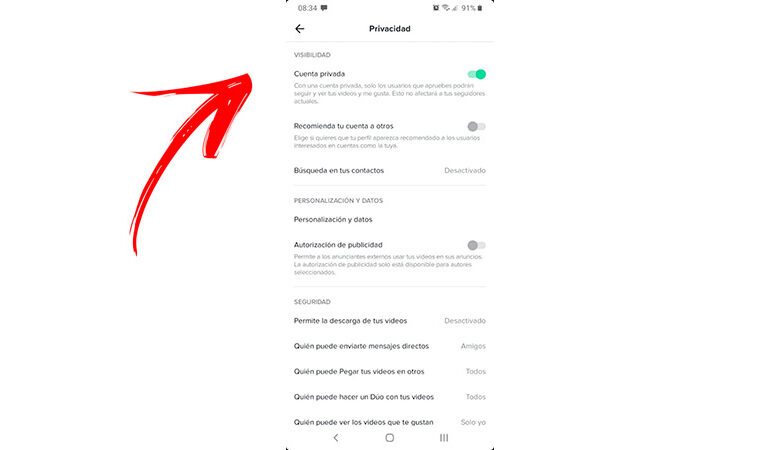 We will mention the biggest risks to your privacy that opening an account on TikTok will be mentioned in this article . This will help you to know the extent of the risk to which you are exposed, if you did not know.
To customize the platform and make it more secure, you will have to continue reading because we will explain the guarantees that TikTok gives to users in its Privacy Policy.
If you want to learn the step by step to configure the privacy of your account without making mistakes or dying in the attempt, we invite you to take a look at this post.
What are the biggest risks to our privacy on TikTok?
When you open a TikTok account, your private data is in danger of being shared with third parties if you don't configure it correctly. Therefore, anyone can access your videos and make comments that are not to your liking, share your content with others and use the Duet tool without your authorization.
But this is not all, you also run the risk that your videos are downloaded without your knowledge and that any advertiser can show advertising on your account without being able to restrict it. Finally, your privacy will be affected if you do not block the authorization for any user to send you private messages and see your account in full, since it is public and not private.
TikTok Privacy Policy What guarantees do you give to user data?
Once you have created a TikTok account and use it, the platform collects technical information about you, which can be shared with service providers outside of the social network.
In addition, your private data may be released to TikTok's business partners, companies belonging to the same group, advertisers, and companies engaged in data analysis. TikTok is also required to share your private information with the police and government authorities that request it. This is done to ensure the safety of third parties.
But this is not all, TikTok also collects the following information: 
Number of phone and email .
Name user, date of birth and profile picture .
Preference of language .
Age and content interests.
Geographical location .
Videos and photos that are uploaded from the account.
How often the platform is used.
The likes that are added in third-party posts.
Messages, if local legislation allows it.
General statistical information of the account.
Your friends' data .
Contacts from other social networks and email.
Reports on purchases made.
In accordance with this, the guarantees offered by TikTok regarding its privacy policy in the use of user data are regulated in the privacy policy section, which you can access from the official website. In it, a series of points is developed that establish that the data will be shared only with the commercial partners and all the other entities that we have mentioned before for the period that is necessary.
This is why the rights that users have are: 
Access the data.
Delete or modify private information.
Request a copy of the data handled by the social network.
Restrict the use of private information and revoke the consent to use it.
In the event that these warranties are not met, any user in the European Union can contact TikTok Technology Limited .
Learn step by step how to configure the privacy of your user account on TikTok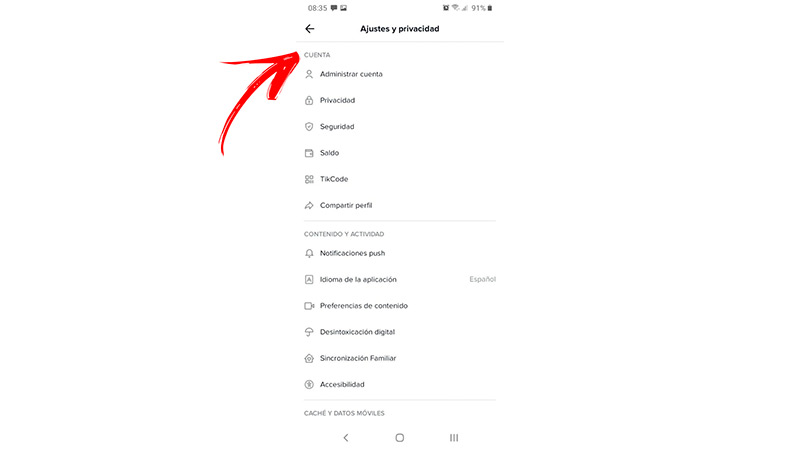 To configure the privacy of your TikTok account you must do the following step by step shown below. In this way, you will have your account blocked from accessing your personal data, meaning that no one can handle your information.
Check out:
Access your profile
The first thing you should do is open the application and enter your personal account . Then you must click on the Menu option , located in the upper right part of the screen.
Go to Settings and privacy
At this time you must access the ACCOUNT section and choose the Privacy tool . You will find a list in which you must activate or disable different parameters.
Create a private account
You must activate the Private account option so that only users that you approve can access and comment on your videos. You must also block the recommendation of your account to other users of the platform.
Personalize your data
You will have to access the PERSONALIZATION AND DATA section  to download a copy of all the data of your profile, activity and application settings. This will let you know what kind of information TikTok has about you. You should also block third-party advertisers from using your videos in their ads. You will do this by deactivating the Advertising authorization box .
Configure general security parameters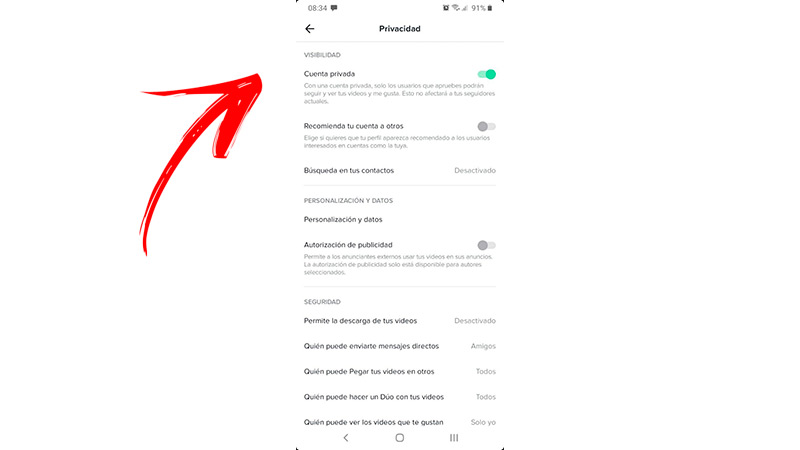 In the SECURITY section you will have different options that you must configure according to the level of privacy you want.
You will do this by activating or not the following elements:
Authorization to download your videos .
Which users are authorized to send you messages directly.
Who can use your videos to paste them into other content.
Restriction to use the Duet tool with your videos .
Which person can access to see the videos you liked.
Authorization to comment on your content .
Comment filters .
Account blocking .