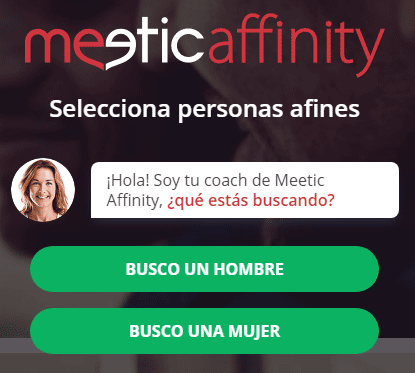 Meetic is an online dating service of French origin, created by Marc Simoncini in November 2001 and publicly announced in October 2005. Initially, this website operated only in France. However, with the passage of time, it was gaining popularity and expanded to other countries on the European continent.
In other words, Meetic is a website where the user is allowed to connect with other online profiles to make friends, expand the list of contacts around the world and even get temporary or permanent partners. This online service is available in different parts of the world, including Latin America and Asia.
Characteristics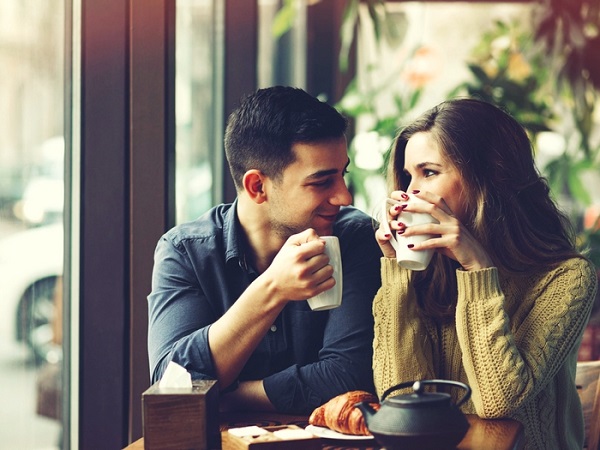 Meetic offers those who decide to use it, the possibility of finding a partner or making friends online, through a simple, attractive and easy-to-use platform . Before starting to use the service, each person must register on Meetic.es and generate a profile on the web.
Registration and access to Meetic is completely free, although it has a Premium option for those who want access to additional functions. Its platform is aimed mainly at single men and women, without distinction of sex, age, race or other characteristic, physical quality or ideology.
To do this, the person will be asked for very basic personal data, such as: name, age, sex, what they are looking for (male or female), location, email and a password of at least 8 characters.
Meetic is a reliable and safe website, compared to others in the same category. Offering security for personal data and a review of each existing profile on the platform, thus guaranteeing a higher level of security for each user.
Advantage
In addition to the aforementioned, there are some advantages of Meetic, among which are:
Given its existence throughout Europe, the number of users is higher, compared to other networks of the same style.
Organization of free Meetic events to facilitate contact between singles.
Ease of search according to the tastes, demands or criteria of each user, it is easier to find people on Meetic.
Free registration.
Constant incorporation of new tools, such as Meetic turbo, zen mode and incognito mode, to improve the user experience.
Disadvantages
However, this online dating service is not without certain disadvantages or negative characteristics, among them we can mention:
Greater amount of male audience, with 60% male profiles, it is a bit difficult for them to stand out in the middle of others. So it requires an improvement in your profile or to subscribe to the Premium option.
Users of the free version cannot reply to direct messages, this affects communication for Premium users, since they cannot chat with whoever they like, if the person in question does not have a Premium account.
How does it work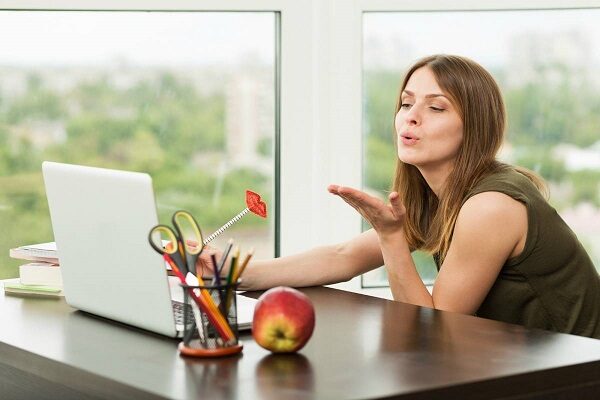 Once you enter the site, you will be able to access different exclusive Meetic services, including events for singles, which bring together more than 30,000 men and women, ready to "click" with that special someone, in a relaxed atmosphere. And pleasant. Activities include: dinners, educational outings, trips, parties, and even cooking classes and more.
The operation of Meetic is very simple, it is based on creating an honest, authentic and spontaneous profile, where the greater amount of information offers better possibilities of finding a partner. Similarly, users can share content on their profile to show those who visit it, a more realistic aspect of their personality.
Within the Meetic interface, the user can access a series of specific profiles that the platform offers as suggestions or, if they prefer, they can use the search according to their tastes and preferences.
When finding the possible prospect, the user can send a direct message to the candidate's profile to get to know each other in a more pleasant way and arrange a possible meeting. In addition, if you are a woman, through the Meetic Badge, you can select from the best singles.
What is Meetic Badge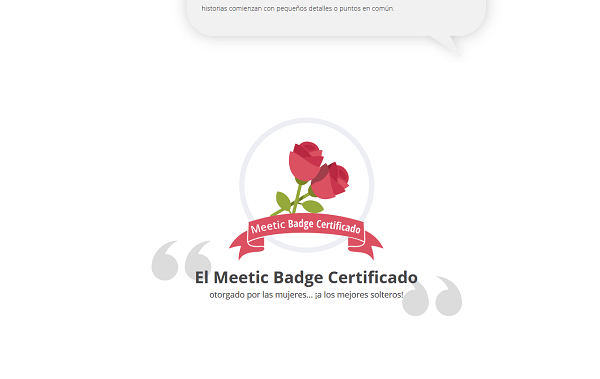 This is a type of "filter" that allows women to recognize the best users for a relationship. That is, those men who are willing to commit seriously and who meet a series of requirements in the treatment of ladies. To enter Meetic Badge, you can use thislink.
In the case of men who seek to enter the Meetic Badge, they must meet some simple requirements, such as completing 70% of the profile (include more specific information, such as: height, sentimental situation, nationality, children, vices, studies, etc.), add a photo, sign the Letter of the Best and go through the tutorials available.
By being part of the Meetic Badge, male users acquire a higher level of visibility and credibility, allowing the probability of increasing activity in the profile by 40%.
Note : in case of breach of the rules of conduct, the bachelor will be expelled or the Meetic Badge service will be denied. This occurs when the moderation team receives alerts of bad behavior.
Mobile app
Meetic has an official app that can be used from iOS and Android devices with OS 5.0 or higher. Through this application, users can access their profile from the comfort of their Smartphone, allowing them to meet new people and keep abreast of new events, wherever they are.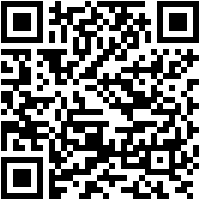 Meetic – Amour et rencontre entre celibataires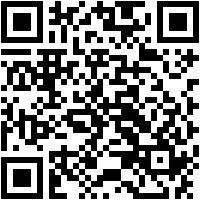 Meetic, Meet people, Chat
The appearance and operation of this application is similar to the desktop version of Meetic, allowing you to interact with other users, send messages and visit profiles of other singles.
Similarly, when using the Meetic application, the user can choose to purchase a pass directly from the app without having to enter the official site. Choosing between 1 and 6 months of paid subscription, which grant you exclusive access to your profile, from any device.
When accessing the app from the mobile, the user has the option to decide to allow access to their location. This is a good alternative for those who want to meet people in the same geographic range. To make this subscription, the user can use a debit or credit card. It is necessary to mention that, you can also purchase the pass from your profile on Meetic.es.
Keep in mind that this subscription is automatically renewed after the period stipulated for the plan you chose has expired. It can be canceled at any time that the user wishes, it should only be done 48 hours prior to the expiration of the pass.
Meetic Affinity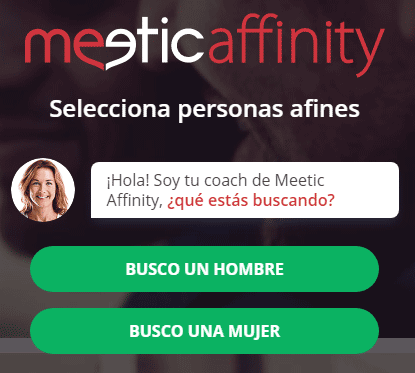 It is an alternate website to Meetic.es, but belonging to the same company. In this, users must respond to a personality test, something different from the original version where the user chooses their possible appointments based on personal criteria. To enter the Meetic Affinity site, you can use thislink.
At the end of the Meetic Affinity questionnaire, it is when the platform identifies and nominates possible candidates, who fully comply with the result of the test.
This option is ideal for people looking to establish a relationship with someone who shares the same tastes and interests, without having to search among thousands of users, applying the strategy of "trial and error", before finding the perfect partner.
Reviews (2)
Like many other dating service websites, Meetic has positive opinions, from those who have been able to get the most out of it, and negative from those users who, sadly, have not understood how the platform works or have simply been disappointed by bad experiences.
However, a condemnation or a compliment cannot be issued for the opinions of third parties, although these are very useful when choosing an online dating service.
Among the positive opinions about Meetic, you can read comments regarding the ease of use, security and trust in comparison to other online dating services, the number of active users on the site, and the wide age range allowed.
On the other hand, some of the negative aspects of Meetic that can be found in some opinions, are about the economic aspect, an example of this is the automatic renewal of the Premium subscription. Likewise, negative opinions are read from users who have had bad experiences with people who "show themselves as something they are not", although the latter is not the responsibility of the site, but of human behavior.
Positive user reviews
Juana, January 2020 : "Meetic has allowed me to meet new people and, thanks to my profile on their page, I have found the perfect man for me!"
Andrés, November 2019 : "Although the number of men makes it difficult for me to stand out among the rest, with a little help from the Premium services, I have been able to get several appointments in the last few months."
Ana, February 2020: " My current partner was a date made on Meetic. At first, I was a bit uncomfortable with what online dating means, but then everything got better. "
David, December 2019: "I still have not found my ideal partner, but it has been useful for me to meet several very good aunts and have a good time, hahaha …"
Negative user reviews
Sebastián, January 2020: "Well, it seemed to me that the costs are more than what they actually offer, I think the plans could be improved"
Francisco, January 2020: "The automatic renewal of the payment is not pleasant, although at first it was by mistake, they should inform when subscribing to the Premium version, it would be easier for us to decide if we do it or not, or at least inform one or two days before the renewal to be aware, after all, they have our data ".
Meetic Premium Subscription
By subscribing to the Meetic Premium option, the user can exclusively access a series of additional functions such as:
Suggestions for specific profiles.
Read and send messages.
More contacts.
In addition to this, the Premium user can contact any other user who does not yet have a Meetic pass without any problem. Although, as mentioned a few lines above, the user of the free version will not be able to respond.
To use this function, the person must only click on the link "subscribe" located at the top of the website. And choose between the different plans available to purchase a Meetic pass.
You can select from the following options:
6 months at € 5.49 / month for a total of

€

32.94 (instead of

€ 10.99

/ month for a total of

€ 65.94

)
3 months at € 9.49 / month for a total of € 28.47 (instead of

€ 18.99

/ month for a total of

€ 56.97

)
1 month at € 18.49 / month for a total of € 18.49 (instead of

€ 36.99

/ month for a total of

€ 36.99

)
In addition to the plans available in the Premium option, Meetic has functions or news that give the user the possibility of standing out in the middle of the competition, these are:
Incognito mode: Allows users to review the number of profiles of potential prospects they want, without being informed that they have seen them. Hiring this service has a cost of € 1.99 per day or € 9.99 per month.
Meetic turbo: Generates more traffic to your profile, since it allows you to appear as a " featured Meetic user ". In addition, the platform sends a report on the number of visits it receives on the profile. It has an additional cost of € 2 per month.
Conclusions
Meetic is an excellent option for those who are looking to have a good time, either integrating new people to their friends list or meeting their new partner. Through its multiple tools, it offers each of its users the ease of relating without having to suffer the panic or shame that, on many occasions, is present during a first contact.
So it is not surprising that it ranks among the top browser options when it comes to online dating services. And with more than a decade of existence, it is expected that he will continue to implement new strategies for the dating service.