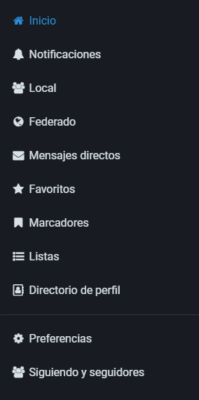 Mastodon is a free and decentralized social network that has similar features to social networks dedicated to microblogging, such as Twitter or Tumblr. Its peculiar characteristic consists in being a federated network, which means that it is composed of multiple servers throughout its network and not just a single server or central provider, which guarantees less content control, censorship and restrictive policies that could reduce the potential of social experience.
These types of platforms have become increasingly popular among social network users, especially among those disgusted by the limiting content standards, since in Mastodon it is the same users who manage the servers, also known as instances or communities.. Each instance may be defined by certain basic rules or certain topics, which will be defined by its hosts or administrators.
By having a large number of servers throughout its interconnected network of communities , it is virtually impossible for a government entity to block the content of each one of them, in the same way that it is not feasible to impose rules on the entire fediverse (that is, to the entire set of federations) of Mastodon. This social network was developed and launched to the public in 2016, it works thanks to free software that guarantees a totally free service to users, except for the conditions of certain instances that have so determined.
Characteristics
Mastodon is an innovative and refreshing service for users tired of regulations. But in addition to having greater freedoms within the field of social networks, it has all the functions granted by specialized microblogging portals. For the majority of users of conventional social networks, this federated network may be something out of the ordinary, but the truth is that Mastodon's characteristics make it as practical and functional as any other social network, among the most important of which are the following:
Its structure is made up of a complex system of servers called fediverso.
The use of this social network is completely free, with no payments for creating an account or monthly fees for using it.
It is made up of a cluster of servers or instances, where each one is characterized by the theme and members, which in turn establish the basic rules to regulate the content and behavior of users.
It works on the basis of open source software, more specifically the GNU Affero General Public License.
It offers the opportunity to create your own server or room to publish content that can only be viewed by those who are part of this community.
Unlike other social networks, government or business entities cannot censor content on this network.
Mastodon allows you to write messages or "Toots" with up to 500 characters.
The user who creates an account on this platform, chooses the preferred content that will be displayed when logging in.
It is possible to select who will be able to see the published content, the general public, the servers of which they are part or of any of their own rooms that the user has previously created.
In addition to text messages, information can be posted in the form of multimedia content, such as images and videos.
How does it work
Mastodon has a characteristic operation that attributes its greater freedom, greater content selectivity and better service conditions. In the first place, these attributes are achieved thanks to the fact that Mastodon is made up of a federated system of servers, all of them having their code open to the public in the github repository.
To have the services of this social network, the person must register using a personal email address. Once on the platform, you can decide which instances to follow, as well as choose the appearance of the application, the language and who will be able to see the content that the user publishes. At first glance, a system very similar to platforms like Twitter, but with a decentralized server operation.
Create account or register
Social networks such as Mastodon require a certain time for users to assimilate each of the functions and to make the most of the potential that these networks have. However, having a clear notion of the operation of these services can help to considerably improve the experience of Internet users. Here are the key steps to create an account on Mastodon and get started.
First of all, you must access the website ofjoinmastodon.org. In this portal you can select which instances or communities you want to be part of once a profile has been created, being able to filter communities by languages ​​or other parameters.
A username, email and password are established, which will be the user's profile data. When doing so, a verification email will be sent to the email account used, so it will be necessary to access this email and complete the validation of the account.
Once the email is confirmed, you can log into Mastodon and access the main Mastodon portal normally.
Like every first time in a social network, this one will expose the basic functions and characteristics of the system, explaining each of the appreciable icons in the home interface.
When you open the Mastodon Home, you will see the Home in the center of the page. Here the posts of the different users that are followed on the network will appear.
On the left is the tab for Tootear (share a message and / or content). Through a "Toot" you can refer to other users by preceding the user's name with an "@" or by means of the "#".
The entire account administration panel is displayed on the right of the page. Through the different tabs of this panel you can access direct messages, contact list, preferences and others.
As the user interacts with this social network, the similarity with networks such as Twitter will become noticeable, so if you have some experience in this last social network, the experience can be highly deductive and easier for people.
Advantages and disadvantages
Mastodon is a fairly comprehensive and complex service that is capable of guaranteeing a free spread of content and greater selectivity when choosing the material to consume and with whom to share. Despite the obvious benefits of platforms like this, all social networks have their flaws. Some of the advantages and disadvantages of Mastodon will be briefly discussed below.
Advantage
No central entity can censor the content of network participants, so it is not limited by policies or limitations imposed by the platform.
Each user who wishes can create their own instance where they can publish their personalized content.
You can determine the audience that a publication will have or in which communities the content can be exposed.
Mastodon allows you to publish texts of up to 500 characters, known as "Toots". Unlike other social networks like Twitter, which only allow "Twits" of up to 280 characters.
It is a totally free platform.
There is a huge variety of languages ​​for different people around the world to join this community.
It has a friendly and practical interface, which facilitates the understanding and organization of the publications.
Disadvantages
Some content managers may set certain fees for being part of an instance.
Thanks to the freedom to share content and any kind of messages, there are users who can fill the servers with spam, inappropriate or offensive messages.
There is no trend viewer or bar, where the most salient topics of the moment can be detected.
Despite its growing popularity, the vast majority of people do not have a Mastodon account.
Alternatives
Although Mastodon can be a rather peculiar and versatile application, the truth is that there is an important variety of platforms dedicated to selective microblogging, where you can select the content to view, as well as you can manage who is able to follow the content. own self. Here are some of the most common microblogging alternatives today.
Twitter
It is currently the platform that is considered the preferred in this kind of content publication, with the capacity to tweet up to 280 characters and a great variety of multimedia material, it has a sober and customizable appearance. It is well known for its trend viewer, where you can quickly see which are the most mentioned topics of the moment.
Gab
Gab is presented as an alternative social network to other media such as Twitter, which has been constantly criticized for its censorship policies in recent years, before this, platforms such as Gab have emerged, considered portals with much greater freedom in terms of content advertising , where gabs of up to 300 characters can also be written and placed on the network, including multimedia content.
Tumblr
Tumblr is one of the most popular social networks among the young population, more precisely among those under 25 years of age. Characterized by its extensive artistic and customizable content, with millions of users, it allows you to follow content from other Tumblr accounts as well as manage the users who are able to view your own content.
Telegram
Telegram has become a serious option, even with media like WhatsApp. It allows access to an innumerable number of channels and bots that offer the content of preference for the user. In the same way, any user is able to create their own channel with content and be able to give access to the public they select, it is also possible through bots and Telegram groups to participate in games, academic, artistic and recreational applications.
Not me
Amino is a platform mainly designed for mobile devices, where different users around the world can converge in groups or communities where they discuss or publish topics of common interest. The means by which the information is published by this application is through blogs, forums, surveys, among others, in this way various content is shared on any subject.