Social media
Manage flitter what is it, what is it for and how to get the most out of it on twitter?
If you're looking to make the most out of your account on Twitter, you'll need to have a tool that allows you to know different types of details of your actions and users of the social network.
For this, you will need to use the Manage Flitter platform. With this tool you will obtain different types of benefits, for example, manage multiple accounts. If you want to know more, you will have to keep reading.
In this article you will also find a detail of all the functions and tools that Manage Flitter offers and if you want to use other platforms, we will also show you the most important ones.
What is Manage Flitter and what is this tool for?
Manage Flitter is an online platform that allows you to massively manage one or more Twitter accounts . With this tool you will be able to find the best audience according to your marketing objective . In addition, you will access different metrics that will help you refine your publications.
But this is not all, you will also have the possibility to schedule tweets to appear at the time when most of your followers are active . This will help you gain visibility and gain more authority over other Twitter accounts .
What are the benefits of using Manage Flitter on Twitter?
Among the benefits that you can access when using Manage Flitter are the following:
Manage multiple accounts
You will have the possibility to manage different Twitter profiles, and if you access a payment plan that number will be higher . In the free version, you can follow up to 50 accounts daily and unfollow up to a limit of 100 users. This way you can easily control and handle different profiles, thus avoiding manual tasks with less detailed studies.
Analytics
Other important benefits that Manage Flitter has is its analytics . With this you will know different behaviors that users have about your publications. Thanks to these metrics you will be able to know how many people interacted with your tweets, the number of times they visited your profile and the retweets you received .
In addition, you will be able to know the number of responses and the number of times your tweets were shared, among other topics. If you take actions to make them visit your website, you will also be able to know how many times they clicked on the link.
Schedule Tweets
Other outstanding functions offered by this tool is the possibility of being able to automatically schedule tweets to be published at the times when the audience is most active.  With this, you will obtain the benefit of increasing your efficiency by a large percentage with respect to arousing the interest of Twitter users .
Structure the audience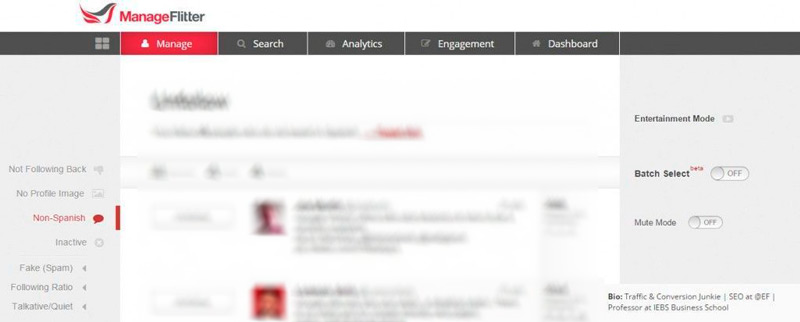 It is another benefit that you will get with this mass analysis tool for Twitter . This is because Manage Flitter has a large number of filters that allow you to precisely differentiate the type of user that interests you . In this way you can avoid people who speak in another language, inactive users and accounts that carry out spam, among other filters.
Manage Flitter Features and Tools What are all the ones I can use?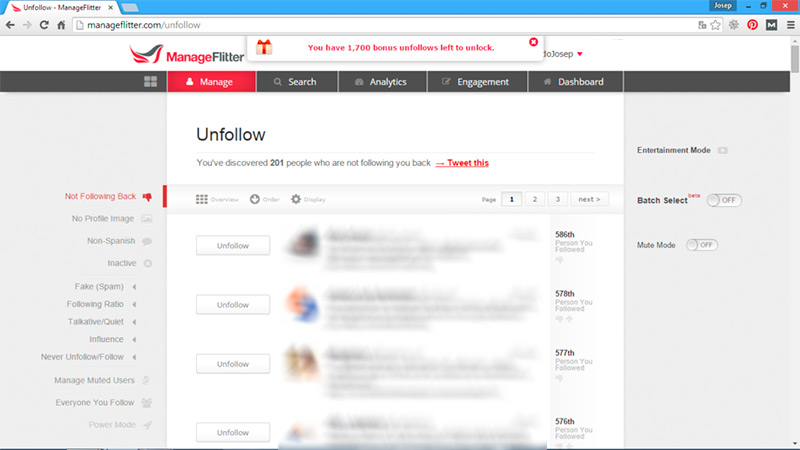 Being a tool designed to analyze the profiles of your followers, it has different types of filters that will help you better manage your Twitter user .
You can filter according to these criteria: 
Users without profile picture. That is, they have not completed the registration process on the platform and therefore have the photo of the egg. To activate this type of filtering you will have to click on No Profile Image .
Accounts that write their Tweets in different languages . In this way you will be able to know those users who are not interested in following them due to the Language Barrier . You will be able to apply this filter by clicking on Non-Spanish .
People who do not register activity in the last month. With this type of element you will be able to find those inactive users in the last 30 days, for this reason it is necessary to identify them to know that you will not find interesting messages in these profiles. Click on the Inactive option , if you want to know this type of information in detail.
Active users. Another important parameter that you can consider when filtering Twitter accounts is knowing who are the people who tweet the most. To get this information you will have to click on Tweets .
Aggregates in lists . With this tool you will be able to know those accounts that have been added in the lists, for this you will have to select the Listed function .
If you are looking to have an order according to the activity they had since their last tweet, you will need to use the Activity tool .
Influence is the function that will allow you to sort according to the degree of influence that each account has on Twitter . In this way, you will have more possibilities to grow your brand if you interact with these types of people.
Every time you need to sort users according to the number of accounts they follow, you will have to use the Following function .
In case you want to have a filter according to the number of followers, you should use the Followers tool .
When you need to know the accounts that perform automated actions (spam), you will have to select Spam Score to know in detail all the users who perform this type of activity.
Tweets per day is an important metric for knowing the people who are active on a daily basis. You will not be able to use this filter efficiently if you combine it with other types of information. To know the users according to the tweets you will have to select Tweets per day .
Followers vs following ratio is an important tool for finding out about popular accounts.
In case you need to know the order of the users based on when you started to follow each account, you will have to use Follow Order .
Tips for getting the most out of Manage Flitter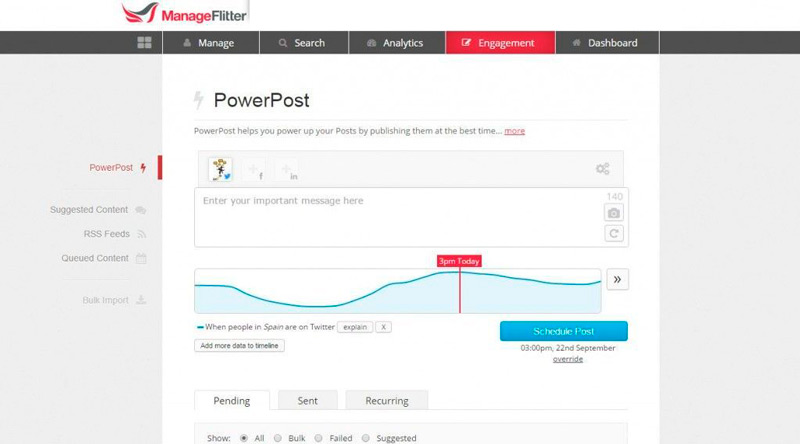 As Manage Flitter is a tool to massively manage Twitter accounts , you can make the most of it if you use all the filters that this platform has . Because of this, you will be able to better select which accounts are of most interest to you according to the objectives you have established.
You can also benefit if you schedule the tweets to be published during the busiest hours of your audience . For this reason, it will be necessary for you to keep in mind the study of the behavior of your followers and frequently use this function that Manage Flitter offers you .
Other advantages offered by this tool, and that you can make the most of it, is its search engine . For this reason, you will be able to find profiles and topics that are related to activities of your interest much more easily. Finally, you will be able to take full advantage of this tool if you hire the Pro version to access the most complete analytics that exist . With this you will be able to know what is the behavior of your followers and other important accounts linked to your interest.
List of the best alternative tools to Manager Flitter to manage Twitter profiles
In addition to Manager Flitter, there are other tools that will allow you to manage profiles on Twitter.
Learn about the most important ones that exist today:
Tweetbinder.com
It is one of the most complete tools that exist for Twitter . You can analyze trends in a very simple way, you only have to enter words or topics that interest you and that are related to an activity in the search engine .
It has a paid version with which you can access detailed reports for the last 30 days with a limit of up to 35 thousand tweets . But if you prefer, you can get up to 140 thousand tweets by paying a little more. Two more aspects to highlight, you can receive a free report of the last 7 days with a limit of 500 tweets and all its metrics are made in real time.
Audiense.com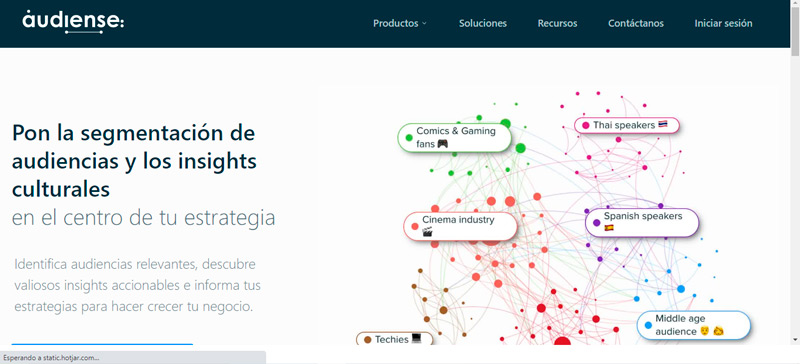 With this online platform you can segment your audience in a very simple way. You will have the possibility to know their geographical data, ages and any other type of information that may interest you to fulfill your objective in social networks. If what you are looking for is to grow your business quickly, this tool is ideal for you. Since it has different functions that will allow you to analyze events that will increase the recognition of your brand.
Analytics.twitter.com
We couldn't ignore native Twitter analytics . This is a tool that the social network offers you to know the activity and interaction that your publications have, as well as to know what are the interests of your followers. You will be able to improve your marketing in social networks quickly, since you will have measurements of the last 30 days and you will be able to know which were the tweets that interacted the most .