Social media
How to view my Facebook profile as others see it – Quick and easy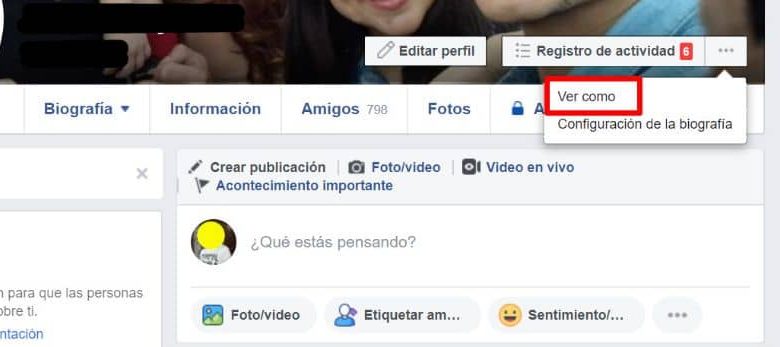 Facebook is a social network that allows interaction between users from all over the world. This offers the possibility of establishing bonds between family and friends, as well as meeting new people. The online platform has been afloat since its launch, more than ten years ago and this is due to the constant updates to its service, which have made it popular among the virtual community.
The App arises through a project developed at Harvard University in the United States; when Marck Zuckerberg decided to create a platform that would allow the students of the prestigious university to meet and interact. However, the idea was so popular that it quickly became a project that would encompass the world market.
It is estimated that Facebook has more than one million three hundred and fifty thousand active users in the world and this is thanks to the inclusion of new marketing strategies that allow the promotion of businesses and companies from the social network. You can update your Facebook to the latest version.
How to see my Facebook profile as others see it?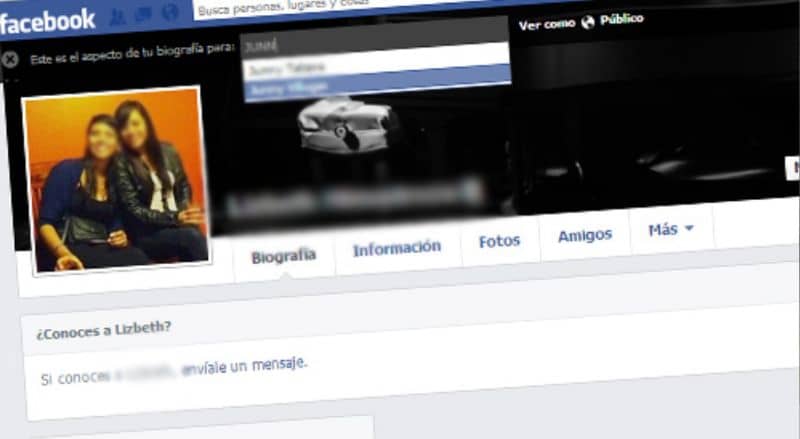 Facebook uses a simple presentation of the platform, which allows users to establish a relationship between the user and their friends on a conditional basis. This means that the person can modify the access of the content of their profile so that it is only viewed by certain people. If you wish you can change the URL address of your profile
Usually users share multimedia content such as photos and videos , in addition to adding images that have been attached to other profiles. This type of information may be available to different users on the network, according to the use that its creator wants to give it.
On the other hand, there are some images that will be available to the public due to a previous configuration on Facebook. These are the profile picture and the cover picture or photo. In addition to the personal information that has been provided by the user. Of course, this type of content can be restricted at any time.
Steps to view my Facebook profile as others see it
You can have a preview of your profile from the perspective of a friend or user on Facebook, for this you can apply two options.
The first is quite simple. Currently the application has the option to view your profile as if you were someone else. For this, go to the profile section, and right next to your name you will find a square white icon that has the figure of an eye. This option is called "see how" and by clicking on it you can have a preview of your own profile as if you were someone else.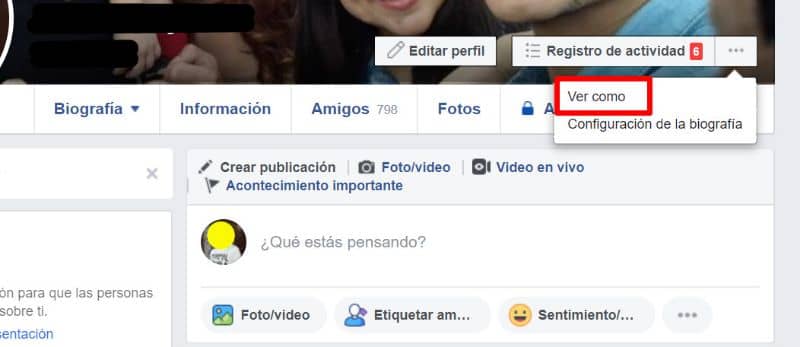 The next alternative requires a bit more ingenuity. Use a Facebook account of a friend or family member and access your profile. It should be noted that this option is usually more used than the previous one, due to the fact that many users are unaware of the existence of the previous function.
Why see my Facebook profile as others see it?
Viewing your Facebook profile as others see it helps you to be certain that content is exposed to the community of users on the network and which is not. If you have previewed and want to make adjustments to your privacy settings, you can apply in various options.
If you are not comfortable with your photos or certain publications in particular being visible, you can click on them and change the display from "public" to "friends" or "just me".
If you do not want people to use personal data to contact you (phone number, region, email) you can make changes in the "information" section located in your profile. From there you can choose which users you want to see this or if you don't want anyone to do it.
These types of actions will help you stay safe from unscrupulous people who may use your data to commit misdeeds against you or someone else.
Finally, we hope this article has helped you. However, we would like to hear your opinion. Do you know of another method to view your Facebook profile as others see it? Leave us your answer in the comments.