Social media
How to view Instagram stories without them knowing

Although Instagram is one of the safest social networks, there are some tricks to circumvent its basic functions and achieve feats like watching Stories without them knowing. This is possible thanks to the use of various tools, specifically designed to hide such activity. Currently, there are applications for mobile devices or Chrome extensions that you can use without installing any program.
Various web pages have been created with this functionality, but many have ceased to operate over time. Therefore, in this post you will be able to know the methods that continue to work. On the other hand, additional alternatives will be proposed that will always work. Although they can be uncomfortable or complicated for the user, they are very useful when you want to see an Instagram story without the other person knowing.
From a web page
This is the most used resource to view Instagram Stories without them knowing it, but many of the most popular pages no longer work. If you want to use this method, then the use of SmiHub is recommended. To access, you just have to click on the following link:https://smihub.com/.
This website has a simple and very intuitive interface. You just have to write the username and click on " Search ". If this person has their profile in public, you will be able to see their Instagram stories published in the last 24 hours, the tool will not take long to show them and you will be able to see them without revealing your identity or noticing.

In addition to this, the website offers more information about the account being sought. Showing her posts, followers, people she follows, and the posts she was tagged to. It even details how many hours ago the Storie was made.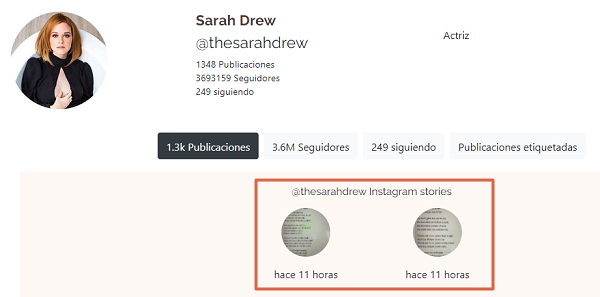 Using an extension in the browser
Another option to view Instagram Stories without them knowing from your web browser is using a Google Chrome extension. One of the most recommended is Hiddengram, which can be easily installed from the extension store and will be activated automatically.
Later, you will be able to browse the web version of Instagram normally and see the stories of the accounts you follow without them detecting the activity. When you use it, you will find that it is working because the stories are not marked as read. To use Hiddengram follow thislink.

Installing an application
Another alternative to view Instagram stories without them noticing is to install a special application. The best option currently is " NoSeen for Instagram ", which has been specifically designed to hide the activity of this social network related to that seen in the stories. If you wish, you can download this app from the official Android store by following thislink.