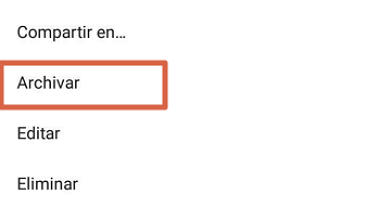 Hiding or archiving posts on Instagram is something relatively new for some users, especially for those who are just starting out on this social network. So it can be confusing for them to know where to find hidden content on your profile. However, this is something very simple to do or discover.
You just have to access your account on Instagram and look in the "File" section in the app menu. There you will find all the content that you decided to hide from the view of your contacts and also the history of published Stories. To learn how to view or find archived images, continue reading this post.
Where to find archived photos
Instagram maintains a detailed archive of publications and stories, it is there where the images and videos that you hide from your profile are stored. To find them, you just have to follow these steps:
Enter your account on Instagram and click on your profile image (bottom right).
Then tap on the three horizontal bars (top right) to open the drop-down menu.
Select " File."
Click on the drop-down bar and select " Publication file ".
In this section you will be able to see all your hidden content and, if you wish, make it visible on your profile again.
How to archive photos
Although most Instagram users may probably know how to archive their posts, it is possible that there are those who do it by mistake when trying to press another menu option and end up totally lost on the subject. Reason why, it is important to explain the step by step to hide the embarrassing or unwanted content of your profile.
Log into your Instagram account from the mobile app.
Click on your profile photo in the lower right corner.
Search your Feed for the publication you want to archive.
Press the icon of the three vertical dots, in the upper right corner of the photo.
Select " Archive."
Following these instructions, you can hide any content you want from your biography and, if you want to make it visible again, you will only have to search the archive of publications and unarchive the one you want to show. The steps for this are similar to those explained above, but change a bit at some points.
Aspects to consider
Before proceeding to archive any Instagram publication, you must take certain aspects into account, such as:
This content will be visible only to you : No one else will have access to it, unless you give the access information to your Instagram account.
Deleted publications are not archived : On the contrary, they disappear completely from your profile, taking with them any interaction that has existed in it.
You can reverse it at any time : Just by following the appropriate steps, you can have archived posts returned to your profile.
The figures and interactions are maintained : Even though you hide your publications, they retain their statistics, that is, likes, comments and views. So you will not lose any important data.
As you have seen throughout this post, archiving photos on your Instagram account is really easy. You just have to carefully follow each of the steps mentioned in the text to achieve it. In addition to that, you have a guide to see where those archived images are and recommendations for it. Don't wait any longer and archive the photos you want or search for those that you already have archived.