Social media
How to use twitterfall to monitor tendencies on twitter? Step-by-step guide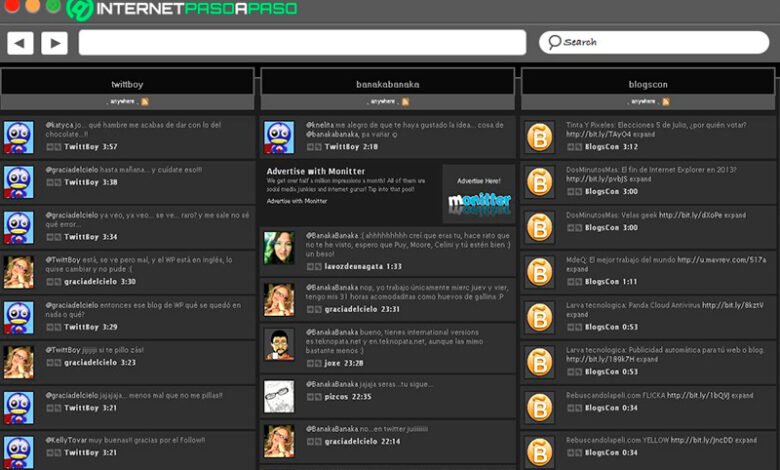 Social networks have become one of the most important tools for most human beings, especially for those who are promoting their business through them . And it is that being able to monitor in the networks is very important to be able to monitor mainly your brand .
Due to the importance of being able to monitor trends on all these platforms, a large number of tools have been created to help you do it much more easily. This is how TwitterFall can currently be found , a tool that will help you monitor all trends and patterns published by other users of the same platform .
Therefore, TwitterFall will let you know what is currently being spoken on Twitter , what are the most used words, it offers you a geolocation option , among many other important functions. In accordance with the importance of this tool, here we are going to explain a little more how you can use it in your Twitter social network .
What is TwitterFall and what is its main use on Twitter?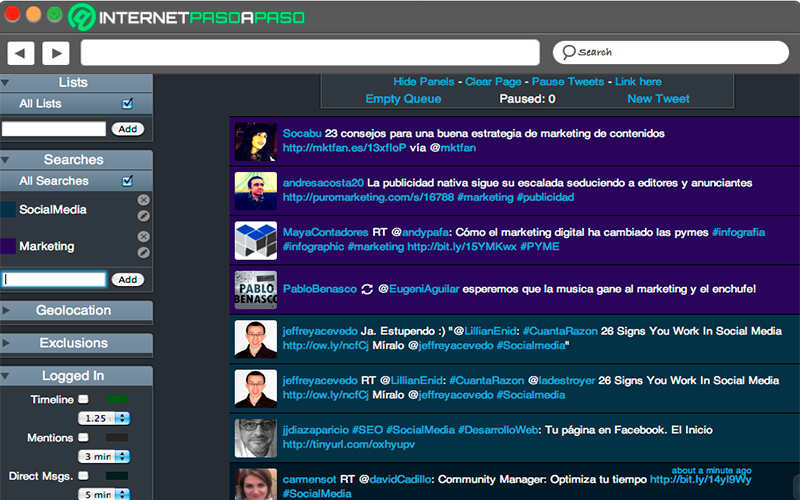 This website has been designed mainly for users of the Twitter social network, who will be able to use it in order to know what are the trends and patterns published by other users within the platform. It works as a server in the cloud in which tweets fall on the screen, which makes it an ideal option for making presentations .
This platform works through all the search trends of the social network, so you can discover what the current topics are and share them with all members of the community . Another advantage that this offers is that it allows you to do geolocated searches, in this way you will know which tweets are the most published in your place of residence .
In this way you have the opportunity to know which topics are the most sought after in a specific place. A very important tool for those people who are promoting any type of business on the platform. You also have the opportunity to see your timeline on the social network, this will allow you to know how much time you spend on it.
Other important options that can be obtained on this website is that it offers you the possibility of changing a wide variety of presentation options, where you can modify the size of the letter, the speed of reading the tweets, the font color, among many other customizable elements you'll find there.
Learn how to use Twitterfall to monitor trends on Twitter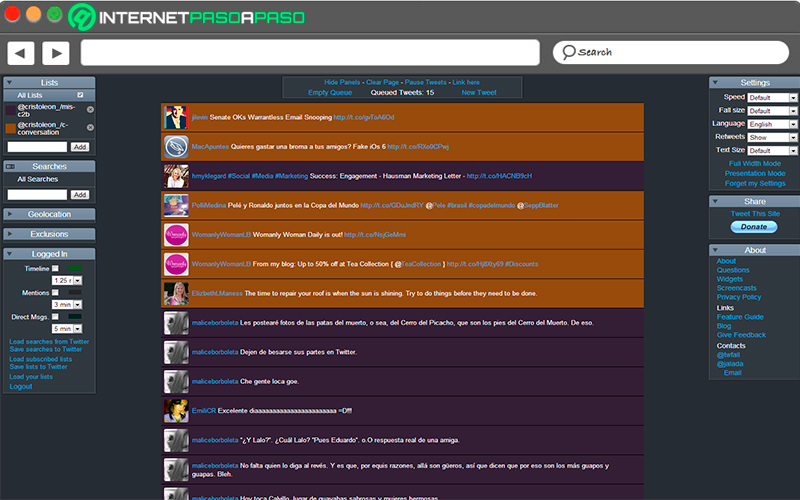 This website, as mentioned above, provides you with a series of advantages when you want to know what is the most popular within the social network, either worldwide or in your area of ​​residence .
Accordingly, here we are going to explain how you can start using Twitterfall to monitor Twitter trends:
To use this tool, you will need to enter the Twitterfall website, there you must enter your Twitter login information.
Next, a window will appear where you must authorize the website to access your account. To do this, click on "Authorize application".
In order to know what the trends of the moment are, you simply have to go to the search bar, there it will appear which are the words and the most searched topics of the moment.
In the event that you want to filter these searches by geolocation you must click on the general feed and there follow the trend of the most popular messages on the portal, in this case you must configure the search criteria and there in the location item select the place or country where you want the search to be carried out.
If what you want is to adjust the speed of the message flows, as well as customize the tool to modify the size of the letters, the font color and many other aspects, you should go to the "Settings" section, which you will find it in the panel on the right column of your screen.
List of the best alternative tools to TwitterFall that you should know
Today you can get a great variety of online tools that will allow you to monitor everything that is trending on the Twitter social network . This is how TwitterFall has become the number one option for it today. However, it is possible that for some reason you do not want to use this website, but you want to try other viable alternatives for it and that offer you very good results.
This is how here we are going to show you a list of the best alternative tools to TwitterFall that you can start using:
VisibleTweets.com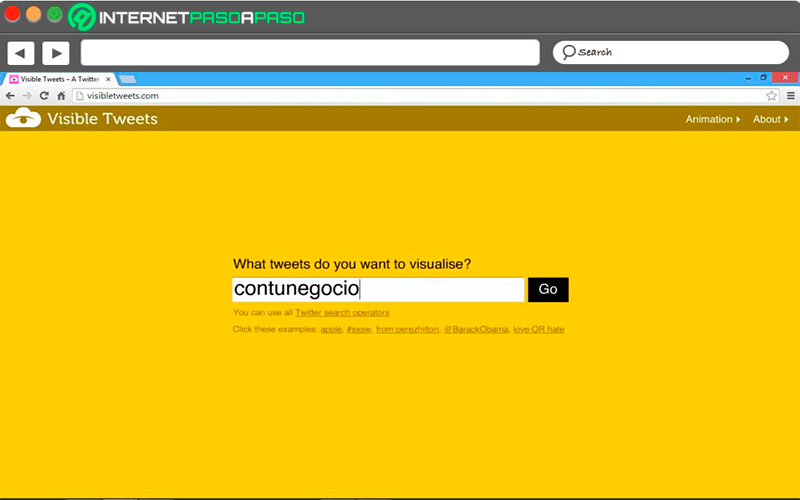 On this website you will have the possibility of having all the necessary tools to discover which are the most popular tweets of the moment, as well as to know what are all the upcoming events available in your city. In addition, it stands out for being very simple to use, for this it allows a full screen display and without advertising. It also offers you three types of transitions between tweets.
To carry out the respective searches within the web platform you can do it either by entering the keywords, the users, the place or country where you want the search to be carried out or through the hashtag .
TwitterFountain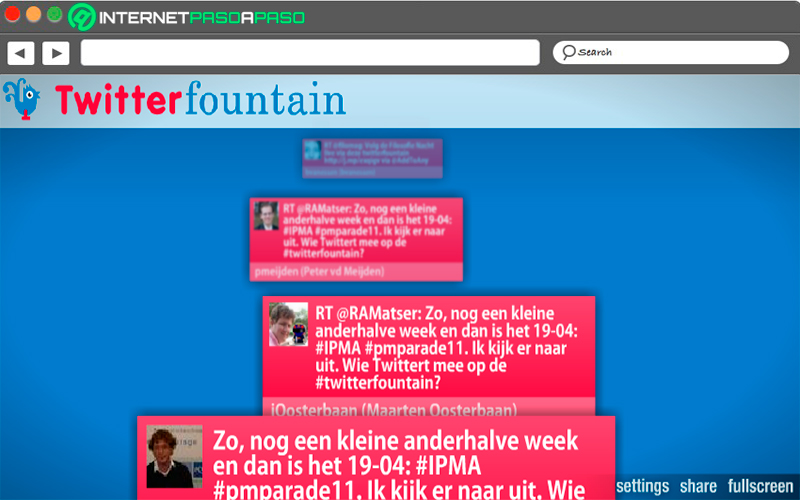 This is another of the websites currently available to perform advanced searches within the social network, for this you will have a professional form that will allow you to filter searches either by keywords, by the language of the tweet, by username, geolocation or hashtag . It also gives you the ability to combine tweets with background images to make it much more attractive. To access go to the following address "http://signup.twitterfountain.com"
It also has an excellent appearance that will help you have a much more pleasant experience in it, you will have animations and transitions in tweets, animations of background images, you can modify the colors and fixed background image, among many other options that you will have there available.
Monitter.com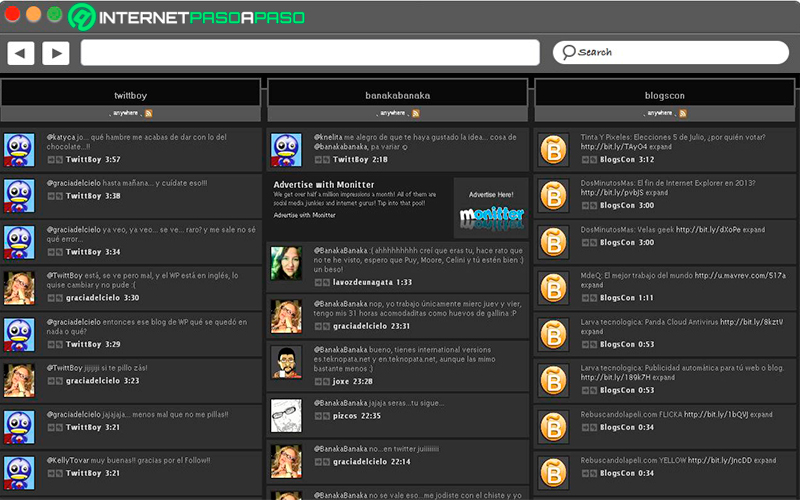 It stands out mainly for its ease of use, and this website has a very good organization of all its tools, which are organized through columns where you can see details such as keywords, hashtags, among others . One of the advantages is that it is very little customizable so you will have to adapt to its appearance . Here you can simply choose whether you want the appearance to be black or gray .
To make use of this portal, you simply have to link it with your Twitter account, for this you enter your login information, that way you can start interacting with other users of the network, either by mentioning them in the tweet or by retweeting. It also has a Premium version where you will have many more functions.