Social media
How to use fb messenger without having to facebook account? Step by step guide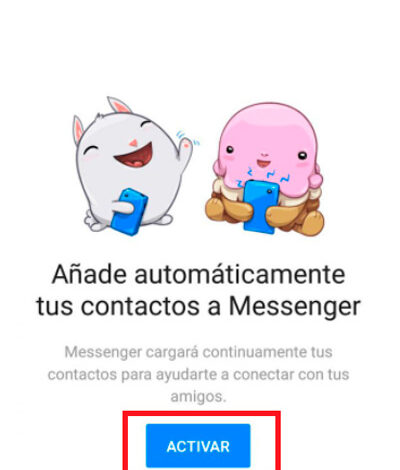 Facebook Messenger is an application that is directly related to Facebook chat, it appeared after users could no longer have access to the FB application chat through mobile, so they are forced in a certain way to do use of this instant messaging app. Despite being directly related to the application, it is possible to have an FB Messenger account without having a Facebook account .
And it is that this instant messaging app works independently of the social network even though the messages that are sent and received through the application are displayed there. But the truth of all this is that this messaging account is based on a phone number like any other app of this type, so you will not need anything else to be able to use it .
FB Messenger is currently an instant messaging program very similar to WhatsApp, from there its users can make video calls, send messages, icons, photos, videos, among many other options available there. In the event that you want to use this messaging without having to open a Facebook account , then here we are going to teach you how to perform this procedure in an easy and fast way, to do this, follow everything that we will teach you below.
Facebook and FB Messenger are not the same social network. Can I have separate accounts?
The first thing to keep in mind is that both Facebook and FB Messenger are two different applications despite being directly related, especially after Facebook will remove access to the chat from its mobile application. As these are two different social networks, it is possible that users can have different accounts on both, that is, they can use instant messaging without even being registered in FB.
Despite this, all people or at least the vast majority of them relate Messenger to the inbox of Facebook messages, since these messages are displayed there if you have associated your instant messaging account with that of the social network , which makes many users think that it is the same platform. If you are one of the users who only use their mobile device to access FB, then you must use FB Messenger to be able to communicate with your contacts on the social network.
But if you constantly use the computer, then you can enjoy the real chat room of this social network. It is important to bear in mind that FB Messenger is an app very similar to WhatsApp, so it is also considered independent, so you can use it in the same way as instant messaging without having an account on the Facebook social network .
Learn step by step how to sign up for Messenger without using a Facebook account
Taking into account that they are two completely different mobile applications and that they can be used by themselves, then here we are going to show you how to register in Messenger without using your Facebook account . This procedure will allow you to have an account on both platforms without having to link your FB profile with your messaging contacts .
Therefore, to carry out this process it will be necessary that you follow each of the steps that we will explain below:
To start this procedure, the first thing you should do is download the FB Messenger application on your mobile device, either from the official Google Play Store or from the App Store.
Once the application is downloaded and started, a window will appear where it welcomes you to the system. As you can see there, it gives you the possibility to choose between two options, the first of which is to log in with your Facebook account or in that case select the box "I do not have a Facebook account" with which we will to work.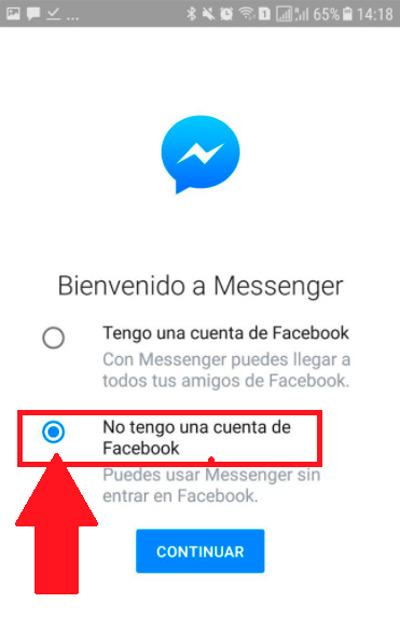 Then the application will ask you for permissions to be able to read your messages to the application, this will allow it to automatically read the verification message that is sent to your mobile with the access code, in this way you will not have to enter this code manually . In case you do not want to accept it, nothing happens, you will simply have to enter this code yourself . Here you just have to press "Continue" or "Not now" depending on your case.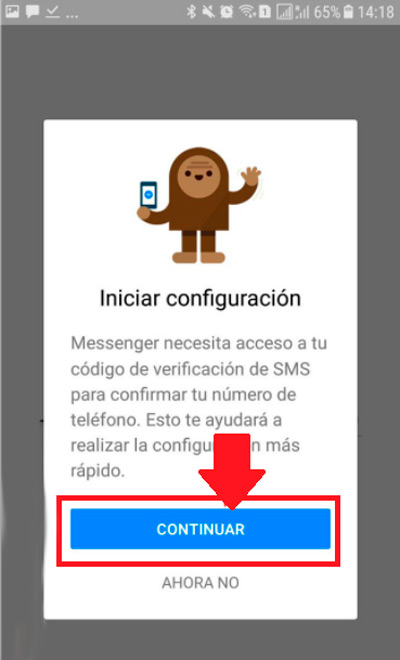 In the next window you must enter your phone number, keep in mind that if you do not log in with a Facebook account, then the instant messaging system needs to create an account based on your phone number as it happens in applications like WhatsApp or Line.
This account will be verified with a code that will be sent by SMS to your mobile . Once received, the system will take it automatically in case you have accepted the permissions, otherwise you must enter it manually to continue with the process.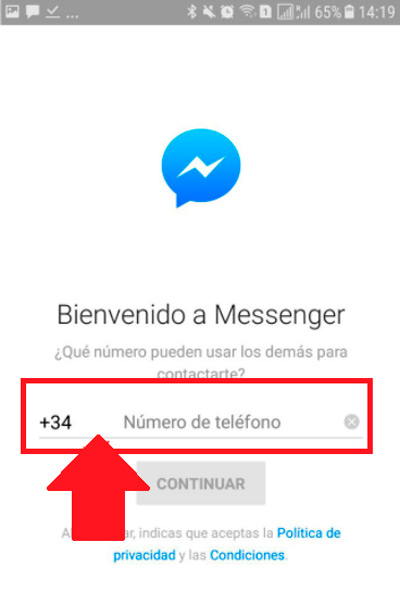 This point is very important, if you have a Facebook account registered with that phone number, the profile may appear on the screen so that you can log in there.
If you select the option to continue as that person, you must enter the access password, but if you do not want to log in there or it is simply not you, you must click on "This is not my account." Keep in mind that a person you do not know may appear there in case you have acquired that telephone number recently and second-hand.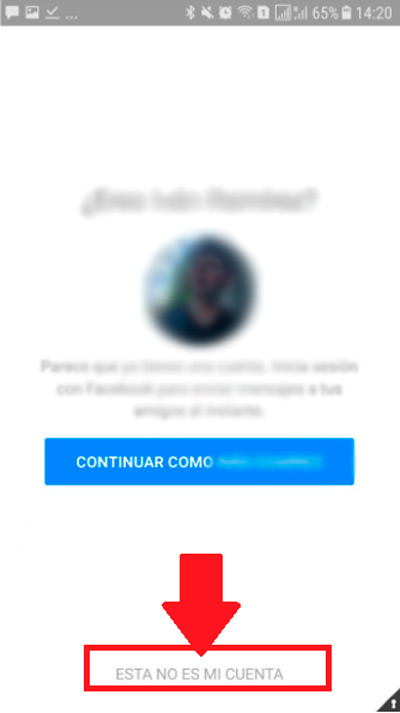 In the new screen that appears there, you must enter your personal data such as your name and surname, these will be your data that all your contacts will be able to see when talking to you there. Therefore, it will be up to you whether you want to use the real names or use a stage name. When you complete these fields, select the "Continue" option .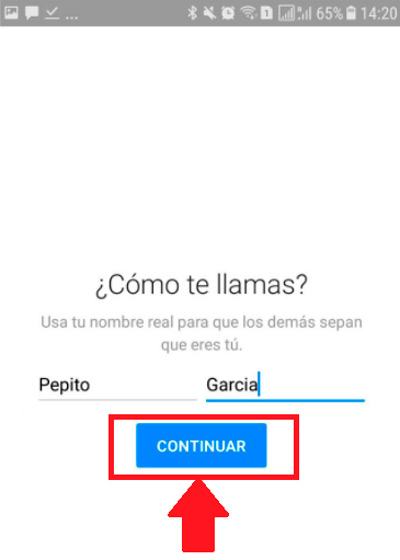 Later you will be asked to add a photo for your profile, this will be the image that will be shown to all your contacts . Here you will have two options to upload the image, one of them is by taking it directly with the smartphone camera by clicking on "Take photo" or the second is by uploading it from your gallery. In the event that you don't want to add an image at that time, then select "Not now."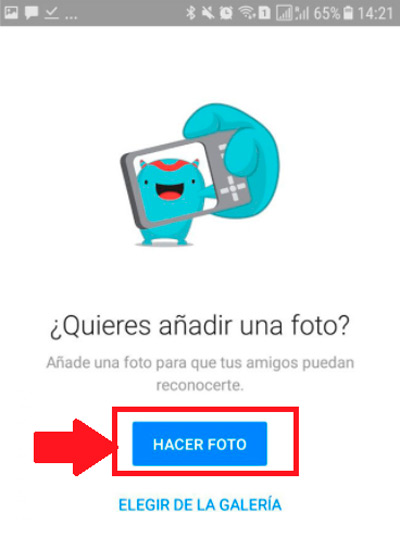 Finally, a new window will appear where you must add your contacts, for this the application asks you for the permissions to review your contact list and see who of them use the app so that you can add them, after that you must add them in a way manual through the number to all those people you want to have there.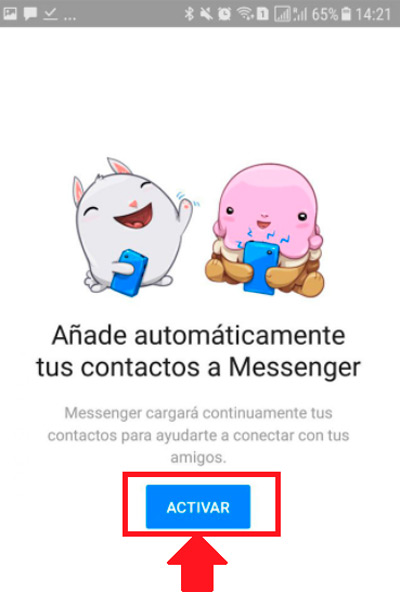 It can be said that this is the main difference between registering on Facebook Messenger with a phone number or with the FB account, since in this case you must check your contact list to see who of them are registered there, while with the account of Facebook will automatically take all the contacts you have in your social network, as well as those that are in your contact list.
In this way, your Facebook Messenger application will be activated and operational on your mobile device without having to use a Facebook account for it. From this moment you can add users either by name or phone number and thus participate in group calls, video calls, calls, individual chat, chat groups, among other functions available there.