Social media
How to upload videos to tiktok and post virals to grow on this new social network? Step by step guide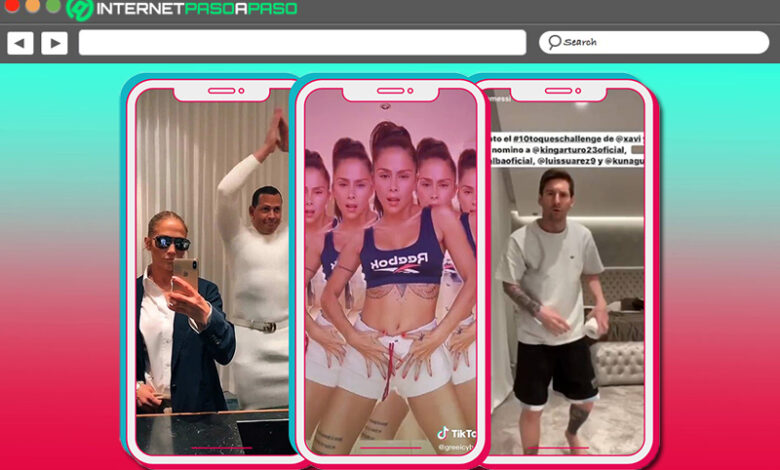 Currently, TikTok is one of the social networks with the greatest power in the digital environment . Well, thanks to its innovative short video format , this social network has captured people from all over the world, from children and young people to adults. In this way, it managed to surpass platforms such as Instagram, Facebook and Snapchat, in reference to the number of downloads.
For its part, in view of its enormous expansion and the recognition it exhibits, most users are interested in making themselves known from said social media app and creating an optimal online presence. This, in order to take advantage of the TikTok algorithm that, by default, generates great virality to entertaining and funny videos .
As a consequence, after registering in the social network, these users look for the best tips , advice and recommendations to publish virals on TikTok, grow on this platform and gain great visibility. Because of that, in this post, we will show you what you need to get many likes in your clips, what are the tools that TikTok provides to create quality videos, how its algorithm works, etc.
What does it take to go viral on TikTok so that my videos get more likes?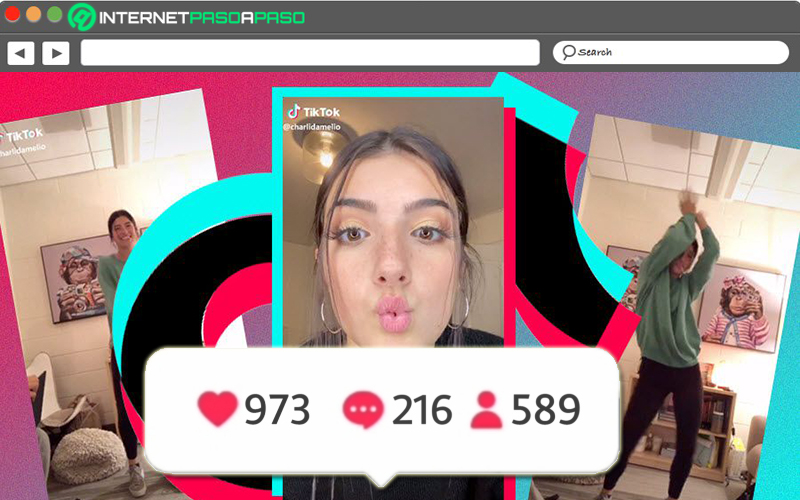 To get to the top on TikTok, it is not enough to make good videos and use the editing options that the platform provides . Since, in order to be viral and acquire an excellent number of likes, it is necessary to take into account other aspects and carry out certain actions that will lead you to success as a tiktoker . Whereas, until now, there is no magic formula that guarantees this.
However, to achieve this, it is appropriate to assess certain tips that will help you boost your profile on the platform, increase the visibility of your videos and the likes they obtain, as well as attract the attention of a large audience that can turn your content into a viral element .
Next, we specify which are these basic ingredients necessary to gain recognition on TikTok in an organic way:
Make your target audience identify with you : For example, you can choose to create videos where you expose situations from your daily life or express your emotions, in order to create a valuable connection with your audience and make them identify with you.
Define your niche and stick to it : By default, in TikTok different niches have been implemented that show success (humor, dance, challenges, gastronomy, make up, digital marketing, etc.) and to grow more quickly, it is pertinent to couple your content to any of them or create videos related to that niche.
Create original content : When you feel ready, you can contribute new content that is totally original for TikTok. Either launching your own challenge that goes viral (or semi-viral) and even  subdividing your niche to show more specific videos. This is essential to increase the number of likes received.
Post regularly : If you want to create a notable presence on TikTok, consistency across the platform is essential . This means that it is essential to publish videos regularly in order to retain your followers and get their reactions, as well as to improve the value of your profile in the eyes of the app's algorithm.
What are the best TikTok tools for creating videos?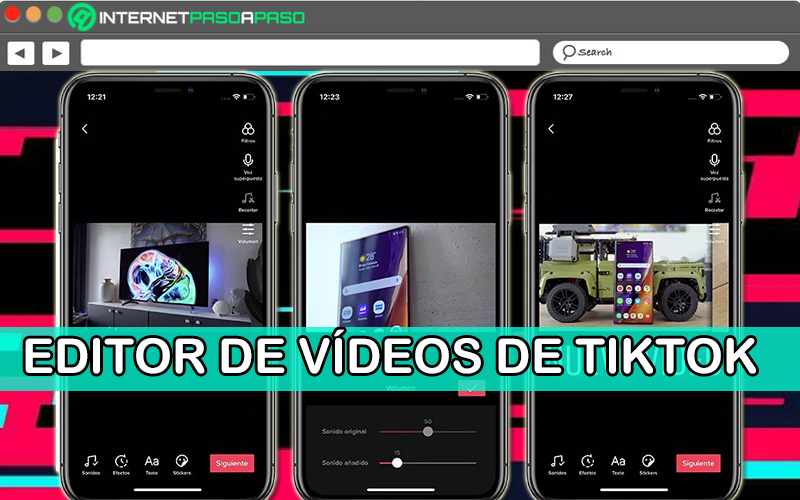 Fortunately, the Chinese social network has its own video editor that, without the need to resort to third-party tools, allows you to create entertaining, fun and quality clips, as well as customize them to the point of acquiring a good result .
Which means that said TikTok utility offers various tools to create videos worthy of capturing the attention of others . Now, in a specific way, you will surely wonder what are the best native TikTok tools to be able to edit your videos in order to make them look the way you want.
That is why, below, we point out each of them in detail:
Filters : On this platform you can find numerous filters that manage to optimize the visual aspect of your videos . Which are grouped into several categories (portrait, landscape, food, intense, etc.) and you can choose for free.
Stickers : If you want to show a funny video, you can choose to use the stickers found from the TikTok editor. Which are ideal for animating your video with stickers, emojis and even GIFs .
Effects : Without a doubt, this is one of the best utilities that TikTok offers for users to edit their clips. Since, it consists of an option that has several categories with which you can add different effects to the content. Thus, from speeding up or slowing down playback, to visual effects, transition effects, etc.
Voice effects : As its name indicates, it refers to those effects that are applied to recordings at the audio level . With these, you can get a much more fun and funny result, since the voice of the original audio is changed. Whether as a squirrel, robot, helium, echo, megaphone, etc.
Sounds : This is a tool that helps you find the perfect background music for your video . Consequently, from this option, you can search for the track by name, by playlists or by trends in the social network.
Voice over : In case you want to add a different audio to your video, you can do it with this utility. Taking into account that, it will be possible to apply this change to the entire clip or only to a section .
Volume : It is a tool that offers the possibility of controlling the volume, in order to improve the result at the audio level. In case you have added an overlay voice, you can also modify its volume as the original sound.
Crop : If you do not like any part of the video created or you have exceeded the time you want said element to last, you must make use of this option. With this, you can cut out a section of it easily .
Text : To add text to your video, you can use this tool. Fortunately, there are several fonts available that you can select without limitation, as well as different colors.
How does the TikTok algorithm work? Get it to go viral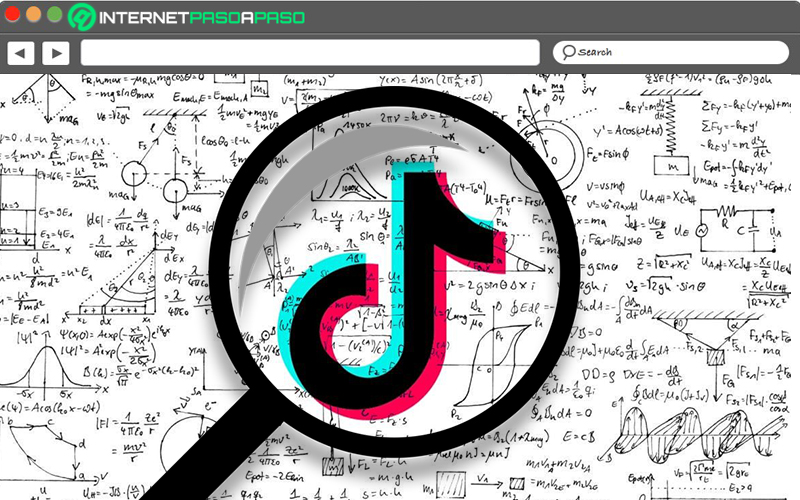 As we discussed earlier, one of the main elements that influences the virality of a certain content within TikTok is its algorithm . Which is known as the "search and recommendation algorithm" and is the one that is responsible for defining the videos that will be most relevant on the social network at any given time. In other words, this element has the ability to choose the publications worthy of going viral and that is determined by several factors.
In this way, the TikTok algorithm is the one that manages to originate the discovery of new content for other users and, in effect, allows a connection to be made between the different users of the platform. Considering that, to be able to do it optimally, this algorithm assesses the preferences of each profile and the contacts it has there, in order to intuit their requirements and / or tastes.
However, beyond knowing that it is a fundamental element that influences the user experience of all tiktokers, the truth is that it is not so easy to know how it works to be able to stand out from the other people active in the app and get their attention . But, to create a presence on the platform and gain recognition, it is valuable to analyze how the TikTok algorithm works and thus benefit from it .
For this reason, first of all, we emphasize that this algorithm focuses mainly on the search engines of each user in order to discover their preferences regarding the content they consume and the interactions they carry out.
Reason why, consider different factors and the most relevant of all, are:
The comments you publish : They are an indispensable factor for the TikTok algorithm when it comes to knowing each user. Since, based on these, you can determine what type of content is to your liking and which videos you prefer to view .
The likes in the videos : The videos that each person likes also influence. This being the most important interaction to check what type of content you are inclined to see . Well, if you have decided to qualify it this way, it means that it is to your satisfaction.
The content that the user shares : The videos that are published in each profile, also allows this algorithm to know what kind of clips they may like most of all . This, mainly based on the design and style of your shared videos. In addition, it also takes into account the hashtags you use in them, the subtitles and the sounds you choose.
Account configuration : Another way to specify the interests of each individual is through the general configuration of the user profile. Above all, based on your language, your country and the device you use, in addition to the security and privacy you have established .
Repetitive patterns : Based on this factor, the TikTok algorithm also displays content to its users. Well, this way you avoid presenting videos that impair the user experience when they are repeated. Therefore, it takes care of interspersing various content that it knows will be to your liking in order to guarantee the greatest possible diversity.
For all this, to take advantage of the TikTok algorithm in order to gain relevance within the social network, it is necessary to take into account many aspects that are just as essential for this element .
Which, in summary, refer to the following points:
Collect a large number of likes in all your published videos (or at least, in the majority).
Have different comments on your posts (of course, better if they are positive).
Have a wide list of followers (the greater the number of followers, the more important you will be for the TikTok algorithm).
Publish content that is trending within the platform (or has the necessary ingredients to gain virality).
Produce a good number of videos  constantly  (if you share content on a regular basis, your positioning will be more marked).
Share viral videos before everyone else (the day of publication is valuable to have a higher ranking than others who publish similar content).
Learn step by step how to create videos and upload them to TikTok
Making videos and sharing them on TikTok with all your followers requires a prior process that is important to assess when managing your publications on this social network correctly .
Therefore, depending on whether you use an Android or iOS device, we recommend that you take into account the following procedures to follow:
On Android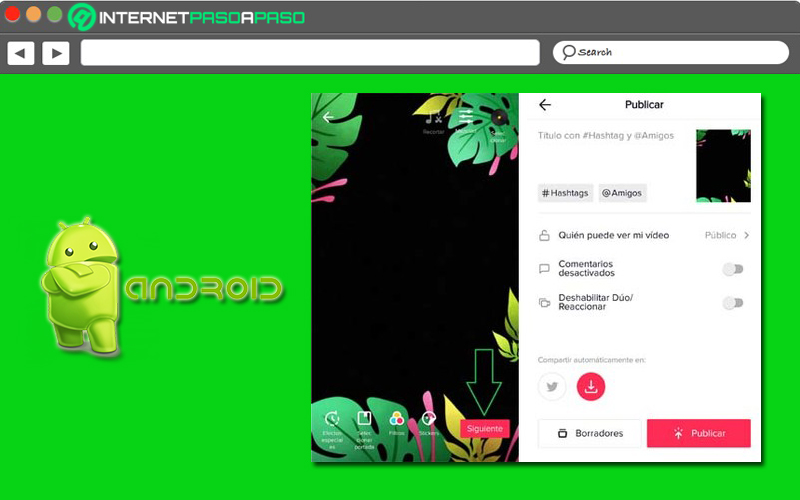 First of all, of course, you must have the mobile app of the social network in question installed . Which, you can download it through the Google Play Store for free.
Thus, once you access said app and create your TikTok account, you can enter it to create your first video and publish it by doing the following:
Directly from your feed, enter the More section by selecting the "+" icon that is located at the bottom and allows you to open the TikTok video editor .
Then, by pressing the red button located in the center, you can start recording your clip directly from the social network . For this, it will be necessary to grant the necessary permissions to the platform.
If, on the other hand, you prefer to upload a video that is stored on your mobile device, what you should do is press where it says "Gallery" from the lower right corner to search for that element.
Once you have specified the video to share, you can start editing it using the different tools provided by the Chinese social network (effects, filters, sounds, volume, stickers, text, etc.).
When you have the content the way you want it, tap the "Next" button in the lower right corner to enter the Publish screen.
Now, it's time to enter the title of your video in the "Describe your video" part, where you can also add hashtags and tag other users . In addition, they allow you to set who can see your video, accept comments or not, allow Duets or not, allow Paste videos or not, save on the device and share on other social networks automatically.
Finally, it only remains to press the button that indicates "Publish" at the bottom. Thus, your content will be shared.
On iOS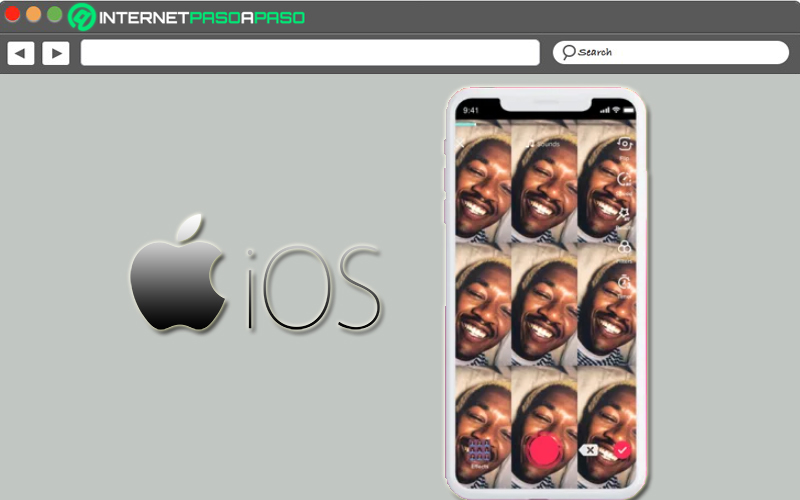 Luckily, it's also very easy to create and post a video on TikTok on an iPhone or iPad . Unlike, in this case, you will have to obtain the mobile app of the service through the well-known App Store .
Then, once you have completed its download and installation, you can start the social network and create your account, to enter it and carry out the following procedure in order to publish a clip on your profile:
Directly from your account feed, touch the "+" icon at the bottom to access the More section, which is the one that allows you to record and manage your videos.
Now, to start the video, press the "Record" button at the bottom. There, you have a total of 15 to 60 seconds to record your new video. Once the recording is finished, release the button to  finish .
In case you need to present a video that is saved in the camera of your device, you will have to press the "Upload" button to be able to choose the video you want to upload from the gallery and thus, click on "Next" .
Next, it is time to edit the video . Either changing its speed, cropping it, applying filters and effects, adding stickers and text, etc.
Once this is done, click on "Next" and finish optimizing your publication based on the description of the video, the hashtags and tags, its privacy and its different characteristics. To do so, select the "Publish" option and that's it .
Learn the best tips to go viral on TikTok and grow your brand
If you want to grow your personal brand on TikTok, gain recognition and, ultimately, be able to go viral on this social network; it is important that you follow a series of tips . Well, through these, the algorithm of the platform will be able to classify you as a reference profile in the app and will increase your fame there.
Without further ado, we mention the best recommendations for it:
Exhibit an optimized profile
Without a doubt, the profile of any user on TikTok is an essential aspect to attract the attention of others and thus, stand out from the rest of tiktokers. Therefore, if you want to cause a sensation within this social network, the most appropriate thing is that you start by improving your profile to the highest possible level and to the point that it looks perfect for your target audience. When you do it, keep in mind that this section of TikTok is in charge of generating a good or bad first impression about who you are and what you can contribute to the platform.
In addition to that, try to do the following to hook your audience:
Create a good username : If you want to be remembered easily and indefinitely, it is relevant to have a username that is easy for other people to learn, both to say it and also to write it. By following these guidelines, you can also choose to use the same username that you have on Instagram, for example. Well, that way they will find you easier .
Place an interesting profile photo : The profile image is also an important element to grow on TikTok, increasing your number of followers. Since, if it is of quality and striking, it will be faster to captivate your target audience through their eyes and even other users will feel motivated to visit your profile for it.
Add valuable information : It is also recommended that you use the description section of your profile to capture the attention of all the people who enter it. In such a case, it is best to indicate what your likes and dislikes are, what you do, what kind of content can get there constantly, etc .
Take part in popular TikTok challenges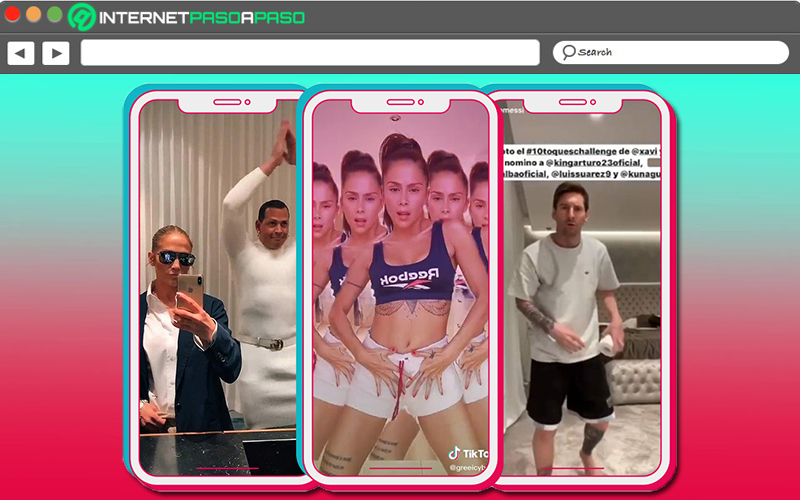 It is no secret to anyone that challenges are the most popular content on this social network. Well, because of their fun format, they quickly go viral ; in addition to that, there are many influential people who carry out these types of challenges . Thus, they encourage others to do so. To do this, through hashtags or through the "Trends" section of the platform, you can study and analyze which are the most famous challenges instantly .
For later, record your video and show it to your audience, thus having many more opportunities to appear in that section. Added to that, it is interesting to give your own stamp to these challenges to capture the attention of the audience. Well, most people get bored of seeing the same audio and the same dynamics when showing these videos.
Which means that putting your own spin on them will make users more likely to be incentivized to watch your full video, easily remember you, and even decide to follow you . Therefore, in addition to studying which are the most powerful challenges, it is also appropriate that you try to find a second meaning to them . In this way, you can use them in a different way from the others and stand out from the rest of tiktokers .
Upload content frequently
Another trick that will help you go viral and gain popularity on TikTok is based on constantly producing content to keep your target audience entertained. In this case, you should focus on sharing new content several days a week (at least three) in order to add value to your followers in an unshakable way and apart, have more opportunities for some of your clips to become semi-viral to that later it reaches the absolute virality .
In addition to frequent video sharing, it is also