Social media
How to upload and share a video on youtube from my channel? Step by step guide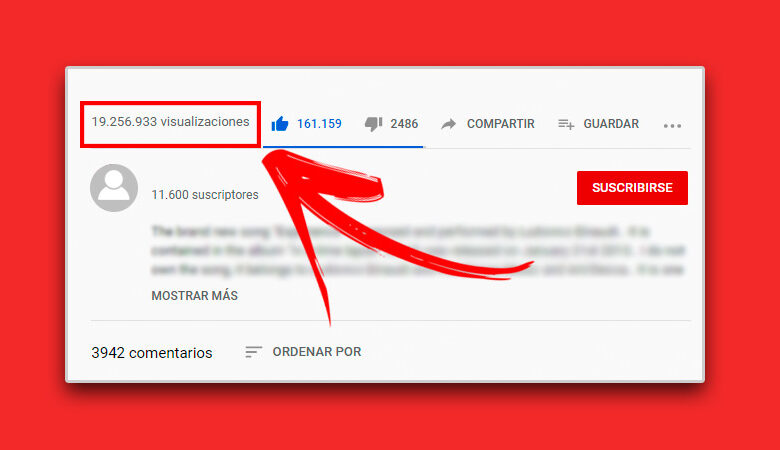 The popularity of YouTube has been increasing over time, which has led many young people or people in general to want to be part of the community of creators of the platform . Although it may seem complicated, it is not.
Today there are many tools that make work easier and allow you to upload quality videos without having the latest recording equipment. With having a mobile phone with a good camera and a computer, you can start being a " youtuber ".
Another aspect that you have to consider is the way in which you upload the videos on the platform . In case you don't know how to do it correctly, we will teach you in this step-by-step guide how to upload a video on YouTube from your channel .
What are the requirements to upload a video to YouTube?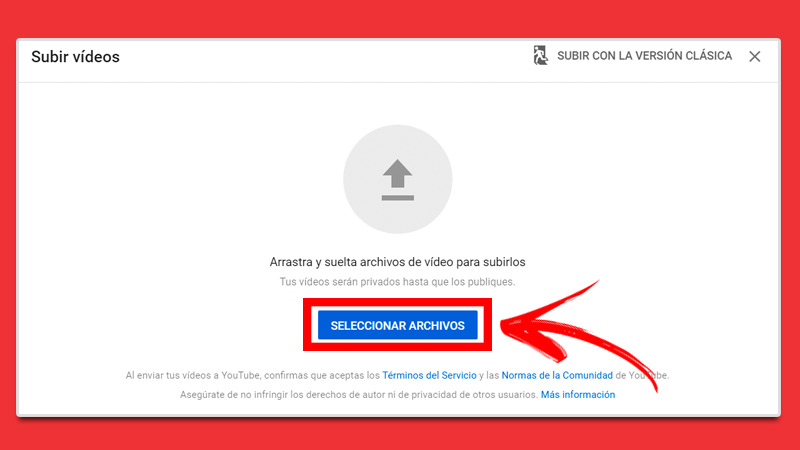 The first thing you have to take into account are the necessary requirements to proceed to share a video within YouTube . The regulations are very broad and are related to different topics. In this sense, there are parameters related to resolution, duration, minimum age to upload videos and other common sense rules to avoid penalties.
The common sense rules you have to follow are:
You are not allowed to share sexually explicit or pornographic content .
You cannot post videos that incite violence (especially children) or encourage them to take actions that could cause injury.
Avoid hate speech content . Although it is a platform for freedom of expression, materials that include or promote hate are not accepted.
Do not post explicit graphic content, such as bloody or violent videos.
Uploading a video with offensive comments is not appropriate . If the level of harassment exceeds the limits, you can be penalized and your video will be permanently deleted.
It is recommended not to create fraudulent thumbnails, titles, labels or descriptions in order to increase the number of views, as it may be counterproductive.
Respect the regulations related to copyright .
You can request that your personal information be removed if it is exposed in a video without your consent.
Everything related to harassment, threats, aggressive behavior, disclosure of personal information and much more, will be penalized.
Accounts that violate phishing policies will be removed .
With regard to technical details of the videos, there are some requirements to meet.
We indicate them in the following list:
Video formats: supports a wide range of formats within which include MP4, MOV, FLV, WMV, etc . But it is recommended to use one that offers a maximum of quality.
Minimum age to upload videos: in Spain the minimum age required to start uploading videos to YouTube is 14 years old .
Minimum audiovisual duration: 33 seconds and does not include static images, silences, background sounds of the channel, or black screens.
Video resolution: YouTube suggests using high definition videos, that is, HD. Specifically, 1280 x 720 for a 16: 9 aspect ratio video and 640 x 480 for a 4: 3 aspect ratio .
Audio file formats: MP3, AAC, FLAC, PCM.
Minimum audible duration: 33 seconds not including background noises or silences.
In addition to that, if you need extra information regarding these issues, we recommend that you review the regulations directly on Google .
Learn step by step how to share a video on YouTube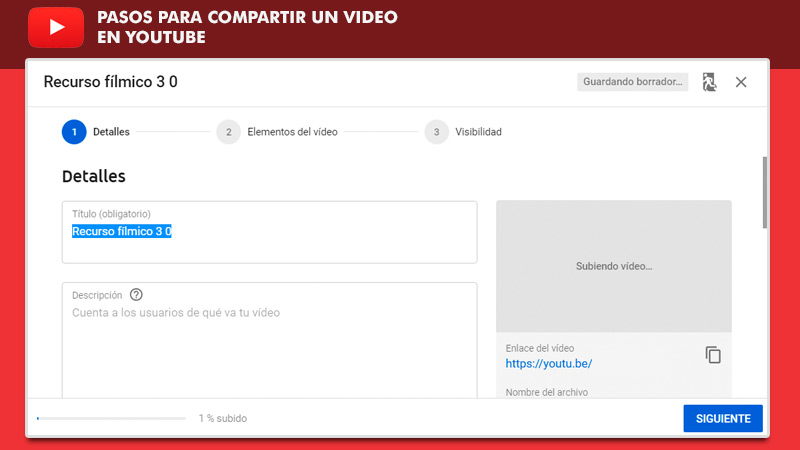 Once you are clear about all the requirements that you must meet to start uploading videos on YouTube, it is time to create the content and start sharing it. The methods for uploading such videos vary a bit depending on the devices you use for it.
Let's see the steps to follow in each one:
From the computer
Sign in to YouTube Studio .
Click on the Create option , which is located in the upper right corner.
Select Upload video .
Add the basic information like title, description, thumbnail, etc.
If you want to make advanced settings, choose the More options option at the bottom of the Details page . You can modify labels, language, subtitles, date and place of recording, among others.
In case you meet the requirements for monetization, set the settings for it.
Proceed to add video elements such as end screens, cards, websites, among others.
Finally, go to the Visibility page and select the privacy settings for your video.
From Android
Log into your channel through the YouTube app .
Tap on the video camera icon, located at the top of the app.
Record a video or select one from the gallery.
Write a title for your video that does not exceed 100 characters . Also, add a description of up to 5000 characters .
Optionally, you can add filters to the video or trim it in the Enhancements option .
Click on the Next button , which is represented by a blue icon to upload the video.
Go to the web of "youtube.com" so you can change the type of audience to which it is directed.
From iPhone and iPad
Enter the YouTube app for iOS.
Log in with your data.
Tap on the camera, located at the top of the app.
Record a video or select it from the gallery.
Write a title and description .
Optionally, you can use Enhancements to put filters on it, trim the video, and more.
Click on Upload to finish.
Modify the type of audience the video is aimed at on youtube.com .
When can I start earning money from my videos?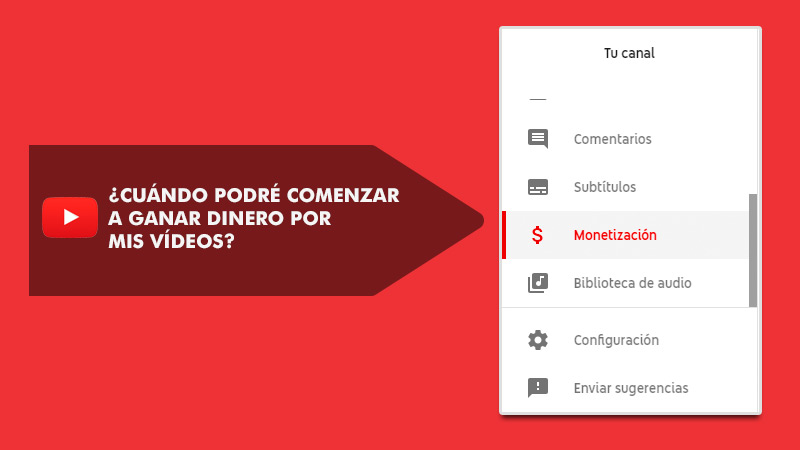 On YouTube it is possible to monetize your videos, that is, earn money for it. However, there are a number of general regulations that must be met to start enjoying this option. In the first instance, you have to belong to the YouTube Partner Program .
Once you are part of this community, you can earn income through the following functions:
Channel memberships : when members of your community make monthly payments in exchange for special benefits that you offer them.
Ad revenue: This is the most common form and works when introducing display, overlay, and video ads.
Super chat and super stickers: This is when your fans pay to have their messages stand out in the chats of the broadcasts that take place.
Product Library – When fans can browse and purchase official merchandise that is featured on your watch pages.
YouTube Premium: You get a portion of the subscription fee for each YouTube Premium user who watches your content.
You should consider that each of these functions has its own requirements to consider in order to start monetizing. Apart from that, you may not be able to activate a specific function if YouTube reviewers consider that your channel or videos are not suitable for it. But, generally speaking, the main requirements are : be over 18 years old, belong to the YouTube Partner Program and have a minimum number of subscribers.
Tips to get your YouTube videos to get more views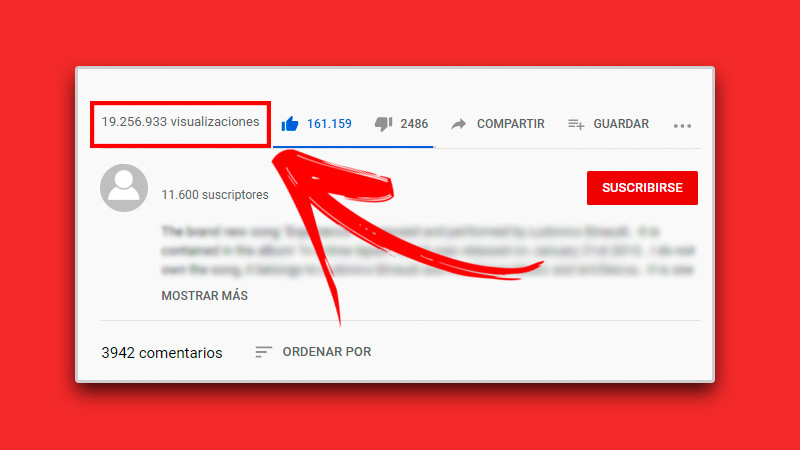 Within Digital Marketing, there are many techniques and strategies that allow content creators to obtain a greater reach with their publications. Specifically for YouTube, there are a number of tips that can work for you to make your videos have more views. Some may seem very obvious, but many tend to put them aside.
Therefore, we mention 5 tips that will help you get more views on your videos:
Use a good thumbnail or thumbnail image
The thumbnail you use in your video can be decisive for a person to decide whether or not to watch your video . Remember that the visual impact of an image can capture a person's attention, and invite them to consume your content. This is why the thumbnail design is so important.
First of all, because it is the image of the video that you will see both in Google and in YouTube search results . If you can make a good design, you will make your material stand out from the rest. However, do not abuse. To make an eye-catching miniature, you don't need to overload with unnecessary elements or use thousands of colors. Just focus on creating a creative but attention-grabbing image, along with a short title that describes the topic you're talking about.
Write the footage in the video description
Surely you have seen some videos in which a footage is reflected in the description in which the topics to be discussed during playback are specified . This is a very effective idea and one that many did not know. The positive thing about this is that YouTube will automatically recognize the timing figures and convert them into links. With them, the viewer is taken directly to the moment in question they need within the video.
For example, if you want to make a footage of a video where you talk about "How to use Photoshop" , you can represent it as follows:
0:00: Introduction.
0:30: Install Photoshop on your computer.
2:00: Begin editing in Photoshop.
4:00: Save design in Photoshop.
5:15: Final summary.
Make dynamic content
Creating an attractive thumbnail image is not enough if you don't keep the viewer hooked during your video. Therefore, it is vital that during its development you apply some strategies to maintain their attention .
Some ideas that you can consider are:
Use "open loops": these are small fragments in which you mention important things that you will detail later in the video.
Keep a dynamic locution: the idea is that you do not maintain a monotonous voice during your content. Try to break the ice, vary your speech rate and show interest in the topics you are talking about.
Structure the contents: avoid at all costs making messy videos where you talk about several topics at the same time. Try to have a structure so that everything makes sense and is easier for the viewer to understand.
Change the visual plane: you don't have to be a professional youtuber to do this. When we refer to changing the visual plane, we mean that you must show other angles in your videos. For example, intersperse shots of your face with slides to explain the issues.
Link your video with related videos
If you want to keep your audience connected to your channel, a good strategy is to link your video with other related content from the same channel . This is a feature in which YouTube allows you to display a related video on the final screen, which is automatically played when the first one is finished. If you do a good job, you can get a lot of views and even new subscribers to your channel. So don't miss out on this tip and apply it to your videos.
Check YouTube analytics
This is a bit more technical advice, but with which you can have a statistical idea of ​​the behavior of your followers and which are the videos that attract the most attention. The module Analytics of Youtube is very complete, so simply check it a few minutes and you'll get very interesting information for SEO.
Added to that, you can take a look at demographics that show the countries from which they see you, the ages of your followers, gender and much more. Based on that data, you can start to structure your videos to improve their reach .