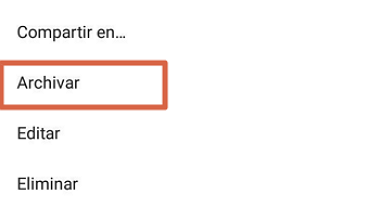 Since its inception, Instagram has been characterized by offering its users everything they need. Including new features in each update, such as the option to archive or unarchive your profile images. Something that allows you to save or preserve your content so that no other person, other than you, has access to its visualization.
This action, unlike "Delete", can be reversed at any time, since it only hides the publication of your Feed. It is kept with its original figures, comments and statistics, in this way you can republish it whenever you want, knowing that the interactions or likes will not disappear.
Steps to follow
At some point, you may need to restore all the images that you hid from your followers to your profile. Although, perhaps you clicked on the wrong option, making your content "invisible" to your followers and you simply can't find a way to return the publication to its original state.
Well, to be able to unarchive your Instagram posts you have to access the archive of publications in which the images or videos that you choose to hide are stored. To do this, you must follow a few simple steps, which are described below:
Login to your account and click on your profile image in the lower right corner.
Once inside your Feed, you must click on the three horizontal bars located in the upper right part of the screen.
Select " File."
Instagram will initially show you the stories file, to change to the posts file, press the slider bar and choose that option.
The images and videos that you have saved will appear. Click on the one you want to return to the profile.
By doing so the photo will be displayed in large size. The next step will be to press the three vertical dots that are located in the upper corner of the image.
Choose " Show in profile."
After finishing, you will simply have to update your bio to verify that the posts are visible again.
How to archive content
To learn how to unarchive your Instagram posts, it is important that you know the steps to archive content. In this way, you will know what to do in each of these moments. To do so, follow the instructions below:
Log into your Instagram account from the application installed on your mobile.
Tap your profile picture in the lower right corner.
Locate the post you want to archive within your bio.
Click on the icon of the three vertical dots in the upper right corner of the photo or video.
Press " Archive ".
Once this is done, the content will have been hidden from other users until you decide to reverse the process, applying the steps described throughout this post.
Why Archiving Posts Is Important
Hiding posts from your Instagram profile is a feasible strategy if, for some reason, you want to prevent your followers from seeing uncomfortable content for you. Like, for example, those posts you made 10 years ago that are not relevant at this point in your life.
Differences between archive and delete
As mentioned above, the "Delete" action from Instagram is irreversible as well as permanent. Therefore, when you run this on any of your publications, it will disappear without leaving a trace of interactions or likes.
On the other hand, when archiving you have the possibility to show it again in the profile at any time you want. Knowing that the statistics of said publication remain intact. With this in mind, you can choose wisely what you want to do with the photos and videos available in your Instagram bio.
It is worth mentioning that, in order to unarchive your content, you must have (for obvious reasons) access to the account from where you did it. Something important that you have to keep in mind is that it is advisable to archive rather than delete. This way you will have a more precise control of your activities and with that, you can effectively study your strategies, knowing what worked and what didn't.