Social media
How to set up automatic replies in slack with slackbot quickly and easily? Step by step guide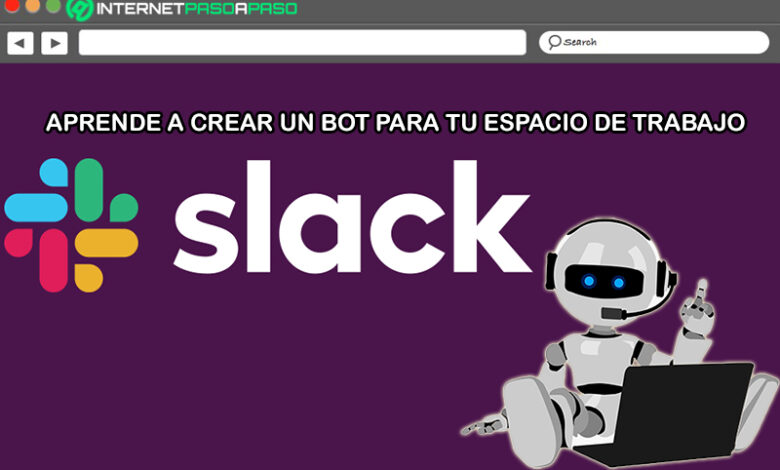 While it is true, Slack has been cataloged as one of the best instant messaging tools designed for teams or workgroups in order to simplify the work connections of a certain company . In this sense, through channels, users will be able to communicate with each other as if they were in the office .
Through Slack, members have the possibility to work in a more effective way, because this tool helps them to connect all their utilities in a centralized way, as well as the information of the company. With this, they will enjoy a much safer environment at the business level . Valuing that, for greater advantage, it is highly configurable in order to adapt to the needs of each organization.
Thanks to this, people who use Slack can set up automatic responses quickly and easily, through Slackbot. Which is capable of providing completely personalized answers on its own, according to the settings of each account. To learn more about this function, what are its advantages, how it can be configured from scratch and what other alternatives there are, we invite you to read this post.
What are the benefits of using automated responses in Slack with the Slackbot?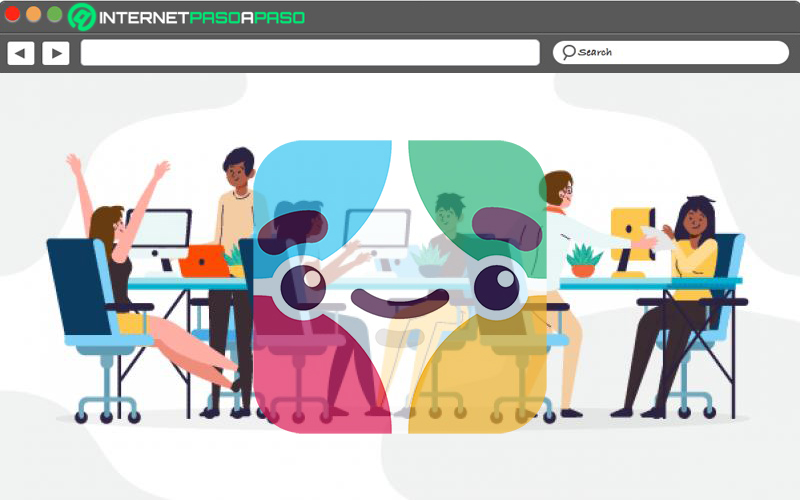 In general terms, an automatic or automated response is defined as a function that offers the possibility of generating personalized responses without the user being part of said process, at a given moment. Whereas, a bot consists of a computer program that has the ability to perform repetitive tasks on its own as if it were a human being . Thus, under these characteristics, the recognized Slack tool called "Slackbot" has been developed .
Which, basically, consists of a bot that manages to generate and / or send responses automatically and personalized within the messaging application. In this way, it is characterized by always being ready to help you both to instinctively add personalized responses as well as to provide reminders based on personal tasks . Consequently, Slack's Slackbot reveals optimal benefits in terms of productivity, efficiency, and simplicity within a workspace .
Which is why, it is worth detailing which are the main advantages that this Slack functionality guarantees to users and here, we point out the most important of all:
Allows you to answer frequently asked questions immediately : In a workgroup, it is essential that members can receive the necessary help from their colleagues. Which shows their commitment and the value they have for the company. Therefore, the use of Slackbot reveals a great benefit for this, since it can automate the frequently asked questions to give them answers quickly and thus, improve communication with other participants .
Helps to optimize interaction between team members : It is also advantageous because it allows users to keep in contact skillfully to optimize their interaction in this medium. Thanks to this, the space will be much more friendly, efficient and productive .
It reduces the probability of making mistakes : Since it corresponds to an automated process, the probability of making certain mistakes is drastically reduced. Well, in terms of communication and proactivity, it helps users to carry out their work in a correct, simple and effective way in order to obtain better results.
Implement constant presence : As the automation of responses allows you to act immediately in this instant messaging app, it is useful to maintain a constant presence in the workspace in order to show much more commitment .
Learn step by step how to set up automatic replies in Slack with the Slackbot from scratch
Luckily, all members and guests on Slack have the ability to use Slackbot to enjoy the benefits of automated responses on this platform. Taking into account that both the free plans as well as the Standard, Plus and Enterprise Grid, have this functionality activated by default.
Now, regarding its operation, we limit that, each member of the work team can add a series of personalized responses to use in a specific channel. So, once the other participants use the words or phrases you have chosen during setup , Slackbot will automatically answer for you . Whether, for example, to specify the objectives of a project, provide relevant data, help to remember the office WiFi password, etc.
So, having clarified all of the above, it is time to explain each and every one of the steps to follow in order to configure or adjust the automatic responses with the help of the Slackbot from scratch, correctly:
Via the web version or on a computer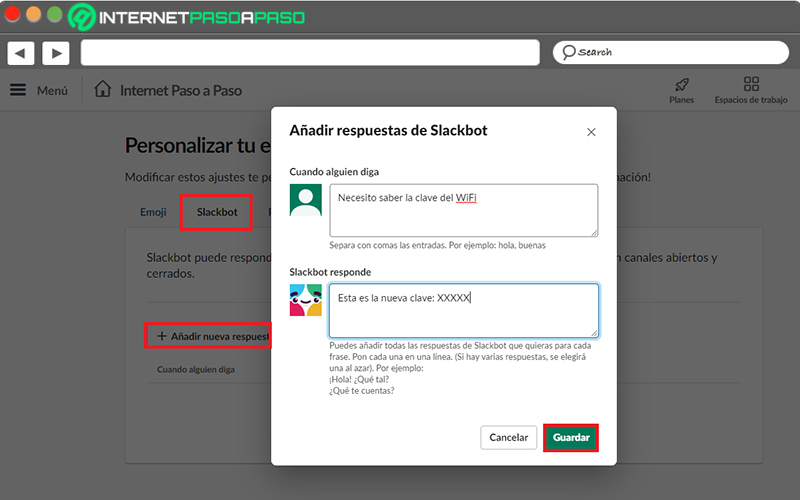 If, for convenience, you choose to manage your Slack channel using your computer through the web version of this platform, you have to do the following in order to configure the automatic responses you want in your account using Slackbot.
Let's see next:
Using your preferred web browser, search for the official Slack website and log into your account with the appropriate credentials .
Then, at the top, click on the name of your workspace and in the options that appear, proceed to select "Customize Slack . "
After that, you can find several tabs and one of them is "Slackbot", so you will have to click on it .
Next, find and press the button that says "Add new answer . "
Once this is done, the Add Slackbot responses window will open and in it, you must configure the new response. Using the "When someone says" box, set the question that the bot has to answer automatically. With the box "Slackbot responds", add the corresponding response.
Finally, all that remains is to click on the "Save" option .
From the mobile app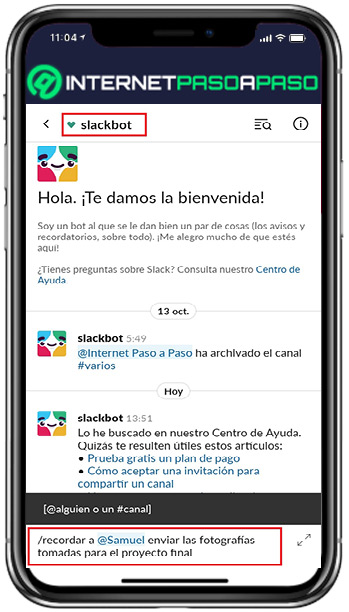 From the Slack mobile app, it's much more useful to use the Slackbot to add reminders . So, said bot is able to show them in the form of a notification with the text you request and at the moment you ask it. Thanks to this, you will not miss something important and you will not have to use other third-party solutions to get reminders .
To do so, you simply have to log into your Slack account through its mobile app, to go to the Home tab and click on "Slackbot" directly from the Direct Messages section.
Next, taking into account that the system is flexible to admit common phrases, you can use the command "/ remember" or "/ remind" (in English) together with the reminder to be set as follows:
/ remind #general to carry out the tasks set in the morning shift.
/ remind @samuel to send the photographs taken for the final project.
/ remind @mario that he has a date with me.
In addition to this, the platform also allows you to configure additional details for each reminder. The most important of all, refers to selecting when you want the reminder to be made through the drop-down list (in 20 minutes, 1 hour, 3 hours, tomorrow, next week or repeating). Which is helpful for setting recurring reminders in Slack .
Slackbot Alternative: How to Create a Bot for Your Workspace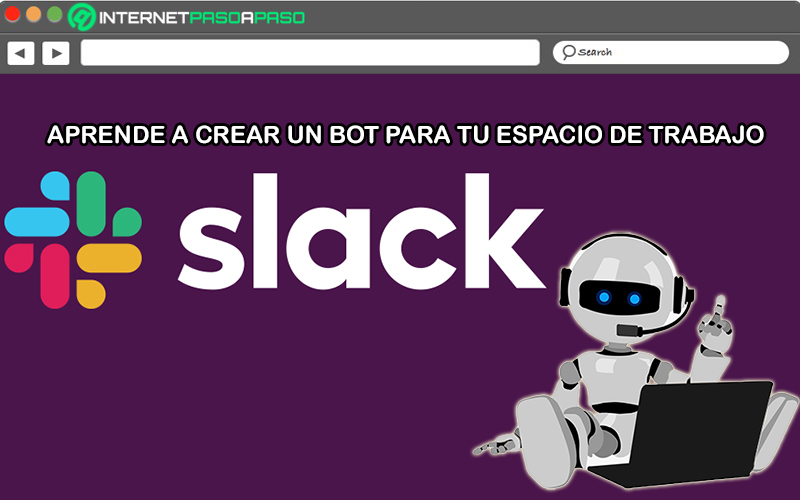 As you will see, Slackbot is completely useful to improve your workspace within Slack and promote effectiveness in it. Therefore, alternatively, this instant messaging platform allows you to create a more personalized bot with which you have the ability to execute code and automate tasks in an ingenious way.
Thus, basically, your impersonation bot will be able to publish messages in a channel quickly, react to the activity of other members, monitor and help process the activity of the workspace and even increase the interactivity of the messages of a channel with buttons. In this way, you will be able to get more out of Slack in the business and collaborative environment .
In that sense, keep in mind that these bots will be able to do practically the same thing as any participant; reason for which, they have names, profile photos and are located in the directory . Apart from that, there is the possibility to send them direct messages, mention them as another member, invite them to public channels, etc. Valuing that, all this can be adjusted to the user's requirements so that they only carry out what they are programmed for .
Now, without further ado, here we explain step by step what you have to do from your Slack account to create an additional bot to the Slackbot, correctly:
First of all, you must make sure you have a Slack app to be able to select it . If not, go to the Slack API and from there create a custom Slack app.
Once you have chosen Slack App, you have to go to the "OAuth and permissions" tab in the left sidebar to click on it .
Later, at the bottom of Bot token scope, choose one or more scopes .
Followed by that, you have to click on the option "Add an OAuth scope" .
Finally, proceed to click on the "Application dwelling" tab directly from the left sidebar and there, you will be able to see the new bot user along with its configuration.