Social media
How to put filters on your tiktok videos and customize them to the maximum? Step by step guide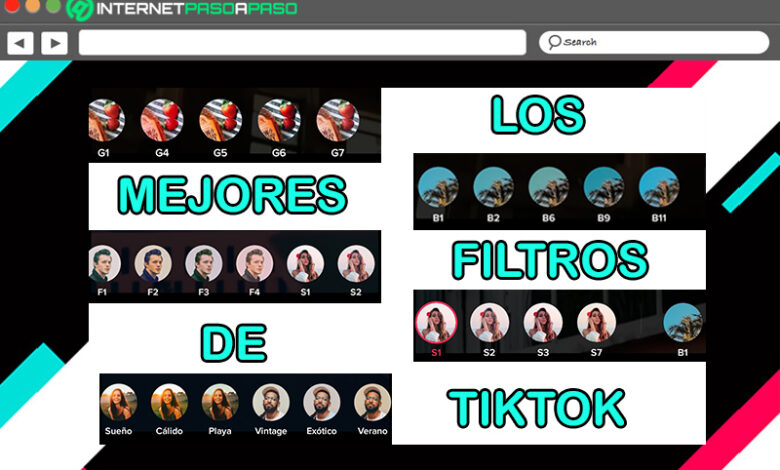 At this time, TikTok is one of the most powerful social networks in the digital environment, even beyond other platforms that have a long history. Mainly, this is because the service opted for a new short video format that puts fun and entertainment first.
In this way, in addition to capturing the attention of millions of young people, it has also gone viral in other older audiences . Thanks to this, TikTok has more than 800 million active users and continues to grow in the global environment. Considering that, it provides numerous incentives to people and one of them is the optimal video editor it has and with which it provides excellent tools .
Thus, one of the utilities most applauded by content creators on TikTok refers to the well-known filters that the social network offers to apply to videos. With this, it stimulates the creativity of the users and allows you to customize the clips to your style, with total freedom. Therefore, it is relevant to know how filters can be placed on TikTok videos and which ones are the best of all .
What are the benefits of using filters on TikTok for my videos?
In TikTok, basically, filters are defined as a kind of layers that are applied to videos in order to modify their appearance at a visual level. In other words, through them, users of the Chinese social network can optimize the results of their videos in order to enhance their beauty and improve their image . Which is why these elements have become so essential for tiktokers and influencers when it comes to crafting new content .
In this sense, TikTok filters stand out for providing certain advantages or benefits for people who create and share videos from the platform . This being the case, there are certain points in favor of the application that are worth knowing.
And that is why, below, we point them out so that you are encouraged to use these utilities in order to obtain better clips:
Great simplicity to use : One of the most interesting benefits of TikTok filters lies in the ease they guarantee to apply them . Since, you only have to access the video editor, choose the relevant option and start choosing your ideal filter from multiple available alternatives.
Optimal assistance : In case the tiktoker has previously recorded your video and at the time of editing or sharing it, do not know what you want to show to other users; Filters help you to better define your goal visually .
Filters encourage creativity : Due to their natural appeal, these filters tend to stimulate the creativity of those who use them in their videos. Since, by finding a variety of them and by being able to better define their objective, they are useful to acquire more ideas with which to impact their followers .
They capture people's attention : In most cases, the difference between a filtered video and a natural one is absolute. So, generally, filtered clips manage to attract the attention of tiktok users who will rate your content as a video with visual quality . This will even allow you to increase your list of followers.
Learn step by step how to apply a filter to your TikTok videos
Beyond knowing what TikTok filters consist of and what benefits they guarantee, it is essential to know how these can be applied to videos correctly .
Therefore, from this section of the post, we will detail each step to follow to place filters on your clips, both on Android and also from an iPhone or iPad:
On Android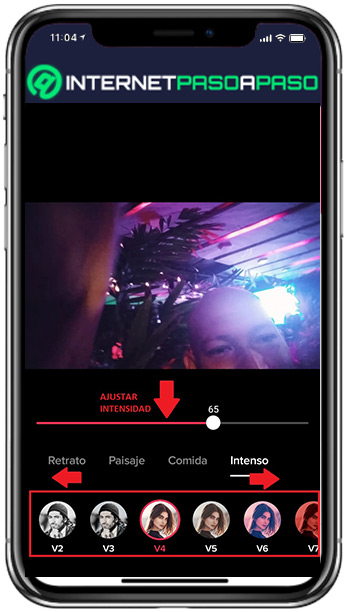 First of all, you must download and install the official TikTok mobile app on your smartphone or tablet that operates under Android. To do it in a free and reliable way, enter the Google Play Store and search for the application to start your download.
After obtaining it, the steps to execute refer to:
If you don't have an account on TikTok, you need to start creating one to be able to enter the platform properly . In case you have previously opened one, you just have to access it with your proper credentials .
Once you enter the service, you have to record your new video or upload the one stored in your computer's gallery. To do this, from the feed, click on "+" which corresponds to the More section where the TikTok video editor is located .
Next, you will see a screen that opens the camera of the mobile or tablet automatically. In case they ask for it, it is essential that you accept the permissions that the app requires .
After that, to record your video, press and hold the red button located in the center of the screen. Thus, when you want to finish your video, you just have to release this button .
If you prefer to share a previously recorded video that is saved in the device's memory, what you will have to do is click on the "Gallery" box located in the lower right corner. For there, find your clip and select it.
Next, press the "check" at the bottom to open the video editor. At this point, you have to choose the "Filters" option that is in the first position of the small list on the right side.
Now, the platform will show you the different filters available, through various categories. These categories are: Portrait, Landscape, Food and Intense . Which, direct the user to use the most pertinent for their type of video.
When you choose the category that interests you, slide the list of filters from right to left, in order to see all the alternatives there are. To select a specific filter, just click on it and adjust its intensity . That way, it will be applied throughout your video.
On iOS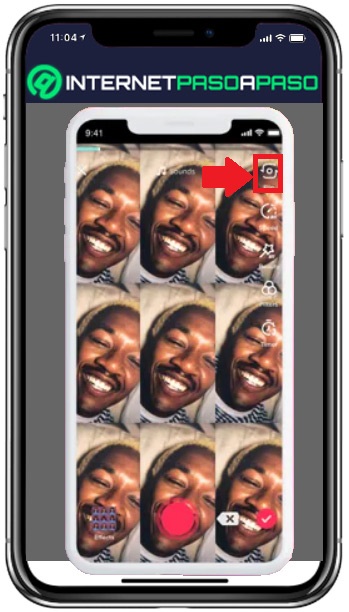 Fortunately, using an iPhone or iPad, the process required to choose and apply a filter to your videos is also very simple and practical . Taking into account that, it is important to carry it out through the official app of the social network that, by default, you can download through the App Store .
Thus, once you have it installed on your iOS device, do the following to use filters:
Enter your TikTok account and at the bottom, select the "+" icon to enter the More section of the platform.
Now, as in the previous case, you must grant the necessary permissions to the app to use your camera and the required elements. Thus, it will be possible to create your new video from TikTok by simply recording by holding down the red button . To stop filming, you just have to release it.
But, if you prefer to show a clip that is stored on your iPhone or iPad, what you have to do is select the "Upload" option that is in the lower right part of the screen. To do so, choose the video in question.
Next, once you have specified the video to edit, you have to choose the "Filters" option at the top .
Now, from the menu below, it will be possible to view all the filters available in TikTok to select, apply and adjust the one you like the most, as we explained in the previous part.
Learn about the best filters to apply to your TikTok videos and make them more entertaining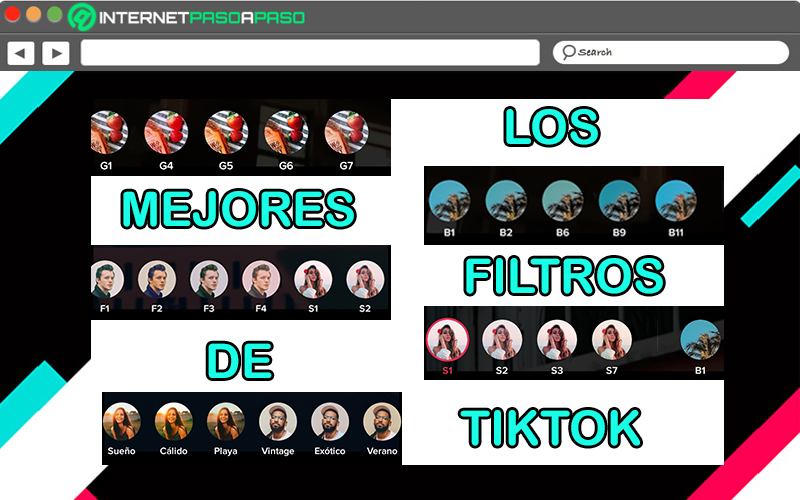 Since the Chinese social network provides numerous filters based on its categories, most content creators who are starting out on this powerful platform wonder which are the best of all to apply to their videos and attract the attention of their target audience. visually .
That is why, to conclude with our post, we will introduce you to some of the most optimal filters that you can use on TikTok to make your videos more attractive, entertaining and neat:
G6
Many content creators with experience in TikTok point out that the G6 is the best filter in the social media app. Since, in addition to optimizing the image of the video, it manages to show a more tanned face that inspires perfection, instantly. This, you can get it from the category called "Food" .
Sun
It is a native filter for the platform that can be applied directly from the "Portrait" category, which is the main one. Through it, you can see a warmth and brightness that will emphasize everything that appears in your clip to attract the attention of your followers and get more reactions. Also, if you set the brightness of this filter to 90, you will achieve a better contrast from "Sun" .
Vintage
This is considered a visual effect that consists of a type of treatment that allows you to see any image with a retro or old touch . Which means that it will allow your video to appear as if it was recorded with a Polaroid-type camera. Therefore, if you want to achieve that result on TikTok, it is recommended that you apply "Vintage" which also appears in the Portrait segment .
B11
It is defined as a TikTok filter that, in short, manages to obtain much more clarity in the image of the video to be shared. It is generally recommended for use with clips that contain landscapes, panoramas, or perspectives ; For that reason, it is located within the "Landscape" filter section . Also, to achieve a suggestive touch, it is best to play with the brightness adjustment .
V2
If you want to add much more contrast to your video to be published on TikTok, we recommend applying this native filter. Which is a kind of black and white image that makes it possible to highlight the clearest parts of the content, from that perspective. In case you are interested in applying it, you can go to the "Intense" category to select it .
V6
It refers to another filter of the Chinese social network that is located in the "Intense" section and allows the videos to look much more original. Since, by default, it provides fuchsia tones to the images that appear in it and thus, although it looks peculiar, it has the ability to capture the visual attention of those who look at the video. Thus, they are likely to be interested in seeing it in full, especially if it is a humorous video.