Social media
How to make or create your own filters for Instagram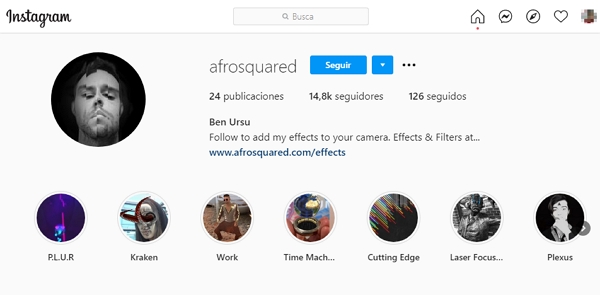 Creating or making your own filters on Instagram is a task that could seem complicated for those who do not have enough knowledge. That is why, in the following post, the different steps that you must carry out to design your own Presets to use in your photographs are explained. For this it is necessary to use the program Spark AR Studio, which was designed and developed by Facebook to perform this task professionally.
Now, you must bear in mind that making filters for Instagram with this software requires certain technical knowledge. However, if you don't have them, theSpark AR Studio's official page offers tutorials that you can review to learn a little about Preset design with the help of this tool. Similarly, the following text also explains how to upload your filters to the network, share them and even the most frequent errors that arise when using them.
How to download and install Spark AR Studio
To download Spark AR Studio you must go tomanufacturer's official website and press the corresponding button. It is important to mention that, although this software is compatible with Windows 10 and Mac OS, the installation process in each Operating System is different. However, it does not require complicated steps, you will only have to open the .EXE file obtained in the download, accept the terms or policies of use of the program and proceed with the installer.
Keep in mind that, during this process, you can choose to accept or skip the iTunes (Apple) installation. Which is not strictly necessary, but it will help you test what the Presets would look like on iOS devices. Later you will have to choose the folder where you want to install the program, for this it is recommended to leave the one that appears by default in the box. Finally, click on " Install" and wait for everything to be ready.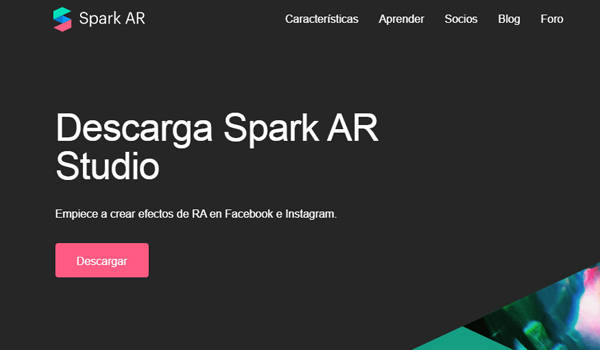 Start using the program
To create your own photo filters for Instagram, the first step will be to open Spark AR Studio on your computer. In the main window you will find a series of templates or Preset previews that you can use in the aforementioned social network. Now, although the interface and functions of the program can be overwhelming for inexperienced users, remember that you have aSuper complete user guide on the Spark AR Studio web.
In the same way, below, it is explained how to design a simple filter from scratch, with the help of the tool in question. Pay attention to the steps and start creating your own templates so that other users can use it:
Open Spark AR Studio on your computer. Note : The first time you open the program , you will be asked to log into your Facebook account.
Click on " Create Project."
Follow the path Help> Download Face Assets or followthis link to download useful resources for creating filters.
This will take you to a new download window, where you must click on " Download the Face Reference Assets here ". This will give you a .ZIP file with different resources that you will have to unzip to continue with the creative process.
At this point you should use an editing program, such as Photoshop, Canva, GIMP or another with which you consider yourself proficient, to open the " faceFeminine.png " file . This is located in the " Textures " folder of the .ZIP that you downloaded in the previous step. Note : Create a new file with approximate measurements of 180px x 180px. You can also open faceMasculine.png if your filter is based on a male face.
Once the file is open, you will have to add and place the different elements that you want to include in your filter so that they match the facial features of the mesh.
When finished, delete or deactivate the face layer and leave only the elements that are part of the filter. Save the image in .PNG format (without background).
Go back to Spark AR Studio and follow the path Add> Scene Understanding> Face Traker.
Now right click on the new layer " faceTraker " and follow the path Add> Face Mesh. This will activate a layer of black and white frames over the face of the thumbnail image. It is in this where you will have to add the image that you created previously.
In the right side panel, click on the "+" icon next to the " Materials " option .
When you do this, a new layer will appear in the left panel with the name " Material0 ", which you can rename if you wish.
Now, in the " Textures " tab, click on the " Choose File … " option and search your computer's library for the image you created.
Finally, you will be able to see how the new filter is applied to the thumbnail image of the person. Now, if you want to modify or improve some aspects of it, you can follow the path Project> Properties and adjust every detail to guarantee the best quality. It is worth mentioning that you must have 100% the level in the " Quality " option . However, if by doing this the weight is exceeded, you can gradually modify it until you meet the established parameters.
Save the filter
When everything is ready, it will be time to export your new project to be able to upload it to the Spark AR Studio platform and use it on your social networks. To do this, you will simply have to click on the up arrow icon (Export), this will open a pop-up window in which you can view the final details of the job. In case it exceeds the size limit, you will have to compress it.
If, on the contrary, everything is in order, click on the blue " Export " button. Then, choose the destination folder, give your new creation a title, and wait while the export process finishes. It's that simple to save your filters created with Spark AR Studio. To have a clearer idea of ​​everything described so far, you can watch the following video :
How to publish your projects
The best thing about making your own filters for Instagram is to be able to upload them to the platform so that all users can enjoy your creation. However, before it can be done, the filter must comply with theregulations established by both social networks for this type of activity. In addition to this, you must configure your Instagram account with that of Facebook, as established by theSpark AR Studio tutorial on its website.
Once you complete this important step, it will be time to upload your effect to the website in question, for approval. For which you must go to theofficial page of the mentioned program and click on the button " Manage Effects ", located in the upper right corner of the screen. Once there, press " Publish effect ", remember that you must log in to your Facebook account to speed up the process.
Now, it is important to clarify that you must comply with some steps or essential requirements, before pressing the "Send" button, these are:
Unique name for this purpose.
.Arexport file (the one exported from Spark AR Studio) with a maximum size of 40MB.
Assign a filter owner and editor.
Categories in which it will be displayed (maximum 4).
Demonstration video of the effect created being used, this can be recorded or loaded from the computer.
Effect icon (You can get it quickly, from the templates available in this link ).
Also, to ensure that your effect will not be rejected by its icon, be sure to adhere to the guidelines outlined below:
Color space is RGB.
PNG or JPEG file.
Minimum size of 200 x 200 pixels.
No transparencies.
You can't use any of the Instagram color gradients shown below:
Have square corners, not rounded.
If everything is in order, press " Submit " when you upload all the necessary files. It should be noted that, according to Facebook, the approval process can take from 24 hours to a maximum of one week. Now, if you want to be totally sure of being able to pass "the filter" of admission, you can read theSpark AR Studio instructions and take note of the most important points.
How to share your filters with other users
Although when you publish your filter on Instagram, it can be used by other users, you may want to send it directly to your family or friends who use the platform. Which you can achieve by pressing the "Send to …" button, with this you will get a link that you can share with whoever you want.
On the other hand, people who follow your account on Instagram will have exclusive access to your filter when they enter the " Stories " section. Now, in case they are not part of your Followers, they should open one of your stories with this effect and click on " Try it ".
Most frequent errors in filters
It is possible that, when trying to use or apply your Instagram filters on your photos, it may throw an error or not work as it should. Well, you should know that this will depend many times on the version you have of the application, but it can also be due to other external causes. The most common problems and possible solutions for each are described below:
Filters don't work for any user
This error, in general, is due to the fall of the Instagram platform. That is, a general failure in the internal system of the application. In this type of case, the best thing you can do is wait an adequate period of time that allows you to check if the fault has disappeared.
Instagram filters don't load
The causes behind this can be many, however, it is most likely that your Internet is failing. To rule out or confirm this, try the following alternatives one by one:
Restart the computer (Phone, Tablet or Router) to verify that there are no errors in the connection.
Uninstall and reinstall Instagram on your device.
Verify that you have credit on your phone line or data service.
Filters don't appear
If you have noticed that some Instagram filters are not showing for you or do not give you the option to try it, this could be due to any of these factors:
You were blocked by the owner of the effect.
There were errors in the last update you made of the app.
The effect is not compatible with your mobile.
Instagram does not authorize the use of the filter for you yet.
Instagram filters that were trending in 2020
As with the funny memes or images of each year, Instagram filters also go viral, becoming popular with the public. Below is a compilation of those that set the trend in 2020, thanks to their entertaining effects:
Questions, characters and predictions : they have always been placed in very high positions, thanks to the level of interaction they offer with their peculiar questions, in addition to the fun predictions about the future or interpretation of characters.
Coffin dance: a video that went around the world in 2020, was that of 4 men of color, dressed in tuxedos, dancing to the rhythm of the music of their people, with a coffin on top. Something that became one of the most used filters on Instagram during the aforementioned year, as it was a super fun effect in which your face appeared instead of the 4 individuals, dancing in the best style of conga and twerking. .
Eye BB: inspired by the movie "Interview with the Vampire", played by Brad Pitt in 1994. This effect allowed you to show off beautiful greenish or blue eyes, almost crystalline, similar to those shown by the actor in the film.
Most popular filter creators
If you are looking for inspiration in other filter creators for Instagram, below are the best effect authors for this social network:
@afrosquared : His name is Ben Ursu and although his popularity is not that much compared to others, he is the author of filters like Laser Focused. In which you become the popular Xmen character, Cyclops.
@allanberger : He is inspired by augmented reality to offer his followers the best emojis in Instagram filters or effects. It is worth mentioning that its number of Followers is above 250,000 members.
@Piotar_boa : like the previous one, Fabio Forgione, an author of Italian origin bases his filters on the funny emoticons that occupy the different social networks. His community is probably one of the largest on Instagram, with more than 130K followers.
As you can see, creating simple filters for Instagram with the help of Spark AR Studio is a relatively quick task. In addition, by following the advice described throughout this post, you will be able to approve the review of the platform and start surprising your friends, family or followers with the fun effects.