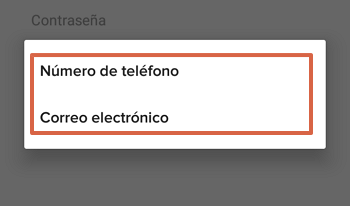 To log in to TikTok you only need the social network with which you registered, or failing that, the phone number, an email and your access password. In this way you can enter the platform to closely follow your favorite videos or to continue creating entertainment content on your profile. If you have problems when you log in, you can use the application tools that solve the problem.
When registering on the platform, it is advisable to enter both an email and a phone number in case you forget your username or password. In addition, it is also convenient to register with a social network, since TikTok will collect data and synchronize the accounts to log in quickly. In view of this, in this tutorial you will find all the available ways to log into TikTok.
Steps to follow
The TikTok login is similar to any other social network. It all depends on the method or option you have chosen at the time of registering in the application. Ideally, you should use the same alternative, but you should also know that you have the possibility of entering through other tools, in case you have added several accounts to your TikTok profile.
Through the phone, email or username
It is the most common method, since it consists of entering the email and the password or the telephone number with which the profile has been registered in the application. In this process you will obtain a unique security code with which your identity will be verified. If you want to know the procedure, take a look at these steps:
Open TikTok on your phone. If you have already registered, press "Do you already have an account? Log in".
Choose " Use phone / email / username."
Enter the phone number with which you signed up for TikTok, and then hit " Send code." If you remember your email or username and password, slide the tab and choose the " Email / username " option .
Write the 4-digit code that will arrive by text message to your phone. With this, you will have finished the process and you will be inside the application.
With a social network
You can log into TikTok with Facebook, Google, Twitter, and Apple accounts. This is done with the aim of saving time by synchronizing data with other social networks. The application will create your profile according to the records it has obtained on the other platforms. If you want to log into TikTok through a social network, take a look at these steps:
Enter the application, click on "Do you already have an account? Login "and select the social network with which you registered on the platform. In this case, " Continue with Facebook " will be chosen .
An information window will appear indicating that you had previously logged into TikTok with the social network. Press " Continue " to finish the process.
Using a QR code
This is a method that only applies to Smartphones. When you do not remember your email, username and password, you can enter your profile through another person's account, that is, TikTok will generate a QR code of your account, and with the other device you can access thanks to the scan of that code. If you want to do this method, take a look at the following steps:
Go to TikTok from another device and click on " Trends."
Select the scanner icon located in the upper right corner of the screen.
On the other phone, press " Login with previous device."
Scan the QR code.
Using an emulator
Emulators are installed on computers to function as Android simulators. With them you can access the Google Play Store and download all the games and applications available for this Operating System. There are excellent emulators likeBlueStacks andMEmu, with which you can also download TikTok on your computer and log in exactly the same as if you were on an Android device.
From the Microsoft Store
Microsoft Store is an application store available for Windows Systems whose versions are equal to or higher than 7. It works in the same way as the iOS App Store or the Google Play Store, and therefore, you will have the advantage of downloading OS compatible games and applications. However, in the case of TikTok, the application must be purchased by the user, and for this, you must follow the following steps:
Go to the Microsoft store and search for " TikTok."
Click on " Buy " or " Add to cart " in case you want to complete the purchase later.
Upon acquiring it, you will be able to log into the application both through social networks and by mail or telephone number.
Sign-in drawbacks
If you don't save the data when you log out, there is a possibility that you could forget your password or mistake it for another. In those cases, TikTok sends a verification or security code to a specific email or phone number that you enter to verify that you are the owner of the account you want to enter. See the procedure to recover your TikTok account :
Access TikTok on your device, press "Do you already have an account? Login "and select" Use phone / email / username ".
Tap " Email / username " and then tap " Can't log into your account? ".
Click on " Reset password ".
Choose between " Phone number " and " Email ". Regardless of the option you choose, you will receive a security code.
Enter the 4-digit code that you receive in the mail or by text message.
Enter a new password and press " Sign in."
As you have observed, you have various tools to log into TikTok, both from your smart device and from your computer. Likewise, you will have available the necessary steps to recover your account in case you do not remember the password and want to reset it. This in order that you can have access to your profile to continue creating content in the application or watching entertainment videos.