Social media
How to know if a contact from your phonebook or whatsapp has telegram installed on their mobile phone? Step by step guide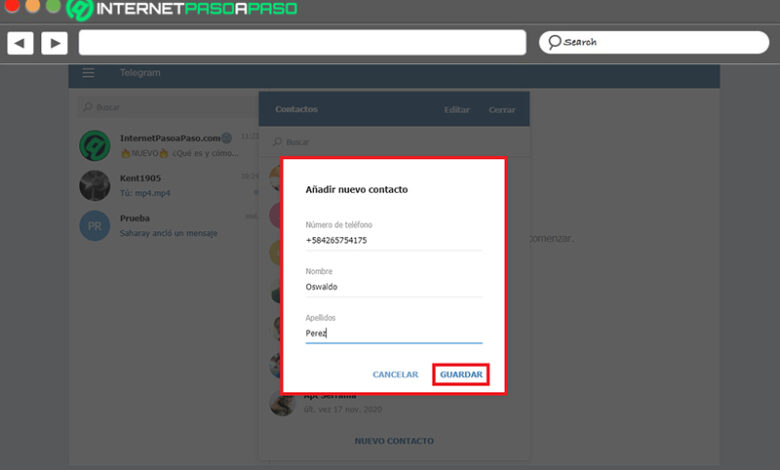 It is no secret to anyone that Telegram has become one of the main instant messaging apps, among so many available alternatives. This, thanks to the numerous options, functions and tools it provides .
Consequently, many people choose to make use of Telegram, instead of resorting to other services. Taking into account that, thanks to all its updates, today it guarantees an optimal user experience .
That is why, as many prefer to use Telegram for their online conversations, they are interested in knowing which of their contacts handle said app in order to connect with them easily . Therefore, in this post, we will explain what to do to find out if a person on your agenda has Telegram on their device .
Learn step by step how to know if one of your mobile contacts uses Telegram
As we mentioned before, there are many users who prefer to use Telegram, instead of other instant messaging apps (such as WhatsApp, for example). Therefore, they find it more attractive to connect with their family, friends and colleagues directly from said service . However, in most cases, these people do not know which of their contacts have the Telegram app and make use of it.
Reason why, they stop taking advantage of the advantages of this platform to establish their online communications. However, fortunately, there is a simple trick that allows you to know which of your contacts are also in the application of the "little paper plane" . So, it is very helpful to know what this trick consists of in order to find the people you want on Telegram.
Therefore, below, we specify the steps to follow to find out if one of your mobile contacts uses the platform: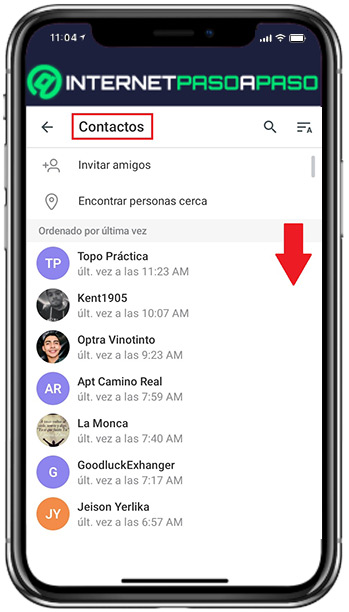 Through any version of Telegram, log into your account as you normally do .
After that, from the main page, click or press the icon with three horizontal lines that is located in the left side corner.
Next, in the menu that appears, select the option "Contacts" .
Once this is done, a new section will open that shows a list with all the contacts stored on your device, which are registered in Telegram. Thus, you can discover who they are.
Now, keep in mind that all the contacts that appear in this list have an account associated with their phone number . However, despite this, it is possible that they are not actively using it at the time and for this reason, you should check the last connection time . In case it appears as "Online" or recently connected, you can confirm that your contact is currently using the app.
Discover how to invite your contacts to use the Russian instant messaging application Telegram
If, for some reason, you cannot find a specific person (s) with whom you want to communicate through Telegram, the instant messaging service allows you to send personalized invitations so that they are encouraged to register and use the application of Russian origin.
That is why, below, we explain how to invite your contacts to use Telegram from your mobile device, through the computer or on Telegram Web:
From the phone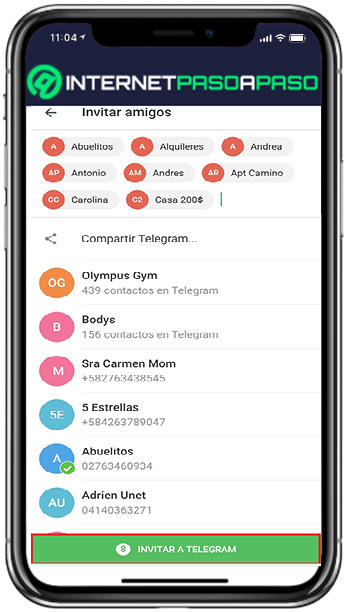 For many people, it is more comfortable, easy and direct to use Telegram from the mobile app.
Therefore, we begin by explaining what you have to do on your Android or iPhone to send invitations to your contacts and encourage them to use the service:
First of all, open your Telegram account through the mobile application . Either compatible with Android or iOS, depending on the case.
Second, tap on the three horizontal stripes icon in the upper left corner. This, directly from the main page of the platform.
Then, in the menu that they show you, select the "Contacts" option .
Later, click on where it says "Invite friends" which is the option that is in the first position of the Contacts section.
Once this is done, the list of your contacts who still do not use Telegram will automatically appear and there, you can choose all the ones you want .
After selecting each and every one of the contacts you want, just press the button that says "Invite to Telegram" and that, at the same time, indicates the total number of people chosen.
From the computer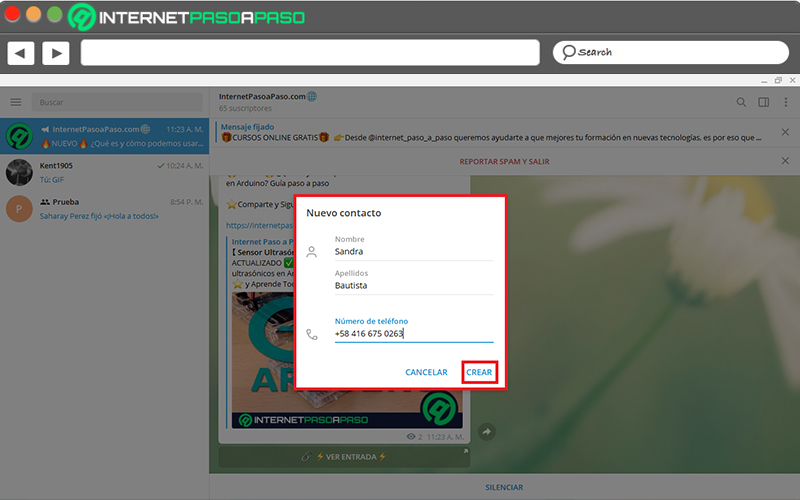 Through the desktop version of Telegram, you also have the possibility to invite your contacts to use the app . Whereas, in this case, all the contacts stored on your mobile that are registered on the platform are displayed, because your Telegram account is intrinsically linked to your phone number .
However, to start inviting your other friends, you will not find such a list and therefore, you have to do the following:
First of all, open the Telegram app through your computer and access your account .
Then, through the main window of the platform, go to the upper left corner and click on the icon with three horizontal lines .
Later, in the menu they provide you, proceed to choose the option "Contacts" .
Now, you have to click on "Add contact" at the bottom of the Contacts box .
At this point, from the New Contact window, proceed to enter the name and surname of the person in question, as well as their telephone number with the corresponding area code .
Followed by this, click on "Create" and since the person has not yet joined Telegram, the system will indicate this with the possibility of sending them an invitation .
From Telegram Web
If you choose to use your Telegram account from its web version, you also have the possibility of adding and / or inviting new users to the platform .
So, taking into account that this procedure is similar to the one in the previous case, we proceed to explain what you have to do for it:
Directly from your trusted web browser, search for Telegram Web and access the platform, then register with your account and enter it. You may need to enter an access code that you can receive in the Telegram mobile or desktop app .
Next, after logging in, go to the upper left corner of the main window and hit the three horizontal lines icon .
Followed by that, in the small menu, choose the option "Contacts" and this will show you the list of your contacts that use Telegram.
Once this is done, in that window, you have to click on "New contact" from the bottom.
Then enter the phone number of the person you want to invite, along with their first and last name . To do so, conclude by clicking on "Save" .