Social media
How to easily change your date of birth on Facebook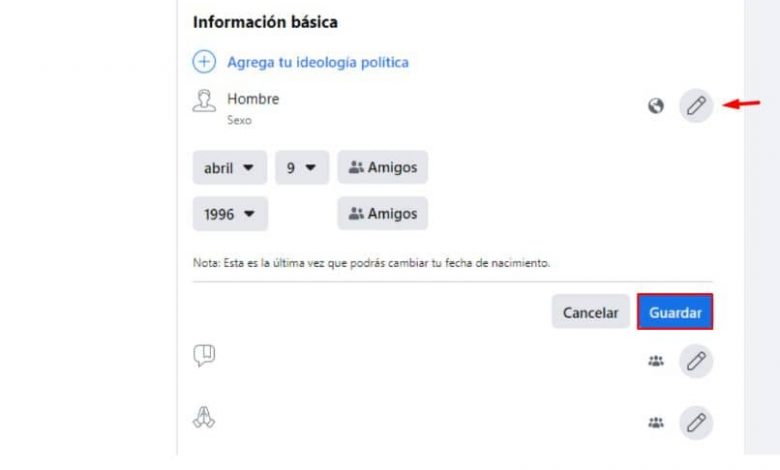 For this reason, currently people choose to use Facebook and the best thing is that it has options that allow us to edit any publication, so that if something is wrong or we do not like it, we can change it quickly.
Another option that Facebook offers us is that we can change the username or any data that we put on our profile. Among them the date of birth. But if you still don't know how you can change your date of birth on Facebook, don't worry, because we'll show you how to do it below.
Easily change your date of birth on Facebook
Fortunately, Facebook allows us to carry out a wide variety of processes, it also makes it easier for us to modify or change the information that we have added. However, not all users know how they can edit the information on this social network.
Some people even consider that changing the date of birth is not possible or that a series of steps must be taken to achieve it. But today we will teach you that it does not take much time and the best thing is that it is very easy.
Therefore, it is important to keep in mind that Facebook seeks to protect your identity and therefore it is not advisable to frequently change your date of birth. Since this social network has a limit, which you must respect.
What Facebook really seeks is that its users do not add false names or data, since for its developers, it is important to maintain a concrete and real profile on this platform.
Steps to easily change your date of birth on Facebook
As we have already mentioned before, these steps are really simple, since fortunately Facebook has a very simple interface, therefore, it is easy to use. Thanks to this, almost everyone has at least one account.
On the other hand, when it comes to changing any data, Facebook offers you the best options for you to do it without taking too long and without any complications.
In the same way, it should be noted that one of the peculiarities that Facebook offers us is that any process is the same on any device or computer.
Now, without further ado, let's see how it's done:
Open Facebook, entering your username and password, from the facebook website or in the app.
As soon as you are at the start, click on your username
Once there, everything you have published and are visible on your profile will appear. In the same way, next to your profile picture you get several alternatives, which are: Biography, information, friends, photos, files and more.
Click Information
Next, a new window opens with all the details and information that you can add or modify. Among these options we have: General information, work and education, places where you have lived, Basic and contact information, family and relationships, details about you and important events.
Select where it says Basic and Contact Information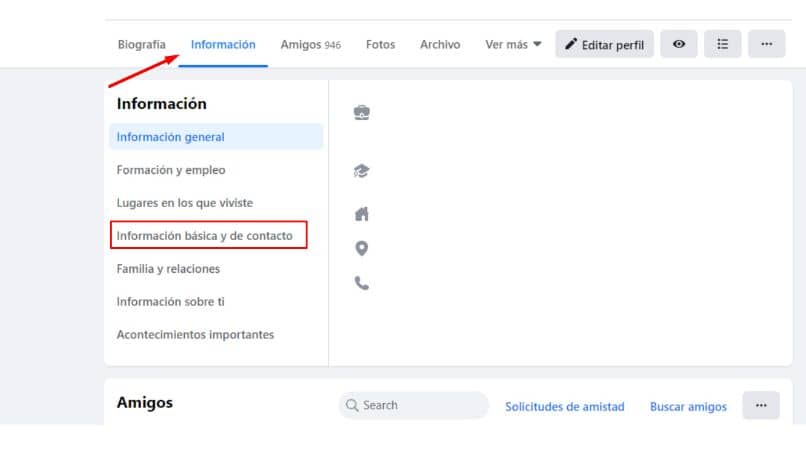 Immediately several fields appear, find where it says Date of birth and Year of birth
Next to these options there is a button to Edit
Finally click on Save and in this way you have already changed your date of birth on Facebook.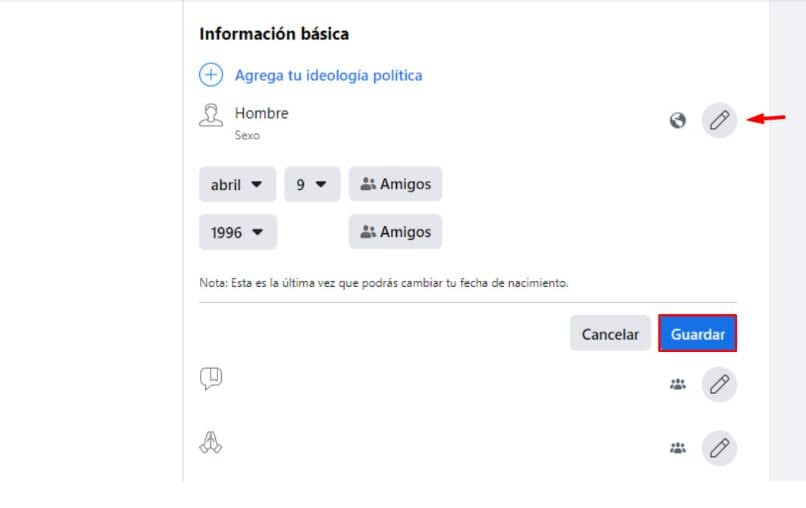 In addition to changing your date of birth, you can also hide it on Facebook . Remember that personal data is very important and you must be careful with whom you share it, facebook allows you to edit most of them, such as the name which you can have only the first name and hide or delete the last name. Another important information that you can edit is the phone number which you can delete or change my cell phone number from Facebook
Finally, we hope this post has helped you. However, we would like to know your opinion . Have you been able to change the date of birth correctly? Leave us your answer in the comments.