Social media
How to earn money on youtube to make a living from making videos on the platform? Step by step guide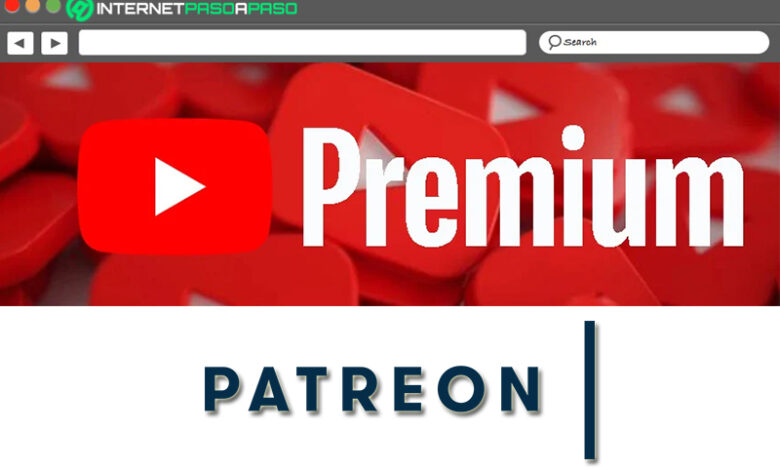 For several years, the Internet has become one of the main ways or "platforms" that exist to start a business and extend it to the point of earning money to make a living from it . Therefore, today, many social networks are the ideal windows to promote yourself online, based on different available alternatives .
One of these alternatives is based on making videos and making a profit through them . This being, an activity completely supported by the famous Google video platform , that is, by YouTube . Taking into account that, through this social network, it is possible to earn money in many ways.
Therefore, it is worth knowing what are the main monetization models that YouTube supports and, in addition, learning how to handle the best concepts that there are to earn profits by uploading videos on this site, easily. Which, we will explain below.
What are the main YouTube monetization models?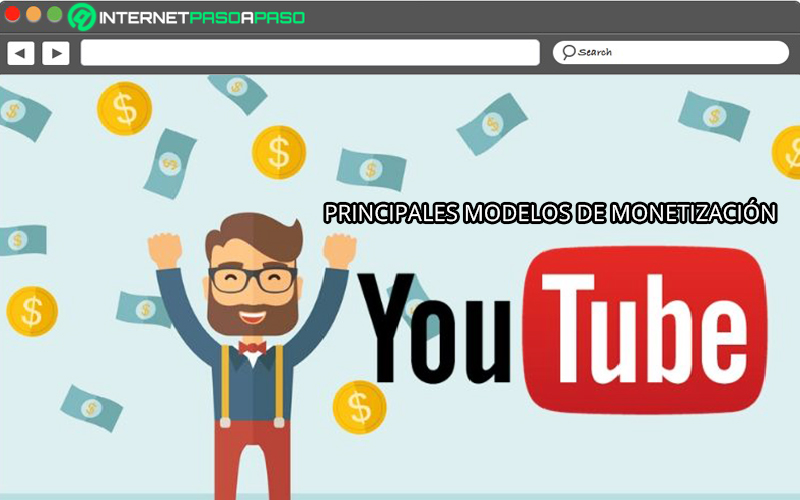 Directly, the Google video platform offers several options for content creators, so that they can monetize their channel . However, although much is said about these monetization models, in reality many users do not know which are the main ones that the social network accepts .
Consequently, it is important to point out each and every one of the forms of monetization that YT allows directly to those people who have a channel within the platform:
Advertising
Both on YouTube and in many other applications, this is one of the most used models to monetize exposed content and earn money through it . Since, through advertising, the return on investment can be recovered quickly and, in addition, it allows to obtain benefits around the number of clicks (CPC) or by the number of exposures (CPI or CPM).
In this sense, it is the most automated way to earn money in this social network . Since content creators only have to activate YouTube monetization and choose the type of ads they want to display, after that, the same platform will take care of the rest. However, it can be an intrusive attack on the privacy of the user and is classified as annoying .
Private subscriptions
Another of the most recognized solutions to monetize a YouTube channel is through private subscriptions and with the help of your viewers . Because, with the "Channel Members" tool , users will have to pay a monthly fee (around 4.99 euros) to access publications aimed only at subscribed members, get new badges and emojis .
Added to that, through private subscriptions, viewers who decide to enter will be able to count on personalized benefits provided by content creators (such as exclusive videos, live broadcasts, bonus content, etc. ). But, in order to use this monetization model, the channel must exceed 100,000 subscribers .
Sponsorships
One of the classic formulas for generating income in the business world, without a doubt, is sponsorship . So, although it has existed long before the invention of the Internet, it is a monetization model that has been adapted to many websites, including YouTube .
Thus, in this case, both the quantity and the quality of the sponsors you find are of great importance, since your income and the power that your brand takes on the platform will depend on that . Valuing that, to attract sponsors, you should focus on providing quality content, optimizing the design of your channel and increasing your activity or visibility on social networks . In other words, you must actively seek your sponsorships.
Now, the fundamental aspect for a sponsor to be interested in a YouTube channel, lies in the audience of this (either by age, gender or location) and also in that the creator or the contents serve to disseminate the product or sponsor service . Therefore, sponsored videos can be made (totally or partially) to showcase a brand. Which is called "Influencer marketing" .
Merchandising
Starting from YouTube, it is possible to sell your own articles directly from your channel . Which means that you can offer "official merchandising" through a specific section with great visibility, with the aim of generating more income. To do this, the platform helps you choose from more than 20 merchandising products in conjunction with many companies and allows you to customize them to promote them on a shelf in your channel.
Basically, these products are t-shirts, mobile cases, utilities, etc . This means that, the same platform offers you the facility to grow and earn money to live on it, easily. Taking into account that, the same creator can choose the sale price with a certain additional benefit .
Membership
As another monetization model, YouTube also allows affiliation to be used through third parties . In other words, through other companies or platforms that establish monetization systems applied to YT, content creators will be able to earn money . Basically, in the case of a formula in which the owner of the channel commissions for the sales achieved with his videos .
Thus, the affiliation model consists of providing the audience with a series of links to products, in order for said users to make a certain purchase from there . These being special links that remain associated with the YouTube channel and are tracked by the associated platform .
Super Chat
So far, this is one of the newest forms of monetization on YouTube, thus being an effective option for the economic exploitation of a channel on that platform. In this sense, it consists of a function that is enabled in all channels that are already monetized, but only in some countries (Spain is admitted). Thus, it is classified as a tool that has the ability to provide greater visibility to followers who want to be known in exchange for a fee .
Because anyone watching a live broadcast from a certain content creator can purchase a Super Chat to make their message stand out on the video . Subscribers to this official monetization model on YouTube have the possibility of making their messages stand out from the rest, in live broadcasts . Considering that, if there are several users who are paying to highlight their messages, those who have voluntarily canceled more money will be accentuated .
Learn step by step how to make money with YouTube videos
Once you know the main official ways to monetize a YouTube channel , it is time to know how to use each of them or learn step by step to earn money using one of these models .
Therefore, below, we explain what you should do when choosing any of the following monetization systems:
Affiliate Marketing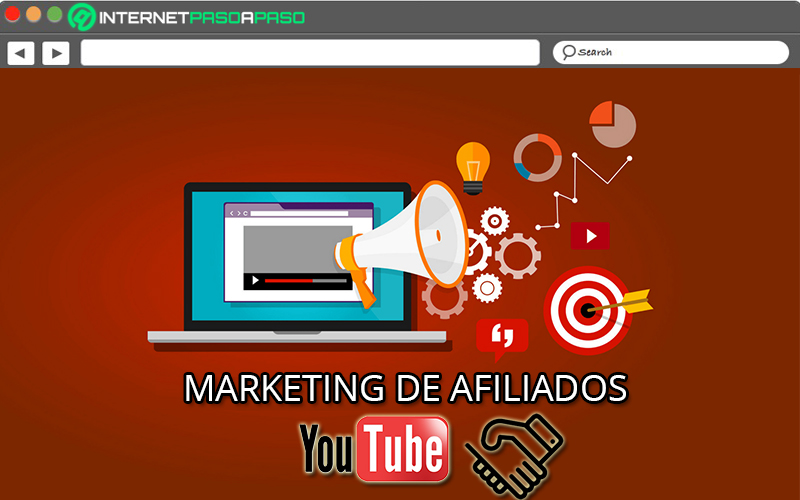 As we mentioned before, affiliate marketing on YouTube is based on making money through third-party platforms when making sales or establishing subscriptions, thus obtaining a commission . Among these platforms, the most recognized of the moment, are: Amazon, AliExpress, Clickbank, Hotmart, etc. Consequently, this monetization system revolves around affiliate links and personalized promotional codes that are provided by the same company (by Amazon, for example).
In this way, the linked company will know from which website the user who has made a purchase comes from and thus, will proceed to assign its corresponding commission to the user of the YouTube channel (or the affiliate). Therefore, the content creator should include the affiliate links and promotional codes in the description of their videos in order to promote sales. Whereas, if the viewer buys within a specified maximum period (usually between 1 and 30 days), the affiliate will receive a fixed profit .
In this sense, it is important that the YouTuber issues certain notices to his followers and encourages the visit to those brands or companies to which he is affiliated, so that the user accesses the indicated website from the video itself. Because, if the person enters the product website directly without going through these links, the sale or subscription will not be associated with the affiliate's YT channel .
YouTube sales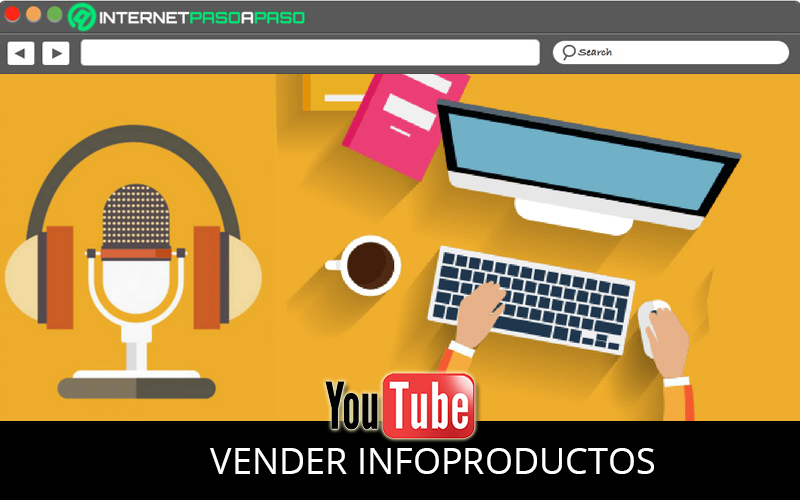 In addition to promoting Merchandising on YouTube, you can also choose to promote and sell your own info products through this video platform . In general, these types of products are based on online courses and provide notable advantages to users, since they fit into various themes, support highly automated sales and thus scale perfectly. In addition, it should be noted that the infoproducts are 100% digital articles that facilitate their distribution completely.
Luckily, they eliminate logistics costs in order to have greater benefits translated into savings in money, time and effort . Assessing that, apart from that, the difference in effort from selling 10 to selling 1000 products is not truly remarkable . Now, in addition to courses online, you can also promote and sell from your YouTube channel, other information products such as electronic books or ebooks, audiobooks, autoresponders, live webinars, mentorships, etc .
Obtaining referrals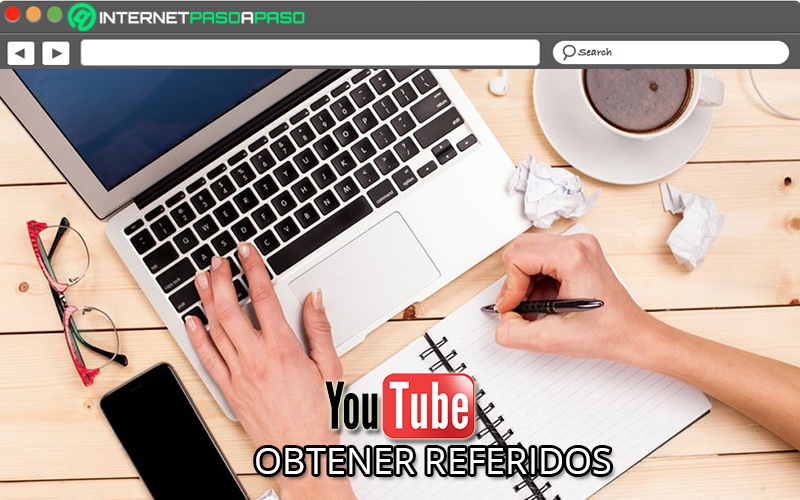 When a system of earning money from referrals is pointed out, it refers to all those users who register on a certain web page on the request or recommendation of another person . Thus, the moment they join, they begin to be part of the network of guests of this last person and that person, in turn, will be their tutor. That is why, thanks to this link, you will be able to earn money for referrals, thanks to the activity of all the people you invite and, also, for the recommended ones of those guests.
So, your earnings can increase considerably, if your referral network also increases . In that sense, there are many platforms that give you money for referring people and YouTube can be one of them, indirectly . Since, if you create a community in this social network and recommend to those users that they be your referrals on other websites, you will have the possibility of earning much more money than in a YT channel focused on advertising and views, only .
Therefore, it will be appropriate to locate those online platforms where you can earn profits as a sponsor by referring or inviting other people through your YouTube channel . Taking into account that, some of the most reliable are: TradeTracker, Opinion Bureau and Android applications that pay for downloads and clicks on ads. Taking into account that, there are many scam platforms that offer to obtain fast money.
Advertisements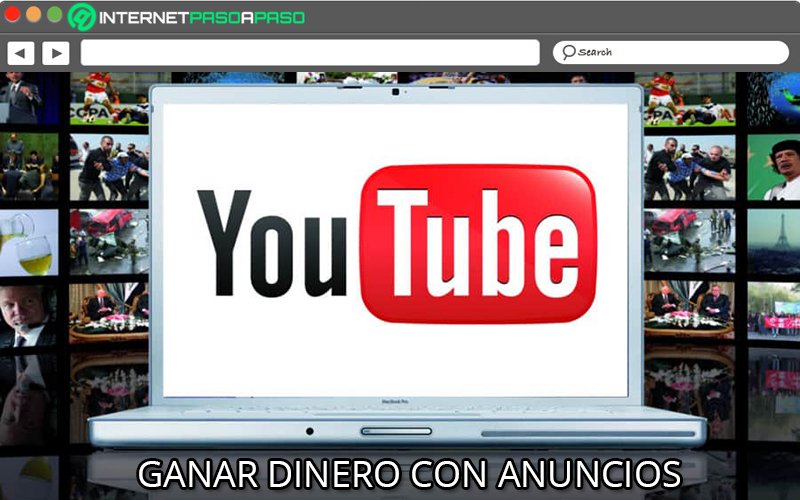 It is the most popular method that there is to generate real income through videos on YouTube and, basically, thanks to the number of views produced . Thus, a monetization model that is associated with Google AdSense, which is Google's online advertising network . This means that it is the system that generates income through the same YouTube platform , with the video ads that are shown before, during and after the playback of each clip on the platform, automatically.
Which, of course, are provided by Google itself . Now, in order to enable this type of monetization system in YT, the content creator who owns the channel must meet the following requirements : Be over 18 years of age or, failing that, have a legal guardian over 18 years of age manage payments from AdSense ; as well as preparing and uploading videos that adhere to the guidelines for advertiser-friendly content .
On the other hand, to activate this function in your platform channel, you must follow the following steps:
Login to your YouTube account, click on your account icon and select "Creator Studio" .
Enter the menu on the left and click on "Channel" to choose "Status and functions . "
Go to Monetization and click "Enable" and then follow the steps that appear on the screen.
Register on the Google AdSense platform and when you create your account there, connect it with your YT channel . This will allow you to earn money with your videos and receive payments.
Within YouTube, configure the types of ads you want to post on your clips and enable automatic monetization for all your videos. Once that is done, click on "Save" .
Request a review so the site can make sure your activity doesn't violate YouTube Partner Program policies .
But, unfortunately, this model requires a minimum of 4,000 hours of viewing in the last 12 months and a total of 1,000 subscribers before monetization options are enabled with AdSense. Therefore, it is not a truly accessible alternative to start earning money quickly on the social network.
Influencer Marketing
If you have a large community around you on the video platform, you also have the possibility to sell advertising as an influencer or use the benefits of the famous "influencer marketing" . Since, in this social network, direct collaboration with brands by YouTubers is very typical , because it is a model that fits very well with audiovisual content sites.
Consequently, thanks to the fact that YT is an online medium that allows you to broadly connect with your audience, it is ideal to increase your audience's trust in you and with it, to be able to influence their decision-making so that they are inclined to choose brands that you are promoting in exchange for a financial gain . Now, there are many ways to use influencer marketing on this Google video platform .
Next, we mention the most optimal of all so that you can put them into practice :
Sponsorships : As we indicated in the first section of the post, sponsorships are a monetization model accepted by YouTube and it has taken great power. Which is used in podcasts with a small wedge of the brand at the beginning, during or at the end of the audio .
Merchandising : In this case, the influencer will choose to display a brand's clothing, accessories or supplements, strategically . That is to say that, through the video on YouTube, you will promote the company in question so that your articles are seen casually and thus, attract the attention of the public.
Product placement : In this case, brands focus on paying the YouTuber to directly show their products. Either from a tutorial of use, an analysis of the product or a sample of its quality .
Collaborations in events : In this case, the influencer will be in charge of increasing the audience in a certain event and, in addition, will be able to help and collaborate with their presence, making a talk or conducting interviews with the guests.
Brand consulting : From a YouTuber, the owner of the channel will become a consultant for the brand they are promoting, with the aim of improving their products or services based on the influencer's knowledge of their followers and the opinions they receive .
Premium content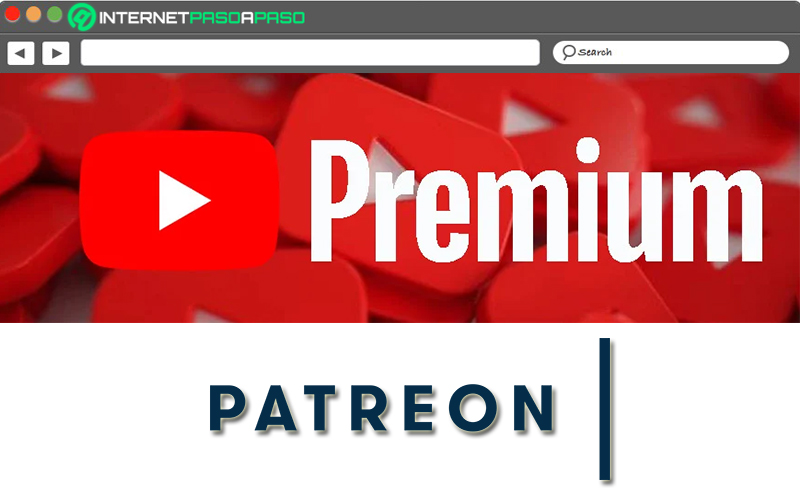 It is a tactic that is based on private subscriptions and, specifically, consists of creating personalized premium subscriptions in which you promise to share higher value or more exclusive content with your audience, as long as they pay to be part of your channel. In other words, it is basically about monetizing your videos on YouTube .
One of these types of monetization models is identified as "YouTube memberships" and is characterized by showing the "Join" button that appears next to the channel button to subscribe. Which, as we mentioned before, accepts a payment level of up to 4.99 euros and thus, subscribers will watch exclusive videos, enjoy extra content and get new badges or emojis. On the other hand, there is also the alternative of Crowdfunding on YouTube via Patreon, which is a website for creative projects.
Thus, the system is based on the concept of donations and offers surprising results. Since, users can estimate the minimum income to be acquired by their fans . In this way, the followers of the authors will be able to access a variety of privileges that are available to them, just by making a periodic payment through Patreon . Considering that, depending on the content, several levels of access or "tiers" can be established that manage to adapt to all user pockets.