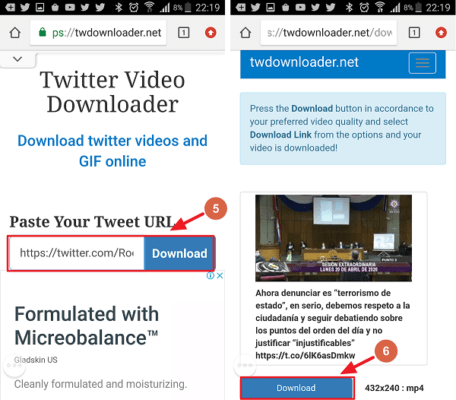 Twitter is one of the most used social networks today. All users have the ability to share content with other people through publications that are not only accompanied by texts, but can also have audiovisual content. One of the most frequent questions that may arise is knowing a safe way to download videos from Twitter.
Actually, downloading content from Twitter can be done as long as you have support on other platforms that serve as an intermediary for the download. It will always be necessary to make use of other tools found on the web. Here you will see a very practical tutorial that will facilitate this type of download.
From Android
For Twitter video downloads from Android devices, you may find that it does not require many steps. Pay attention to the process to follow:
Once you enter Twitter, you need to select the tweet with the video to download.
Select the share icon, it is in the lower corner of the "tweet."
Some options will scroll and you must select the option "Copy Tweet link".


From your browser you will enter TWDown with the following link: www.twdown.net
You must " paste " the link where it says " Paste Your Tweet URL " and then press " Download ".
For the download to run and once you enter the link, you must click on the download option.


You can select the type of resolution in which you want the download to take place. Then it will be enough for you to look for the video already downloaded in the downloads of your mobile device.
Using applications
Another method that you can apply to download a video from Twitter is to use third-party applications to carry out this action. These apps are easy to use because they are very intuitive. Here is a list of possible alternatives that you can use. You can download them directly by touching the following buttons corresponding to each application.