Social media
How to delete to facebook account forever? Step by step guide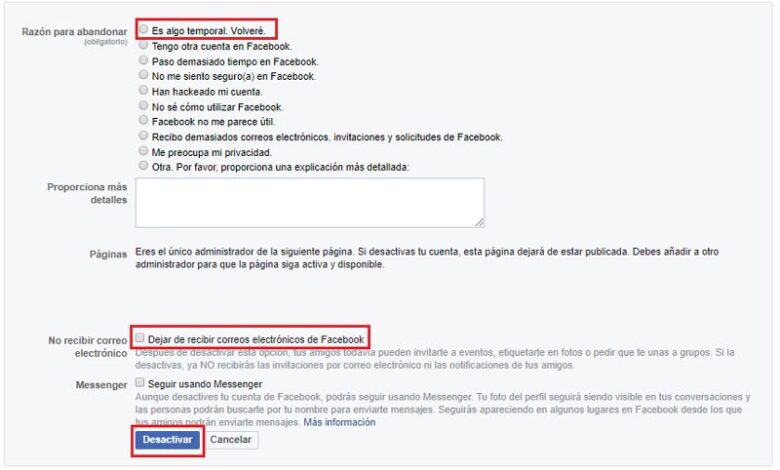 Facebook is one of the most used social networks in the world, if not the most. Millions of registered users move every day through its complex of comments, photos, videos, groups and publications in general to communicate with each other, hang out or even find out about important events. No matter the reason, there are many reasons to enter this social network, almost as many as people who are part of it.
But there are also many reasons why you want to leave this place . Although it has a myriad of uses, there are people who may be wondering how to delete a Facebook account . And it is that not everyone likes to tell their life through the digital plane. There are those who like to enjoy things in privacy, who do not want to be constantly uploading publications or even people who are overwhelmed by having so many notifications a day and prefer some tranquility and disconnection .
Even heartbreak can be a reason to want to leave this portal. This guide that we bring you explains step by step the processes to follow to completely cancel your Facebook account . You may even decide to withdraw from this network due to the problems that are coming to light about the protection of its users' data, the same ones that are putting its founder, the famous Mark Zuckerberg, in check .
Steps to close my Facebook account permanently
Whatever the reasons, here we give you all the tools you need . If you want to delete your profile from the PC or from the smartphone, even if what you simply want is a temporary disconnection and what you are looking for is a suspension for a few days. Everything you need to know is here, fully detailed and with all the information you may need.
Do you want to close your Facebook account permanently? The process is not too complicated. It implies that you connect first and perform a series of steps that vary a bit if you use your PC or mobile with the app . Here, we are going to explain everything you have to do in both cases.
Delete from PC
Deletion from the PC requires you to log in as a user and go to the profile settings section. This is what you have to do to delete your Facebook from your computer:
Open the web browser that you use the most and, in the address bar that should have at the top, enter the following URL: www.facebook.com . With it, you will access the Facebook home page to login.
Log in with your user account . You have to go to the upper right corner and fill in the first space with your email or your phone number and, the second, with the password to access that you established when registering. After doing so, click on "Login ".

When you are inside, go back to the top of the Facebook window and, on the far right, you will see a down arrow . Click on it to open a small menu with various options.
Among all those that appear, you must press the one called "Settings".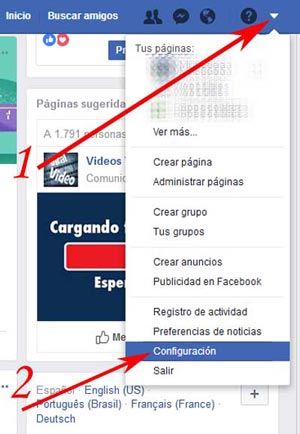 Within the settings panel of your user, you will see a lot of information and several sections that are located on the left side . Go to that column and click on "Your Facebook information."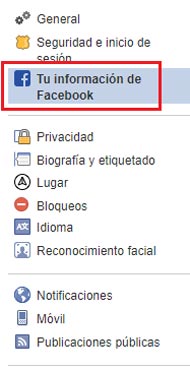 Then, a series of options will open in the central area of ​​the screen. We have to go to the last space there is, "Delete your account and your information", since this is what we want to do with our profile. Go to it and click "View ."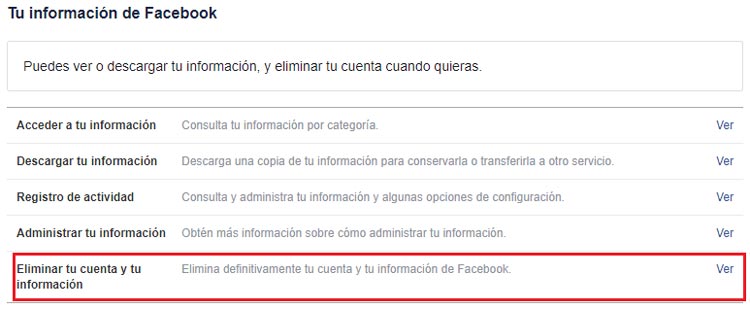 Next, a message appears asking if you really want to unsubscribe permanently. The option on the left, "More information on deleting accounts ", contains data on terms and other related to this process. To continue, press "Delete my account".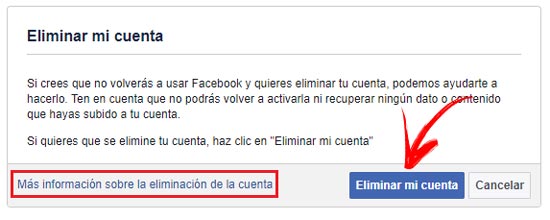 In order to prevent someone else from doing this for you, Facebook will now open a small window in which you must retype your password and check the box "I am not a robot ". Do so and then click on "OK ".
When you have done this last step, you will be notified with the current profile status via E-Mail. Right now, it has been disabled, but not removed. This means that you can return within a maximum period of 14 days to save all the information you want or even to cancel the procedure if you prefer and have regretted it for any reason.
A reasonable period of time that is granted in case of repentance ; but, after which there is no turning back. If those two weeks indicated by the web pass and you do not cancel the request, your user will disappear completely from Facebook and you will not be able to recover anything no matter how much you contact the service team.
Unsubscribe from your mobile (Android and iOS)
Although similar, the procedure to unsubscribe from Facebook from your smartphone is different, since you have to use the dedicated app that the network provides to Android and iOS users . We are going to explain all the steps to follow:
If you don't have it, download and install the Facebook app . Enter the App Store if you use iPhone or Google Play if you use Android and search for "Facebook " in the section for it. After doing so, choose the first result and click on the button to download .
Once you have finished this process, which is done automatically after pressing, open the application from the digital store itself or in the programs menu of your phone by pressing its icon.
When it opens, start by entering your email or user phone number along with the access code in the two fields that you will see on the screen. Press the login button after this to be able to access your profile from your mobile.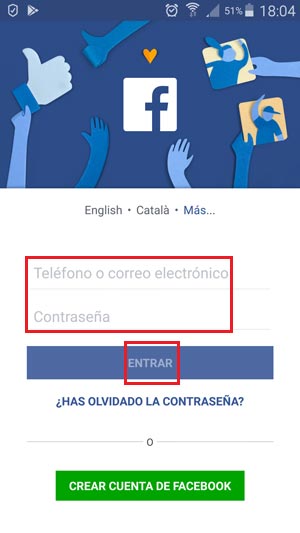 Now, inside the home screen, you have to press the icon with three horizontal lines that appears in the upper options bar.
The list of sections that now appears includes, in its penultimate field, the option "Settings and Privacy" . Descend until you reach it and press to access .
Immediately afterwards, another drop-down menu will open for which you are interested in the first option of all: "Configuration" . Get into it.
In this section there are numerous options, but you have to go down through all of them until you find one called "Delete your account and your information . " It is the last one that appears before reaching the section of conditions and policies of the social network. When you find it, you must click on it.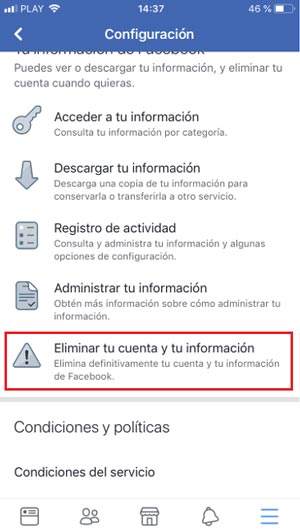 The next thing is to enter the password to your account in the field that will appear on the screen. It is Facebook's way of ensuring that you are the one who does this and that you are determined to unsubscribe. After writing it, click on "Send ".
If you have followed these steps, you will be expelled from the app immediately after having indicated that you have 14 days to undo the request . In the same way that happens when the procedure is done on PC, if you request to delete your Facebook profile from your smartphone, you will be given two provisional weeks to cancel the request or recover information, although your account will remain suspended in the meantime. It is a prudential measure to avoid problems due to regrets.
How to deactivate my Facebook for a while and reactivate it again later?
You may just want to deactivate your FB profile to come back to it later. In this sense, the social network always contemplates the option of doing so in case you want to disconnect for a few days to avoid distractions or temptations or for whatever reason.
Next, we explain the steps you have to follow to temporarily unsubscribe from Facebook and, if you wish, reactivate your user to enter again and continue using it as usual.
1 – Enter Facebook
First and indispensable step. Open your computer's web browser and enter the URL to access the home page of this social network. Enter www.facebook.com in the address bar and you can enter.
Once this is done, go to the upper right and fill in the two fields that there are . In the first you can, as we have previously indicated, enter your profile email or the assigned phone number ; in the second, do the same with the access code. Once finished, click on the "Login" button and you will be within your username.
2 – Access the "General" section of the configuration
When you are on your home page as a user, you must move the mouse to the upper right corner and click on the down arrow symbol . When doing so, a small drop-down menu will open with several options, among which we have to choose "Settings".
Then, we will be taken to the control panel of our profile . Make sure the "General" option is checked in the left column, as this is the section where we have to proceed. If not, just click on it.
3 – Request deactivation
After having entered the section that we have indicated before, you have to search, in the central screen, for the option "Manage account" . When you find it, go to its right and click on "Edit" to be able to adjust its parameters.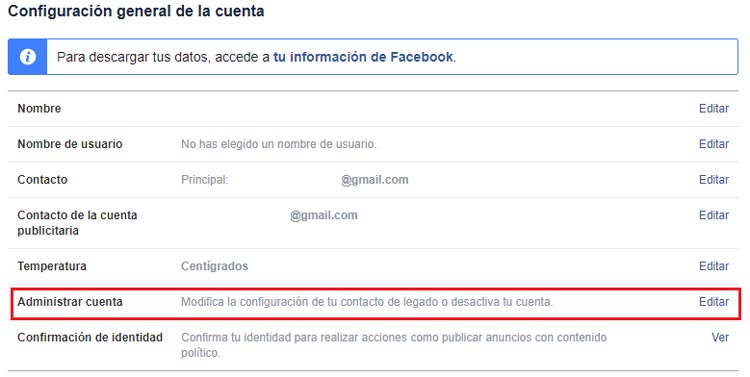 When all your information is opened, you will see the section "Deactivate your account " below. Inside it, it explains what this function does and what it is used for and, a little further down, you will have the text "Deactivate your account" in blue . Press it.

4 – Indicate the reasons
As a last step, Facebook asks you to indicate the reasons why you want to temporarily unsubscribe your user profile. Check the box that corresponds to your case (this time, the ideal is "This is temporary. I'll be back" ) or write the details you consider in the field below the list.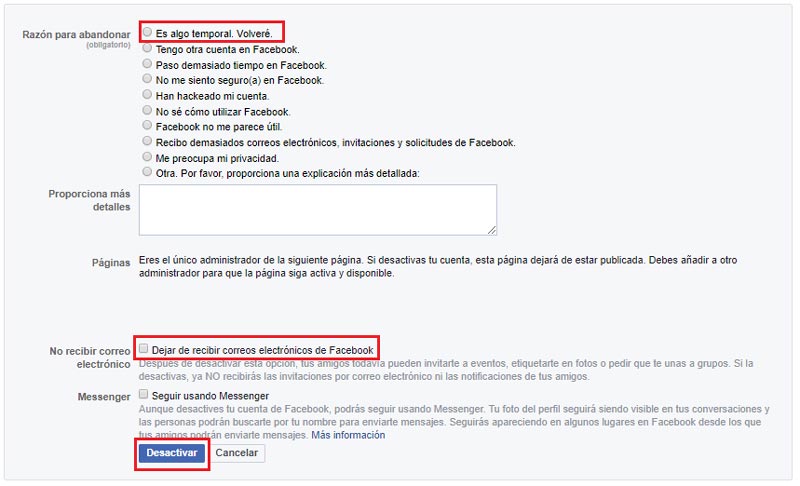 After this, you will be asked if what you want is to get out. Close this pop-up window and, then, mark the approximate period of time in which you want your account to be reactivated automatically with the drop-down that appears to the right of the option clicked.
You can also mark the option "Stop receiving emails from Facebook " so that they do not reach your email inbox. To finish, press the "Deactivate" button and, in the message that you will see below, click on "Deactivate now ".
5 – Re-enter
To reactivate your account, you can wait the period of days indicated in the previous section or simply log in again on Facebook. Go back to the main page through the URL indicated in step 1 and enter the usual data to log in (email / telephone number and password).
As soon as you do, you will be back in the social network, fully available and enabled for use.
Is it possible to unsubscribe from Facebook forever without waiting 14 days?
One of the unavoidable procedures to delete the Facebook account is to wait a period of two weeks (14 days) . The social network team decided to give this waiting period before carrying out the total elimination to avoid accidental loss of data and information, and it is that during that period of time, the account is suspended; but the user can re-enter as many times as he wishes to continue using the social network, download photos or communicate with his friends. In fact, you can even stop the unsubscribe process by canceling it.
There is no way to permanently unsubscribe from the social network without waiting for that indicated period ; in fact, sometimes it can even last up to 90 days (for unknown reasons). If you want an instant deletion of your profile, we are sorry to tell you that it is impossible and that you are going to have to take it very easy.