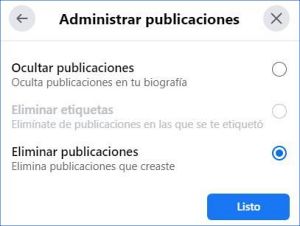 Next we will be looking at how to delete your Facebook posts quickly and in bulk. This is ideal if you need to delete all Facebook posts.
Now more than ever it is important to debug what appears in our social media histories. If you have a lot of time on FB, you will surely have posted a lot of things. Many of them may currently seem ridiculous or embarrassing to you, and you would like to delete them.
Finding and deleting Facebook posts one by one can be tedious and time consuming. This time we will see how to delete all Facebook posts, be they photos, memes, posts, comments, etc.
Delete all Facebook posts fast
You can delete old Facebook posts quickly, selecting up to 50 in one go. By filtering them, they will appear ordered by month. You can even filter a whole year to delete.
# 1. fa in your web browser and go to your profile by selecting your name in the upper left corner.
# 2. Under What are you thinking? you will find the Publications manager . Click Manage Posts.

# 3. The Manage Posts window opens . Here in the upper right click on Filters.
The Filters of publications window will open, with the fields: Date, to filter the publications of a whole year; Posted by, to filter by anyone, you or others; Tagged posts, to filter by all posts or in which you have been tagged.
# 4. Choose the criteria to filter and find the posts you want to delete. For example, choosing a year in the Date field.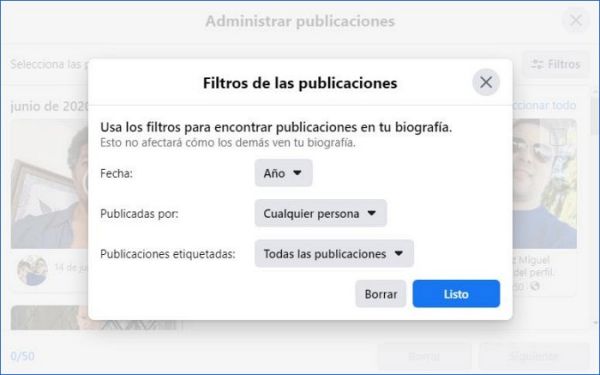 Regardless of the criteria chosen, the publications will appear ordered by month. To see a full post, you need to click on the preview of the post.
# 5. Now select the posts to delete, using the Select All link (for each month) or by checking the checkbox on each individual post.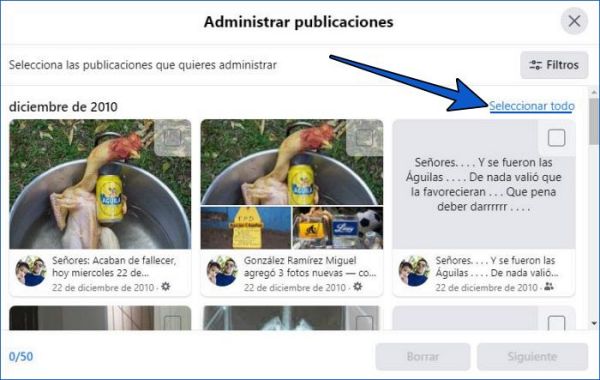 Remember that you can choose up to 50 posts at one time. If you plan to erase more than that amount, you will have to repeat from step 5 as many times as you need.
# 6. Finished selecting, then click the Next button at the bottom of the window.
# 7. Select Delete posts and click Done. Alternatively you could choose the option Hide publications or Remove tags so that it does not appear on your profile, without deleting it.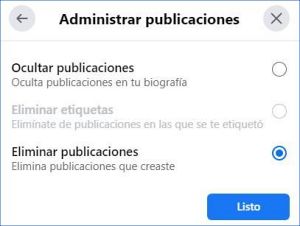 This is all. That way you can delete all the Facebook posts you want, fast and easy.
If some cannot be eliminated
On the other hand, in some cases the option to delete publications will appear disabled, and you can only use the option to hide. This can happen in some posts such as profile image updates, someone else's posts, or posts with a particular privacy setting.
In these cases, you can still delete them individually. You just have to find them in your timeline, select the 3 points in the upper right corner and choose Delete publication.
Delete all Facebook posts
In the times we are living in, it is very important to have our social media histories clean. You won't like a potential employer or partner diving into those unpleasant old photos or posts. Even if your case is serious and you have perhaps thousands of publications that you want to get rid of, you can do it without deleting your Facebook.
With the Manage publications function you can filter your posts for a whole year to be able to delete them easily. This way you can delete all Facebook posts just by filtering from year to year and deleting.