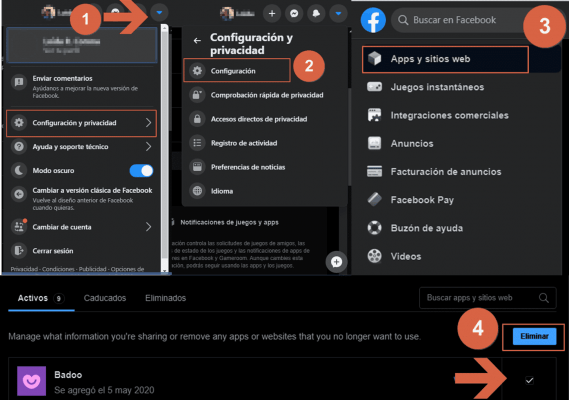 The reasons for unsubscribing from Badoo can be various, from the fact that you didn't find what you were looking for, to closing it because you already have someone in your life. Whatever the reason that led you to make this decision, you can do it quickly by following a few steps. Each of them, you will be able to know them by continuing reading this post.
Something you should keep in mind is that, when you delete your profile on this social network, you have thirty continuous days from the moment you do so, to reverse your decision. After this time, it will be completely lost. Now that it is clear, you can learn how to delete your user in Badoo, both from the PC and from the mobile and also to unlink Facebook from this dating site.
From PC
To unsubscribe from the official Badoo website, you must enter your account and click on your profile image or username, located on the left side of the screen. Following this, you will have to:
Make click on the settings icon (the image of the nut) to open the settings of the account.
Scroll down your screen and select "Remove account. "
A dialog box will open showing you several options. If you want to completely delete your account, select "Delete" and then click "Continue". If not, choose any of the other alternatives and complete the steps.
You will advance to a new questionnaire, where you will be asked the reason why you want to delete your account, select according to your reason and click "Continue".
The next step will be to confirm the deletion of your account with your access password. In addition to this, you will have to check by writing a special character code and press "Delete my account". This is a security measure that allows you to verify that it is the account owner who is carrying out the process.
Press "Close" and you will have successfully finished deleting your Badoo account.
From the phone
If you want to cancel your subscription from your mobile device for greater convenience, you can also do so. You only need a stable Internet connection and follow these simple steps.
Login with your username to Badoo and press the "Profile" icon located in the lower right corner of the screen.
Click on the "Settings" icon, located in the upper left corner of the screen (the gear drawing).
Select the "Account" section to continue with the next step.
Choose "Delete account" in case you want to delete any trace of your profile on Badoo. This window also shows you the option to "Hide account", a much less drastic process that hides your information from other users and, which you can change at any time you want, making it visible again.
Press "Delete your account" again, to confirm your decision. In case you want a different alternative, select any of the available ones in the list.
Explain the reason why you decide to leave, selecting any of the available ones and press "Delete account".
After completing these steps, your profile in the Badoo App will be closed. It is worth mentioning that the system will send you an email offering the possibility of restoring your username, this will have a validity of 30 continuous days from the moment it is received.
Uninstall Badoo from your mobile
Now, once you have deleted or canceled your Badoo account on your mobile, all that remains is to delete the app that is left on your home screen. The procedure for this is very simple, you will only have to press and hold the Badoo icon that is on your main screen and press the " Delete " option that you will see in the new pop-up window. That will be it, you will have already closed your account and permanently deleted Badoo from your mobile.
Unlink Badoo from your Facebook profile
If you accessed Badoo through your Facebook account and, after a while, you want to delete the relationship between this application and said social network. You must carry out the following instructions:
Enter your Facebook profile from your computer and click on the menu icon, located in the upper right corner of the screen.
Select Settings & Privacy> Settings.
Locate in the left side list the option "Apps and websites" and click on it.
Check the Badoo box and hit "Delete."
Log out of Facebook so that no one else can access Badoo using your account.
As you have seen throughout this post, deleting your Badoo account is really very simple. Keep in mind that the steps may vary slightly depending on whether you do it from your mobile or PC. You can also unlink your Facebook account from Badoo. Finally, remember that you can delete the app from your mobile once you have unsubscribed from the dating app.