Social media
How to deactivate your Instagram account temporarily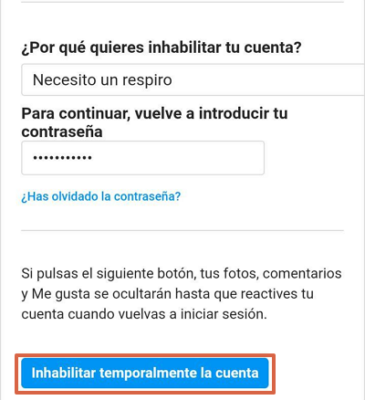 The number of user accounts on Instagram is increasing due to the success of the social network. However, there are many people who want to close or suspend their account in it, because they consider that it is not what they are looking for or simply want to take some time before continuing in it. Well, there is a quick and easy way to do it.
However, you should know that it is not possible to deactivate, suspend or delete an Instagram account from the app, so you must take the time to sit at the PC or access the web browser from your mobile. Whatever your decision you can do it in a few steps. In this way, you will disappear all traces of your profile on the network. Learn how to do it in this post.
Deactivate from the official website (PC)
To deactivate or suspend your Instagram account from your computer, follow the instructions below:
Access the official website of the app and log in to your account.
Once inside it, click on your photo in the upper right corner.
Select " Settings."
You will advance to a new window where you can modify your profile, scroll to the bottom and select " Temporarily deactivate my account ".
Note : You can also say, "temporarily disable my account."

You will be asked to specify a reason why you want to disable your account and enter your access password for security measures.
Press " Temporarily disable account ".
By doing this, all your Instagram information will disappear from the view of other users, until you decide to log in again. It will be as if it does not exist.
Deactivate from mobile
If you prefer, you can deactivate your Instagram account from your mobile. Remember that you must do it from the web browser, as it is not possible to perform this action in the application directly. To do this, follow these steps :
Access the web version of Instagram using your phone's browser.
Click on your profile picture in the lower right corner of the screen.
Select " Edit Profile."
Scroll to the bottom and click " Temporarily deactivate my account."
Select the reason for deactivation and enter your password to confirm your decision. When you do, click on " Temporarily disable the account."
This is a process that you can reverse at any time. To do this, you will simply have to log into your account.
Additional alternatives
There are other additional options that you can take into account in your Instagram profile. One of them is to hide it or make it private, so that other users cannot find or see your information. On the other hand, you have the alternative of eliminating it completely, this is recommended when your identity is usurped on the network.
Permanently delete
If you want to permanently delete your account, you have to follow the steps detailed below:
Enter the following link :https://www.instagram.com/accounts/remove/request/permanent/.
In the tab that says "Why do you want to delete the account's name? " Choose a reason why you want to delete your account.
It will ask you to re- enter your password and then press the " Remove account name " button .
Finally, you must confirm the action and voila, you will have permanently deleted your IG account.
As you have seen throughout this post, deactivating your Instagram account temporarily is very simple. The steps to do it vary slightly if you do it from your mobile or PC. Now, if you no longer want to use this social network, you can also proceed to permanently delete your account by following the steps explained in this text.