Social media
How to create shortcuts for your youtube playlists? Step by step guide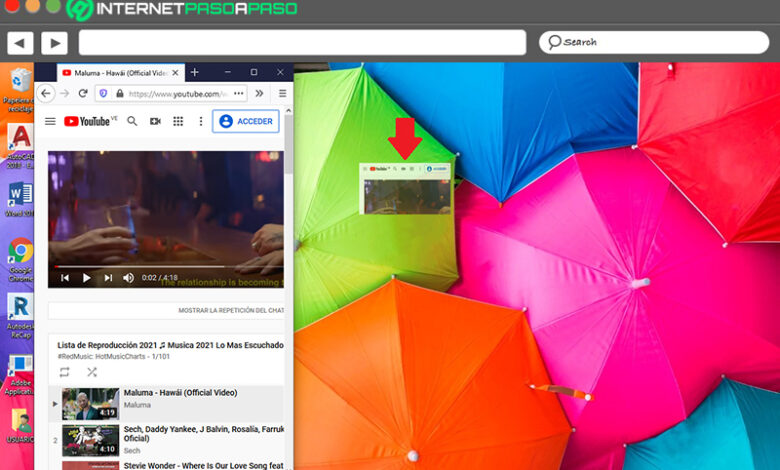 By default, YouTube is listed as the main website for viewing and / or posting videos in the digital environment . For this reason, it has become a widely used resource around the world and thanks to this, it is the second most important search channel globally after Google.  Reason why, it has more than 2,000 million users .
Now, beyond watching videos of any subject, most users prefer to use YouTube to listen to music . Taking into account that, through this website, they can find any track they want and the platform even offers playlists that are much more useful .
As if that were not enough, apart from allowing the creation of personalized playlists, YouTube is also characterized by accepting the creation of shortcuts to these playlists both on Android and iOS, as well as on Windows. Since it is a very helpful alternative, it is worth knowing how it should be done and here, we will explain it to you .
What are the benefits of using YouTube shortcuts?
Although it is true, a shortcut is defined as a method that allows creating an icon through which a specific program, file or folder can be opened more quickly . In other words, it corresponds to an icon that is skilfully associated with a certain software, application or file .
In this sense, the shortcuts on YouTube are elements used to be able to open the website more quickly, in a specific section. This means that, by using shortcuts, users do not have to worry about having to open the social network and search for what they want first, in order to enjoy the content in question.
Therefore, these shortcuts are advantageous, given the following benefits:
Fast : With just a press or a click, users can enter your YouTube playlist . In other words, it is a very agile tool .
Convenience : It will not be necessary to go through a long process to get the playlist. Well, the shortcuts avoid having to open, search and select the item in YT .
Enjoy : Soon, people will be able to enjoy the playlist in question, from their computer or mobile . This, without having to depend on other factors.
It's free : It is a solution that can be implemented for free with the help of YouTube, without having to resort to its premium version .
Does not require third-party apps : Fortunately, these shortcuts can be created in the mobile application directly or from the web browser of your choice, without having to use third-party tools to achieve it.
Learn step by step how to create shortcuts to your playlists on YouTube
Of course, to create the shortcuts to your playlists in YT, first of all, you will have to create these playlists .
Indeed, before starting with the other processes to follow, we detail what you must do on any device to create your new playlist:
Initially, access the YouTube mobile app from your smartphone or open its official website on your computer. For there, enter your Google account that is proportional to your YT user.
Then select the "Library" section . In the mobile application, it is in the lower right corner and from the browser, you can get it in the left sidebar.
After that, go to the section that says "Playlists" and choose the one you want to manage. To create a new one, you just have to click on "New list" to proceed to choose the videos that will make it up, write its title and save it.
Once you have the playlist you want to access through a shortcut at hand, it's time to start creating that item on your computer .
Next, we explain how you can do it on Android, with iPhone or iPad and through your Windows PC:
On Android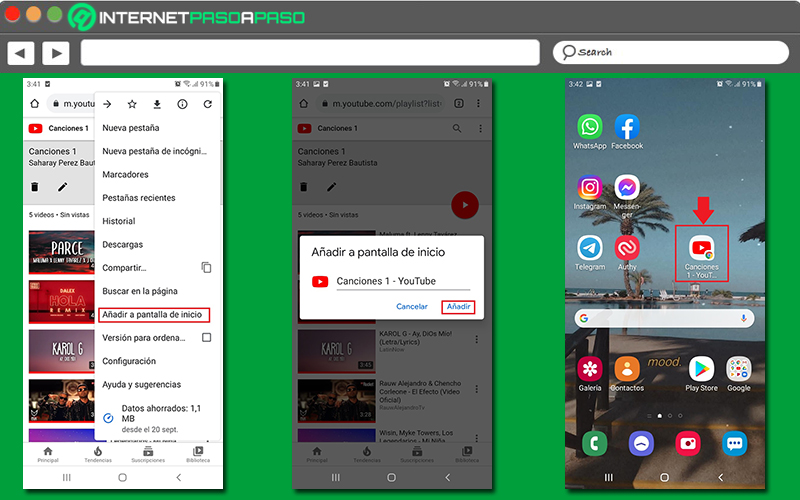 To simplify the process to follow, we recommend that you carry out the following steps through your trusted web browser on Android . This means that it is best to avoid using the service's mobile app to create shortcuts.
That said, we proceed to detail what you should do here:
To get started, open the web browser app you prefer to use to access the official YouTube website . In this case, we choose to use Google.
Next, search the YT website and access your account to see the playlists that you have previously created.
Followed by that, through the Library section , you have to search and choose the playlist you want to have on hand .
Once you are in this playlist, touch the three vertical dots that are in the upper right corner of the browser panel, to open the options menu .
Later, among all the available options, you have to click where it says "Add to home screen" .
Now, it only remains to confirm the action in the small box that they show you, just by clicking on "Add" .
Finally, to add this icon to the Home screen of your Android device , you have to press and hold the item in question or tap on "Add" again . That way, it will appear on your home screen automatically.
On iOS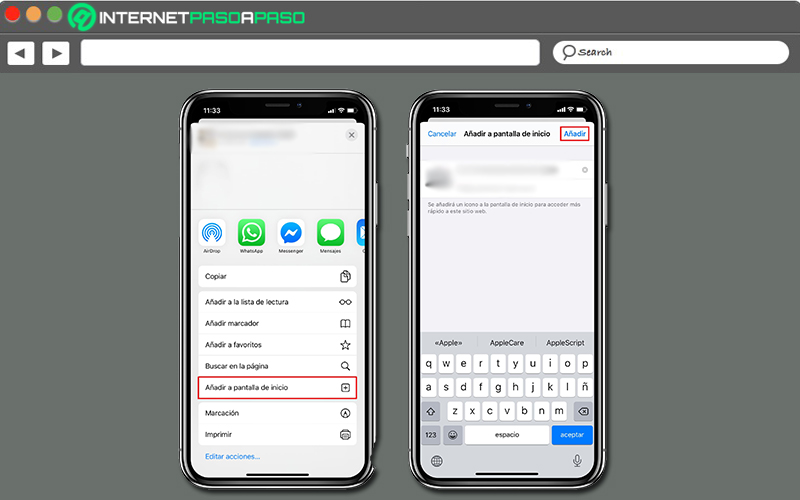 Similarly, you can also create a shortcut of any YouTube playlist on your iPhone or iPad . In this case, it is also advisable to use a web browser, instead of carrying out the procedure from the service's mobile app, to make it easier.
Taking into account that, especially, we recommend using Safari to execute the following:
Directly from your iOS device , start by opening the Safari app to search for the website you want. That is, YouTube.
When you access the official YouTube website , you need to log into your account to see the playlist you want to create a shortcut to. However, you can also do it with playlists that are public .
Then, using the bottom bar, press the "Share" button that looks like an arrow inside a box.
Now, you have to select the option that says "Add to home screen" .
Thus, the name of the shortcut to create will appear on a new screen and from there, you can change its identification, if you wish .
To conclude, you just have to click on "Add" from the upper right corner and voila, you will be able to view the item from your Home screen on your iPhone or iPad.
On windows
Through your PC, it is also possible to create shortcuts to your playlists . Whereas, this method is much easier and more comfortable to perform from any web browser (Google Chrome, Mozilla Firefox, Microsoft Edge, etc.) .
Next, we show you how you have to do it through Chrome: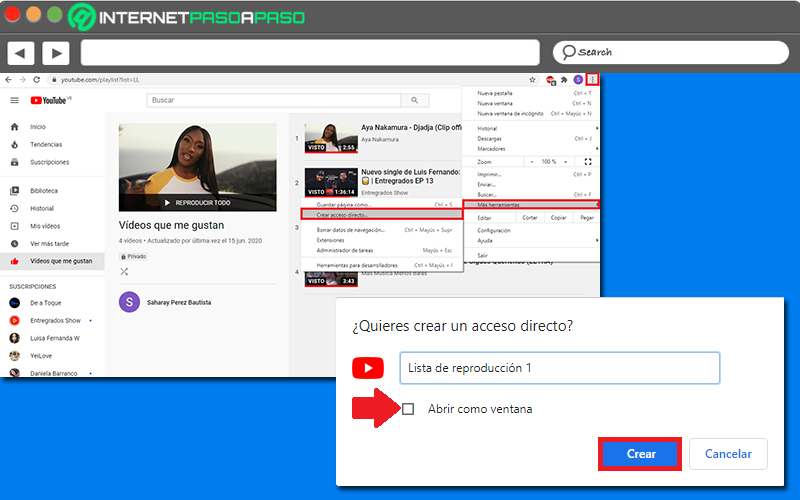 First of all, go to Google Chrome and search for YouTube to open the service. If you want to create a shortcut for a custom playlist, you need to log into your account . Otherwise, you just need to search for the channel that contains the public playlist in question.
Once you find and specify the YT playlist, it's time to click on the Chrome menu . By default, it is located in the upper right corner of the screen and shows three dots vertically.
When the available options are displayed, select the option that says "More tools" and thus, you will be able to view a small menu.
Now, within the indicated menu, click on "Create shortcut …" .
Following that, a pop-up window will automatically appear saying "Do you want to create a shortcut?" and there, you can put the name you prefer, as well as define if you want to open it as a window or not.
After specifying all of the above, you only need to click on the "Create" button and with that, you will have the icon on your PC desktop.
If, for example, you prefer to run it through Mozilla Firefox, the process to create a YouTube shortcut on your computer desktop varies a bit and is even much easier to carry out.
Which, basically, consists of the following: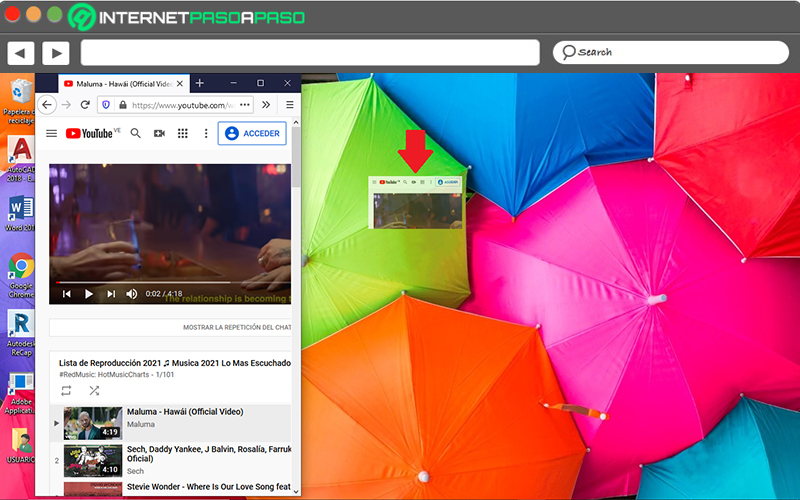 Enter the Firefox interface and open the official YouTube website to proceed to load the channel from which you want to get the shortcut to a playlist. Or, log into your account to get that item from your own playlist.
Second, proceed to slightly minimize the playback window by clicking the central icon in the upper right corner that says "Restore down . " In order to see a blank space on the desktop of your PC .
Next, it is time to press and hold the icon of the tab in question and drag it to the desktop to drop it in an empty area . This will automatically create a YouTube shortcut .
Finally, if you need to change your identification, you just have to right click on the item and choose the option "Change name" to be able to make the change.