Social media
How to create an account or register with Badoo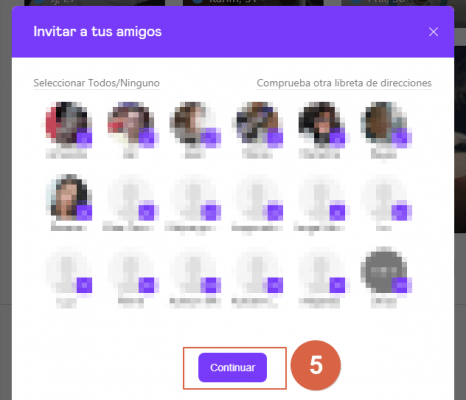 With more than 450 million users, Badoo ranks first on social media worldwide. Thanks to its intuitive interface, meeting new people and generating potential encounters is not a difficult task. In fact, this is one of the main reasons why different people from all over the world decide to create a profile within this platform.
To register in Badoo you only need an email, although you can also do it quickly if you access from your Facebook account. Whichever method you decide to run, learn how to do it easily in the shortest time possible below.
From PC
This method will help you create a user profile on Badoo, you can do it from your computer's browser. The first step in this entire process is to enter https://badoo.com/. After this, you can continue with the instructions:
Select your gender (Male or Female) in the main Badoo window and proceed to the next step.
You will be shown a form that you must complete with your personal information (Name, date of birth, email or phone number, location and the password you will use). Fill in each of the fields and click on "Create an account."

Note: If you register with your email, you must check an additional box where you are asked if you want to receive news about promotions, free credits, etc. Via email. Choose between " Of course " or " No, thank you."



At this point, Badoo will send you an email, so you should go to your inbox and confirm the registration. You can do it directly from the option available on the web. Note : If you decided to use your phone number instead of e-mail, you will receive an SMS or call with a special code that will allow you to complete this step. Take note of the last 4 digits of who is dialing you and write them where indicated.
Inside your inbox, open the Badoo message and click on the "Complete your registration" button. In this way, you can access the platform quickly. It is important to mention that if you have the latest version of Gmail on your computer, you may have to click on the "Social" section located in the top bar of the mailbox.
Once you are able to access your Badoo account, you will be asked to upload the images that will be displayed on your profile. For this you have the option of doing it from the files on your computer or, granting permissions to your social networks (Facebook and Instagram).
The next step will be to verify your identity through your phone number. Indicate the code of your country by displaying the list of options, after that, enter the special characters that are requested and press "Verify".
In case of not being able to do the verification by means of calls or SMS, you can do it through your account, in any of the options indicated at the bottom of the website (Facebook, Google or Twitter).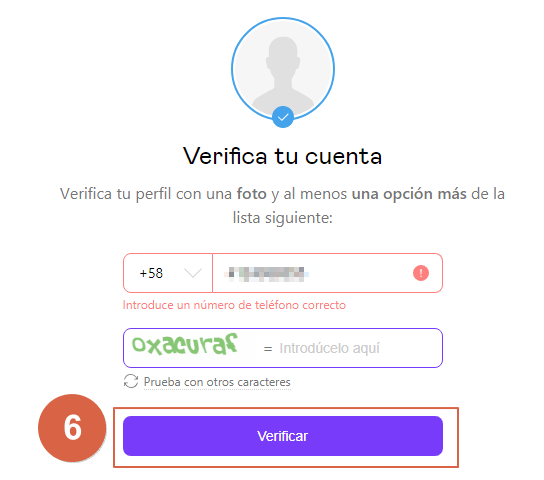 From the Badoo App
Registering in this social network is also possible from your Smartphone, through the Badoo App, which you can download from the Play Store (Android) or from iTunes (iOS). When you do this, you can continue with the creation of your account, following these steps :
Indicate your gender by clicking on the corresponding option (male or female).
Write your name in the empty field and press "Continue". Keep in mind that this is how other users will see you on the Badoo platform.
In the next window, you will have to indicate your date of birth to verify that you meet the necessary age limit (18 years). Write using the keyboard of your phone, following the format of the application.
You will be asked to enter your email. If for some reason you prefer to register using another alternative, you can change this by clicking "Or register with your phone number". The application will change automatically and you will continue with the process by tapping "Continue".
Depending on the way you decide to complete the registration, you must go to your email or write the last 4 digits of the number from which you will receive the call or text message, then write them in the corresponding space to continue with the process.
At this point, you will have completed the information verification and it will be time to add an image to your Badoo profile. For this you can use the gallery on your phone or access one of your social networks (Facebook or Instagram) and select as many photos as you want. Make sure they are suitable for use on the Internet. A good tip is to upload content in which your physical features are appreciated in a clear and illuminated way.
The website recommends a minimum of 6 photos to stand out from others and achieve better visibility on Badoo. In case you don't have such an extensive list of files, don't worry, just press "Continue".
The next thing to do is indicate your location. To achieve this you will only have to click on the box with the message "Enter your city or town" and write the name of the place where you are. Through your Internet connection, Badoo will filter the data and offer you the exact option, click on it and that's it. This information is necessary to segment your potential friends based on the area in which you are.
Here you will have to press "I accept".
Enter the password that you will use to access your account and press "Forward" to complete the process.
By carrying out all these steps correctly, your registration will have been completed successfully. It will be time to start looking for friends and possible "flirts" on the web. This is why the application will ask you to answer one last question before starting. Indicate what you are looking for on Badoo and click on one of the 4 available alternatives.
Login with Facebook
Logging into Badoo with your Facebook profile is probably the fastest and easiest way to do it. To do this you simply have to:
Click on "Enter with Facebook".
Click on "Continue as …" to grant the necessary permission to your profile on said social network.
By doing this, Badoo will automatically open with your account and you can start meeting new people within your geographic range or in neighboring areas. Have fun while you do it.
Find friends on Badoo
After creating your account within this platform, the ideal thing would be to start interacting with other users and expand your circle of social relationships. However, if you feel that you cannot be alone, you can share with your friends list from your contact book, for this it is necessary:
Login to your Badoo account and click on "Find out which of your friends have already joined."
It will ask you to choose the source from where you will search for your contacts. Select between "Outlook", "Gmail" and "Other account. "
Enter your email account to get the list of friends.
After logging in, you must press "Allow" in the next window. This grants the necessary permission to Badoo, to your contact list within your email.
Select who you want to invite to try this fantastic social network and click "Continue". This will send a message to each of them under your name, asking them to join your list of friends on Badoo.