Social media
How to configure privacy options on facebook? Step by step guide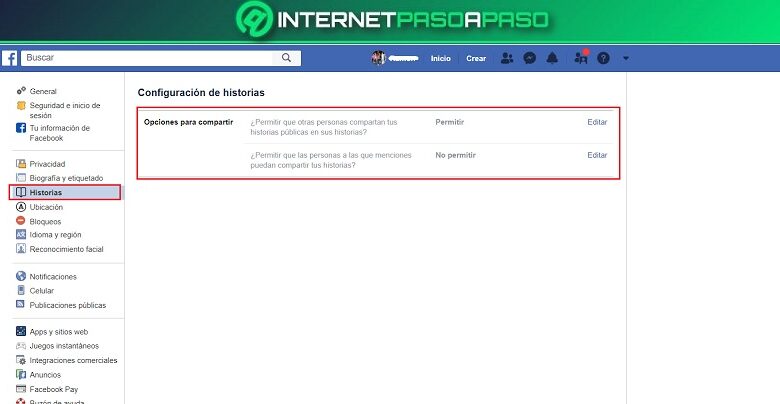 Many times we find content on the Internet about the different dangers to which we are subjected when using social networks, and many choose not to be present in them to avoid them.
Experts believe that, to avoid the dangers that threaten us, we must reduce the content we publish. But today, we will tell you that there are other measures to improve the privacy of our profiles .
The privacy policies allow us to configure our accounts, so that all published information is filtered . In this article we will explain the steps you must follow to improve the privacy of our profiles .
Why is it important to configure Facebook privacy settings?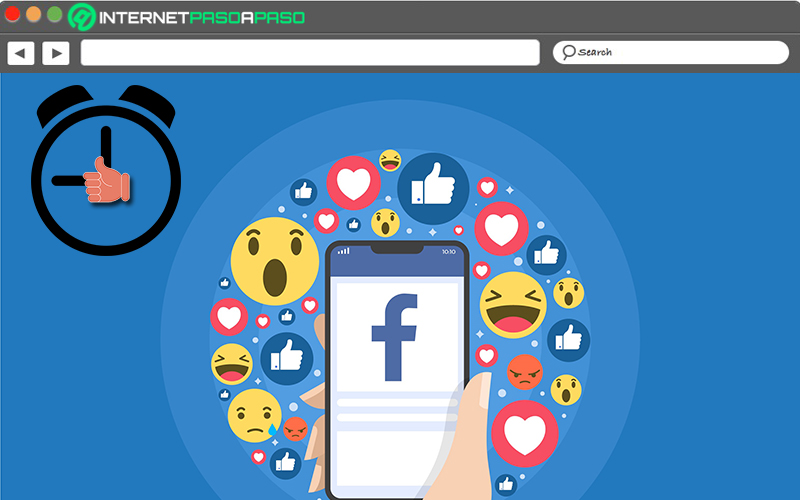 Since social media began, it has dramatically increased the level of insecurity in our lives. But, on many occasions, this is the result of our own carelessness, not only due to the amount of information we provide, but also due to the poor privacy settings that we have . With the correct settings we can prevent third parties from snooping on our accounts or obtaining information from it without our permission.
The best example that we can obtain so that you understand what we are talking about is the privacy violation that occurred on Facebook with Cambridge Analytica, where it used the information from non- configured profiles without the consent of the users, a situation that harmed Facebook because Mark Zuckerberg never spoke out against this act . The process consisted of stealing information from profiles when people accessed pages on Facebook or any other site.
Where Cambridge Analytica used that information for its personal purposes. The idea of ​​this story is that Cambridge Analytica managed to obtain information thanks to the fact that users did not configure their accounts. Social networks, including Facebook , have privacy policies, which include freedom in its configuration, limiting the content that our outsiders see, without reducing what we publish.
What are the main risks to my privacy on Facebook?
The privacy risks are always present, even in our comments on blogs, however their severity is not recognized by not having so much fame and audience as Facebook, where any weakness is a scandal. The greatest danger to our privacy, mostly comes from the configuration of our profile and the amount of information we provide. However, by controlling what they can or cannot see on our profile, we must not reduce the information we leave.
The most relevant risks that we can find in this famous social network are the following:
Privacy breach
Harassment situations
Blackmail, bribery, or threats
Identity theft
Others more…
Facebook can provide information, from our family, friends, and even the place where we work or study, details that thinking with a criminal mind, are perfect data to destroy a person's life .
Learn step by step how to configure Facebook privacy from scratch
Security and privacy is first, and for that reason we leave you the step by step so you can learn how to configure Facebook privacy from scratch.
We recommend that you read very carefully and review each of our steps, so as to avoid confusion: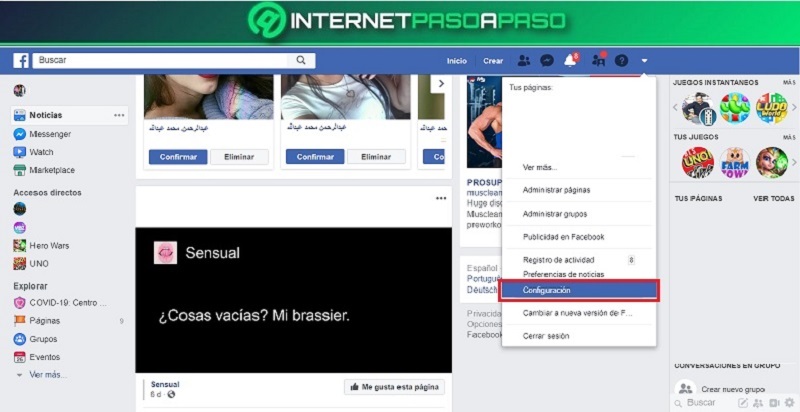 First of all, we must log into our Facebook account . Then, we click on "More " which is distinguished by the downward arrow. A list of options will be displayed and we will only select where it says "Configuration ".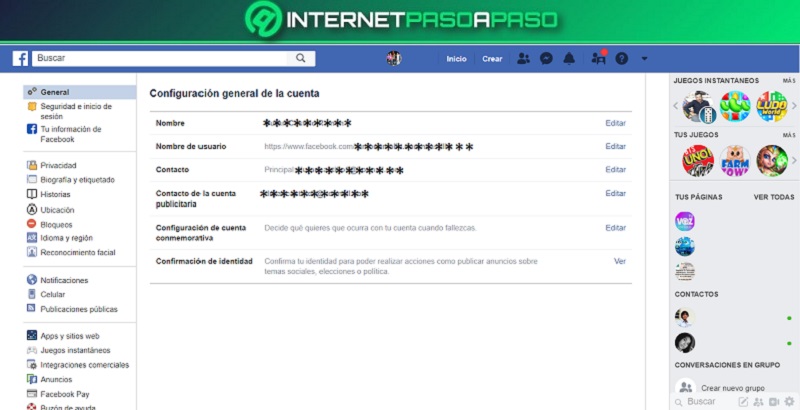 A window will load us where we will find a list of options .
Each one allows us to perform or activate some functions, such as:
Profile privacy
The privacy option has two sections, one that allows us to configure our activity and another that gives us the power to change the way they can find us and how they should contact us. In the first section, it has several options that we can configure to our liking. The main one is determining who can see our posts .
It is normally configured so that our publications are available to public access, but by clicking on "Edit " we will have the possibility to change this option. After clicking on "Edit " we look for where it says "Public ", a list of options will be displayed where we can decide if we want only our friends, with exceptions, or a more personalized option, to be those who have access to our publications.
If we want to obtain a record of all the tags that have been made to our profile, we must click on "Use activity log " and it will load a list of all the posts where our contacts have mentioned us. Also, we can limit who can have access to our previous publications, limiting who of our friends or contacts can search among the posts that have been uploaded later. Although, if we have tagged people, they will continue to have access to them .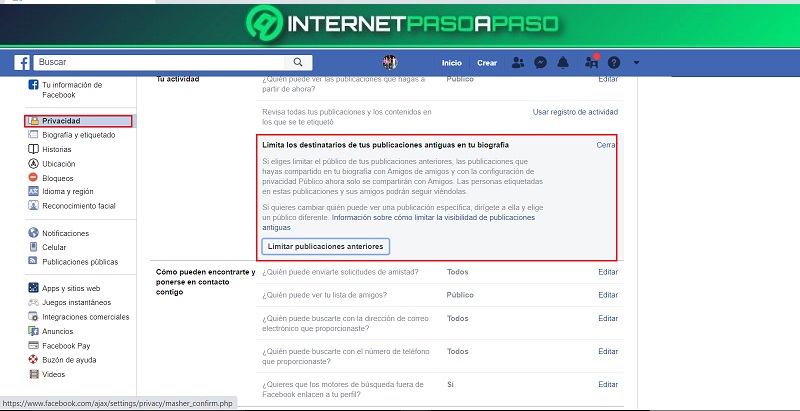 To configure this option, we must click on "Limit the audience of previous publications", then a description of the option will be displayed, and we click on the action again.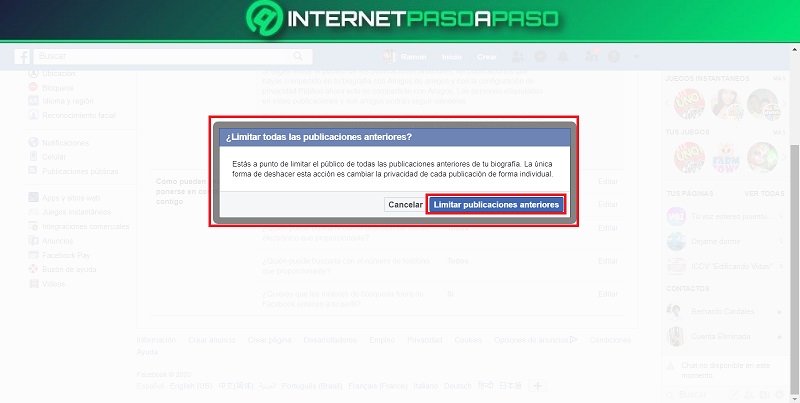 It will instantly ask us again if we want the action to be carried out and we must click again on "Limit the audience of previous publications " and the configuration change will have been made.
Second section: How can you find us
In the second section, we can configure the following options:
Who can send us friend requests : the original configuration allows anyone to do so, but by clicking on " Edit " we can choose between " Everyone " or " Friends of friends ".
People who can see the list of friends : in general, everyone who accesses our profile can see our list of friends. Although this can be configurable, by clicking on "Edit " and choosing that only our friends or with a more personalized filter, can have access.
Who can find us with the email : if someone enters the registration email on Facebook they can find our profile, but we can limit the results, preventing the general public from being able to find us in this way.
You can find us by entering the phone number : just like entering the mail, just by entering the phone number you can get our profile, but this can change by limiting only the friends of our friends, for these results.
Finally, we can choose if we want the search engines to link in their results to our profile, or we do not want it to appear in the Google SERPS . The option is simply to choose between yes or no, to change the settings.
Facial recognition
To go to the facial recognition option or section, we must click on the option with the name, which is in the list of options on the left side menu.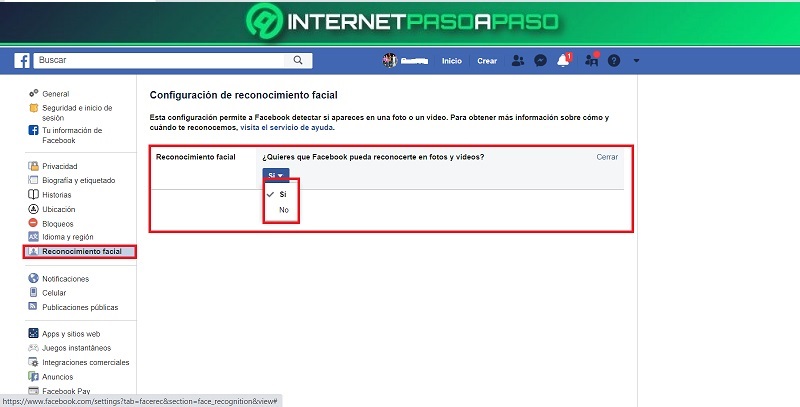 The facial recognition option is used so that Facebook executes a recognition algorithm, to indicate when our friends have published photos or videos where we appear . To change whether or not we want to activate this function we must click on "Edit ", then it will allow us to change the configuration accepting or denying facial recognition.
Biography and labeling
In this section we can apply settings to our biography, defining who can or cannot see or publish in it, as well as in the label and in the review. In total, there would be nine options available for privacy settings .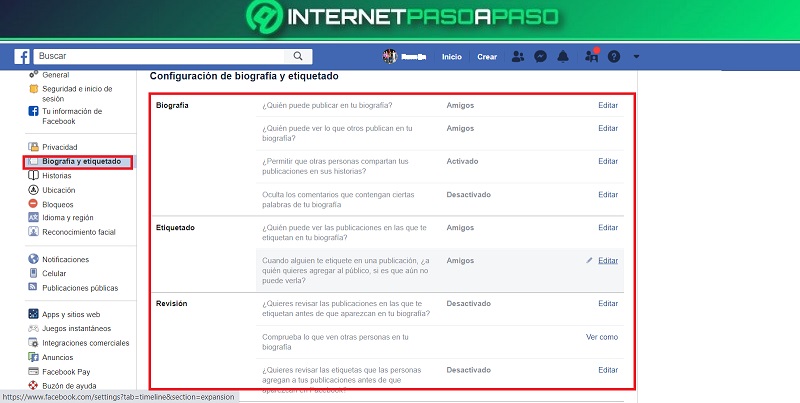 The first option we have asks "Who can publish in your biography?" and by clicking on it or on "Edit " we can decide if we want to deprive only us of having that option or all of our friends.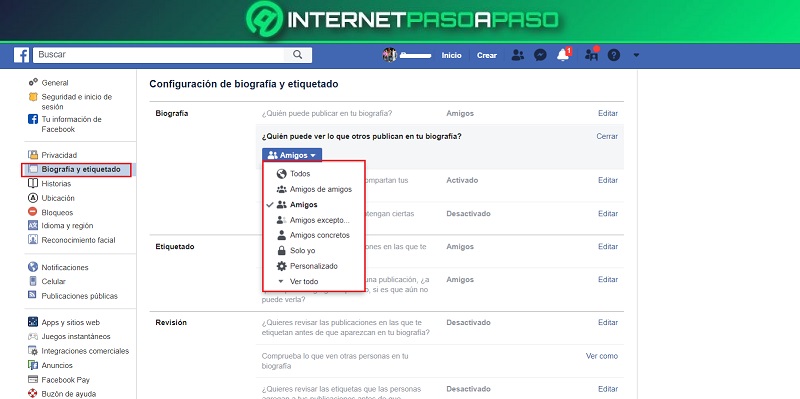 Continuing with the configuration of our biography we can click on "Edit " in the option of "Who can see what others publish in your biographical? "And change from the original option ("Friends ") to"Just me "or a more personalized decision. Normally when we publish on Facebook, all our friends and not, can share it, however we can click on "Allow other people to share your publications in their stories?" and "Deactivate " the option, preventing the sharing of our content.
If we want a stricter profile, we simply have to insert the words that we do not want to be public in our profile, they can be addresses, telephone number or another. To do this we select where it says "Hide comments that contain specific words" and then load a .CSV file that contains a list of them, or add them manually one by one.
Regarding the tag section, we can change the option "Who can see the tagged content? "And " Who do we want to add to have access to the labels? " by clicking on "Edit " we will change the option in a personalized way. On the part of the last options we only have to "Activate or Deactivate " if we want to take control of what we are tagged and published before it is public. If we click on "View as " we will enter the profile as an external.
Public publications
In Public Publications, we can manage who can follow us, comments, notifications, profile information, comment rating, username and see if our account is linked to Twitter .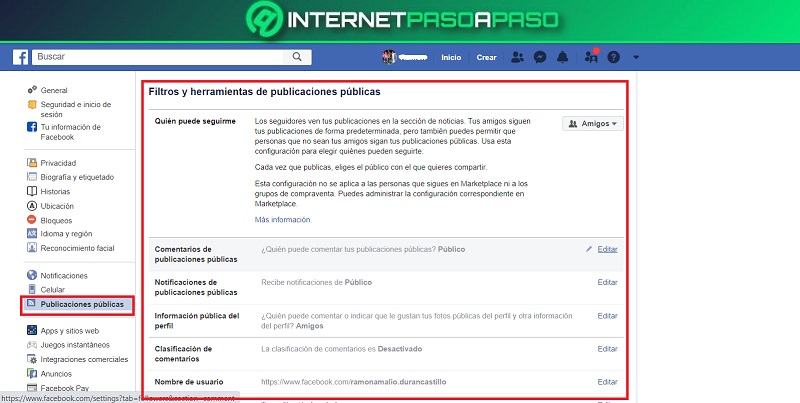 To decide who can or cannot follow us, we just have to select the drop-down list and change from " Friends" to "Public " in general, although for greater privacy it is recommended that we only allow our friends to follow us. The comments of publications and notifications of the same, are two different options that we can adjust in a similar way . Just by clicking on "Edit " we can decide if we want them to be our "Friends ".
Also the "Friends of friends " or perhaps the "Public " who can comment and interact on our content. There is content in our profile, such as cover photos, videos, featured photos and others that should not be commented on by strangers, since we must prevent degrading or insulting comments, so selecting the option "Public profile information " and changing "Public " to "Friends " we can limit this permission.
In the option "Classification of comments ", we can "Activate or Deactivate " the highlighted comments, whose function is to first show the most relevant opinions published in our content. It is mostly recommended to disable this feature . As for the option of "Username" and "Twitter " they do not help much to the privacy of our profile. However, it is exhorted never to put our full username, but rather our first and last name.
Locks
In Blocks, we can manage people with restricted access, user blocks, messages, invitations of applications and pages. The first option allows us to manage the restriction to some of our contacts . By simply selecting the user, you will not have access to our content that is not intended for the "Public ".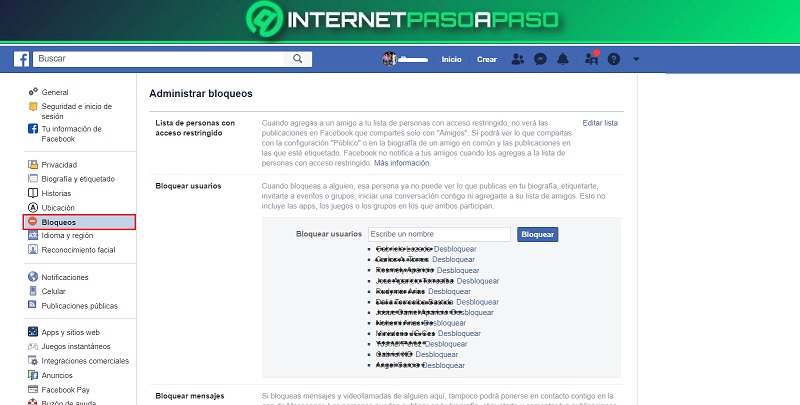 If we are threatened or in any other similar situation, we must block the user, preventing them from having permissions to view our content or communicate with us. To do this, we write in the "Block users " field the name of the profile that we are going to deprive.
As in the previous process, we must write the name of the person in the fields next to "Block messages from" and "Block invitations from " to deny the actions and prevent them from bothering us. The last option, "Block pages ", we must write the name of the pages that we want to deprive, so that they cannot publish in our biography or send us messages. In this way we prevent attackers from bribing us or obtaining information from us.
Location Options
Just by clicking on "View location history " we can see the record that Facebook saves of the times we have logged in to different places. When we try to access because it is a very sensitive data, Facebook will ask us for our password .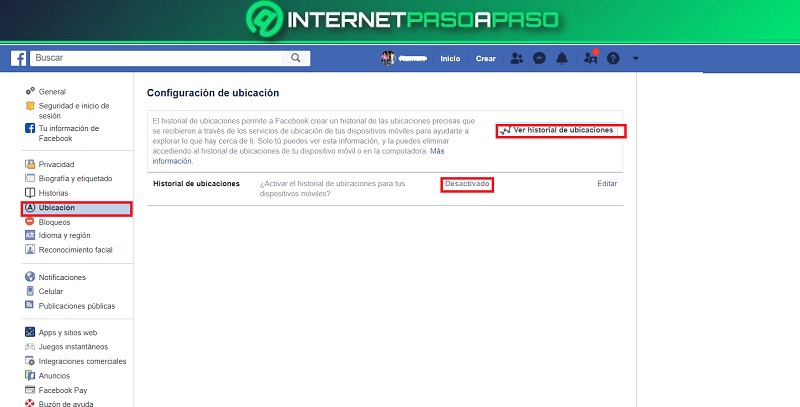 Although, if we do not have the "Location History " activated , we will not be able to see the record. We must click on "Edit " and then change from "Disabled to Enabled " for Facebook to start taking a record of all our locations. The benefit of this option is to monitor our locations so that we can verify that no one has access to our account . It is a method used by people with large accounts to act quickly in the event of a hack.
Status in Messenger
Status in Facebook Messenger or "Stories ", as we can find it, allows us to configure the options to share, admitting or not that other people share content in our stories, or giving the permissions so that the people we mention in our states can or cannot share our stories .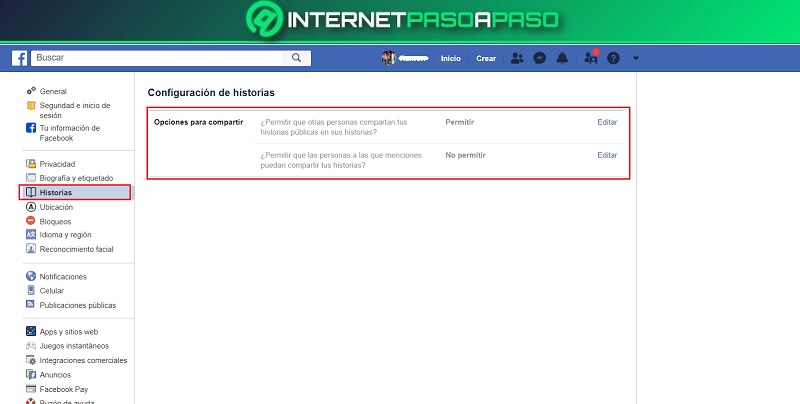 We just have to click on "Edit " and change from the drop-down options the option of "Allow " to "Do not allow " or vice versa. It is a somewhat strict way of preventing people from posting offensive or false content on our profiles.