Social media
How to configure facebook in spanish and improve my privacy on the social network? Step by step guide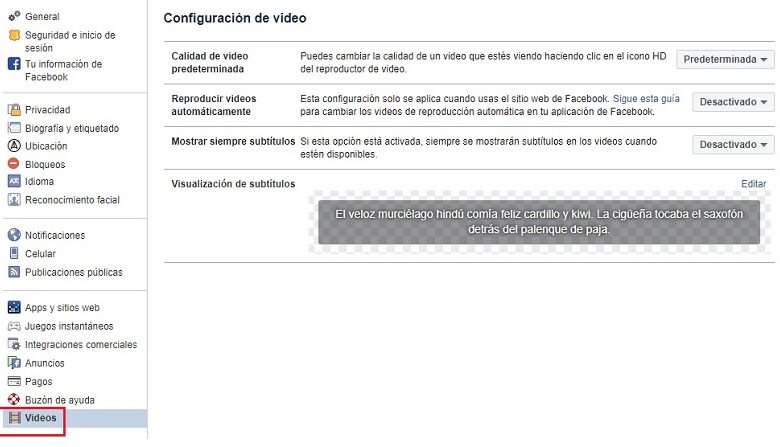 It is no secret to anyone that the use of social networks exposes many to be the victim of bad intentions, and although Facebook is one of the largest and most used, it does not stop lending itself for such purposes. Let's not forget that years ago the security of this was altered by having revealed information in a psychological experiment that altered some publications.
Despite the fact that this platform had to deal with all the waves of comments that it unleashed, it left a clear learning and is that the only way to stay safe in these media is not to reveal personal information from the beginning. It seems a bit difficult in these times, even more so when companies can take data, whether we have given it to them or they have obtained it by methods of dubious legality, but it is well worth taking precautions when we have the options.
That is why in this tutorial we are going to explain to you, step by step, what procedures you have to follow to be able to correctly protect your personal data. As well as increasing the security of your Facebook account.  These procedures can be executed in any order and on the device where you can enter the interface.
Steps to configure my Facebook account from 0 to 100
There are different steps you must follow in order to properly configure your account. With this you will improve the privacy of your personal data and more.
Enter initial setup
The first thing you should do is enter the "Initial Configuration"  or main of your account, for this you will click on the "Options" button, which is in the upper right. Followed by this you will click on "Settings".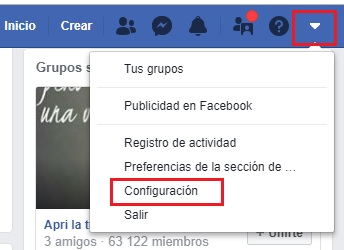 After logging in, you will see different options, each one has a specific function in your account, which can help you improve your security on Facebook. But we will explain this to you later in detail.

Improve privacy
This interface is known for being a "public" way, where everyone can place and express what they want, generally they can share photos, videos, comments and more. But fortunately Facebook has a private option that allows you only to spread it with your friends on the network, this to prevent unwelcome people from having access to your content.
You need to modify it if you don't want everyone to know about you. You can even prevent users who don't have something in common from adding you.
To do this, you will go to the "Privacy" option , in this you can change who can see your publications, who can add you and more. Here are some features that you can improve.
Who can see the posts you make from now on?
In this option you can indicate the users you want to see your publications and which ones you don't. You will also have to make them public, where anyone, friend or not, will be able to have access to your news.
For this you have to do the following:
Click on the "Edit" option .
There you will click on the tab that appears. You will have different options, if it is the first time that you modify this parameter it will usually appear in "Public".
Choose the "Friends" option,  if you want only the contacts you have added can see what you post.
"Only me",  if you don't want anyone but you to see what you post.
The options "Friends, except" … and "Specific friends",  allow the user to create a list of whom to show or not to show the broadcast content. You can use whatever you want. To do this, you just choose some of those and you are going to put the names of the indicated people and finally click "Save".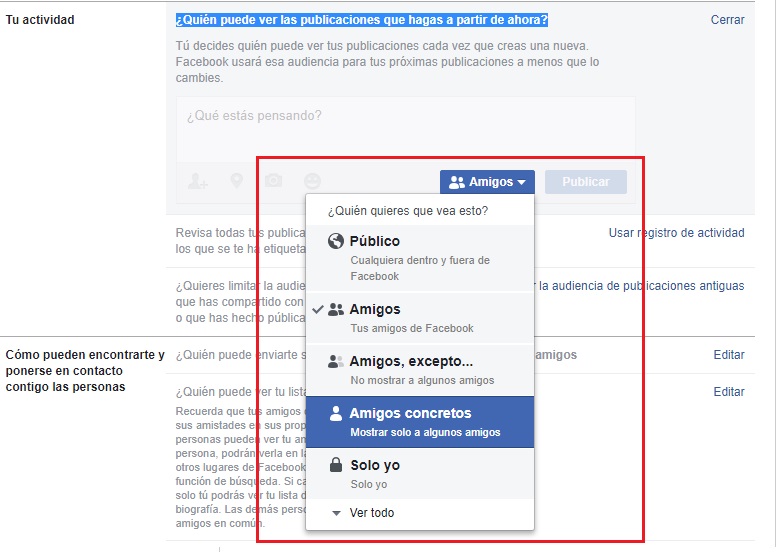 How can people find you and get in touch with you?
In this choice you can modify who can contact you and add you as a contact (friend) on Facebook, as well as allow them to see your list, locate you by email and phone number.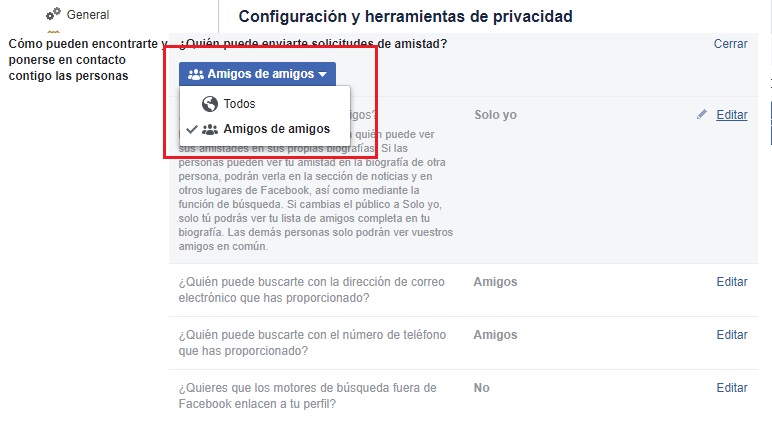 In the option of Who can send you a friend request? Choose "Friends of friends".
In the one of  Who can see your contact list? Choose "Only me",  this way no one can see the people you have added. You can choose to choose "Friends", so only the added ones will be able to know who you have.
In the option of Who can find you with the email address you have provided? And who can find you with the phone number you have provided? Choose "Friends".
Finally in Do you want search engines outside of Facebook to link to your profile? Choose "No."
Customize my FB account
You can customize your Facebook account by changing the name, URL or username, email. You also have other alternatives like deactivating or managing your legacy account. You can do all this directly from the "General" tab.

Change your name:  To do this, click on the "Edit" option .
Enter your name: In this part it is not recommended to use the full name, so only enter by which you are known or called most often, and then one of your surnames.
Other name: This option allows you to place a kind of nickname that will appear next to your name in parentheses.
Once this is completed, click on "Review changes", this will take a short period of time for Facebook to validate the information you have placed and take effect. It can take hours or days.

Modify username
You must bear in mind that when it refers to "Username" it is the URL of the profile, that is, the one that makes it correspond to your biography, example:  https://www.facebook.com/InternetPasoaPaso/
Click on "Edit."
In the blank you will write your new username.
If it is available, you will get a green check and the phrase "Username available".
Press "Save changes" to confirm .

Contact
This option allows you to indicate the email by which your friends can locate and contact you outside of Facebook. To place one or modify it, you just have to do what is shown below.
Enter the "Edit" option .
You click on the "Add another email or phone number" option .
Add  your new email or phone number.
Click on "Save changes" .

Improve security
It is always necessary to be protected, because you never know when it may be necessary and it is better to be prepared than to be able to regret it. That is why in this part we give you a series of steps with which you can increase security.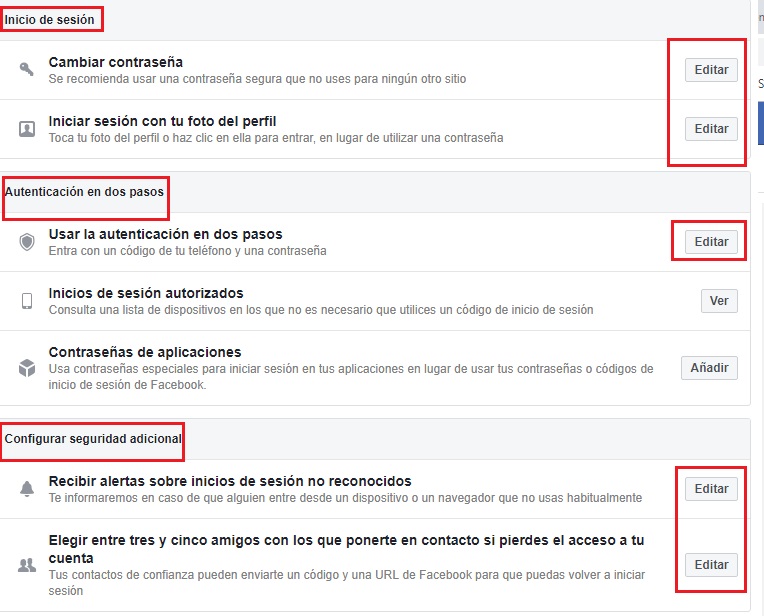 Login
In this option we can  reset the login password, as well as indicate another method to log in.
Go to "Security and login".
Find the option "Login"> "Change password"  and click "Edit" .
Enter your current password followed by the new password and repeat it.
Finally, click on "Save changes".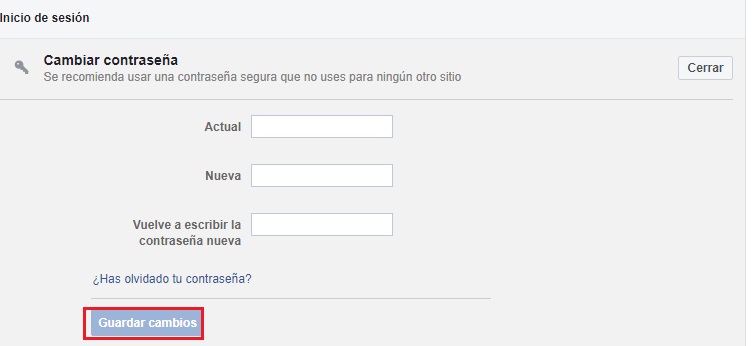 Login with your profile picture
Always set this alternative to "Disabled", and have "Enable" the option to use email or phone number and password to log into Facebook .
Two-step authentication
This is a process that allows you to ask to validate that you are the user of the account, when you log in to devices that are not frequently used or that you have not marked as authorized.
Click the "Use two-step authentication" option . A new window will open immediately.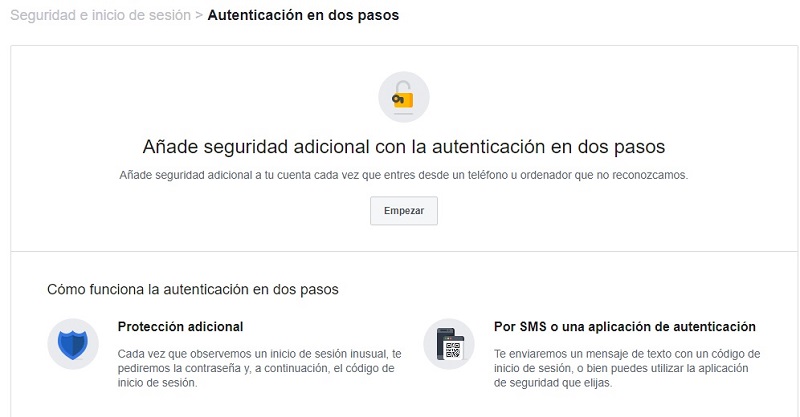 Click on  "Start".
You will choose the alternative that you want to use to validate your identity.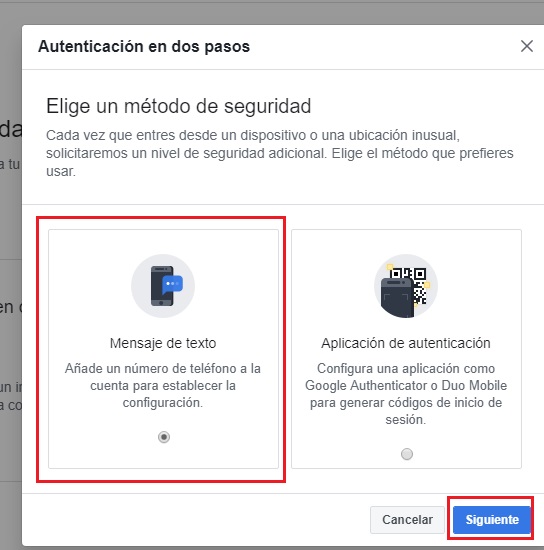 We recommend that you choose " Text message", then click "Next".
You will enter your country of residence and telephone number, followed by  "Next".
You will receive a code to confirm your number, enter it. Follow the final steps to complete the activation.
Control privacy
Protecting yourself is very easy, you just have to indicate who can have access to your publications and see important information on your profile. We recommend that you do not give much personal information about yourself, such as where you live exactly, with how many people, who are your closest relatives, where you study, among others.
If you want to modify your biography, you just have to go to your profile and click on the "Information" tab . You can correct each of the parameters that will appear there, thus in this way better control the data that you show to others.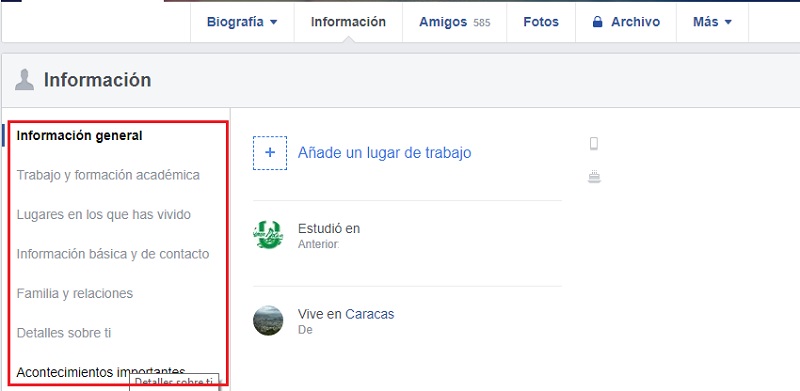 Enable / Disable notifications
Some notifications may be necessary and others a bit annoying, so you can decide when to deactivate them and when to use them. You can edit the notifications received on Facebook, email, computer or mobile and text message.

This social network allows you to change this data as you see fit.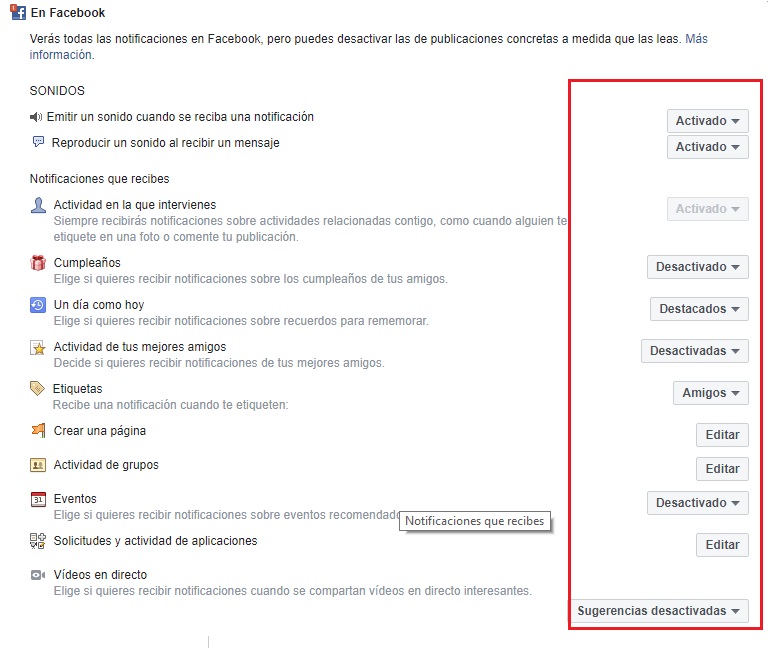 Via email
In this part you will see the notifications that Facebook can send you to your associated email, as we previously indicated, configure this option as you like.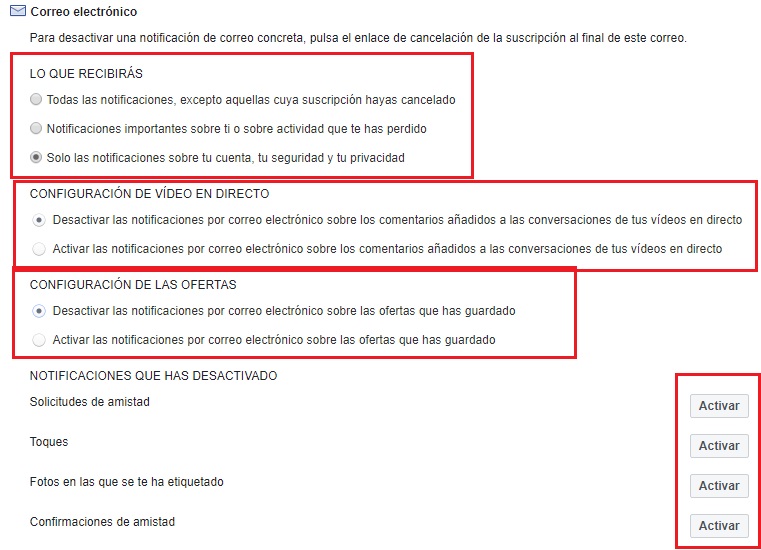 Public posting tools
The filters and tools of public publications, is an option that allows you to modify who can follow you. As well as, who can indicate that they like or comment on the photos.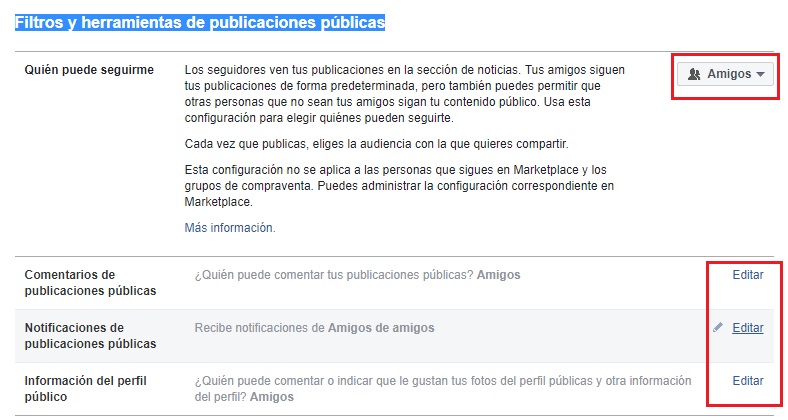 You can do it your way or follow the example that we previously presented in the image.
Authorize or deny applications
You will be able to allow or eliminate the access of different applications that you have synchronized with your Facebook account, correct the information that you have shared with them and check what data you have provided. This is possible by choosing the "Edit" option, which appears in each application.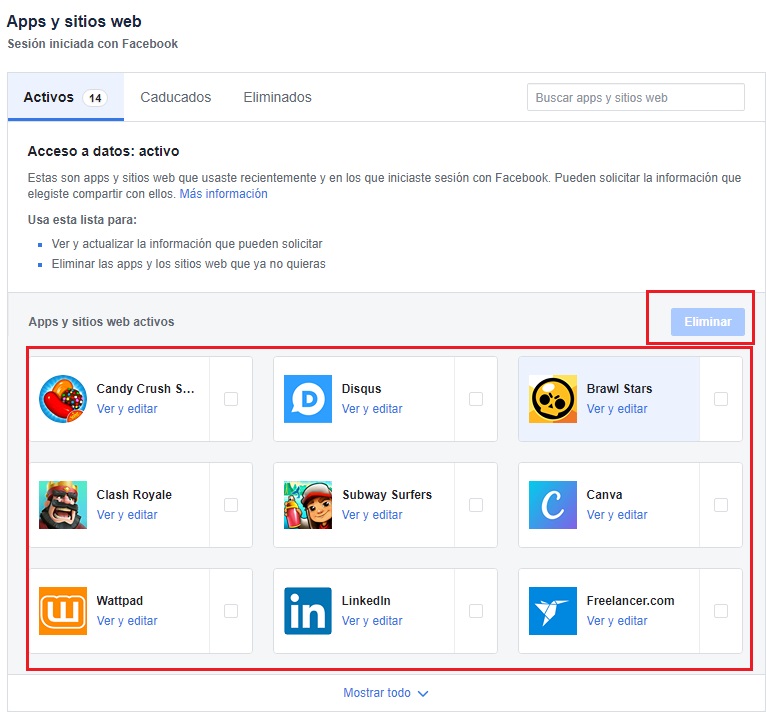 Ad account
You can configure what type of advertisements you can possibly see on this network, based on social shares, partner data. To enter it you must click on "Ads"  and look for the option "Ad Settings".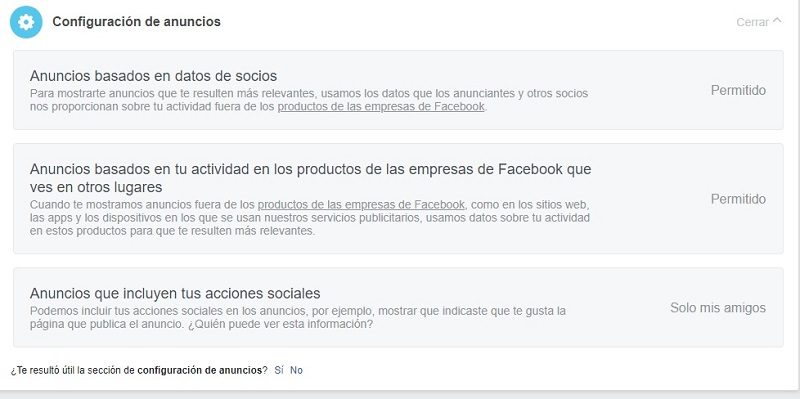 Pair mobile phone
Pairing your mobile phone can be very useful as it will allow you to log in using your number and receive notifications. Similarly, you can use it to perform two-step authentication via text message. A very prominent feature to keep your account backed up.
Set up payments
In the "Payments" option you can choose different subscription methods once you have put an advertisement in circulation on the platform. In this option you will be able to view all the information in relation to the news that you have spread, and those that you have canceled.
Help box
The help box is a tool in which you can ask questions about concerns you have about the platform, for example: How to block a contact?  How to deactivate my account? … In addition to viewing the status of different reports that you have made about an irregularity.
Configure video display
In this option you can modify the playback quality of your videos, if you want them to play automatically, if you want to see subtitles and their quality. We recommend that if you use a limited data plan, you have the quality options in "Default"  and that of automatically playing you have it "Off". This way you will be able to save your megabytes.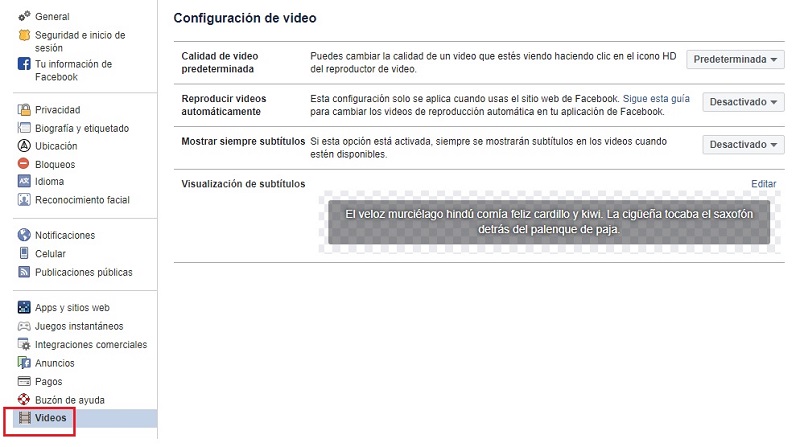 Tricks to configure Facebook that you surely did not know
There are some tricks that you can use on your Facebook account that you probably didn't know about. In this section we are going to share some of them, so that you can improve your experience on the social network.
When making a publication, you can directly modify its display, without the need to enter your account settings.
Create a legacy contact, this is a feature that allows you to choose a person, who can perform certain actions in your account. This in case you die or cannot use the platform.
You can choose from 3 to 5 very trusted friends to contact in case you cannot access your account,  the same company will send you a security code or URL so that you can recover it.