Social media
How to close or deactivate your Facebook account temporarily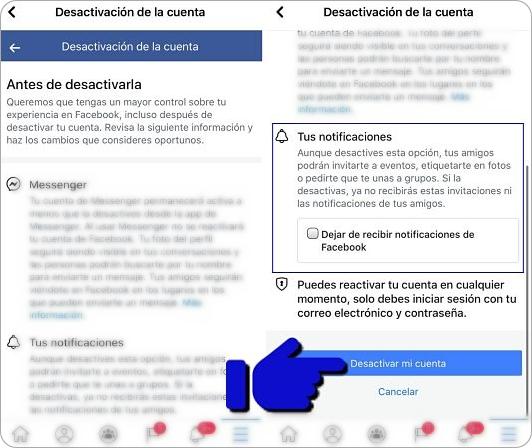 If instead of deleting your account forever, you prefer to close it for a while and rest, you can do it with ease. In this post I will be showing you how to deactivate Facebook temporarily, and close your account from your computer, cell phone or tablet.
Although Facebook can be useful for many things, the truth is that sometimes we can be saturated or jaded. In addition to the various scandals about the privacy of user information in recent years. For this and some other reasons, many users decide to close Facebook for some time. This is a good way to detox from the social network without eliminating it altogether.
How to disable Facebook temporarily
# 1. The first thing is to fa with the account you want to delete from your browser on your computer.
# 2. Now you must go to Settings, for which you must use the down arrow in the upper right part of the window.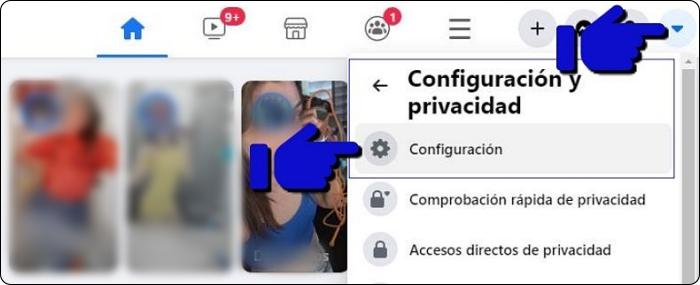 # 3. Then go to the Your Facebook Information section on the left panel.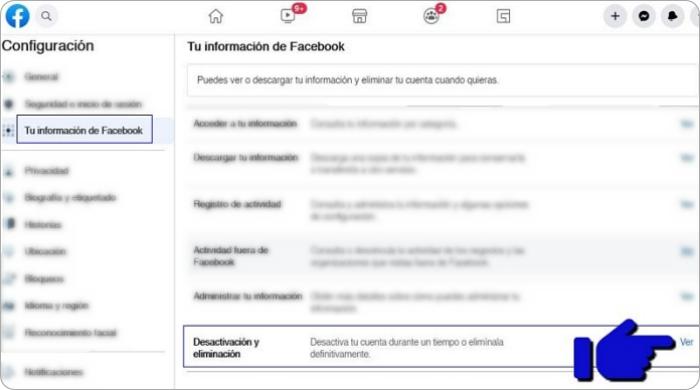 # 4. At the bottom of the page, you will see the option Deactivation and elimination. You should click on the View link just to the right of it. This will open the Deactivate or delete your Facebook account page.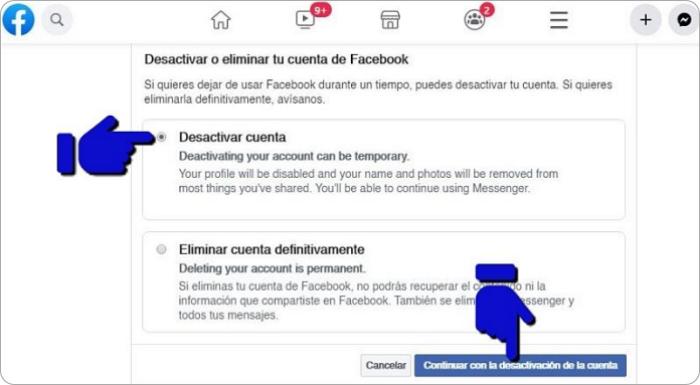 # 5. Choose the Deactivate account option and click the Continue with account deactivation button .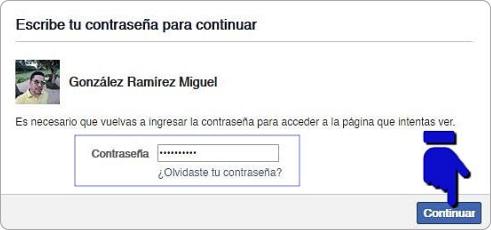 # 6. Here you must enter your password and click the Continue button .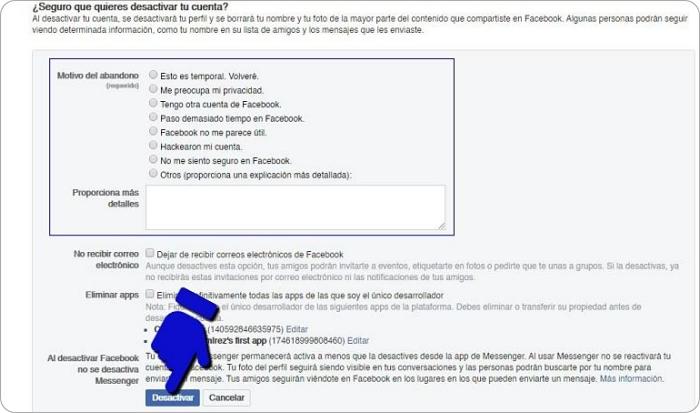 # 7. Finally, you will see a form in which Facebook tries to know the reasons why you are deactivating the account. You can choose the relevant options and write any additional details. When you're done, click the Deactivate button .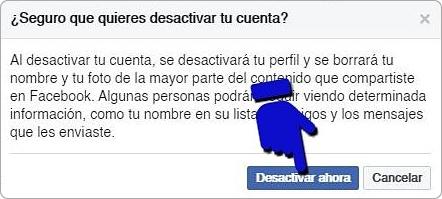 # 8. Click the Deactivate Now button to temporarily shut down Facebook.
In this way, you will have temporarily deactivated your Facebook account. Your profile will disappear from the social network, so no one will be able to see it or your publications. Private messages will still be available to each recipient.
How to temporarily close Facebook from your cell phone
Although it obviously varies a bit, you can temporarily disable Facebook from your Android / iOS cell phone or tablet. Next let's see the steps.
# 1. Go to the hamburger menu, scroll down a bit, tap Settings & privacy, and choose Settings.
# 2. Scroll down again, choose Account ownership and control and in the next window click on Deactivation and deletion.
# 3. Now choose the option Deactivate account and press the button Continue with the deactivation of the account.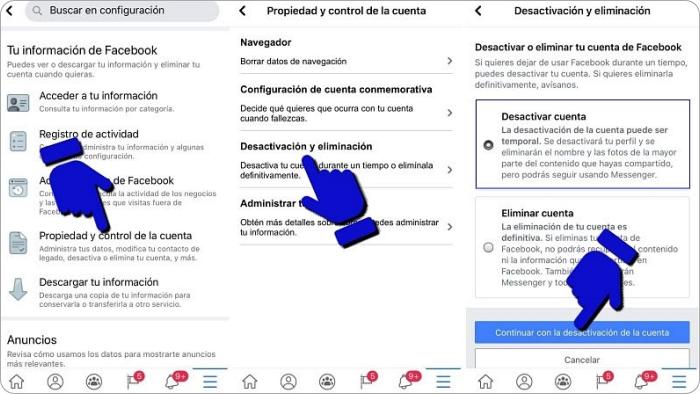 # 4. You must choose a reason why you are deactivating Facebook, such as This is temporary, and click Continue.
# 5. It will then suggest logging out instead of deactivating. In the option Automatically reactivate my account you can set from 1 to 7 days for it to be activated automatically. Or you can choose Don't reactivate automatically. Click on Continue.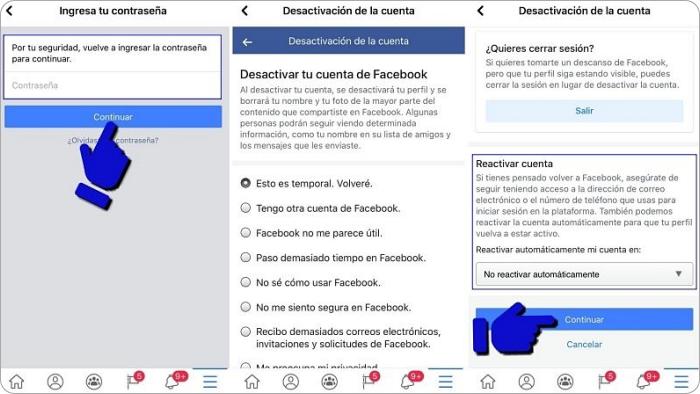 # 6. The next window will indicate that Facebook Messenger will continue to be active, unless you deactivate it in Messenger itself. You can check the option Stop receiving notifications from Facebook and, finally, press the Deactivate my account button .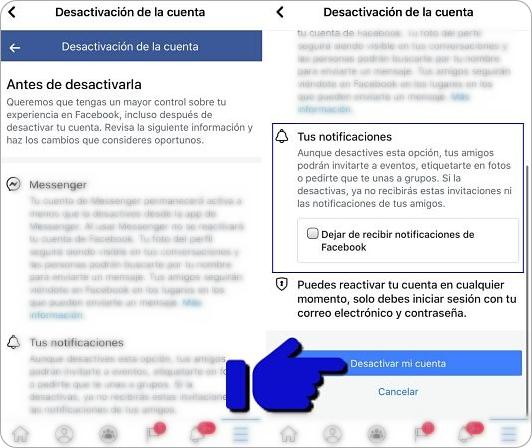 Can I get my Facebook deactivated back?
Of course you can reactivate your deactivated account, as this is a temporary measure. To recover your deactivated Facebook, you just have to log in again and everything will return to normal.
Sometimes we need to go beyond a simple logout, but we don't want to permanently delete the account either. Then deactivation of the account is the best option. It could also be the initial step, to try or get used to it before deleting Facebook forever.