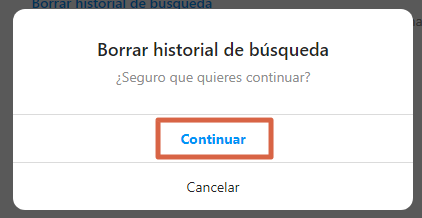 Platforms such as YouTube, Google, Facebook, and Instagram generally keep a search history. This in order to offer the user suggestions based on their behavior or daily activity and thus save time by not writing the same phrase daily. However, it can sometimes be annoying or too long, including things you haven't been looking for in a long time.
Taking into account the aforementioned, it is necessary to erase or delete said history. This way, you can start over and make sure you don't include the same search terms that led you to empty the list. This can be done from your mobile or PC, in the case of using the desktop version of Instagram. Pay attention to the steps and learn how to do it in a few minutes.
From the phone
The most comfortable way of doing things is often the telephone, as it is something that is carried practically everywhere and, having an Internet connection, the possibilities of reach and communication are almost infinite. So this will be the first method to be explained in this step by step.
To delete your Instagram search history from your cell phone, follow the instructions:
Login to your account and click on your profile image.
Select the three horizontal bars to display the menu.
Select " Settings " at the bottom of the list.
Access " Security ".
Press " Search History ".
Select " Delete all."
Instagram will show you a warning, letting you know that it is an irreversible process. Confirm your decision by clicking " Delete all ". By doing so, all your search history and possible suggestions will be a thing of the past.
From PC
Typically, what you do in the mobile app runs on the desktop version as well. However, if you prefer to delete Instagram search history from your computer, you can do so by following these steps:
Login to https://instagram.com/ and log in with your account information.
Click on your profile image.
Click on " Settings."
Select " Privacy and security " in the left side menu that will appear on the screen.
Locate the section "Account information" and click " View account information."
Within the section "Account activity" locate the option "Search history" and click " See all."
Once there, select " Clear search history."
Confirm your decision by clicking " Continue ".
Either of these two methods is doable to clear annoying search history on Instagram. However, you should know that the suggestions of the possible accounts that you would like to follow will continue to appear.
What is the purpose of the search history
This history, like the others, is intended to facilitate your task and streamline the process, offering suggestions based on your search terms or daily activity. For example: if you constantly search for #fitness, Instagram will understand this as something routine and will place it at the top of the list every time you find yourself in the "Hashtags" section.
The same happens with accounts and any other section available on this network, such as IGTV or specific locations. These terms or keywords are stored in the "memory" of Instagram, who executes them every time there is a new search.