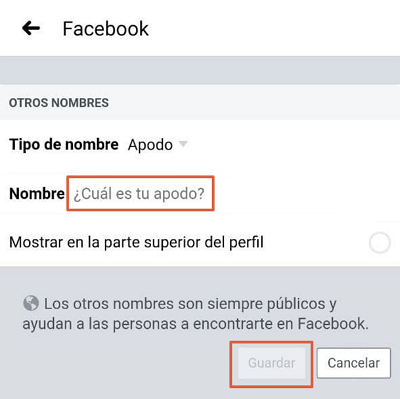 Your name on Facebook is the way in which people will find you on this social network and, if you think about how common some may be, for many it is of interest to put a name on their profile that identifies them, but at the same time be original. It is very likely that you already have one, which you placed when creating the account and now you feel the need to change it for another with which you feel better, no matter what the reasons are.
Luckily, in this article you will find quickly and easily how you can change your name on Facebook. For this you will have a step-by-step explanation of the procedure to follow, you will even see the option to add another name. However, it is important to bear in mind the restrictions and conditions established by said social network regarding the names that are allowed and which are not.
Conditions to take into account
Before continuing with the necessary procedure to change your name on Facebook, it is important that you keep in mind and very clear the rules it establishes regarding what you can or cannot have as a name on your profile. A general rule of thumb is that it should be associated with your real name. Next, you will be able to see some of the elements that you cannot use in your Facebook identification:
Punctuation marks and / or characters other than the conventional ones. That is, you cannot change your name on Facebook from, for example, "Alejandro Ramírez" to "4L3J4NDRO R4M1R3Z!".
Titles. Your name on Facebook cannot be accompanied by a title, be it a university title, such as "Doctor", or one of nobility, such as "Sir" or "Lord".
Words or sentences. This means that you will not be able to change your name to something like: "Alejandro El Cineasta Ramírez".
Words that are offensive. Although this would be a restriction totally included in the aforementioned category, the social network prefers to make sure that it is very clear that offensive words are totally prohibited, both in the publications you make, and in the name that identifies you in your profile.
Note : These are just some of the most important restrictions on Facebook regarding the name that you can or cannot use on your profile. But, in addition to them, there are other conditions that you can find using the followinglink.
From the web version
The procedure from the web version can be very simple once you are clear about the corresponding regulations. To do this, you just have to follow the steps presented below:
You can easily access the section to change your name by clicking on this link. You will find the fields of your first and last names available for you to complete.
Note: if you want to know how to get there in the traditional way, you just have to click on your profile picture, go to settings and press the " Edit " button next to your name. Also, you must bear in mind that once you change the name, you will not be able to change it again until 60 more have passed.
Then you will see a pop-up window, choose the option that seems best to you and before clicking " Save change ", you must enter your password.
Note : in case the name change does not take place, you can use the form that the Facebook page leaves you to make the corresponding download of the name change.
Add other names
If you want to add other names, you can do it with the steps you will see below. An advantage of this is that the regulations are more flexible than with the principal name.
In the same section where you change the name (enter through this link ), you must click on " Add other names ".
This will take you to editing your profile, where you will now have to go to the option " Add a nickname, an original name … ".
After that, two fields will be displayed, one for you to select the type of name and another for you to write it.
To finish, click on " Save ".
From the mobile app
Now, to change the name on Facebook from the mobile application is simple. You just have to follow the steps mentioned below to do it:
Use the drop- down menu represented by three horizontal lines.
Then, follow the path "Settings and privacy"> "Settings"> "Personal information"> "Name".
Complete the field corresponding to the names and surnames.
It is time to enter your password and then click on " Save changes ".
In this way, you will have changed your Facebook name from the official application of the social network, which is available for both iOS and Android in their respective stores.
Add other names
If you also want to add another name or "nickname" from the official Facebook app, then follow the procedure detailed below:
First, press the drop- down menu represented by three horizontal lines.
After that go to "Settings and privacy"> "Settings"> "Personal information"> "Name".
Next, select the option " Add a nickname, an original name … ".
It is time to choose the type of name you will use.
Now select the option " Nickname " or, failing that, the one you prefer from the list that you will have at your disposal.
Finally, write that nickname you want and click on " Save " to finish.
As you can see, the process to change the name of your profile on Facebook, as well as to add an extra name with which you can complement the personalization of your profile, are extremely simple. The main thing will be that you make sure to choose the names that comply with the Facebook regulations and you should not have any problem.