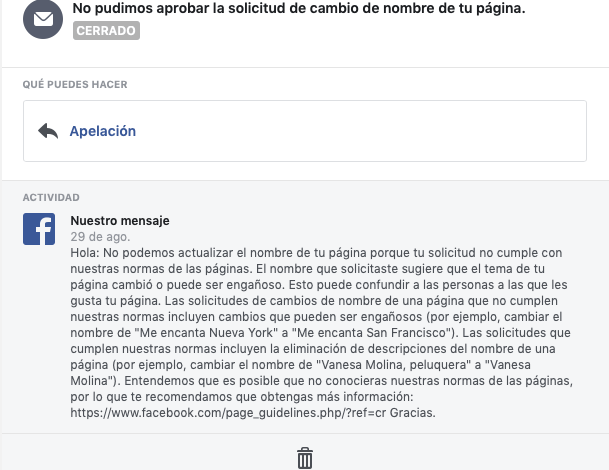 You probably bought a Facebook page by winning an auction, buying it outright, or receiving it as a gift; however, the name of it does not suit the approach you have in mind and you may want to work with a different theme or give it a more attractive name.
In addition, creating a page from scratch to assign it the name you want, would be a waste of time, since this page that you have, already has a considerable and active following. Fortunately, Facebook added, a couple of years ago, an intuitive option to rename any page. Of course, you must be careful, because there are different guidelines that you must follow to make the change without inconvenience. Next, we leave you a really simple and complete tutorial so you don't have any problems.
From the web
The only way to change the name of your Facebook page is through the web ; What you should keep in mind before trying it is that, to request this change, you have to be an administrator of the page. If, indeed, you have the required role, then follow the steps detailed below:
Go to the top of your page and, in the left panel (below the profile photo), click on " See more " to display the list of options, and then click on the one that says " Information ".

Once inside the information tab, the general data of your page will appear; In the " General " sector , which is the first one, you will be able to see the category and the name of your page, as well as two options that say " Edit ", in this case, you must click on the second one.

Immediately, a box will appear in the middle; it will show you the current name of your page and give you an option to place the new one. When you have made sure that the name you entered is correct, click " Continue ".
Finally, another window will be shown in which you must confirm the changes you want to make, if everything is fine, then simply click on " Request change ".

Finally, despite the fact that Facebook mentions that the process can take up to three days, the normal thing is that it lasts a couple of seconds or minutes, of course, if the change you made in the name was minimal and it complies with the standards of the platform .
recommendations
It is true that Facebook itself, when you are requesting a name change, gives you a few useful tips; however, there are a couple more that you should be aware of:
If you want to change the theme of your page, starting with the name, try to do it little by little (in several changes). If your page is called " Sports world " and you want to change it to " María's kitchen ", it is most likely that it will be rejected. The advisable thing would be, for example: make a first change to " Mundo María " and then, allowing a week to pass, a second change in which you replace " Mundo " by " La cocina de ".
Also, keep in mind that changes should always be subtle, since if you have acquired a page with a very different theme from the one you are going to work on, it is possible that the interaction of your followers is low or null, for the simple fact that a large part of them may not be interested in the new theme of the page.
In the event that your application has been rejected more than twice, it is best not to try again until at least a week has passed. This is because, if there are a high number of failed requests in a short period of time, the option to be able to change the name of that page will be permanently blocked.
When choosing the new name of your page, in order to avoid problems, keep this in mind list of page names allowed by the social network.
Also, it is possible that luck is with you and you can change the name of your page drastically; Despite this, always keep in mind the risks of not following these tips, including not having a name change available for your page again.
What to do if the name cannot be changed
If you can't change the name, it may be due to some mistake you made inadvertently. Still, it is possible that it was not your fault and, therefore, you do not know what is happening; do not worry, check these reasons that we leave you below:
It is possible that the name you are trying to enter does not comply with the naming policy of the social network. You can review it by clickinghere.
Your profile may be limited, try using another profile that has the administrator role on the page.
Your page has suffered a limitation or the option to request a name change has been blocked. The limitation can be temporary (one month, usually) or permanent. You can create a page with the desired name and merge it with the limited one, the risk is that both can be eliminated.
The name of the page was recently changed; you must wait a week or more to try again.
How to appeal a failed name change
If you try to change the name of your page, but you are constantly rejected by the Facebook system, then try appealing the failed request, if you don't know how, keep reading.
It is possible that the message with which they usually respond to you is one like this: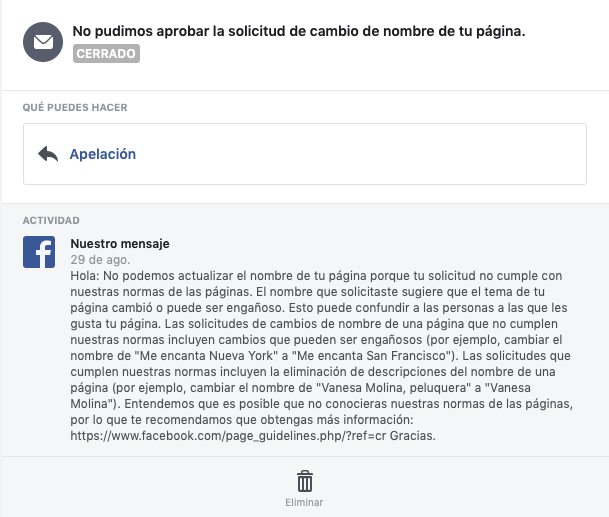 If so, then follow these two steps:
Once you have clicked on " Appeal ", you can reply to the message so that Facebook will review your request again, if it is denied, try the next step.
If you are changing the theme of your page, because you have a company, a brand or even a website that you want to promote; Then, send them photos of the documents where the name of the company, the brand or the link of your website appears.
Remember that the answers you receive are part of an automatic process, that is, they are not made by a human being. That is why, if in the end, you did not achieve it in any way, do not split your head, you can create a new page and promote it from the old one.