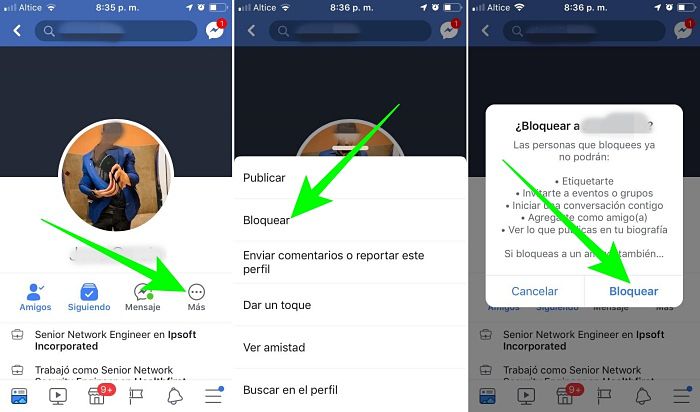 Every now and then situations arise that require you to take drastic action like blocking someone on Facebook, beyond simply removing them from your friends list. This time we will see how to block a person on Facebook, so that they cannot contact you or see what you post.
Sometimes you need to block a contact on Facebook so that they cannot contact you or see what you post. Blocking someone is more serious than removing them as a friend, since they won't be able to do things like tag you or see what you post on your timeline. If at the time of blocking someone, they are on your Facebook friends list, they will be automatically removed. This is why you should think it through when taking this measure. If you still want to block it anyway, doing so is relatively easy.
Block someone on Facebook from PC
# 1. Login to your account on the fa from your preferred browser on your computer.
# 2. Go to the profile of the person you want to block. You can search for it using the search bar at the top of the Facebook window.
# 3. Click the 3-dot button on the user bio menu bar and choose the Block option .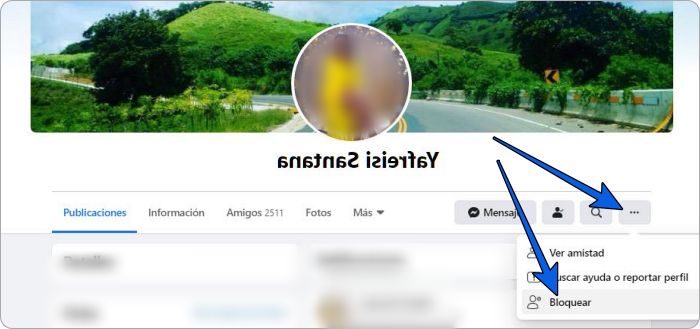 # 4. Next, you must click Confirm to block the person.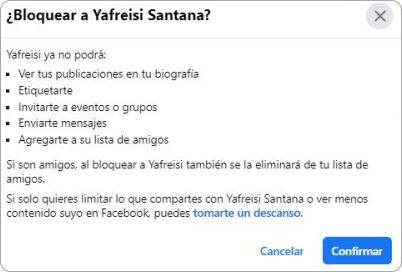 That will suffice and you will have blocked the person. The user will not be notified, so you don't have to worry about any immediate retaliation. Most people won't even notice that you've blocked them.
If they ever look for your profile, it will appear that you would have deleted your Facebook account instead of blocking them. Also, you can always unblock the person if you change your mind.
Block a person on Facebook from the cell phone
You can also block someone on Facebook from your cell phone or tablet. The following method applies to iOS devices such as the iPhone and iPad, and for Android tablets and cell phones.
# 1. Open the Facebook app on your device and log into your account (if you haven't already).
# 2. Click on the search bar at the top of the app, type the name of the person you want to block and choose the correct person from the search results.
# 3. Once inside the user's biography, click on the 3-dot icon " More " next to the Message button and choose the Block option .
# 4. A confirmation will appear where you must click on Block again to confirm.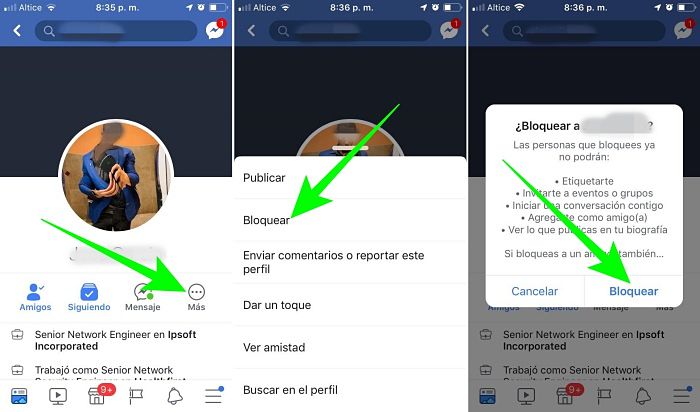 With these steps you will have finally blocked the person in question.
Who can you block and why
Anyone can block any other user, be it a friend, a family member, or a complete stranger. You can block other users who are your friends on Facebook, who follow you or see your public publications. Even the ones that aren't on your friends list.
There are a number of reasons why you might want to block someone on Facebook. The following are some of the most common:
Blocking someone you think is following you is an effective way to prevent them from seeing or contacting you on Facebook.
Harassment, harassment and even bullying can become a headache for some users, and blocking the users involved can be of great help.
An interpersonal conflict or altercation with a friend or family member can lead to them being removed as friends on Facebook. But this would not prevent the other person from being able to view the posts or even send direct messages. A blocking of the person can be more effective, avoiding possible future interactions with him.
How to unblock someone
If you've accidentally blocked someone or changed your mind about a friend you've blocked, you can quickly unblock them. You just have to review your list of blocked users in Settings > Blocks and clicking the Unblock link next to each person.
Just like when you lock it, the person will also not be notified when you unlock it. If you want him to be your Facebook friend, you will have to send him a friend request from his profile and the person will have to accept it manually.