Social media
How to add new members to your workspace in slack and grow your team? Step by step guide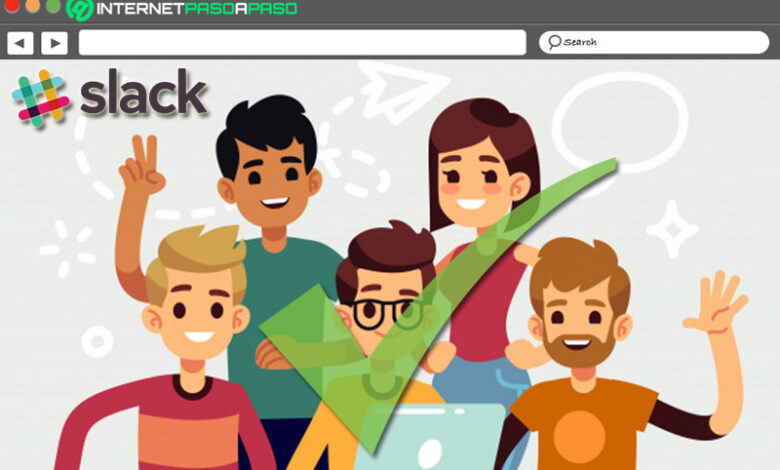 Right now, one of the newest instant messaging apps in the digital world is Slack . The main objective of which is to centralize communication in a business environment in order to help in the management processes within a certain company and well, in its work groups. So, in a way, it works like a WhatsApp for the company .
In this sense, although it is a tool designed for business use, the truth is that it works optimally for any type of field where you want to improve communication through instant messaging. Taking into account that it offers the possibility of segmenting communication into thematic channels, it is capable of connecting with external applications and it is considered ideal to enjoy advanced notifications .
In addition to that, Slack is an application that is based on workspaces and, therefore, allows you to add new members there . However, the way in which these users can be added to enlarge your team is still unknown by many people and, consequently, we want to let you know the process to follow for this .
How many users can be part of the same workspace in Slack?
Although it is true, in Slack, a workspace is a medium that is composed of several channels and in them, the members of the entire team have the possibility to communicate in order to work together and centralize all the information of a company . So, it is useful to add the relevant users so that the workspace works in the best way.
That is why many people who benefit from Slack wonder how many users this application supports to be part of the same workspace . Therefore, it should be noted that, unlike other applications that have this function, Slack is characterized by allowing the creation of groups with an unlimited number of members . However, by default, any member of the workspace has the power to invite other users to join said media .
Taking into account that, above all these, only the owners and administrators of the space can restrict the permission of the members to send invitations . Therefore, regarding the permissions for invitations, we highlight that, the possibility that Slack provides when inviting others to a workspace, will depend on the role that the user has in the application, as well as on the space settings work in question.
So that:
Members can naturally invite other members . But, if an administrator or owner limits the ability for members to send invitations, they will have to request permission.
Both the owners and the administrators of said space will be able to make the invitations to members they want and even to invited users . The latter is only possible with payment plans.
In the case of guests, in no way can they request or send invitations within the workspace.
Learn step-by-step how to add new members to a Slack workspace
In order to include more members in a certain workgroup in Slack, you have to send an invitation to those users or share an invitation link that can be used by up to two thousand people in total. Therefore, in this section of the post, we will explain how to invite new members to a workspace in Slack and how to share an invite link .
Both from the computer and also through the mobile app for Android and iOS:
Through a computer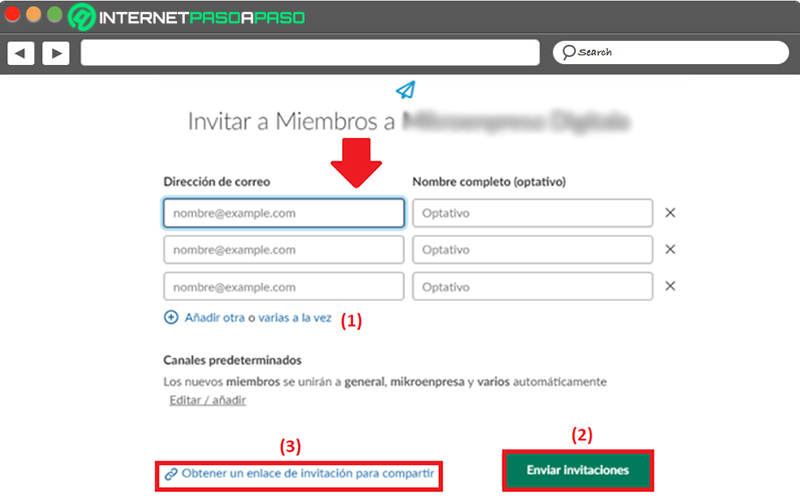 If you want to manage this through your computer, you must start by accessing the web version of Slack to enter your account there.
Then do the following to invite a new member to your workspace :
First of all, in the upper left part of the screen, click on the name of your workspace and thus, you will be able to see a complete menu.
Now, from this menu, proceed to select the option "Invite people to [workspace name]" .
Next, click on "Choose members" and start entering the email addresses of all the users you want to add.
In case you have a list with these addresses, select "Add several at the same time" (1) to copy and paste it in the text box. Then, click on "Add guests" .
Finally, at the bottom, click on the "Send invitations" button (2) and click on "Done" to confirm the action.
If you prefer to share an invitation link, instead of doing the above; you must carry out the following procedure:
As in the previous case, first of all, you have to access your Slack account through your preferred web browser and there, click on the name of your workspace from the top left.
Later, once the menu in question is displayed, choose "Invite people to [Workspace name]" and click on the "Members" option .
Followed by that, proceed to click on "Get an invitation link to share" (3).
Next, through the drop-down menu, it is time to select an expiration date for the invitation link in question .
Now, you must click on "Create an invitation link" and then click on "Copy" to start sharing the link with whoever you want (a maximum limit of 2,000 users).
From an Android device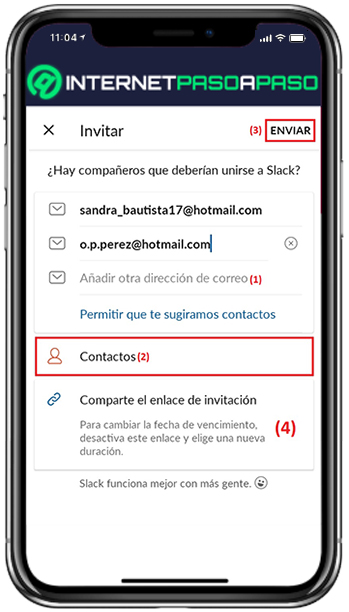 First of all, you must make sure to download the Slack mobile application through the Google Play Store to there, enter your account and be able to manage it from your Android smartphone or tablet.
In this case, to send an invitation and add a new member to your workspace, you have to do the following:
Once you enter the mobile app, it is time to go to the Home tab at the bottom to slide to the right and open the main menu .
Then, among the available options, select the one that says "Invite others" .
Once that is done, the system will redirect you to the Invite window, in it you have to write the email addresses of all the users you want to invite, through the bar that says "Add an email address" (1).
If you want to invite the people you have saved on your Android device , you can also click on "Contacts" (2) to search and choose them.
Finally, it only remains to tap on "Send" (3) from the upper right corner.
Apart from the above, Slack also offers you the ability to share an invite link to your workgroup, easily .
To do this, the process to follow consists of:
Using the mobile app for Android, log into your Slack account and from the Home tab, swipe to the right .
Then, in the main menu, click on the "Invite others" option .
Next, instead of adding the email addresses, you have to tap on "Share the invitation link" (4) at the bottom.
After that, it is time to choose the app through which you will send this link, in order to be able to search for the person (s) you want to add and share the mentioned link.
Through an iPhone or iPad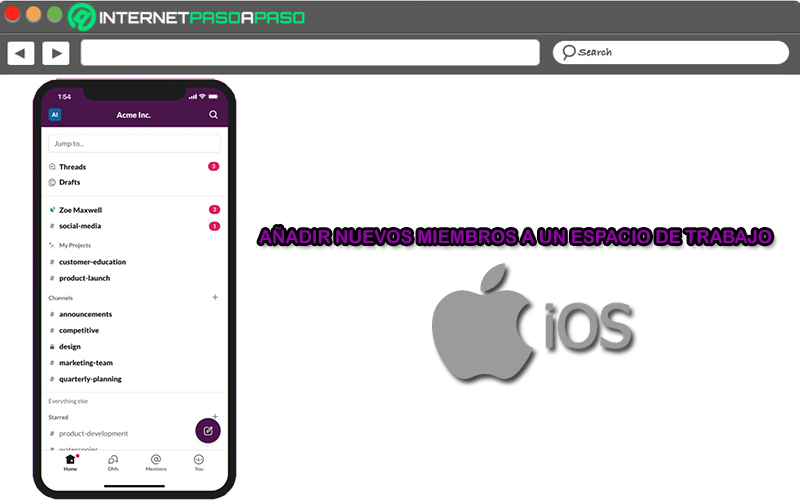 Fortunately, on any iOS device, users also have the ability to add more members to their workspace in Slack in a simple, convenient and fast way .
Taking into account that the process is similar to the one that has to be carried out on Android, here we explain it step by step:
From the Slack mobile app compatible with iOS, log in to your account and swipe the screen to the right directly on the Home tab .
When you look at the main menu, choose the "Invite people" option .
Next, it is time to enter each and every one of the email addresses of the people you want to add to your workgroup. Also, you can invite Contacts saved on your iPhone or iPad (just like on Android).
After adding all the corresponding people, just press the "Send" option in the upper right corner.
On the other hand, if you choose to invite new members to your workspace using a link that you can share in other ways, you need to do the following:
Start by opening the Slack app, log in to your account, and search for the workspace in question .
Next, click on the Home tab located in the first position of the menu at the bottom.
Now, you have to slide the screen to the right to open the main menu and select the option "Invite people" .
In the Invite panel , it 's time to click on "Create an invitation link" to choose the expiration date you prefer.
To conclude, click on "Copy link" or "Share link" and proceed to send said link to all the people you want to add.
Tips for better choosing new members of your workspace in Slack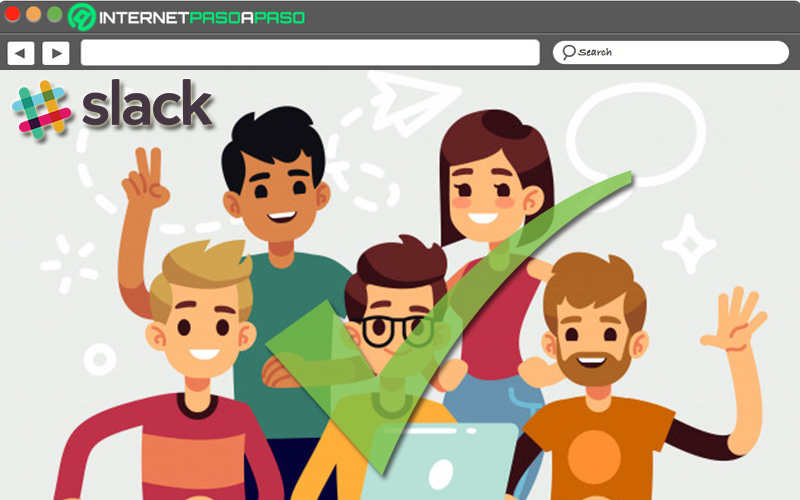 Now, to achieve the success of a work group and, in the same sense, of a company in general; It is important to avoid any type of error that could have a very high cost for the company, especially in its evolution . Therefore, when adding new members to your workspace in Slack, it is essential to take into account certain aspects that allow you to do it correctly, in order to optimize your team .
That is why, in this section of the post, we offer you 5 vital tips so that you can select the best possible members of your workspace and so that it works in the most competent way:
Make sure to include people with an entrepreneurial mindset
To implement the success of your brand or company, a fundamental point is to surround yourself with people who have an entrepreneurial and business mentality . Since, they are able to grow professionally in a simple way by acquiring more technical skills and having the possibility of skillful teamwork .
In addition to this, the members of a work group with an entrepreneurial mindset manage to show much more autonomy than others, especially with regard to making relevant decisions to achieve the established goals. Besides, they are people who are distinguished by seeing the positive side of things and generating a solid, pleasant and satisfied environment that can motivate other workers.
Don't forget to check their references
When you choose to add new members to your group or workspace, it is essential to take into account their work references that, by default, manage to guarantee the performance of the person on previous occasions. Thanks to this, you will obtain reliable information about their skills, their way of working and their professional value .
This will make it much easier to assess the potential for success of the candidate in question. So, you can learn more about their performance and skills in order to protect your company from future claims due to a mistake made by that person that could be negligent .
Ability to adopt the culture of your company
If you want to enlarge your work team and, at the same time, make sure that it will promote the success of your business objectives; It is also valuable that your company culture is a priority for new members . In other words, it is advisable to incorporate those people who show a remarkable capacity to adopt the culture of the company .
With this, the brand is likely to be more valuable and have the ability to better attract or retain talent, especially if it surrounds itself with highly competent professionals . Which, by nature, will help the overall workspace to be founded on respect, trust, motivation, effort, and meritocracy .
Productivity hand in hand with proactivity
Another point of great help to better choose the members of your workspace in Slack, is that it is completely productive . Which will increase the competitiveness of your company in relation to others, will encourage the commitment of said member, he will be much more responsible and will have optimal qualities to manage time in the best way .
Apart from that, it is essential that this person's productivity goes hand in hand with their proactivity. This being, a quality that translates into undertaking actions, assuming responsibilities and producing greater initiatives . Taking into account that, proactive people demonstrate that the solutions are in their hands, they provide more personal effort and tend to provide more help within a work team .
Extensive knowledge of new technologies
In addition to all of the above, valuing the relevance of new technologies in all areas today, it is valuable to add new members to your workspace who have the ability to master them and well, who have extensive knowledge of them . With which, they will have new job opportunities.
Added to this, they will be able to streamline processes since communication is more direct and instantaneous than in the past, thanks to new technologies. Thus, it allows you to send and receive information immediately, to give projects greater mobility and optimize the functions of each worker in the company . This even increases efficiency on the part of each member, improves control, provides excellent resources, increases job security and reduces administrative or business burden .