Social media
How to activate WhatsApp dark mode on iPhone and Android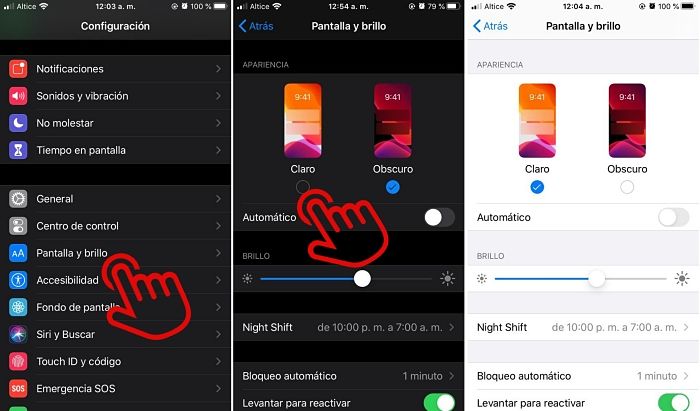 Many applications have already implemented their dark theme after Apple announced official support for it in iOS 13. Some of these applications include Instagram, Twitter, Telegram. Now it is the turn of WahatsApp, which includes it in its latest update. WhatsApp dark mode is now available to all users, on Android and iOS.
Next I will explain how to activate the dark theme of WhatsApp on Android and iPhone. But we'll start with iPhones that are already supported.
Activate dark WhatsApp on iPhone
Finally the WhatsApp dark mode is now available on iOS. You just have to make sure that your device runs on iOS 13 and that your WhatsApp is updated to version 2.20.30 or higher.
For the second, open WhatsApp, go to the Settings tab and click on Help. Here you will see the version of the application at the top. If you have an older version, go to the App Store and update WhatsApp to the latest version.
With these prerequisites satisfied, let's see below how to activate WhatsApp dark mode on your iPhone:
# 1. Launch Control Center from the upper right corner of the screen, if you have a recent iPhone. Or swipe up from the bottom, on an older iPhone.
# 2. Hold down the brightness controller, and when it appears, tap Dark mode to enable the dark theme.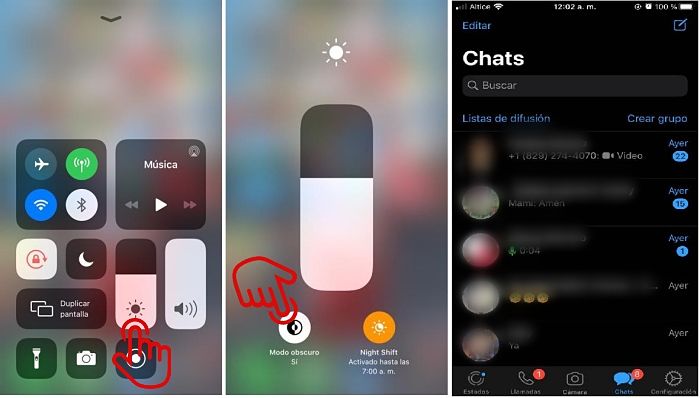 You can now go to the application and see if WhatsApp dark mode has indeed been enabled. In case it does not activate or you cannot find the theme, make sure you have the latest version of the application on your iPhone iOS 13.
Disable black WhatsApp on iOS
As we have seen, the dark WhatsApp in iOS 13 works together with the system settings. In other words, when activated in the system, it is automatically applied to WhatsApp.
This means that if you want to disable WhatsApp dark mode you must turn off the dark mode in iOS. Yes, the ideal would be to have an option to disable it individually in the application, but there is not.
So if you want to disable dark mode, do it like this: Open Control Center on your iPhone. Hold down the brightness bar and tap Dark mode to turn it off.
Then WhatsApp will go back to its normal light color theme.
You can also disable dark mode directly from your iPhone Settings as follows:
Open the Settings app on your iPhone and tap on Display and brightness.
Choose Light in the window to manually switch back to light mode from dark mode.
You can also choose Automatic to set the dark mode on your iPhone. In this way it will be applied to all applications at the scheduled time together with the dark mode of the system.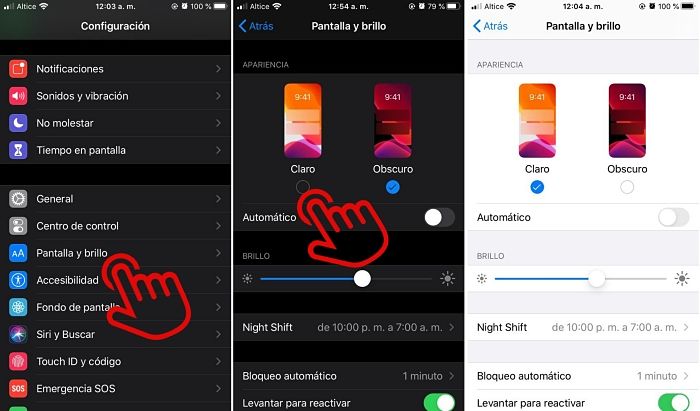 Activate WhatsApp dark mode on Android
Until now WhatsApp had made it available to users in the beta version of the application. Now, along with the update for iOS, the dark mode of WhatsApp for Android has also been published in its stable version.
If you have an Android Smartphone, you can activate it in this way:
First, you must update your WhatsApp to the latest version.
Now open the application, press the three dots icon in the upper right corner and choose Settings.
Go to Chats > Topic.
Select Dark from the drop-down menu.
Some Android themes have the dark mode system enabled, which in turn switches each application to the dark theme automatically. But the WhatsApp dark mode is a bit different.
Since WhatsApp is one of the applications most used by users, using the dark theme could mean some advantages. The dark WhatsApp on your smartphone has many benefits in addition to reducing eyestrain. It can also contribute to longer battery life on devices with OLED / AMOLED displays. This is why you should also use the dark theme in other applications, such as YouTube, Google Maps and Facebook, to name a few.