Social media
How to activate tiktok parental control and why should you do it to take care of your children? Step by step guide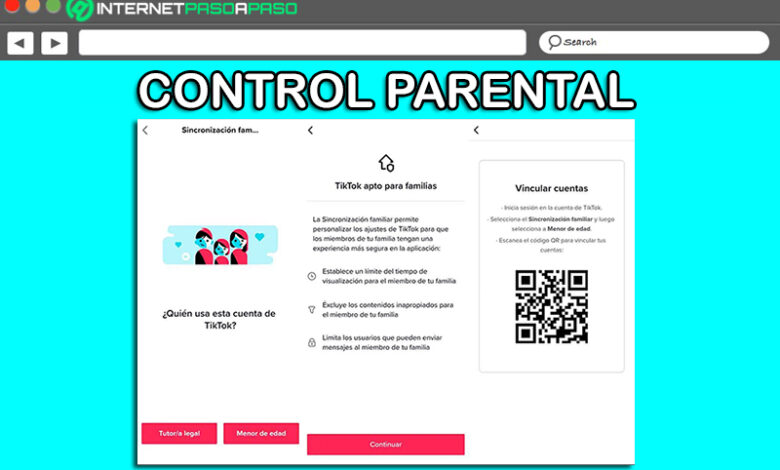 Today, TikTok is listed as one of the most influential social networks globally . Since, it managed to obtain a greater number of downloads in a short time, unlike other platforms such as Facebook, Instagram, Snapchat and YouTube. This, mainly, due to its innovative concept based on short videos that are committed to fun and entertainment .
Thus, this social media app captured the attention of various audiences, especially the youngest . Taking into account that, in principle, TikTok was designed for teenagers and these were the main objective of the social network . Therefore, both children and adolescents are attracted to make use of this platform, above other alternatives.
However, due to the numerous criticisms that TikTok has had based on security and privacy, it is considered essential to take care of your children in this Chinese social network through a parental control that it offers . In addition, it is also relevant to know what is the recommended age to admit its access and what are the main dangers that the service reveals . Which, we will explain below.
What is the recommended age to allow children to use TikTok and other social networks?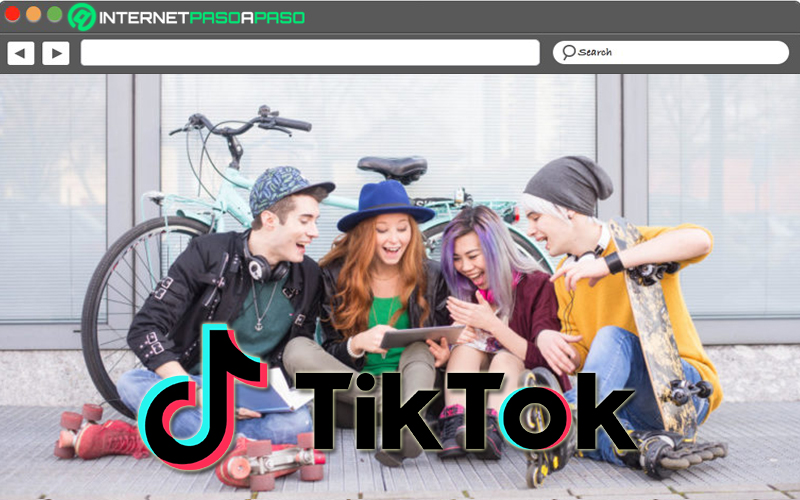 Although it is true, the renowned mobile application created by Byte Dance was born with the aim that all users could record and publish short music clips ; being this, a format that gave a real success to the social network in a short time. Thanks to this, TikTok manages to sweep through the so-called "Generation Z" which, basically, are pre-teens, teenagers and young people. Since, they correspond to those born between 1995 and 2010 (people between 10 and 25 years old).
In this sense, the secret of the success of this platform is its novelty in the social media market, as well as its versatility of use. Added to this, it is fun and attractive, so it can be considered a game for the little ones and teenagers. Given that, the social network provides the necessary tools to apply effects, filters, music and many more elements that help to acquire an attractive result.
However, to allow children to use TikTok, parents and / or representatives must take into account the age admitted by the same platform of Chinese origin . Thus, we highlight that the system handles a minimum registration age that points to 13 years and in that case, if the user is under 18 years of age, the consent of an adult who is their parent or guardian is required. However, many experts have stated that the ideal minimum age to accept that the youngest use TikTok, is from 15 years onwards .
Now, it is worth noting that it is not recommended that children under 13 years of age register on TikTok and use the platform freely. Which is why there is a section in the social network that is suitable for children under 13 years of age and has more privacy and security functions, by default. Even these users will not be able to upload their own videos, search or comment on content . But because of its vulnerability, it is not available in the United States.
What are the main risks for your child on TikTok and social networks?
According to a study published by The Wall Street Journal, each teenager spends an average of 45 minutes a day (or more) browsing TikTok and because of this, most representatives wonder if they are really healthy or not.
Therefore, to be able to assess it correctly, it is appropriate to know the greatest risks that exist in said fashion social network for the smallest of the house . This, in view of the fact that some cybersecurity companies worldwide have discovered serious flaws in the security of TikTok . Which, mainly, granted access to the personal data of the different accounts and left the privacy of said users to the manifest.
Reason why, it is valuable to know the main dangers that can harm your child within the aforementioned platform:
Data confidentiality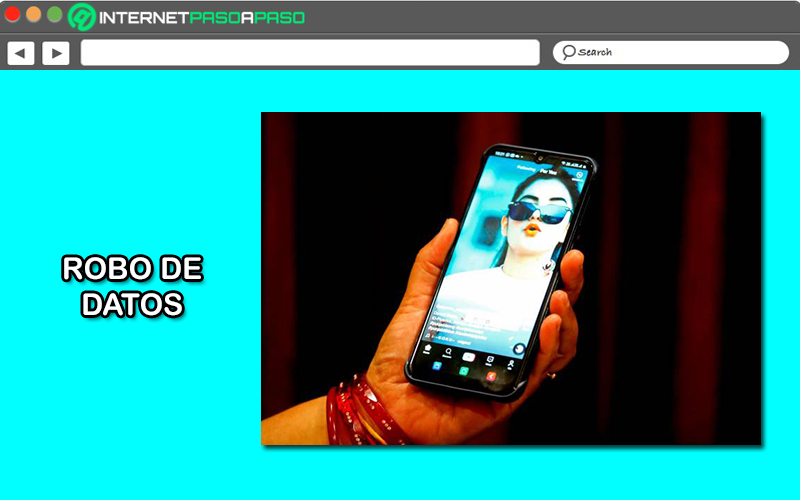 As we mentioned before, TikTok has been singled out for violating the privacy of users by granting access to the personal data of its users. Therefore, one of the greatest risks both for adolescents and for any user, lies in the confidentiality of their personal information .
Basically, it is a problem that was evidenced when Byte Dance, the company that developed TikTok, received a fine of 5.2 million dollars from the United States government for "saving and collecting sensitive information and personal information from people under 13 years " . This being one of the most important causes for parents to give consent to minors to register for the service, today.
Exposure and contact with sexual predators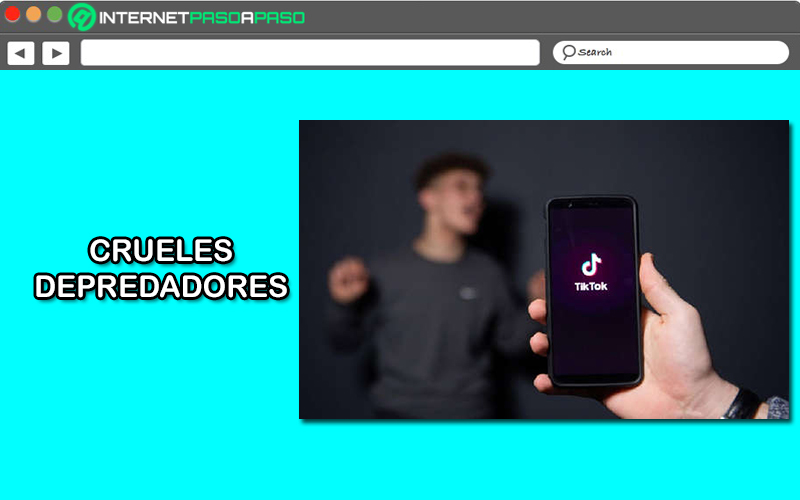 The risk of exposure to possible predatory looks is another of the most latent dangers on TikTok for tweens and teens. Since, being a platform that hosts such a young audience, it has been considered the main way for malicious adults to stalk them as their potential victims . Taking into account that, through the types of videos that are shared in this app, users show and expose their personal lives (where they live, what they do, what their family is like, etc.).
Which, easily, can be used against you to commit some abuse . Whereas, this feature makes the social network the preferred one for robbers. Apart from this, the platform helps to increase the possibilities of adult contact with minors, thanks to the fact that it supports the sending and receiving of direct messages between the different tiktokers.
Dangerous challenges, challenges or challenges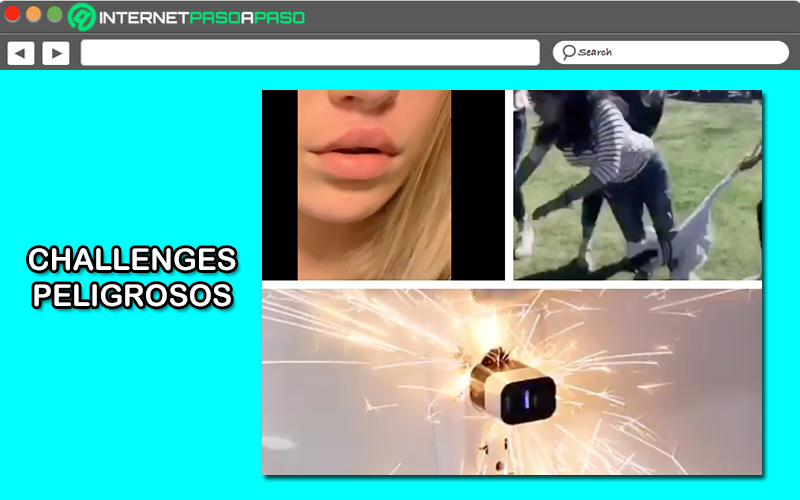 Another of the worst risks that TikTok exhibits for its younger audience, is based on the challenges present in the social network, they manage to gain a huge virality in a short time. Well, although there are many challenges that only involve dancing, making gestures or jokes to other people, some challenges that can be considered deadly have also come to light .
In this sense, there are many adolescents who, to gain recognition or avoid showing weakness to others to feel approval, choose to carry out these challenges, without analyzing the danger they are running .
Consequently, they are considered the main victims of the challenges that generate so much danger, such as:
Skullbreaker : It consists of a challenge in which three people jump at the same time and, in a premeditated way, the two at the ends push the feet of the person in the center to knock him back and hit the part from behind the head. So, they can cause anything from cervical sprains and fractures, to seizures or instant death .
In My Feeling Challenge : It is based on a challenge in which the participants have to record a video of getting out of a moving car to perform some choreography, while the car continues to move. Which, brutally, has led to serious accidents between pedestrians and motorists .
Benadryl challenge : This consists of taking a large number of Benadryl pills that correspond to a medicine with diphenhydramine (used to cure colds and allergies). Which, when taking a large dose, people come to have hallucinations and at that moment they must record their reaction to show it to other tiktokers. But the truth is that it is very dangerous, according to toxicologists and professionals, due to the side effects it generates (constipation, blurred vision, inability to urinate, coma, seizures and even death).
Outlet challenge : The challenge is based on plugging in a charger and throwing a coin in the space between the wall and the socket, so that the electricity passes through the coin and causes sparks. However, it could cause a short circuit that would end in the loss of light throughout the home and even in a fire.
Knockout challenge : It is another of the most dangerous TikTok challenges that has gone viral in many parts of the world. Basically, it is about causing the other person to pass out, placing them against the wall to put pressure on their chest and thus record their fainting. However, due to the lack of oxygen, this creates a ventricular obstruction in the person and thus, can generate a cerebral infarction.
Super glue lips challenge : It refers to a challenge in which the tiktokers apply Super Glue on the nasolabial fold and glue the upper lip to achieve an effect similar to cosmetic surgery. However, while visually appealing, the glue leads to significant burns and injuries .
Gambling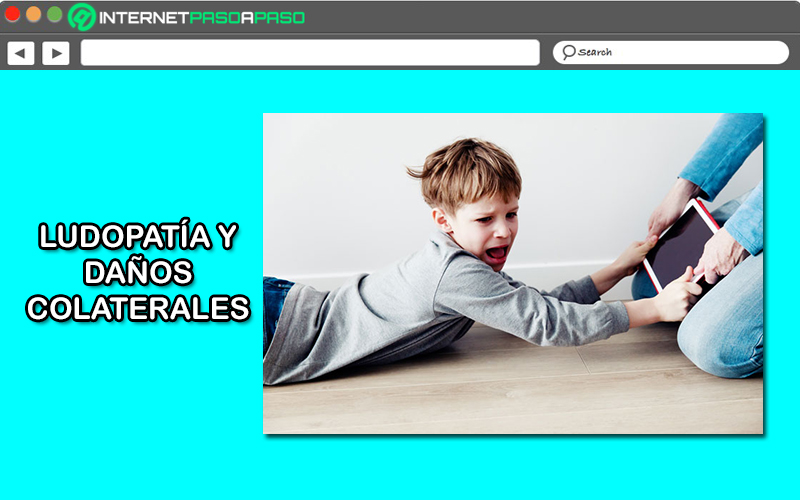 Although it is true, currently, TikTok has its own exchange currency that is known as "Tik Tok Rewards Points" and that has been created with the aim of financially sustaining itself and, at the same time, encouraging users to reward work and the effort of some tiktokers. But, although it has been beneficial in certain aspects, in reality it is also considered a risk for minors .
The reason for this is that these users have the possibility of exchanging the points earned for discount coupons in the companies that sponsor the social media application and thus create a continuous need for use until they become addictive . In this way, problems with gambling or better known as "gambling" can be triggered ; causing other collateral damage in the medium and long term (incarceration, bankruptcies, problems in relationships, etc.).
Learn step by step how to activate parental control to protect your family
To side with parents and guardians, TikTok has introduced a parental control tool that allows to optimize the user experience of teenagers in terms of security and privacy . Furthermore, through this functionality, it will be possible to prevent said users from creating an addiction to the platform; which is harmful and affects all areas of your life, without any control.
Therefore, to ensure that your child is more productive in activities that generate good learning and positive things for their day to day, we recommend making use of TikTok's parental control, based on the following solutions:
Activate Screen Time Management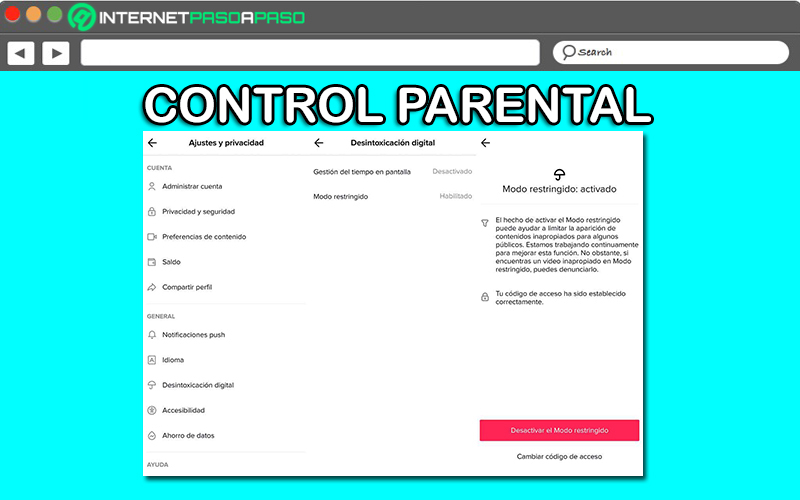 While it is true, the digital detox available on TikTok is defined as a functionality of the social network that serves to control and restrict screen time in order to acquire better management of activity on the platform. In addition, this utility allows you to choose the content you want to see, in order to avoid any type of offensive content.
From this function, parents and / or representatives will be able to improve the experience of using their children, in order to take care of them in the face of any vulnerability present in the social network . Therefore, to begin with, we will emphasize the option that allows you to manage screen time and well, it has the ability to block the app when the number of minutes per day that have been previously stipulated is reached.
If you want to enable Screen Time Management in your children's TikTok accounts, in order to establish parental control; the steps to follow are:
First of all, log into the account in question and enter the profile page, directly from the "Me" icon in the lower right part of the feed.
Next, go to the upper right corner of the profile and there, press the three dots vertically to see the Settings and privacy menu .
Then, through the Content and activity section , proceed to select "Digital detoxification" .
After that, choose the option that indicates "Screen time management" and in Time limit, choose the number of minutes per day to allow the use of the social network. Thus, press the button "Activate Screen Time Management" .
Now, enter an access code that will be the password with which you can manage this function. Thus, it only remains to confirm and click on "Next" .
Use Restricted Mode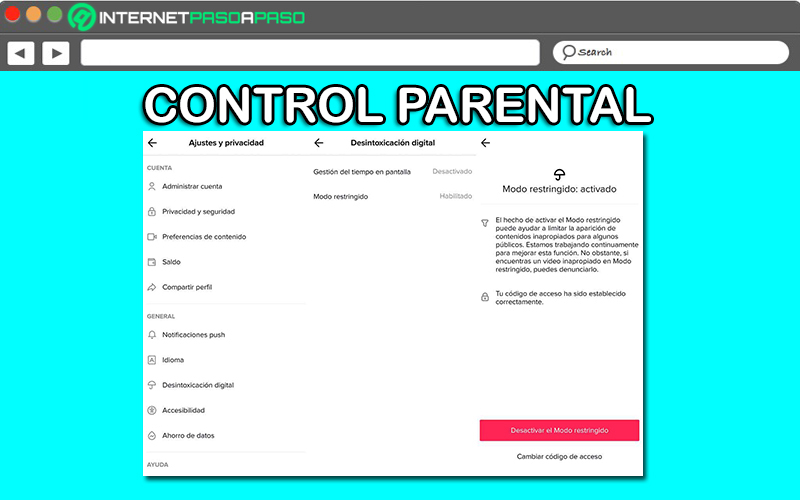 This is an alternative that allows you to limit the content that appears on the social network, for a specific TikTok account . In other words, through Restricted Mode, parents and / or guardians will be able to determine the types of videos that will be shown to their children in order to prevent them from observing inappropriate clips on issues of violence, sexuality or any other that is delicate . Thanks to this, it has been classified as an ideal tool to carry out parental control on TikTok on profiles of minors.
As a consequence, if you want to activate TikTok parental control based on Restricted Mode, you will have to do the following step by step:
Access the mobile app and log into your client's account. For later, choose the icon "Me" in the lower right part of the screen.
Later, when you are in the profile section, touch the three dots located in the upper right corner to enter the Settings and privacy menu.
Now, select the option "Digital detoxification", within the Content and activity section.
Following this, click on "Restricted Mode" and there, press the button that indicates "Enable Restricted Mode" .
Next, choose a numerical access code and enter it in the indicated place, so that this utility is activated by clicking on "Next" the relevant times.
Use Family Synchronization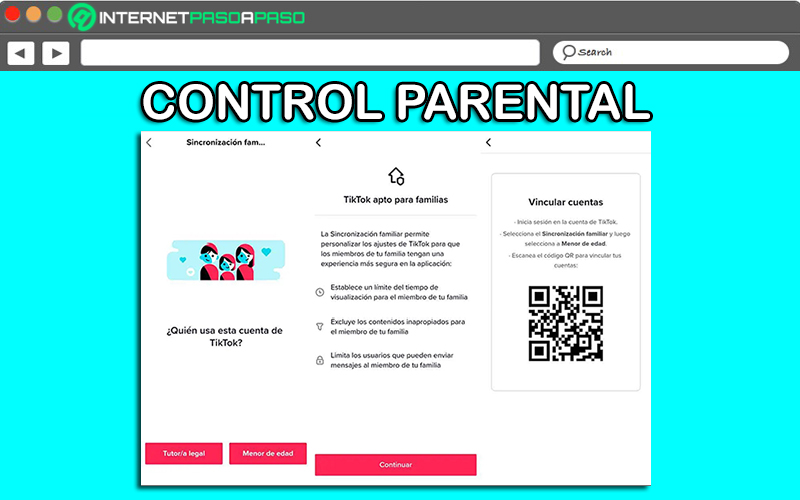 Apart from digital detoxification, TikTok has a functionality that is known as "Digital Synchronization" and consists of a tool that allows minors to use the platform under the supervision of their parents or guardians, at all times .
In this way, they will be able to select the time of use, limit certain users from sending them private messages and reserve inappropriate content. In terms of parental control, this option works much better than the ones mentioned above, although they are all recommended. In this sense, if you want to use Family Synchronization to obtain its advantages, it is necessary to activate the function through two smartphones .
Considering that, the procedure to follow is:
After downloading the app on the two mobile devices in question, you have to enter the social network and choose the "I" icon at the bottom to access your profile .
Second, press the three dots that are in the upper right part of the screen and thus, you will be able to view the Settings and privacy menu.
Later, in the Content and activity part, select the option "Family synchronization" and there, tap on "Legal guardian" to press Next.
Following this, click on "Next" and log into your child's account with another computer to access the Family Synchronization part (as explained). But, in this case, it is time to choose the "Minor" option to scan the QR code (from the minor's mobile phone) and link both accounts.
At this point, you can begin to set a viewing time limit for the minor, as well as exclude inappropriate content and control the sending of messages by certain users. This, through each of the corresponding options.