Social media
How to activate the dark mode in tiktok to save on your mobile battery? Step-by-step guide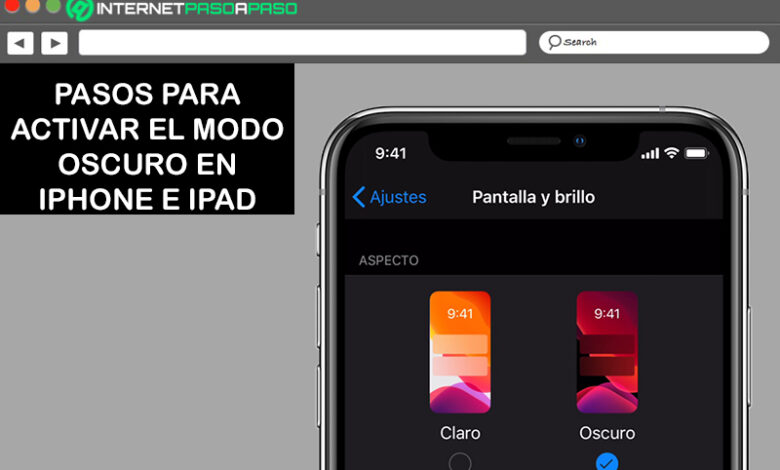 Today, TikTok is one of the most famous social networks in the world. Which, in a short time, managed to gain unparalleled recognition and could be considered as a platform as competent as Instagram and Facebook, for example. This, thanks to its innovative concept of short videos that are committed to entertainment and fun.
For its part, in addition to the video editor that it has from which users can enrich their clips to the maximum to obtain an exclusive result, this social network of Chinese origin also has many more functionalities that are ideal for acquiring a user experience really optimal . This, both in terms of security and privacy, as well as in terms of accessibility and comfort .
That is why, it has added the option to be able to activate the dark mode through the settings of each account, directly from the application natively. Which, by default, provides different advantages that are worth knowing, and then we will mention the most important of all . In addition, we will let you know what you must do to enable this TikTok functionality .
What are the benefits of using TikTok's dark mode?
While it is true, the "Dark Mode" or "Dark Mode" of TikTok is a function that the social network has been testing since January 2020 . So, at first, it was only available to some users and thus, it began to expand on iPhone and iPad devices, to later be introduced on all Android devices.
Basically, this option is defined as a function that allows changing the wallpaper from white to black on the devices that enter the platform. Therefore, it refers to a utility that is ideal to give a more "Dark" appearance to the mobile app, according to the preferences of each person.
However, beyond these characteristics, this mode provides notable benefits to tiktokers, among which are:
It manages to reduce the negative impact that exposure to blue light from electronic devices causes on people's eyes. Which is a radiation similar to sunlight that, by default, tends to confuse the human brain and impair normal sleep cycles . Especially while using your mobile at night, when that organ stops producing melatonin.
In addition to preventing serious health problems related to users' sleep cycles, TikTok's dark mode also helps prevent eye strain from phone screens . In this way, you will not have difficulties related to long-term vision.
It is more comfortable to use the application when activating this functionality, since the clear interface can emit an enormous brightness that ends up disturbing the human eye.
This TikTok mode also helps to obtain a potential battery saving of the mobile . Well, by nature, when working with maximum brightness, it tends to consume more battery than when operating in this way.
In terms of looks, the dark mode is more attractive . Because, as we mentioned earlier, it offers a more "Dark" appearance that is elegant for most people.
Learn step by step how to enable TikTok dark mode quickly and easily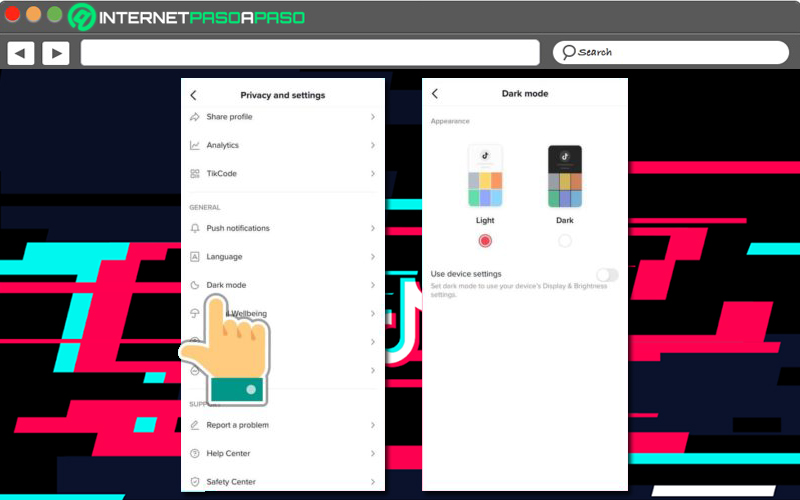 Fortunately, if your TikTok mobile app is up to date, you can easily activate dark mode . Considering that, by default, some users already have this function enabled in their account, thanks to the fact that they were included in the test that was carried out at the beginning of 2020 .
But, if this is not your case, you will need to carry out the following procedure to activate this optimal functionality:
First of all, log into your TikTok account through its official app to access your profile by pressing "I" in the lower right corner of the home screen.
After that, press the three vertical dots located in the upper right corner to enter the "Settings and privacy" menu .
Next, through the "General" section, click on the option that indicates "Dark Mode" or "Dark Mode" .
Finally, when you carry out all the steps outlined, you will have successfully activated Dark Mode on TikTok .
Does activating dark mode on mobile also activate TikTok?
Most TikTok users often wonder if the "dark mode" feature of the mobile has any effect on that of the social network. Therefore, it is worth noting that, if it is possible to activate the "Dark Mode" of the platform just by enabling said functionality on your mobile phone .
This means that if your mobile device is set to its Dark Mode, this mode will automatically be activated on TikTok as well . Since, it is a utility that presents the ability to synchronize with said option selected by the user on his smartphone, previously .
Now, if you still don't know how to enable "Night mode" on your Android device, here are the steps to follow to do so and thus, you will enjoy this TikTok functionality without having to make changes to the social network: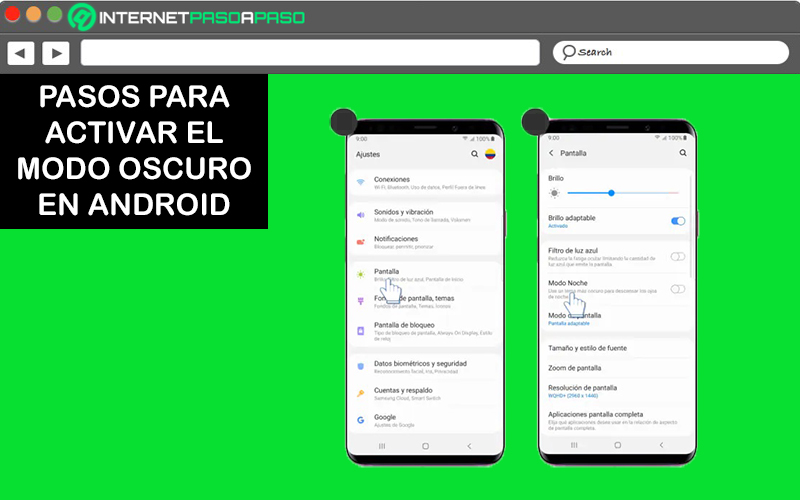 Using your smartphone, access the Settings menu .
Next, click on the section that says "Screen" .
Next, look for the option that says "Dark Mode" or "Night Mode" and proceed to activate it. That's all.
In case you use an iPhone or iPad and you still don't know how to enable this mode on your device, you can follow this procedure to activate it and thus cause a positive effect on your TikTok account automatically: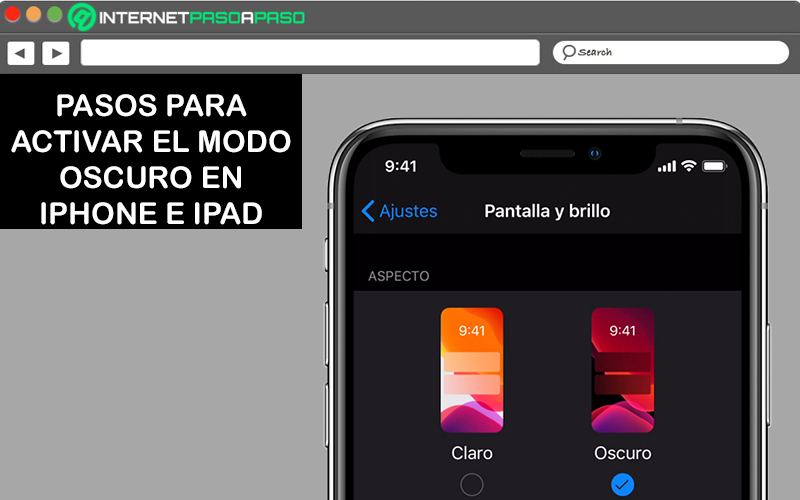 First of all, enter the Settings menu of the device.
After that, select the option "Display and brightness" .
Now, choose "Automatic" and proceed to click on "Options" in order to program the famous dark mode in the Appearance section .