Social media
How to activate 2fa two-step authentication in telegram to make your account much more secure? Step by step guide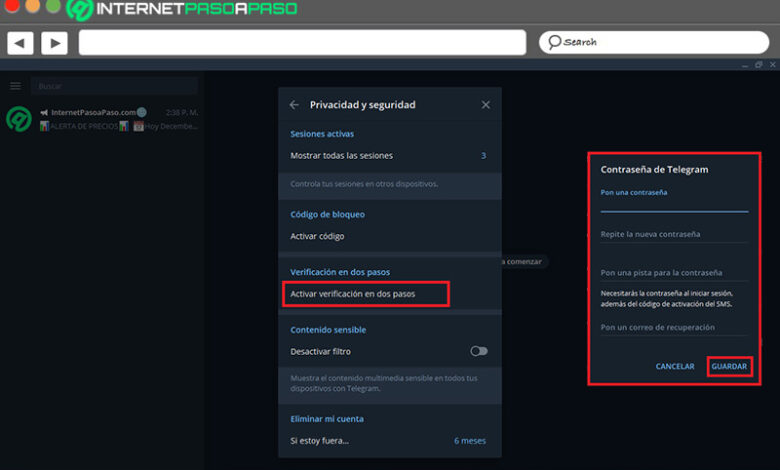 With the numerous threats that alter the security of instant messaging apps, Telegram decided to implement a new method for its users to access accounts in a more reliable way in order to prevent them from affecting their integrity. This method refers to two-factor authentication .
Thanks to that, people who manage their online communications can add an extra step to log into their Telegram account . Like, protect the information they handle there from prying eyes at the same time.
Therefore, it is really interesting to know what advantages the 2FA two-step authentication guarantees that Telegram allows, as well as to know how it has to be activated correctly on the different devices it supports . Which, we will explain in this post.
What are the benefits of using 2-factor authentication on Telegram?
Although it is true, two-factor authentication refers to a security function that manages to add an extra layer of security to help safeguard the information that each person manages in their account.
Thanks to this, it is a method that executes two different authentication processes in order to verify the identity of the user and allow access through different unrecognized devices. In this sense, through Telegram, users have the option to activate two-step verification using a specific password that will be required when logging in with a new computer.
In addition to this, to guarantee the highest possible security, the instant messaging service will also send a code via SMS that you will have to enter to verify your identity. Therefore, it is considered essential that Telegram users make use of a password that is easy to remember and difficult to guess, at the same time, so as not to lose access to their account.
In addition, we recommend using a password that contains different characters (letters, numbers, special characters), as well as avoiding the use of personal data and stop focusing on predefined formulas . In this way, 2FA authentication in Telegram provides notable benefits that users must take into account to be encouraged to activate this function and thus avoid future vulnerabilities .
For this reason, below, we mention the most important pros that the use of this functionality reveals:
Provides an additional layer of security and / or defense to the Telegram account . In this way, if someone decrypts the general password of the account, they will not be able to enter it either.
By providing another layer of security, it dramatically reduces the success of rogue users in accessing your confidential information.
It also reduces the risk of online identity theft and other techniques (such as phishing, for example), because the password of the victim's Telegram account will not be enough to gain entry to their data.
In this instant messaging app, it is very easy to activate and configure 2FA two-step authentication . Therefore, any user will have the ability to benefit from this function.
Learn step by step how to enable and configure 2FA in your Telegram account from any device
Due to the important benefits that the use of the two-factor authentication function in Telegram reveals , surely, you will want to activate it in your account from now on. For which, of course, it is valuable to know each step to follow in order to be able to do it correctly.
Therefore, here we will teach you the procedures that you have to manage from each specific device:
On Android and iOS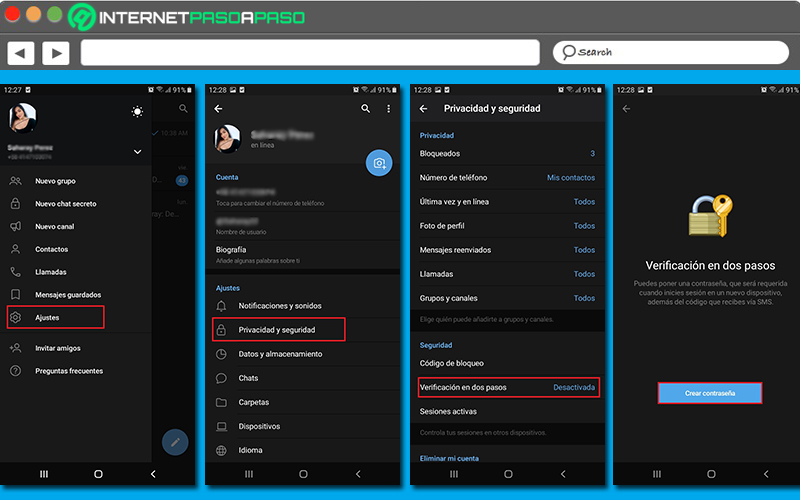 First of all, we start this by letting you know what is the step by step to follow to enable 2FA on your Android mobile or tablet and on your Apple devices:
To start, log into your Telegram account from the mobile app compatible with Android or iOS .
Once you are in the main window, touch the icon with three horizontal lines that is located in the upper left corner to enter the menu.
Then, in the main menu, select the option "Settings" .
Then, directly from the Settings section, click on "Privacy and security" . This option is in the second position.
Later, go to the Security section and there, click on "Two-step verification" .
Followed by that, in the new window, press the button that says "Create password . "
With that done, it's time to enter your password for 2FA two-step authentication . As a recommendation, we note that it is essential that it is different from your general Telegram password , as well as that it has different types of characters and they are more than 8 in total.
When you confirm your extra password, the app then allows you to write a hint to remember it (in case you forget it). However, if you prefer, you can skip this step.
Now, it is time to enter your most trusted email address for it to function as the recovery email.
Finally, to complete the configuration of the two-factor verification, you have to write the verification code that was sent to the email specified in the previous step .
On PC and MacOS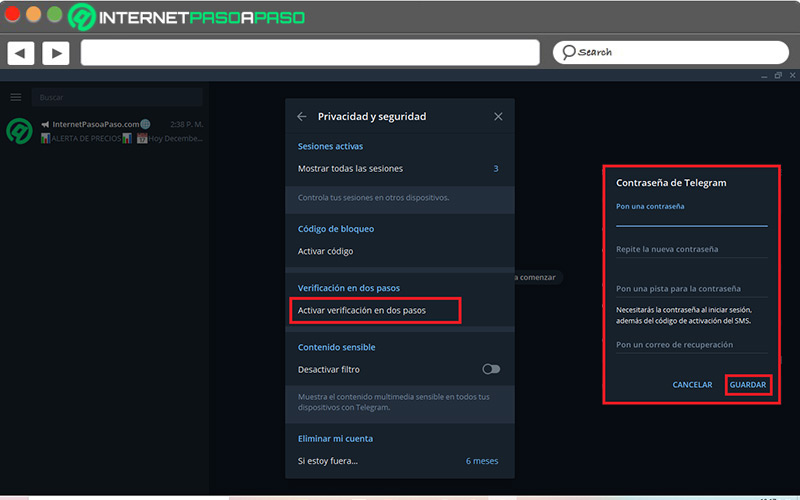 If, instead of managing your Telegram account through your mobile devices, you prefer to do it from the comfort of your Windows or MacOS computer, you need to know how to enable two-factor authentication of this app from its desktop version .
Which, we will explain below:
First of all, on your computer, look for the Telegram application that you have installed there and access it to be able to enter your account .
Then, on the main page, click on the icon with three horizontal lines that is located in the upper left corner (next to the search bar).
Once the main Telegram menu opens , it is time to choose the "Settings" option .
After that, through the Settings window , click on "Privacy and security" .
Now, go to the bottom until you find the "Two-step verification" section and there, you have to click on "Activate two-step verification" .
Next, proceed to enter your 2FA two-step authentication password to confirm it where it belongs . In addition, you should put in a hint that allows you to easily remember it and a recovery email address.
Once this is done, click on "Save" . In this way, they will send you a code to the specified email that you must enter and thus, click on "Send" to confirm the activation of this function.