Social media
How does tiktok's new "paste" feature work and how to get the most out of it? Step by step guide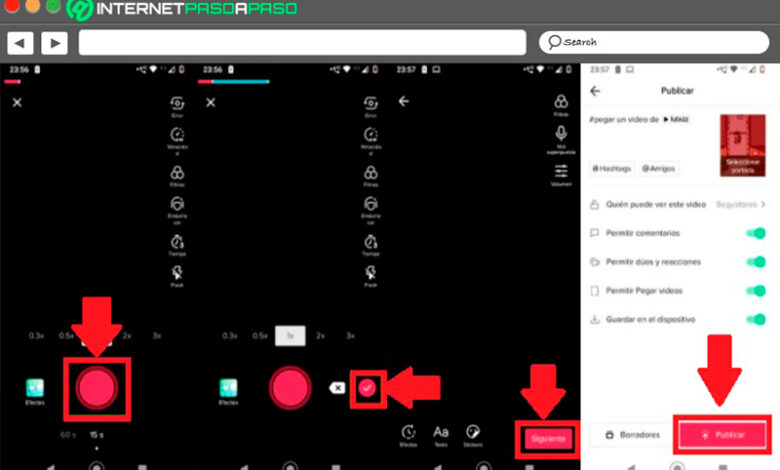 The Chinese video social network is still news, this is how I recently presented one of its new functions which is known as "Stitch" or "Paste", it has been developed with the aim of allowing greater interaction between the different users of the platform, this is how from now on each of your videos can be copied and pasted by other users if you allow it.
This new feature launched by TikTok has a great similarity to that of Duos , which has become one of the most popular features of the application . However, for this function to be available, each of the members of the app must allow such activity in their publications , thus granting permission for other users to Stitch their video.
Undoubtedly, with this new option offered, the members of the app will have a greater interaction with each other, allowing elements of the audiovisuals to be cut and pasted to be used in their collections . According to the importance of the option to "Paste" from TikTok, here we are going to teach you a little more about it and how you can start to get the most out of it, for this follow in detail everything that we will teach you below.
What is the new "Paste" feature on TikTok and what can we do with it?
The TikTok application presents its new function called "Stitch" or "Paste", which allows users to interact with the content of other members of the application, it offers the possibility of cutting and pasting elements of the published audiovisuals. Therefore, with this new tool, TikTokers will have the opportunity to use a sound or a part of the audiovisual that they liked in their collections.
As already mentioned in the post, this "Paste" tool is very similar to that of "Duets", but this time it consists of a way to reinterpret and add content to other users based mainly on their stories, recipes, lessons, tutorials, among others.
However, this function will depend on each of the members of the app, whether they want to enable it or not. And is that each of the TikTokers must specify in their configuration if they want their own content to be available or not for "Stitch" , this option must be configured in the "Privacy and security" section, there they can define "Who can perform a stitch or a duet with your videos ", in the same way this option can be activated for one or all published audiovisuals.
When a user creates a Stitch with the audiovisual of another person, the creator of the original publication will be mentioned in the title of the publication, where a link for the original video will also appear , so this function will also help you achieve a greater Visibility when someone else uses a part of your content . All this is done in order to avoid copies or compilation of original content .
Learn step by step how to use the Paste function of TikTok in your videos
If you have not yet used this new TikTok function and you do not know how to do it, then here we are going to explain how you can perform this procedure in an easy and fast way, for this it is important that you keep in mind that you can only use it if the creator The video you liked has this "Stitch" tool enabled, otherwise it will not be possible .
To do this, you simply have to follow each of the steps that we will teach you below:
The first thing will be to enter the social network through the mobile application, there you will have to look for the audiovisual that has caught your attention to use in your creation .
When you have found the appropriate video, you must click on the small arrow that appears in the lower right part of the screen.
Then a menu will be displayed at the bottom of your screen, there you will find several options in this case, click on "Paste".
Now you must select the part of the video that you want to use in your content.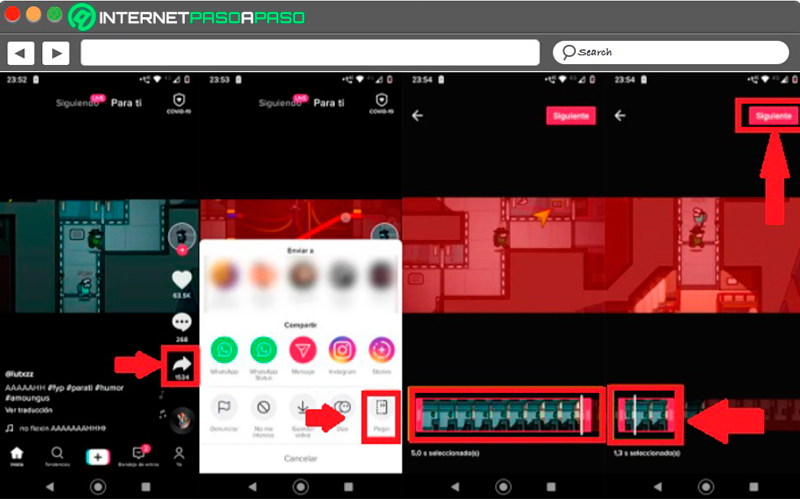 When you have adjusted the duration of the video you must select the option "Next" located in the upper right part of your screen.
Here the content creation menu of the social network will open, at this point you must create what you want to appear after the video that you have "Pasted".
Once you have the video already recorded, you just have to select the dove icon that is in the lower right part of your screen .
Later you must click on the "Next" option so that the "Compilation" is recorded correctly.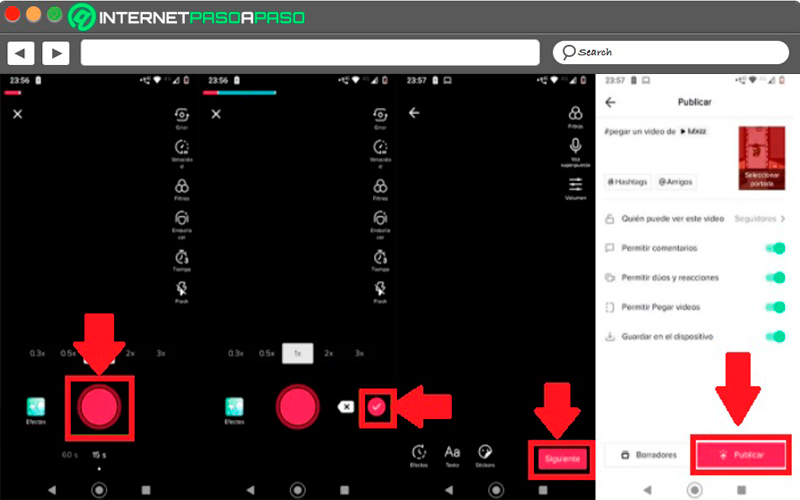 Ideas for creating content by taking advantage of TikTok's "Paste" feature
Undoubtedly, with this new TikTok function, its users will have the possibility of creating a new type of content, this time making use of the fragments of other videos published by their followers . However, it is important to know that not all users will have this option enabled, so you must select the audiovisuals of those people who do allow a Stitch in their publications.
In this case the user will have the opportunity to copy, paste and edit a part of the original video of another person, here you can extract either the background music, the sounds, the effects, among other details that will help you achieve a very good result in order to help you get more followers for your account . You must bear in mind that at the time of executing this function you will be able to select up to five seconds of the original audiovisual to cut .
You can also trim the clip and add your original audio to the video, as well as cut a part of a video so you can expand the narration of your content . All this will help you create a new type of content that will surely be very entertaining and attractive to most .
It should be mentioned that Stitch is already available to all TikTok users , so it is a very good alternative to start creating viral content. An excellent option to start creating collaborations within the community, as well as sharing topics between various users.