Social media
How does tiktok work and how to use the application to become an influencer on this social network? Step by step guide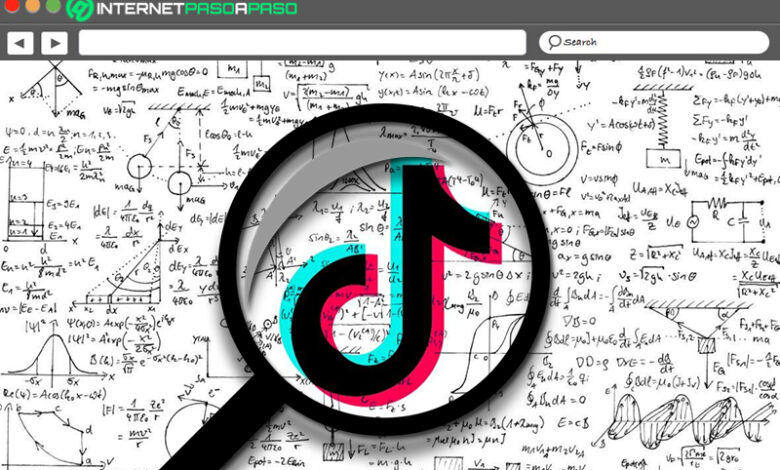 TikTok is one of the most famous social networks today . Since, thanks to its innovative proposal, it managed to be weighted in one of the first places as a social platform and is on a par with Instagram and Facebook. Therefore, it has more than 500 million active users around the world .
Due to its enormous expansion and growth, most people are interested in making themselves known through TikTok . Well, in view of their recognition, they assure that it is easier to gain a remarkable visibility from there. Thus, although in principle it simply functioned as a niche social network based on funny videos, the truth is that it is now considered an optimal digital marketing channel to reach any audience in an authentic way .
Therefore, many users are interested in knowing how TikTok works , closely. Reason why, through this post, we will let you know how the platform works and what kind of content it allows to share . In addition, we will detail the interface of the social network, what its video editor provides, how its interesting algorithm operates and more information of interest.
How does the TikTok social network work and what kind of content can you share on it?
While it is true, TikTok is a social media app that was created in China and, in a short time, managed to surpass platforms such as Instagram, Facebook, Snapchat and YouTube in terms of download numbers. Basically, it consists of a platform that allows you to record, edit and publish short videos with the possibility of adding sound effects, visual filters, musical backgrounds and more elements to optimize the results .
Under this concept, TikTok has become one of the most influential social networks in the world. Thanks to the fact that, in a block between 15 and 60 seconds, users will be able to create funny, fun and original content to capture the attention of other people active on the platform of Chinese origin. Regarding its operation, we highlight that TikTok works through a mobile application that is compatible with both Android and iOS .
Thus, once this app is installed, users can access a vast world of small music videos, funny or humorous that are presented from the site's feed . For its part, the greatest attraction of TikTok lies in the amount of filters that it allows to apply to the videos so that they can achieve the maximum sensation on the platform. Therefore, its video editor stands out as one of the main tools to create exclusive content with background music, effects, filters, texts, stickers, etc.
In addition to this, TikTok users also have the ability to follow other users of the app and obtain followers from anywhere in the world . Even, the lists of followers of each account will have the option of interacting with the videos from likes or comments, as well as establishing direct communication through messages.
Let's see below the type of content supported on this platform:
Type of content supported on TikTok
Mainly, this social media app allows you to create and share short videos that accept a maximum duration of 60 seconds. In other words, its format is based on clips and beyond that, it does not offer the possibility of publishing photographs or other types of visual content. However, although the specific type of content it handles is video to awaken the creativity of users, the truth is that it allows different styles as regards publications .
Therefore, here we point out which are the types of publications suitable for TikTok:
Montages or short music videos : Most of the users of this platform choose to playback (pretend to sing) or make mini music videos in a very peculiar way to entertain their audience.
Videos with special effects : Since the social network has an infinity of effects that change the voice or adjust the speed of the clip, this is another of the types of publications that are most observed there. Thus, short videos recorded in the form of a selfie.
Funny shorts : It is common to come across short and very simple videos on TikTok that provoke a laugh or two. You can even get more elaborate clips with short narratives that cause grace .
Challenges or challenges : These are also considered a marked trend of TikTok, since they have the ability to go viral quickly . Which, consist of recording a video doing something extraordinary that allows you to assess your skills for fun.
Duets : They correspond to a video format that provide the possibility of using a clip previously published on the social network, to add your own recording . They are usually used to provide a very creative visual response. Thus, they are striking for their split screen format .
TikTok interface What are all the sections of the application?
To understand how it works, it is certainly important to detail its interface in order to know what the different sections it offers and what each one of them is for.
Well, once you register in the social media app and log into your account, you will be able to see the following tabs or options:
Home or Home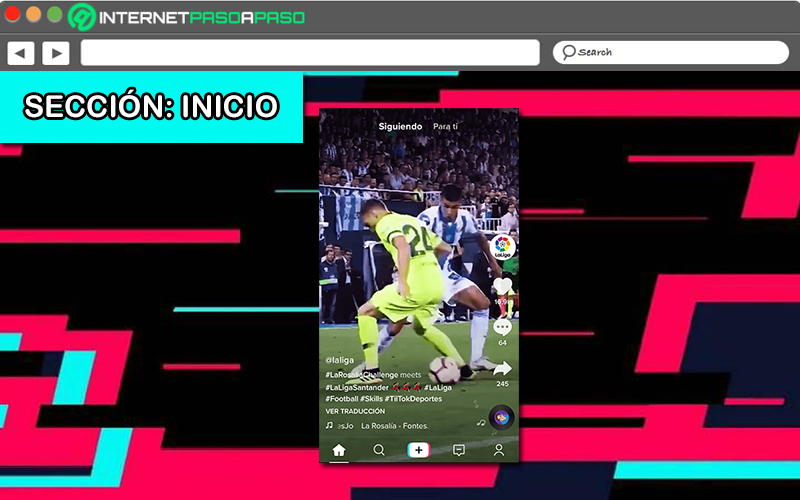 It consists of the section that you can see, directly, when you access the social network . In general, this section shows random videos that correspond to some of the most influential users of the social network . Taking into account that, although at first it does not follow any pattern for this, certainly the social network values ​​your interests according to your likes and thus, it adjusts to your tastes to show clips on the Start .
On the other hand, from this same section, you have the possibility of entering the "Following" or "For you" tab . Thus, the first one, will simply be in charge of presenting you short videos that have been published by the users you follow on TikTok . On the other hand, in the case of "For you", it is the specific section that shows random videos based on your likes during your experience.
Among other details, it should be noted that, from Home, the videos are played constantly . This means that as soon as it finishes playing, it will start over and over again as long as you stay on the same screen. So, if you don't want it to remain in a loop, it will be necessary to interact with your device all the time. For its part, from this same section, it is also possible to carry out more actions that allow you to improve your user experience .
Among them are the following:
If, in any video, you scroll the screen to the left ; You will be able to access the profile of the user who has shared said content. Therefore, in this way, your followers will appear, the number of hearts obtained, your publications, etc.
If you click on the video that is running at a given moment through the Start section, it will pause. Thus, to restart its playback, you must press again.
Yes, you press the screen for a few consecutive seconds over a video, TikTok will show you a menu with several options: Save video, Add to favorites, I'm not interested, and Report.
Yes, you move the screen up or down, you can go to the next available video.
Trends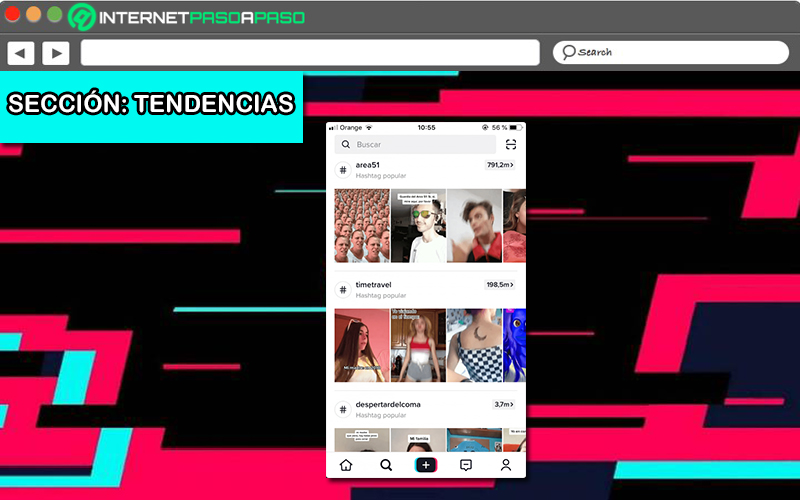 Basically, it consists of the Search section . This section is right next to Home and allows you to see the main trends of the social network. In general, you can also view the most important hashtags of the day and search for these items from the indicated bar at the top.
Also, if you want to search for a specific tiktoker, the social network allows you to do so by scanning their barcode . In this case, you will have to press the icon located in the upper right corner of the "Trend" section and there, a box will appear from where you can align the QR code of a certain profile of the platform, in order to locate it directly.
More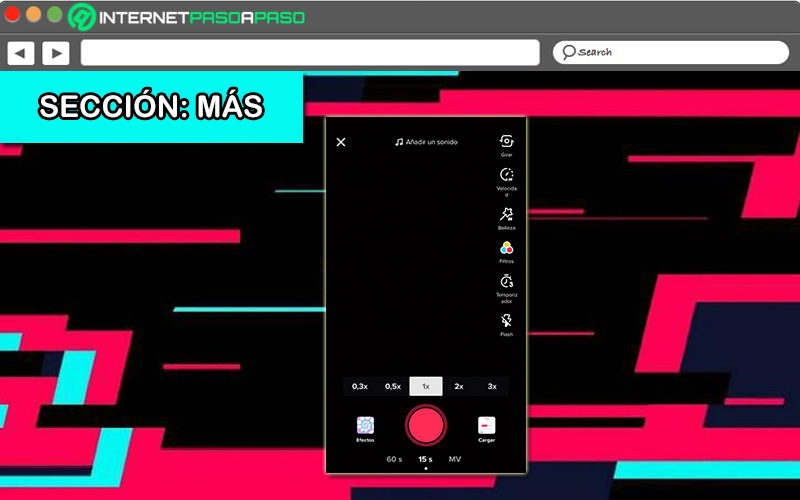 Without a doubt, it is one of the most important sections of the TikTok interface, since it allows access to the video editor of the social network (which, we will detail later). This section is characterized by showing an icon with a "+" sign that has the colors of TikTok and is located in the center of the lower part of the platform.
When you press this icon, the image of the camera will automatically appear on the screen and, in addition, it offers you different options that correspond to the TikTok video editor . Taking into account that, as well as supporting live recordings, it also allows you to upload files from your library .
Inbox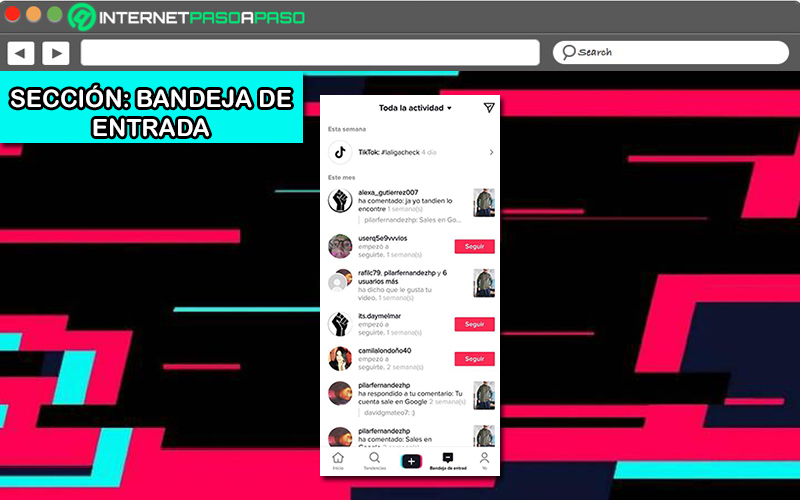 As its name indicates, it is a section to which you receive the different messages that you receive from other users of the social network . Which means that, there you can find the private messages that you have pending and you will even receive notifications about your new followers or the comments they have made on your videos .
As if that were not enough, through the inbox, TikTok also alerts you about the different challenges that it launches and that are trending, in case you are interested in joining any of them. Among other things, it should be noted that if you want to send a direct message, you must do so from this section by selecting the icon in the upper right corner and then clicking on "+" .
Me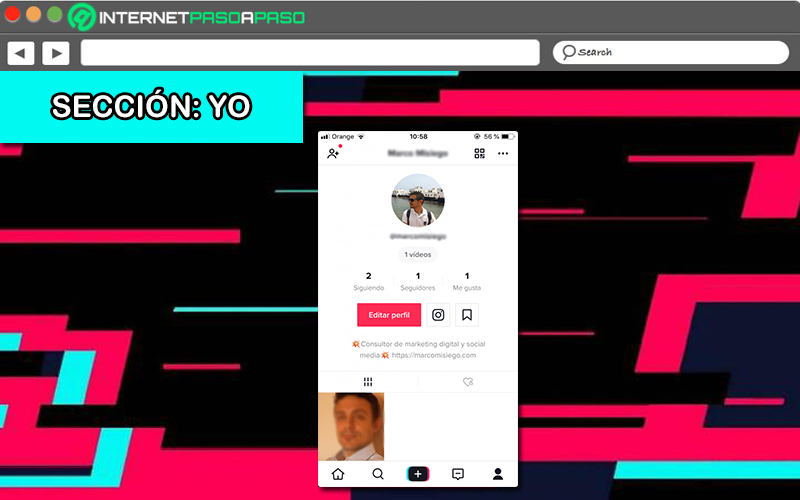 Mainly, through this section, you will be able to enter your TikTok user profile . So, from here, you will have the possibility to count the number of followed and followers you have so far, as well as the "Likes" you have received. Likewise, you will see all the video clips that you have uploaded, the publications to which you have reacted with a like and your private videos .
On the other hand, in "I", you have the option to edit your profile by selecting the indicated button ; either to change your photo, see your username, modify your short description and even to add your Instagram and YouTube profile . In addition to this, in the upper left corner, you find an icon that allows you to easily find new friends (by phone contact, by Facebook or by inviting them).
Additionally, this section also gives you the possibility to access the "Settings and privacy" menu through the upper right corner (in the icon with three vertical dots). From there, you can manage your account in terms of privacy and security, as well as optimize accessibility options, change the language of the application, use digital detox, free up space, log out, etc.
TikTok video editor What are the tools we have to create fun audiovisuals?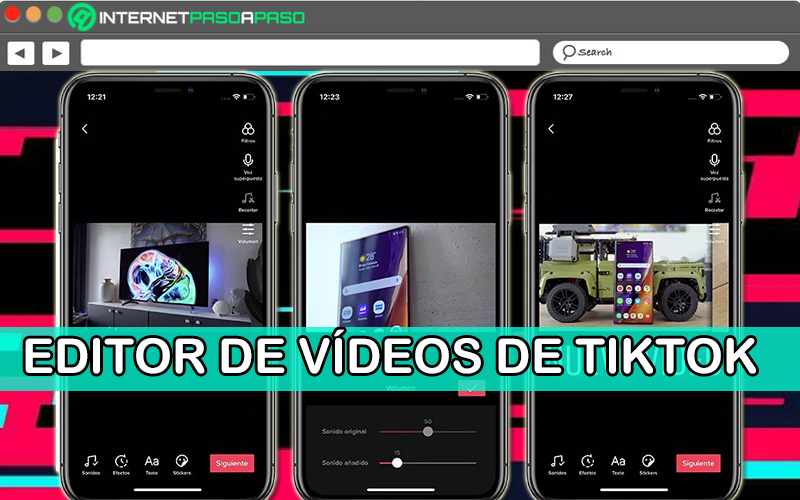 Although it is true, the TikTok video editor corresponds to the main utility offered by the platform to make funny clips and openly personalize them . Which, as we pointed out in the previous part, can be found through the "More" section and, luckily, it has different tools with which it is easier to obtain optimal results.
Basically, once you enter this section, the camera image will appear on the screen and with it, the possibility of recording a video in real time from there or uploading it from your gallery by loading your own file previously created . Therefore, the TikTok Video Editor requests permission to access the camera, microphone, and folders on the device.
In case you prefer to record the video clip from there, you can choose if you want it to last 15 seconds, 60 seconds or if you prefer to make a collection of photographs . Thus, to start recording, all you have to do is hold down the red button located in the center and this will show you the time remaining from the top.
In addition, it offers you several options to improve your recording before editing it: Rotate, change speed, apply beauty, use filters, set a recording limit and activate the flash . On the other hand, if you choose to load a video through the memory of the mobile, you only have to click on "Gallery" located on the right side of the button to record and thus, you will be able to choose the video to share . Taking into account that, of course, it also allows you to optimize these elements, editing them .
Now, once you specify the audiovisual element you want to publish, it is time to start the editing process using the different tools provided by the TikTok video editor, these options or utilities refer to:
Sounds : Allows you to search for music by name or through trends and playlists (Viral, Trending, News, Global Hits, Reggaeton, etc.).
Effects : It consists of an option that has several categories to add effects to the video . Whether they are visual effects, transition effects, based on stickers, to speed up or slow down playback, etc.
Text : From different fonts and colors, this utility gives you the possibility to add text to your creation.
Stickers : If you want to animate your video for TikTok, you can access this tool where they provide you with numerous stickers, GIFs and emojis .
Filters : In this social network there are numerous filters that manage to optimize the visual aspect of your videos. Which are grouped into several categories (portrait, landscape, food, intense, etc.).
Voice effects: These are effects that are applied to your recordings and to the original audio. There are numerous options to choose from and achieve a more fun result (squirrel, baritone, microphone, megaphone, robot, drums, vibrato, echo, helium, etc.).
Voice over : From this tool, you can add other audio to your video . For that, they allow you to choose the section of the clip to edit in this way and record, directly, the new voice.
Crop : In case your video has exceeded the allowed time or you don't like any part of it; you can use this utility to edit it by cutting out some section of it .
Volume : Allows you to control the volume, both of the original sound and also of the added sound (if it is the case).
TikTok algorithm How does it work and what needs to be done to gain relevance on the platform?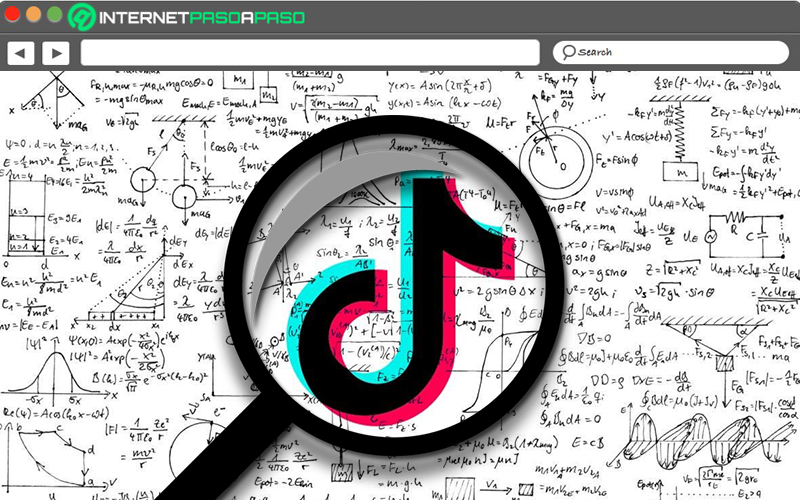 On TikTok and on any social network, without a doubt, one of the most influential elements is the search and recommendation algorithm . Since, it is the one in charge of defining what content will be relevant on the platform and what will not. Therefore, for this, it selects those publications worthy of going viral based on the preferences of each profile and also, it focuses on the contacts and more elements of interest.
Consequently, the TikTok algorithm is in charge of allowing the connection between the different users of the social media app and is also the one that originates the discovery of new content. Therefore, it has been classified as an essential element to have an optimal experience on the platform and, above all, to be able to stand out among so many people and capture the attention of the target audience . However, although it seems so easy to consider the algorithm of the social network to gain relevance in it.
The truth is that it is actually a bit complicated to know how it works in order to use it in order to acquire greater recognition and create a presence on the platform. Therefore, users are interested in analyzing how this element operates, in order to acquire its advantages . In that sense, we highlight that, mainly, the TikTok algorithm focuses on knowing each user well by checking their search engines and discovering their preferences based on the content they consume and their different interactions.
Therefore, it is influenced by different factors, such as:
The videos that you like and share : Most of all, the social network system pays attention to the interactions of users around the content that you like or share . Either analyzing whether you view a clip to the end and defining whether you have decided to rate the content in some way or not.
The comments it publishes : In addition to the likes, the comments are also an essential factor so that the TikTok algorithm can better know the user. Since, from them, you can discover the content you want to see, more quickly.
The content that the user shares : Another key point for the social network to rate people's interests correctly, lies in the videos that they upload on their profile. Well, based on the types of clips you create, their design, and their style, you can better understand their tastes.
The information of each video : Aside from focusing on the style, layout and type of clips that users post to your feed, it also takes into account the details of each video . Especially the hashtags you use, the sounds you choose, and the subtitles.
Account settings : Based on the country, language and type of device people use, the TikTok algorithm also shows the ability to pinpoint the interests of each individual in orderGuides and Tips TikTok